AK Audio, who is a partner of Soundphile Review, is holding a sale for 11.11. They are selling a few products at a discount and also have various coupons for those who buy from them. What's more, they are also applying an additional discount for Soundphile Review readers.
Among the products that are on sale: MaGaosi K3 Pro ($80 in lieu of $110), Nintaus X10 ($52 instead of $58), DIY MX760 (on sale at $18, current price $29.90), VJJB N1 ($19, original price $26.99), KZ ZS5 ($21 instead of $32), SENFER XBA (down to $28 from $40), and the KZ ZS6 ($32 instead of $44, here is my KZ ZS6 review!).
You can have an additional discount by pressing "buy now", writing the code "SoundphileRobot" in the message field and then selecting "other methods of payment". It will take you to another page: don't pay just yet. AK Audio's staff will take care of manually reducing the price and you will receive an email when the process is done.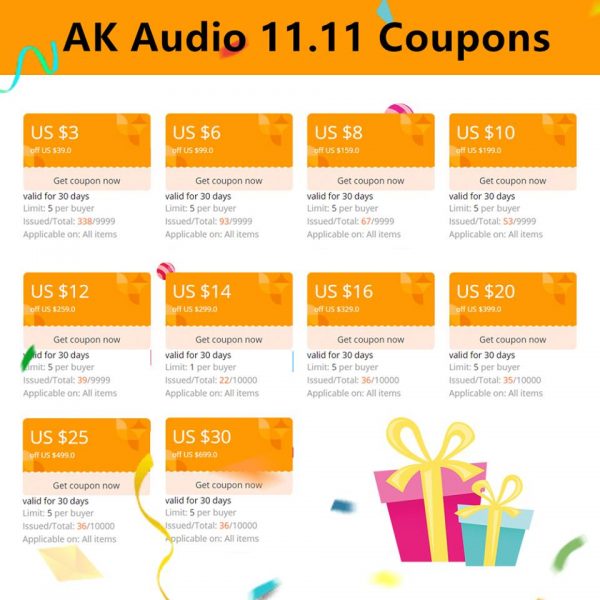 Those who order more than $300 worth of audio gear can get a free cable valued at $29, or a $60 cable for orders larger than $500, or a $80 cable for $600+ orders. This is on top of the other discounts which you can find above. Additional offers can be found on AK Audio's page on AliExpress.
This year's 11.11 seems to be especially interesting, given how affordable items are even more affordable with tomorrow's craze of discounts!
Disclaimer: please note there is no affiliation with AK Audio. They are a valuable partner of Soundphile Review, but I do not earn anything from your purchase. The code only serves as a mean to know you are a Soundphile Review reader, so you can get the additional discount.