From the simple line-up made of four players, FiiO has grown its offering to a full range that goes from ~$100 to more than a grand. In the lower end of this offering is the FiiO M9, whose peculiarly rounded design gives the prospective buyer a good idea of what to expect from this little device.
Disclaimer: I received this unit on loan from Advanced MP3. They sell it for £200.
TL;DR: recap
Pros




Cons

Good build quality

Very good battery life

Well-designed user experience

Good power output

Extremely slow library bulding
Rating: 8/10
Packaging & Accessories
FiiO provides the M9 users with a no-frills approach to packaging: inside the rather simple cardboard box are the player, a USB to USB-C cable, a transparent silicone case and a few manuals and leaflets. The FiiO M9 also comes with a factory-applied tempered glass screen protector which should make it more durable and resistant to scratches and – the gods forbid – falls.
Design & Build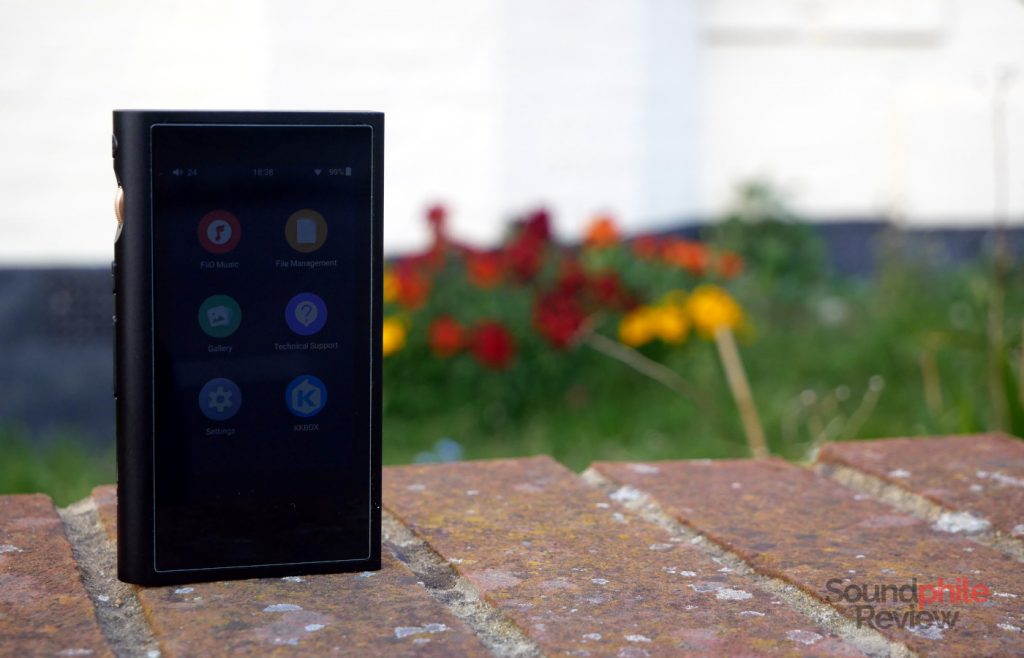 The first thing I noticed about the FiiO M9 is the fact that its left side is curved. It is actually as if half a cylinder was attached to the side of the device, so the M9 looks quite outlandish – almost a device I would have expected in an '80s movie about the future. The left side is also the one where all the buttons and stuff are, which is again quite unusual as most devices tend to concentrate their buttons on the right nowadays. The M9 is also quite simple in its design, as there are no fancy things on it: it's just a slab of aluminium, glass and plastic, a fact that lends it simplicity and attractiveness.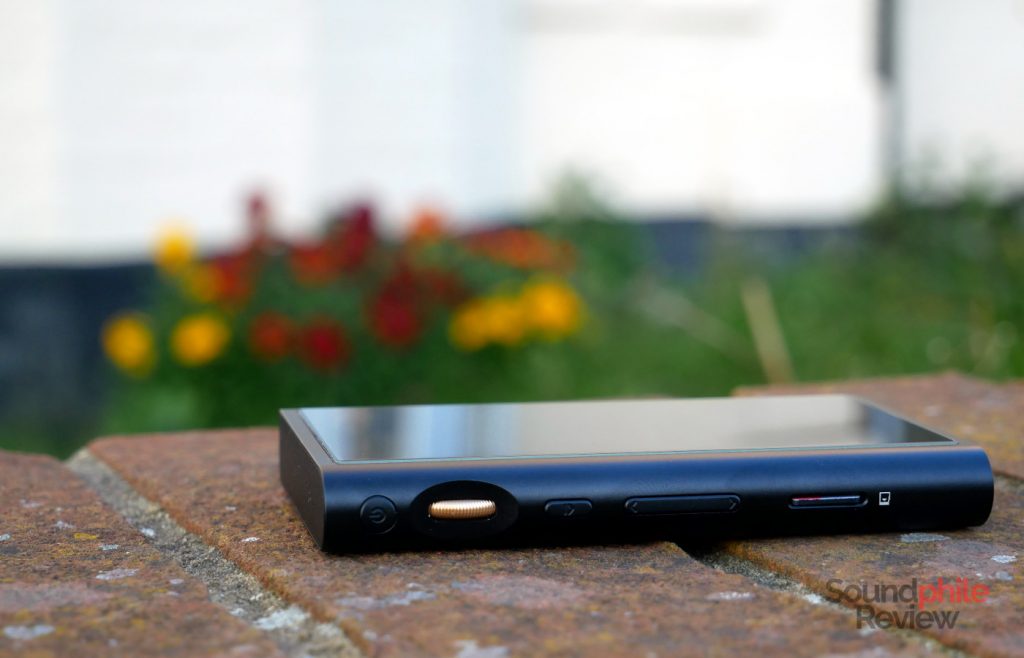 Compared to the other smart devices we see on the market, the FiiO M9 almost looks as it is a decade old: the screen is small and with huge bezels, which is the exact opposite of the current design trends. Not that this is negative, it's just that the M9 looks odd by today's standards.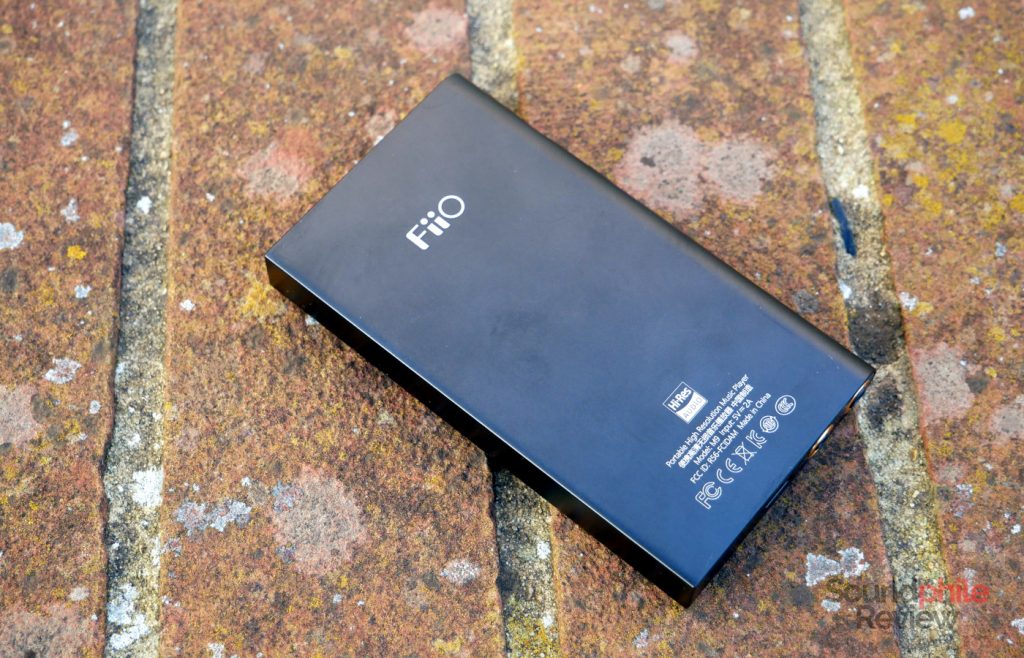 On the left side is the volume wheel: it's a small wheel that spins freely and has small clicks (both audible and tactile) for each volume step. It's not super-accurate, as sometimes making it click one time results in two volume steps being adjusted and vice-versa, so it's a bit of a hit and miss though it generally gets you where you want with volume.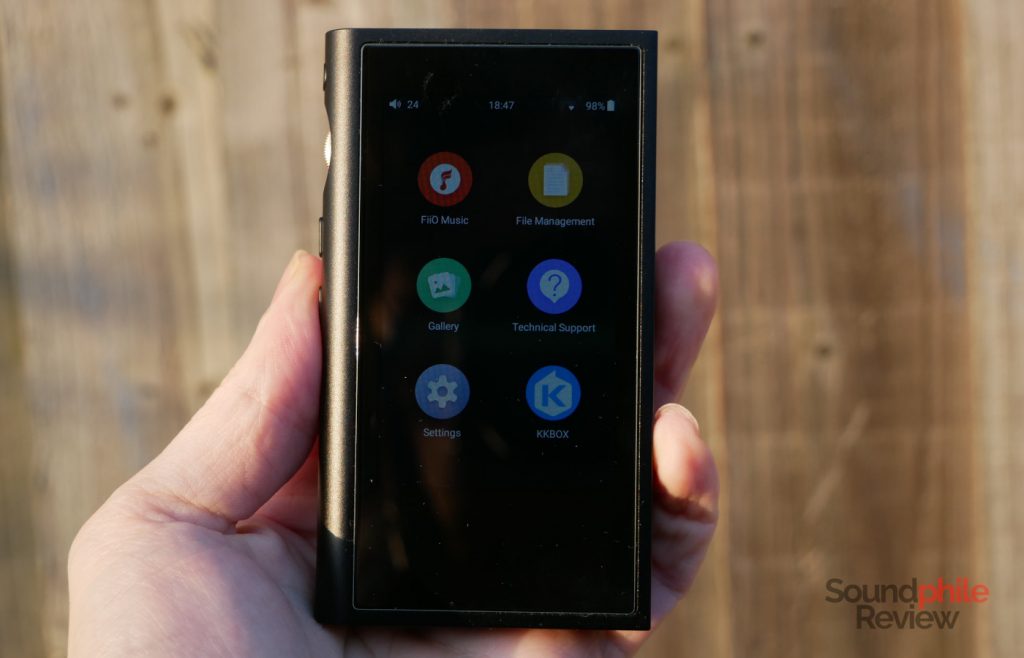 The screen is 3.2 inch in diagonal size and has a resolution of 800 x 480. It's made by LG and it supports up to 5 touches. It's not super bright, but it offers enough brightness to be visible in the sunlight (in the picture above it's at full brightness, but it looks much much brighter in person!). The touch sensor is responsive and accurate, so I always got the right feedback from it. There is a status LED just below the screen with the FiiO logo.
Specifications
DAC chip
AKM AK4490EN
Amp chip

TI OPA1622

Suitable headphones impedance
16 – 300 Ω
Output impedance
< 2 Ω
Maximum output power
Single-ended:

≥ 125 mw (16 Ω)
≥ 170 mW (32 Ω)
≥ 19 mW (300 Ω)

Balanced:

≥ 125 mW (16 Ω)
≥ 195 mW (32 Ω)
≥ 24 mW (300 Ω)

Balanced with turbo mode:

≥ 220 mW (32 Ω)
≥ 77 mW (300 Ω)

THD+N (@1 kHz)
< 0.002%
SNR
> 118 dB (single-ended)
> 113 dB (balanced)
Operating System
FiiO-customised Android 7.0
Supported formats
PCM up to 24 bit / 192 kHz
DSD up to DSD128
Maybe it's because I'm a sucker for technical stuff, but I love that FiiO publishes a wealth of specs on its players including its lower-end ones like the M9.
The FiiO M9 uses two AKM AK4490EN DAC chips, so it offers "true" balanced output. DSD decoding is done through a A3P030 FPGA, which is a rather interesting choice. The op-amp chips used are TI's OPA1622, able to output 77 mW at 300 Ω when enabling the "turbo mode".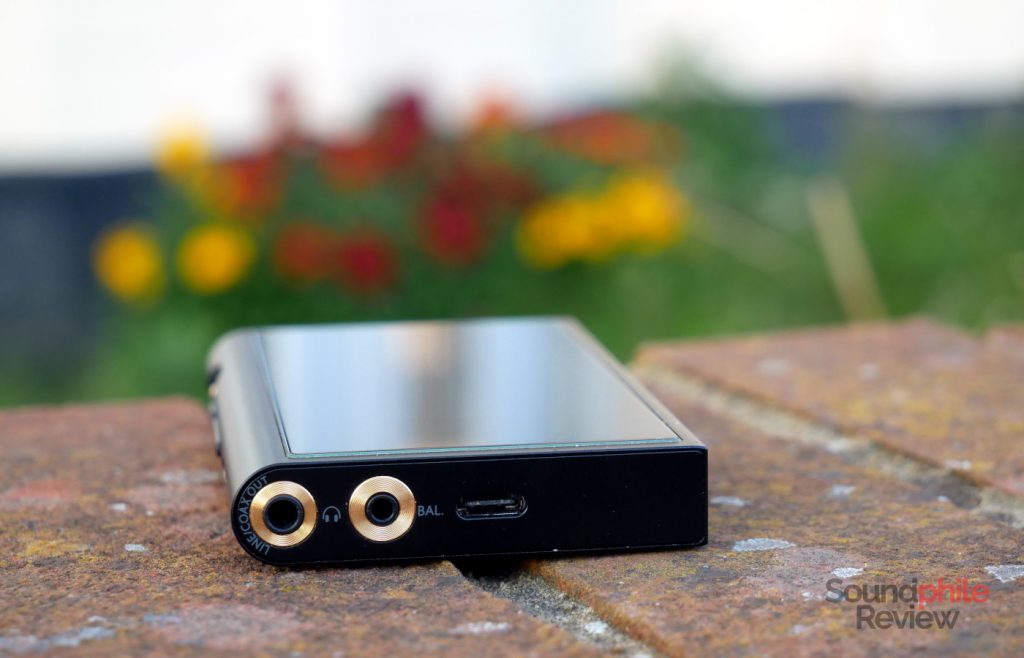 Thankfully the M9 supports very large microSD cards up to 2 TB, so it's really futureproof in this regard. Among supported file formats are MP3, WAV, WMA, AAC, OGG, FLAC and DSD. It also has USB Type-C input, so it can read files from a thumb drive as an example.
The FiiO M9 is based on the Samsung Exynos 7270 processor, which is actually a processor made for wearable devices. It has a dual-core 1.0 GHz CPU and an ARM Mali-T720 MP1 GPU. It's a limited processor, but the M9 doesn't really have to process that much data, so it turns out it's a good choice given the Exynos 7270 is designed to keep power consumption as low as possible. I would have guessed the M9 had 1 GB RAM, but alas it's not even that much – it's just 768 MB. I guess this may cause issues with apps in the future (think 3-5 years from now). There are 4 GB of on-board storage, of which 2 GB available to the user.
Battery Life
The FiiO M9 uses a 2,340 mAh battery, which appears to be decently large for a device of this kind. FiiO estimates battery life to be more than 10 hours in single-ended, more than 9 hours in balanced and more than 30 hours when using Bluetooth. These figures are quite accurate according to my findings. A full charge takes around 1.5 hours.
Software
I tested the FiiO M9 using the update 1.0.6 of the operating system, which appears to be based on Android 7.0. You can tell it's Android just because the notification shade is the same as phones, otherwise the system has been modified by FiiO to the point it's barely recognizable.
The UI is heavily customised by FiiO and is in fact only barely resemblant to that of other Android devices – in more than a way this is a good thing as it makes it clear that you are dealing with a player and not with a phone, removing unnecessary features and streamlining the user experience. A swipe up from the bottom left part of the screen equals to pressing the "back" button on other Android devices, while a swipe up from the bottom right part equals to pressing "home".
The interface is quite snappy and responsive, though at times it might skip a few frames. I never found it to disappoint or to become slow, so my judgement on the matter is quite positive.
There's no Play Store, or even any store really. In order to install applications you have to manually load them on the device. In order to do that you have to download the APK package from the Internet (e.g. APKMirror) and then install the app using the file manager. It's quite trickier than installing apps from a store and not really ideal for non tech-savvy people, but it's feasible. FiiO also has a whitelist of apps you can install, so you can't install everything: the whitelist includes NetEase Cloud Music, MOOV, Tidal, KKBOX, Spotify, Qobuz, Roon, Deezer, JOOX, ES file manager, Bandcamp, and Sony headphones. You can disable this whitelist, but FiiO says that non-approved apps can cause slowdowns, so I would honestly adhere to their list unless you really need some app that's not in there.
System-wide options include selectable output modes (headphones out or line out), SPDIF out (DoP or D2P), gain (high or low), digital filters, preferred Bluetooth playback quality (it basically allows you to select the preferred codec), channel balance, maximum volume, fixed volume (the purpose of which I honestly didn't understand), in-line remote support, balanced output volume boost, adjustable volume on line out, USB DAC (the M9 behaves as a device you can load files on if this setting is disabled) and AirPlay support. You can also set the brightness on the LED on the front, select which buttons should be disabled when the screen's off to prevent possible issues and then fiddle with all the various settings that you usually find on Android devices (app caches and permissions, screen brightness, language, wallpaper, date and time, etc).
The FiiO Music app offers a simple interface with everything one needs: library indexed by various categories (individual tracks, artists, albums, genre, playlists, recently played, most played, recently added) plus the classic folder view. FiiO introduced navigation in the various views based on the initial letter (e.g. first letter of the artist's name), which makes navigating large libraries a whole lot easier.
Library building is really slow, to the point it took around half an hour to scan my 512 GB card and index the ~8000 tracks I have tehre (~220 GB of music). The FiiO M9 seems to have low computational power available, so it's probably best to use it with the folder view.
There are a lot of options: off timer, which stops the music after a set time; FiiO Link (similar to HiBy Link, allows you to control your player from your phone should you ever need that); resume mode (no resume, resume from the beginning of the song, resume from the exact point of the track you were when the app closed); gapless playback; play through folders; auto-update library; ReplayGain; USB output mode (DoP or D2P); HWA/LHDC Bluetooth codec; WiFi song transfer; DLNA; theme (either black or white), show an additional lockscreen).
The "resume" option does not work like in other players I've tried so far as it actually makes the playback resume as soon as you open the app, instead of just allowing you to resume it manually or to select a different track. It's of course not an issue, just a different take on the concept.
The equaliser does not seem to work correctly: it has very little effect on the sound and even setting it to zero on all bands you can clearly hear a difference compared to when it's disabled. The sound becomes much muddier and loses presence in the upper midrange. In short, it seems like it's best not to use it until they fix this issue.
All in all it's quite a sleek and streamlined experience that leaves nothing to be desired and, on the contrary, appears well-designed and well thought out.
Sound
I tested the FiiO M9 with various headphones to see how it behaves with different impedances and sensitivities. So I used the Shuoer Singer, HiFiMAN HE-560, Shozy Form 1.4, Moondrop A8 and Hyland Headphones Saturn One. Files were mostly FLACs ripped from CDs (16 bit, 44.1 kHz).
The FiiO M9 has enough power to drive even demanding headphones such as the HE-560 with ease, with good volume output even using the low gain mode with balanced output and a volume level of 50/120.
There is luckily no background noise whatsoever, even using very sensitive and low-impedance earphones which normally pick up the faintest humming. This means FiiO did a good job with the design of the amplification stage. I can hear a loud pop whenever I plug in or unplug headphones, though.
The sound signature is neutral and I can't hear any difference from other neutral DACs and players (e.g. Shanling M2X). What I notice is that transients appear slightly less well-defined, with drums being less physical (e.g. on Wardruna's UruR).
Balanced output sounds exactly the same as unbalanced.
Final Thoughts
The FiiO M9 is a wonderful player in the sub-$250 price range that has everything one may need and even more. It offers a responsive user interface that's also well designed, plus a very decent sound in a compact package. Its only flaw is that it uses a very low-power CPU that limits its computational capabilities, making library updates extremely slow. Apart from that, it offers a great user experience in every regard and has enough power to drive even demanding headphones. It's a device one can not only rely on, but enjoy using.