Do you know Rock Jaw Audio? If you don't that's okay, I hadn't before they got in touch to ask if I wanted to review their latest product. The Rock Jaw Audio T5 Ultra Connect are Bluetooth earphones with a name that doesn't exactly roll off the tongue, but which actually provide very good value.
Disclaimer: Rock Jaw Audio provided me with a unit free of charge. They retail for ~$75 on the manufacturer's website.

TL;DR: recap
Pros




Cons

Comfortable, practical design

Type-C and IPX5 certification

Good battery life

Tuning filters

Balanced, if tilted towards bass, tuning

Strong background hiss that smears details
Rating: 7.7/10
Packaging & Accessories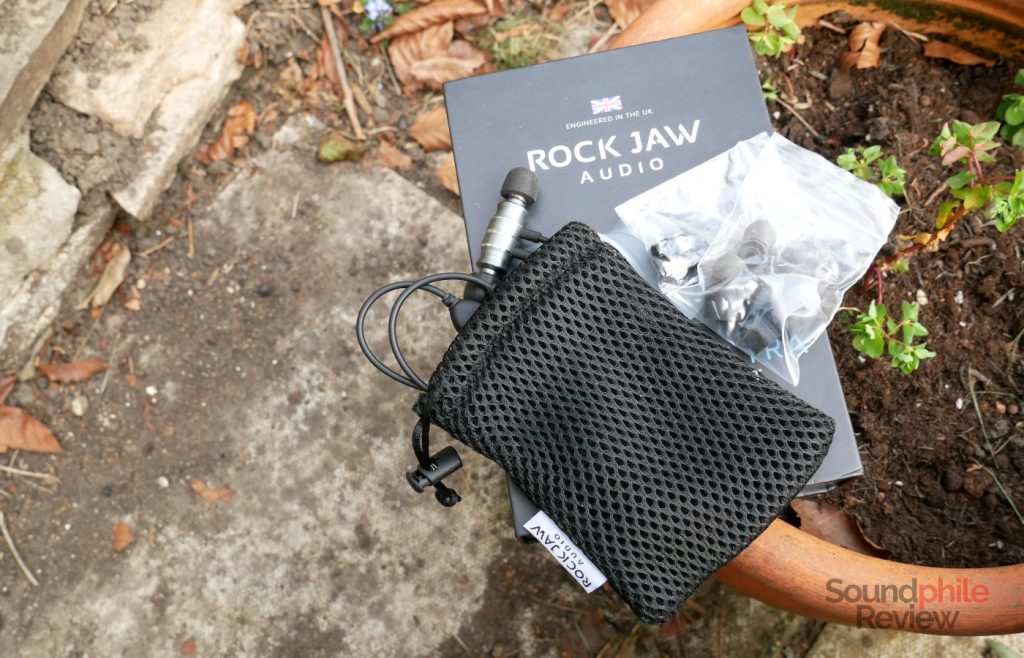 The people at Rock Jaw Audio really want you to know that they are based in the UK as they repeat that at least three times on the outer packaging alone. Inside the cardboard box (which you can tell is not meant for those who are into specs, as there's none there) are the earphones, a set of three pairs of silicone tips and a set of three pairs of Comply foam tips. There's also a set of tuning filters and a net-like carrying bag.
Design & Comfort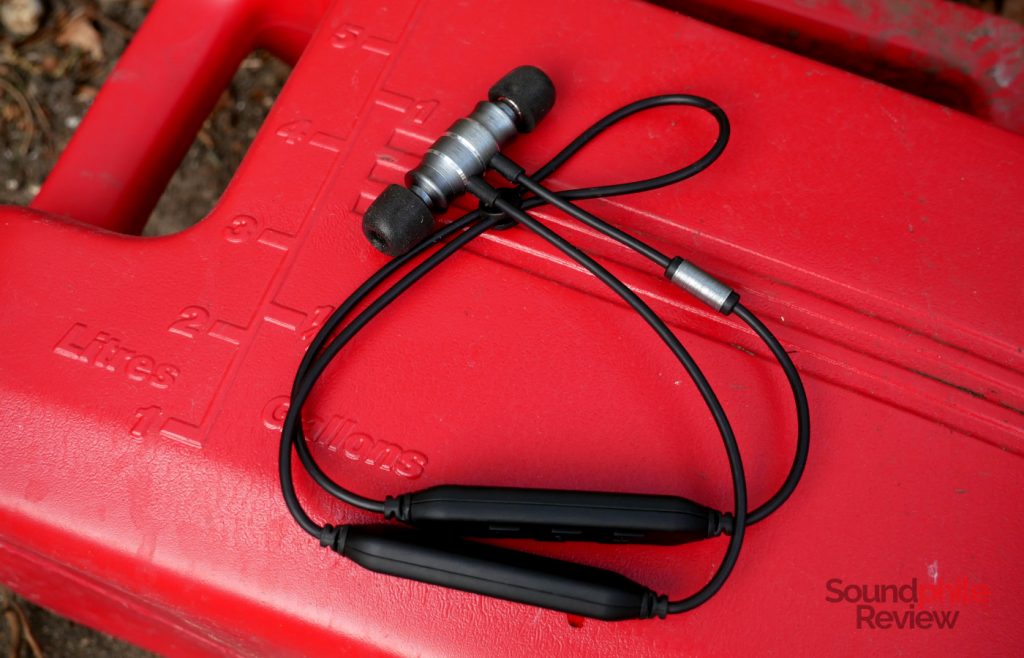 Despite their complicated name, the Rock Jaw Audio T5 Ultra Connect feature a streamlined and simple design. The shells are made of machined aluminium and they're cylindrical, with a small dip to improve comfort. They have a brushed metal effect which makes them look a bit coarse, and that looks quite good.
The faceplates are flat because there are magnets inside them, so you can leave the earphones dangling on your neck and they will attach to each other, preventing any possible loss.There are two plastic housings on the cable, one with the in-line remote and one with the battery, plus a small aluminium housing which hosts the microphone. There's also a cable clip which you can't remove, so you won't risk losing it.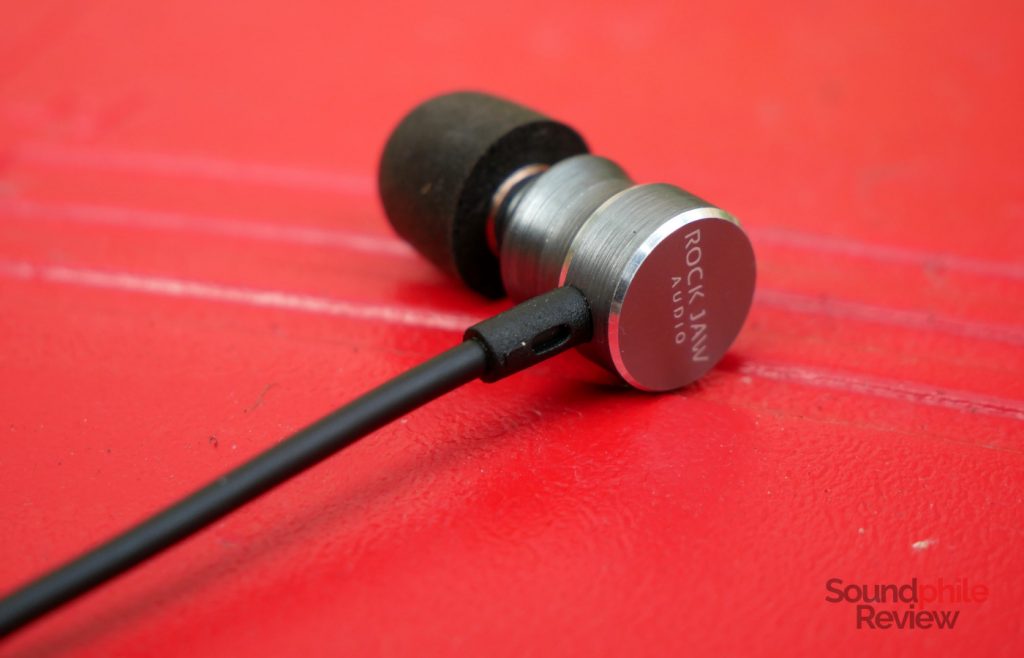 The T5 Ultra Connect also boast the IPX5 certification, which means one can take the earphones to their workouts or under the shower without fears of damaging them. That's quite convenient and adds flexibility to the earphones.
Build quality is quite good and there seem to be no specific flaws to it, with the metal being reassuringly solid and the plastic components which are well-manufactured and well-assembled.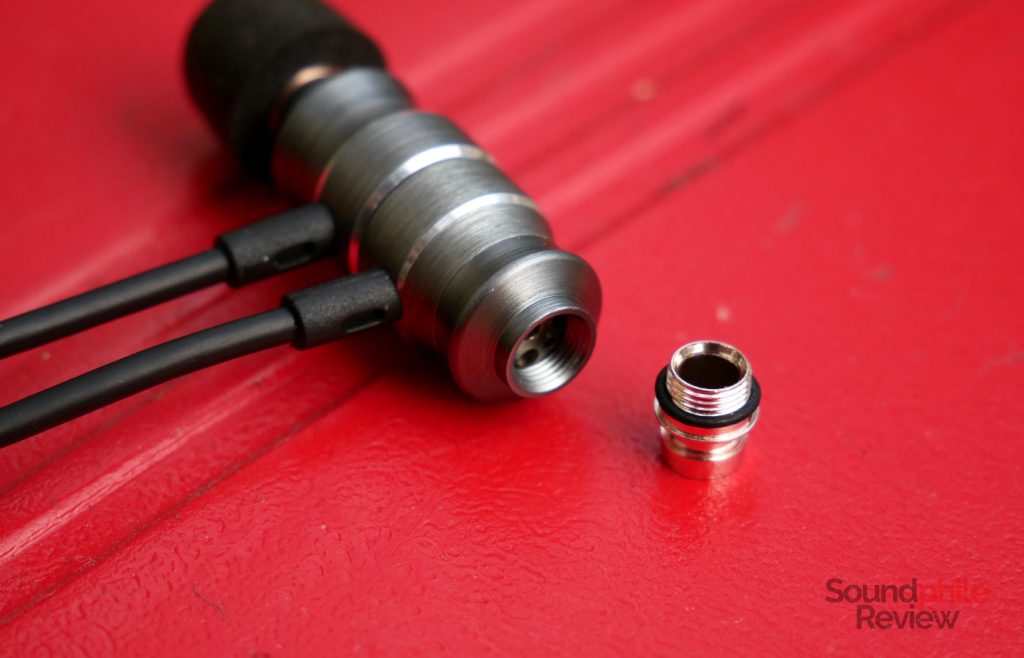 Isolation is fairly limited, as even the relatively low-volume sound of my fingers tapping on my mechanical keyboard aren't stopped nor attenuated significantly by the earphones. Due to the ongoing lockdown in the UK I can't really test the earphones on public transport, but I guess their performance would be limited in terms of passive noise isolation in that context.
Comfort, on the other hand, is quite good as the Rock Jaw Audio T5 Ultra Connect are bullet-shaped and small enough to fit in my ears without causing fatigue or discomfort, even after I wear them for a long time. This is obviously a matter subject to personal experience though, so your mileage may vary.
Extra Features & Battery Life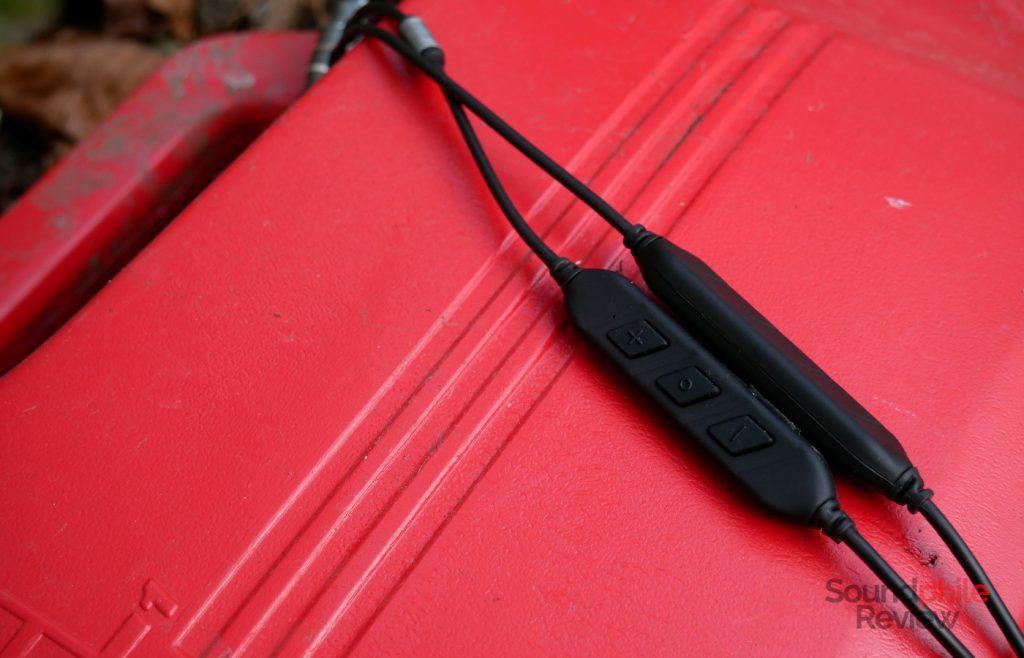 The Rock Jaw Audio T5 Ultra Connect support the Bluetooth 5.0 standard with the AAC and aptX codecs, which makes them able to stream in high quality with both Android and iOS devices. The range is quite good and I never had major issues with the connection (no dropouts, interruptions, etc).
The volume buttons also work as next/previous buttons if you hold them, while the play/pause button also works as a voice assistant button. Volume is adjusted independently of the source, which I find quite a good choice as it often allows for better adjustment overall.
The microphone works decently, but people I talked to while using the T5 Ultra Connect could clearly hear I was not using my phone as they said I sounded distant (but still clear enough that they could understand my words).
Battery life is above average, being about 11 hours according to the manufacturer and more like 9-10 hours in reality – it's more than enough to last for a whole day.
Sound & Specs
I tested the Rock Jaw Audio T5 Ultra Connect using a variety of sources, including my laptop (an HP EliteBook 745 G5), a Shanling M2X and a FiiO M9. Music files were mostly FLACs in standard 16 bit, 44.1 kHz resolution.
Rock Jaw Audio T5 Ultra Connect
| | |
| --- | --- |
| Frequency response | 15 – 25,000 Hz |
| Impedance | 24 Ω |
| Sensitivity | 102 dB |
| Bluetooth version | 5.0 |
| Codecs | AAC, aptX |
There's a constant hiss or rustling in the background; as it's relatively high-pitched it becomes fatiguing after a while, as it is strong enough to cover quiet music and it's still audible with lively music. What's most worrying is that this hiss follows the notes and follows their volume, becoming stronger or fainter as the music does. This causes headaches in little time to me. The hiss smears detail a bit and in fact is an issue in this regard, as there seems to be a high enough level of distortions to remove a lot of detail.
The soundstage has average width and no depth, which is however to be expected on this kind of earphones in this price range. Imaging is also not really brilliant, as there's left-centre-right positioning but not a lot on top of that. Instrument separation is good and I never found the sound muffled, but more complex and crowded tracks (such as Finsterforst's #YØLØ) will show the limits of the earphones.
The sound signature offers a good overall balance, though it's tilted towards the lower area. The lows are in fact stronger than what fans of neutral signatures would like, but they're still in check. In fact bass doesn't leak over mids, although it is prevailing and leaves the mids recessed. Which is quite good if you want to add some kick to your music. The internal balance is shifted towards the middle region, with the lowest depths resulting out of reach for the T5 Ultra Connect – although depth is fairly good. Equalisation can bring out the lowest notes easily though. Bass is reasonably well detailed, though more complex tracks such as Snarky Puppy's Chonks show its limits in terms of layering and separation.
Midrange is recessed, with an emphasis on the upper region that privileges female vocals and high-pitched instruments. It sounds a bit distant and as if it was out of focus. In Dead Already from the American Beauty soundtrack you can hear as if the instruments were somehow covered by a thick veil. That's highly dependant on volume, as raising the volume above a certain (still moderate) threshold appears to at least partially lift that veil, and it's more noticeable on some tracks, as it's not as present in tracks such as Porcupine Tree's Lightbulb Sun. All in all though it's a balanced enough presentation, one that gives you enough detail to enjoy most tracks.
Treble is a bit emphasised, especially in the lower area, with at least a couple subsequent peaks that make cymbals and triangles stand out. An example is the cymbals in Gabin's Keep It Cool, where they emerge clearly from the mix – in an almost unpleasant way, though. Treble is, alas, not redeemed by detail, which appears average at best. This is the area where the disturb caused by the hiss is most evident. Treble is not too extended and you can hear how it fades after the middle area.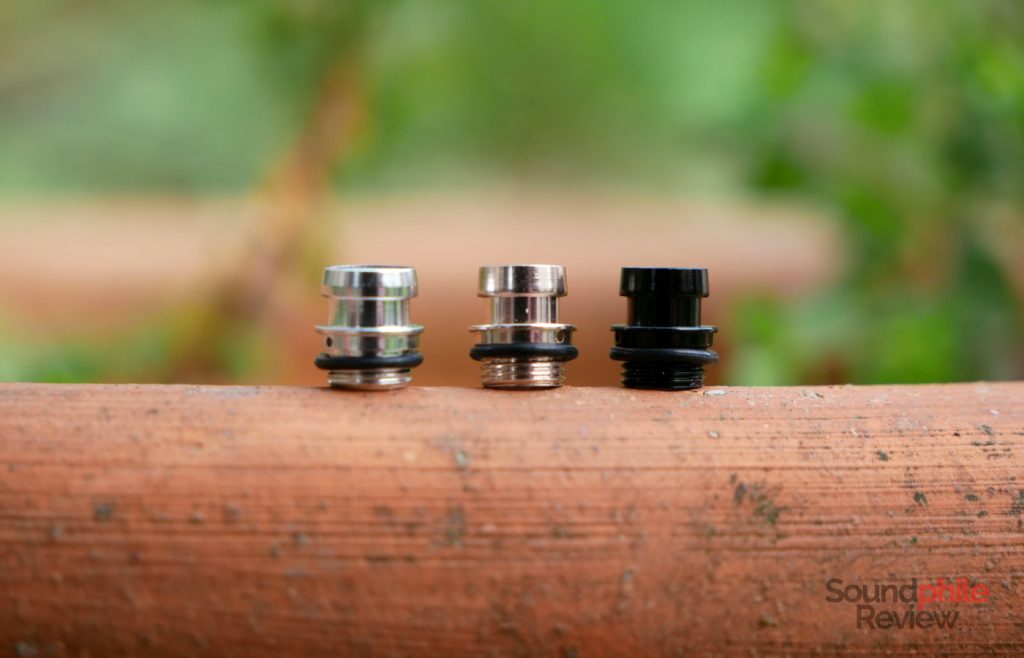 The Rock Jaw Audio T5 Ultra Connect offer a system of tuning filter which present the listener with sizeable differences between one filter and the next:
the gold filter is the one which I have talked about earlier;
the silver filter offers an increase in bass response, which is detectable however small;
the black filter gives more emphasis to midrange and treble than the gold filter, oddly enough without also making treble peaks worse.
All in all the black filter is the one that seems the best balanced and the overall best. What I find most interesting is the fact that no filter has any foam in it: it appears like the differences in tuning they introduce are to be ascribed to the size and shape of the individual filter, and possibly to the material they are made of (although I have no way to confirm this hypothesis directly).
Final Thoughts
The strong background is hiss is the only thing that holds back the Rock Jaw Audio T5 Connect Ultra. They're otherwise very pleasing earphones with nice comfort, good build quality, good battery life and Bluetooth range, plus a very decent sound signature. I hadn't heard of Rock Jaw Audio until they asked me to review this unit, but that's a shame as they do make fine products! The T5 Ultra Connect tick all the right boxes. They're actually surprising in multiple ways and I see them as being the ideal compromise between functionality and sound quality for many people.