We've been seeing active noise cancelling on full-size headphones for a while now, and there are several examples of noise-cancelling earphones too. So it's not too surprising that the latest evolution in the "true wireless" department is noise cancelling. The 1More True Wireless ANC bring noise cancelling to the fore as their pre-eminent feature, though they pack a lot of interesting features in their small shells not limited to cancelling out noises.
Disclaimer: I received this unit directly from 1More free of charge (thank you, Tom!). The 1More True Wireless ANC retail for $199. Additional information is available on their website.

TL;DR: recap
Pros




Cons

Good accessory set

Premium build and looks

Good battery life

Finding the right fit is difficult

Noise cancelling has limited effectiveness

Very fatiguing treble
Rating: 6.5/10
Packaging & Accessories
1More used their traditional way of packaging – an image-rich box with sketches of the earphones and their case. The box itself holds the earphones, the dock-case, two sets of eartips in three sizes (one set is in black silicone, the other in dual-density black and red silicone), one set of ear loops in three sizes, a USB to USB-C cable and a fabric bag. It's a really complete accessory set, as usual.
Design & Comfort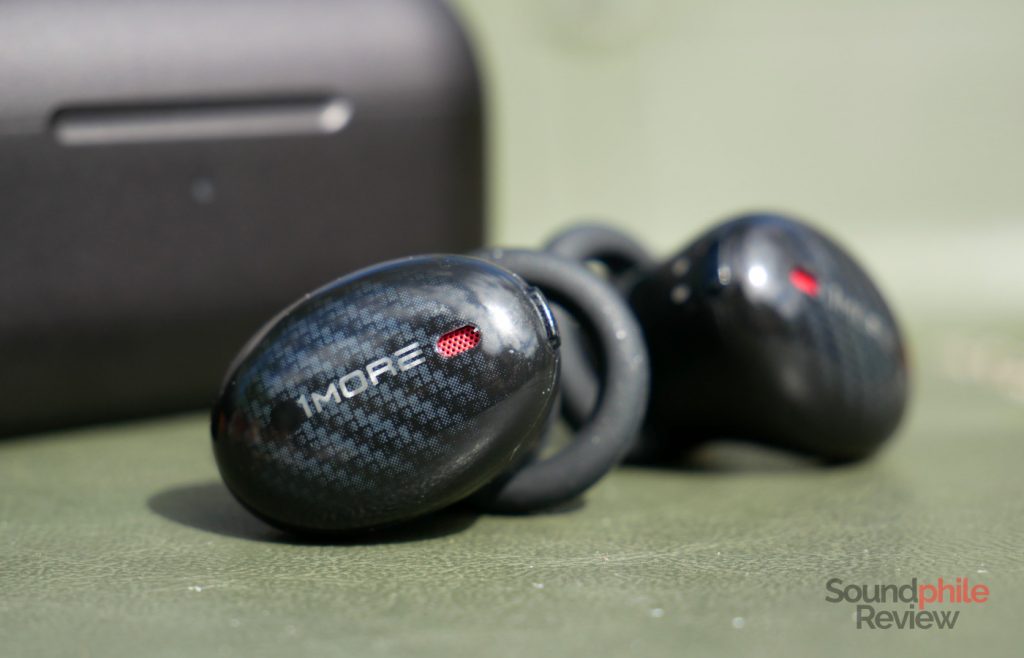 The 1More True Wireless ANC continue the "pill" design we first saw on the Stylish TWS, except they're now larger, shinier and with a carbon-fibre look. They look quite sophisticated, while also being simple. This is a major design win by 1More as the True Wireless ANC look beautiful without being overstated.
The faceplates are covered in carbon-fibre-like texture, with a hole covered by a red grille and a status LED. On one end there is a physical button to control volume, playback etc. On the same side there are two metallic pins: they're probably the sensors that allow the earphones to understand if you are wearing them or not. On the side facing your ear are three metallic pins to charge the battery and the nozzle, covered by a silicone loop to help the earphones stay in place (and it's really useful, as I never had the earphones come off while I was using them).
They're well assembled and light, with the plastic used that seems robust and durable enough to withstand many hours of usage.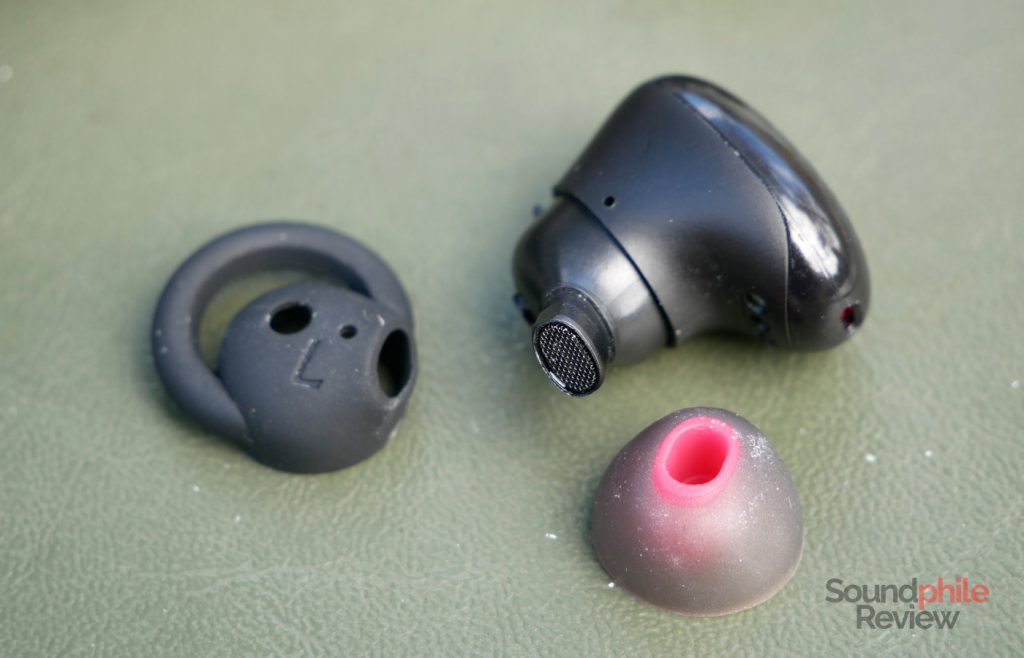 Finding the right fit proved problematic to me. Contrary to many other earphones the 1More True Wireless ANC require deep insertion, even with foam tips, due to their peculiar shape. The eartips also differ greatly in terms of fit and I had to try almost all of them before finally settling with the largest ones in the dual-density set. This also proved challenging as a wrong fit prevented the ANC to be effective; this is definitely not what I would like to see in this kind of earphones as it makes ANC so much more difficult to use. After I found the right position the True Wireless ANC were actually comfortable.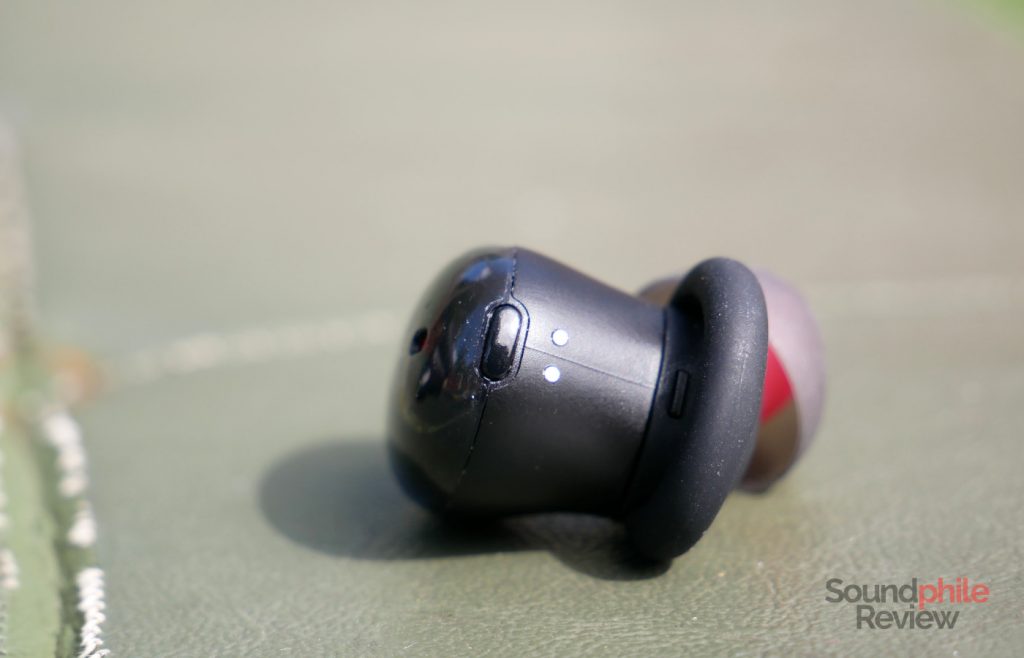 Passive isolation is close to zero whatever eartips I tried, even foam tips that I knew were good at isolation (having tried them on other earphones). This is an issue as there is almost no difference between wearing the earphones and not, thus making noise cancellation less effective. This is in fact part of why the True Wireless ANC are not as good at removing background noise as they could be.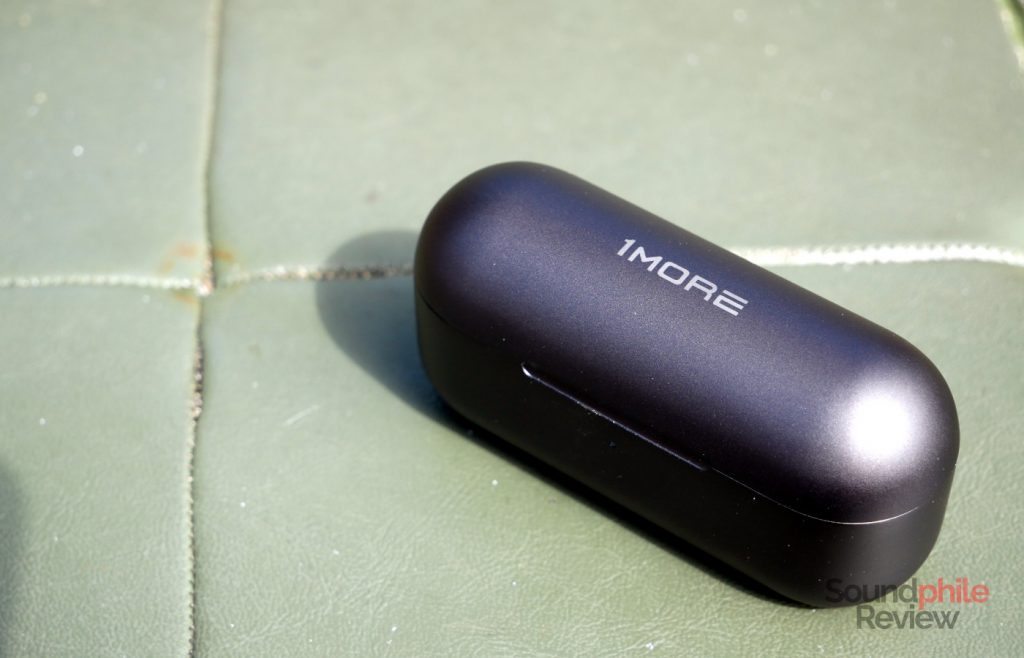 The case-dock is among the best I've seen: it's relatively large, but still small enough to be easily pocketed. It's made of metal, presumably aluminium, smooth and with a minimal seam at the lid. There isa rubber base that prevents it from slipping and has all the various regulatory information printed on it. The inside is made of plastic and there is a button to activate the status LED (which glows green, orange and red to give you a rough idea of the remaining battery charge). The back has a USB Type-C port to charge it.
Extra Features & Battery Life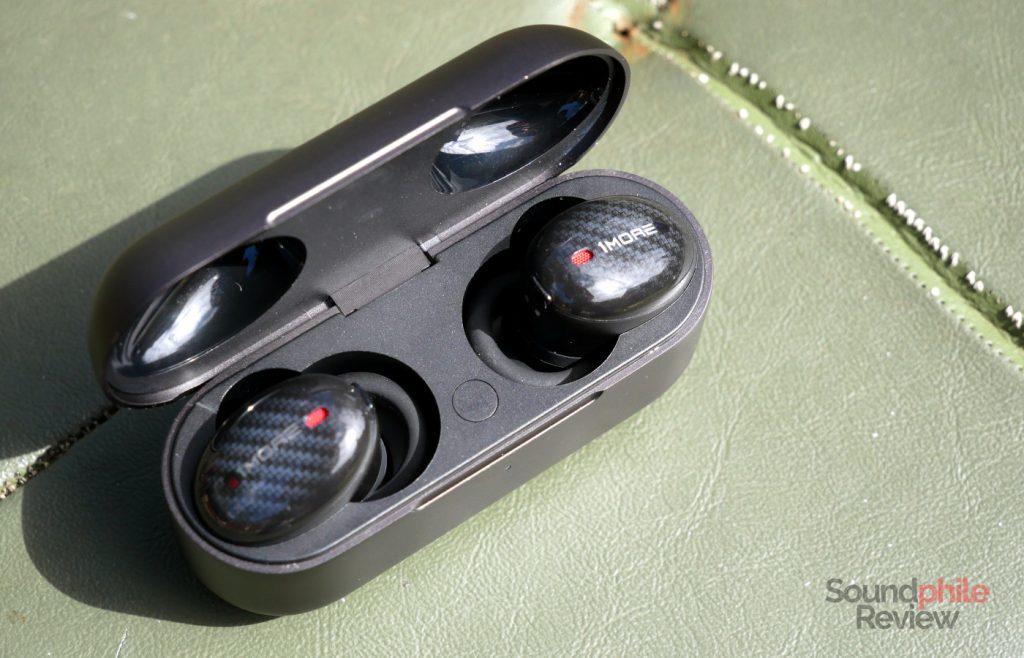 Much like most other wireless earphones by 1More, the True Wireless ANC offer a good sampling of codecs that includes SBC, AAC and aptX. This, together with Bluetooth 5.0 and Qualcomm's TWS+ technology, give the True Wireless ANC fairly solid connectivity.
Tapping two times on the faceplate enables the ANC and then cycles through the various modes: when ANC is enabled, tapping two additional times makes it switch to the lighter ANC mode, then to the "pass-through" mode and then to disabling any ANC feature. This leaves the physical buttons for volume (one click), playback control (two clicks) and voice assistants (three clicks). There's also a neat feature that automatically pauses playback if you take one of the earpieces out; in order to resume playback you have to install the 1More app.
Finding the right tips is fundamental to achieve a good noise cancelling experience. In my case, I found out that most of the tips provided by 1More were ineffective as I was not able to get a good seal with any of them, thus making the sound leak in – something that ends up in a large headache. Using foam tips I got better results, but there are still some caveats: one has to be especially careful with the fit in order to get good results.
I tested the 1More True Wireless ANC on a plane and I found that the first mode, which is the strongest, is effective at cancelling low-frequency noise but does not cancel midrange frequencies, thus leaving you with a constant hiss – the noise made by the plane's engines without the low-frequency rumble. And that turns out to be quite fatiguing and headache-inducing. This happens because the True Wireless ANC offer little to no passive isolation, which is usually what shields one from higher-pitched noises. When testing them on the London tube I had better results, with the rumble of the train almost disappearing but with public announcements and the people chatting still audible. In a pub my experience was negative, as the voices of customers were not cancelled by the earphones at all, thus forcing me to raise the volume.
The second mode is less effective at cancelling bass, so it leaves you with a more balanced sound which however does not take the engine's hum away – it just reduces it by a bit. The last mode is the so-called "pass-through" mode which captures sounds from outside and plays them, effectively amplifying them and making them clearer. This is especially useful if you are talking with someone in a noisy situation.
When enabling the noise cancelling in relatively quiet environments you can clearly hear a high-pitched buzz and a rustling sound, almost as if there was a constant breeze. These sounds are fatigue-inducing and make the use of noise cancelling in quiet environments not recommended.
At least on Android devices volume control is alas coupled with the source, so if your smartphone has bad volume control (i.e. large differences between volume steps) you can't count on better adjustments on the earphones themselves – which is a loss opportunity in my eyes.
The microphone works well, but on the other side of the call people always heard me as distant and not always clear. Popping one earpiece out of my ear and keeping it in front of the mouth fixes the issue though, even if this means that one hand will be busy doing that instead of something else.
Battery life is good without noise cancelling, as they reach around 5 hours of usage, but with noise cancelling it plummets to around three hours and a half. Considering the charging case offers a bit more than two additional charges, we are looking at a relatively low overall battery life (around 10 hours with noise cancelling). The case supports wireless charging with the Qi standard. I tested it and it works quite well, without even being significantly slower than the wired alternative. Alas the batteries of both the earphones and the case keep on losing charge as days pass even if you don't use them, so if you don't use the earphones for a couple of weeks you may find them completely drained.
Sound & Specs
I tested the 1More True Wireless ANC using a FiiO M9, a HiBy R5 and a Honor 9 smartphone. Files on all of them were the same and were mostly comprised of FLACs in standard resolution.
| | |
| --- | --- |
| Frequency response | N/A |
| Impedance | N/A |
| Sensitivity | N/A |
| Bluetooth version | 5.0 |
| Codecs | AAC, aptX |
The 1More True Wireless ANC do not feature the company's signature tuning, which mandates an accent on bass, but a signature plagued by peaks in the treble area that make it thin and piercing.
Bass would appear as a bit emphasised if it wasn't completely obliterated by the treble. It's mostly concentrated in the mid-bass region and doesn't have much depth, as one would expect; it's decently fast, but not too detailed nor layered.
Midrange appears to be recessed and largely influenced by the treble, as it sounds thin and lacking in body. There is a somewhat large emphasis on the upper area, which makes female vocals stand out but also makes voices in general shouty and lacking body. There's a decent amount of detail, but not much physicality.
Alas there is some discomfort caused by the peaks in the treble area. These peaks seem to concentrate in the lower and middle regions of treble, giving them a very large emphasis that causes fatigue and discomfort. They're invasive and prevent me from raising the volume over a (very low!) threshold, as the cymbals appear piercing. On top of that the detail level is limited and there seems to be limited extension. Even bass-heavy tracks such as Celtic Frost's Progeny appear thin and piercing due to the cymbals. This is the biggest pain point of the True Wireless ANC and the one that needs fixing most urgently.
With the early firmware revisions turning on the ANC mode made the sound change completely, up to the point it was not recognizable anymore – bass became unbearably predominant and suffocated everything else. Newer firmware revisions changed this and make ANC affect the tuning in minor ways, so there is a positive evolution in this regard.
1More True Wireless ANC Comparisons
Let's compare the 1More True Wireless ANC to other similar devices:
1More True Wireless ANC vs Sony WF-1000XM3: the WF-1000XM3 are bassier than the True Wireless ANC, with slightly more depth as well. Midrange is however slightly more prominent on the Sony, with more presence in the lower area and less in the upper one. Treble is not fatiguing at all and has better extension overall, with better detail as well. The ANC works much better on the Sony, with better cancellation of midrange frequencies that allows you to listen to music in traditionally difficult settings (for ANC headphones) such as pubs and other crowded places where midrange frequencies prevail. Even on aeroplanes Sony's ANC is more effective, as it prevents the fatiguing hiss I mentioned.
1More True Wireless ANC vs 1More Stylish True Wireless: the Stylish True Wireless, while belonging to a lower tier, are actually better than the True Wireless ANC, at least from an acoustic perspective. While the feature set and the battery life are much better on the True Wireless ANC, the Stylish True Wireless have a more balanced sound signature that has no significant treble peaks. Bass is emphasised and predominant, but in a moderate way and therefore it's much more bearable than the piercing treble of the higher-end model.
Final Thoughts
1More's first "true wireless" product that also features active noise cancelling leaves me quite disappointed. While things like design, build, connectivity and battery life are great, there are issues on the two main points of this product: sound and noise cancelling. In fact sound is just wrong, with excessive emphasis on treble which makes the earphones fatiguing to listen to, while noise cancelling has limited effectiveness. This is why while the 1More True Wireless ANC are not bad I can't recommend them: they do not deliver good enough performance in the two main selling points, so the competitors end up offering better value. I will keep an eye on the evolution of the firmware and update the review should anything change.