Let's face it: most headphone stands are not actually stands, they're hangers. And this means that there is a lot of issues with headbands being deformed and things like that. It's rare to find "proper" stands, where you just place your headphones on the thing and it holds them upright, but the people over at Neederland, a UK-based company, have designed just that. The TrueStand, as the device is aptly named, is such a stand: it is designed to hold the headphones from their earcups, rather than from their headband. And it works incredibly well.
Disclaimer: I received this unit as a free sample in exchange for this review. The TrueStand can be purchased on Etsy for £68.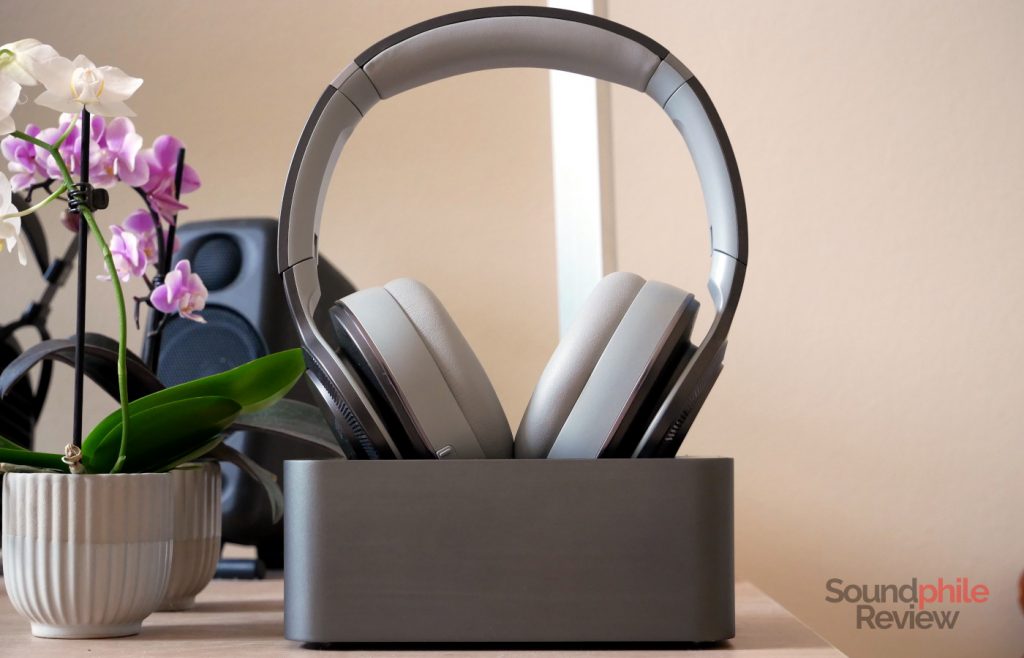 The TrueStand is basically a hollow rectangular block of aluminium with pre-formed foam inside. The foam has a hole shaped like an "8", so that you can place your headphones inside. It is shaped and sized so that basically every single headphone on the market is compatible with it. In fact, one thing I really like about the TrueStand is that it actually is a "one size fits all": I tried various headphones and all of them managed to fit. The only one I had a bit of an issue with was the HiFiMAN HE-R10D, but even in that case the stand worked fine and held the headphones upright – it's just that they were a bit larger than the holes.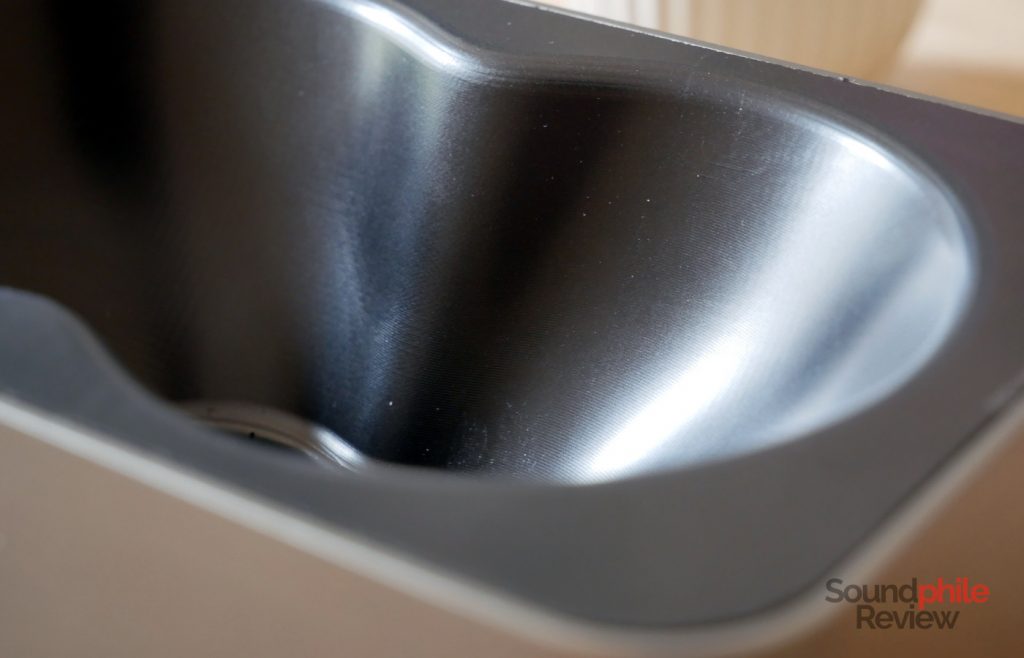 The aluminium is smooth and similar in colour to Apple's "space grey" (and it's not by chance, as we'll see later!); the edges are slightly bevelled, so there's no sharpness involved. The foam is quite firm and while it deforms slightly, it quickly gets back into the original shape. Neederland says that they used a carbon fibre-infused foam akin to that used in the automotive sector, and I must say it does look and feel great. It is soft enough to warp under pressure but not so much as to give in to weight, so headphones are held with care – and, especially when it comes to high-end products, you don't feel the worry of damaging them anymore.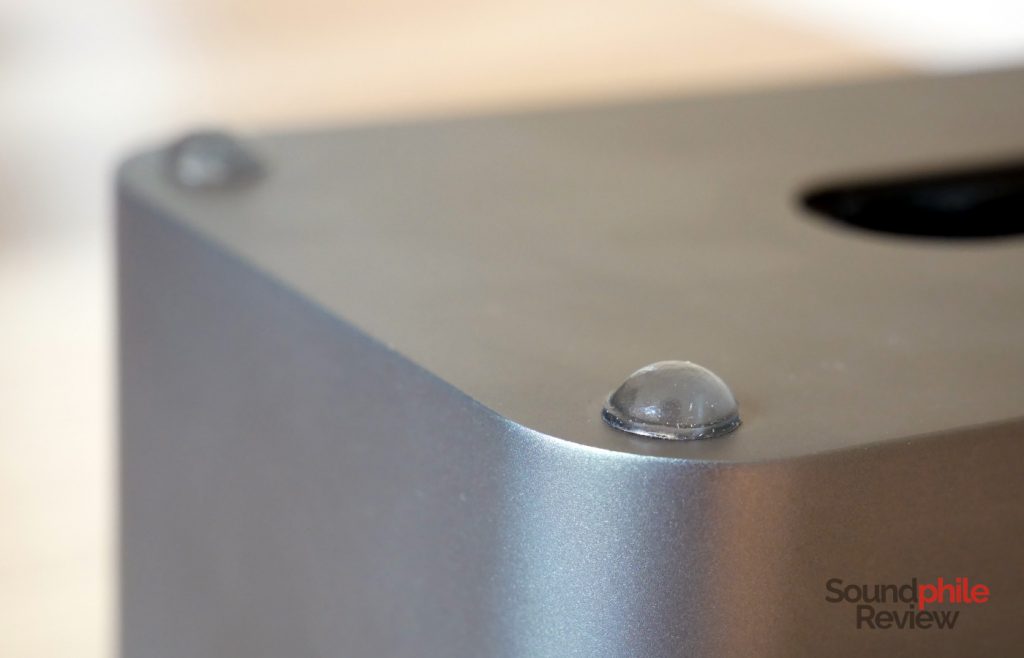 Build quality is exceptional, with the aluminium being perfectly smooth and the foam being almost devoid of any bubbles (which is quite hard to achieve!). My unit has a few minor issues like a dent in the aluminium and a few bubbles in the foam; I asked the company about that and they told me that it is part of a pre-production batch and that actual production batches are going to be better, as the suppliers get acquainted with the specifics of the product. Even with the dent and the bubbles, this is a great result for a pre-production unit.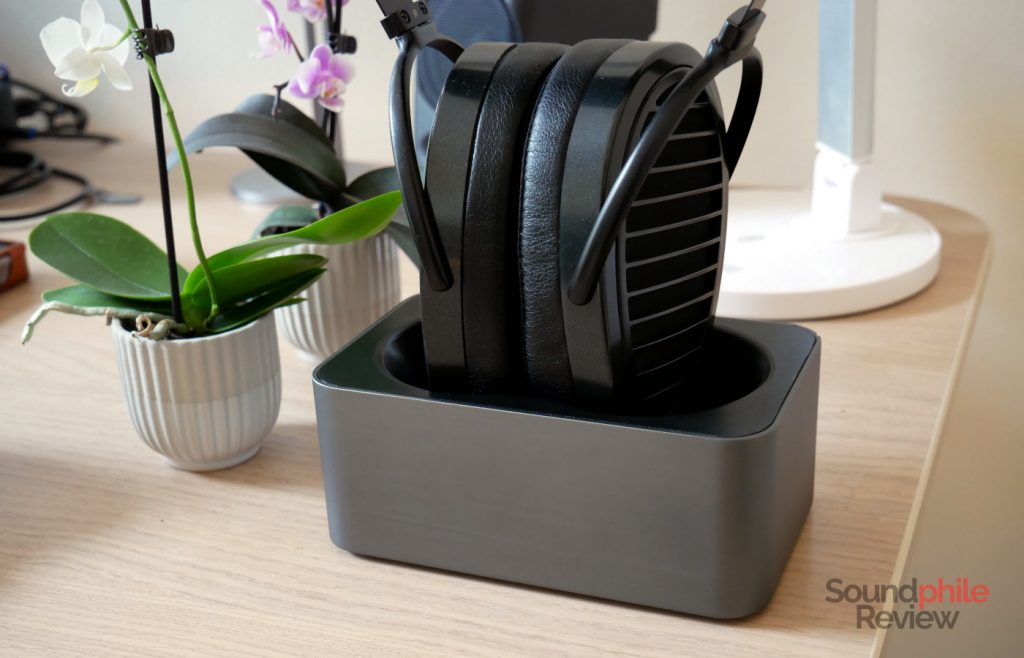 One thing I really appreciated – and I know this will sound weird – are the silicone feet. Seriously, they're great. They keep the TrueStand in place no matter what. They're not as strong as suckers, but we're close enough. The company says they are "nano-coated feet" and I think they're on to something with them – I need to find where they source them so I can buy them for other things in my house.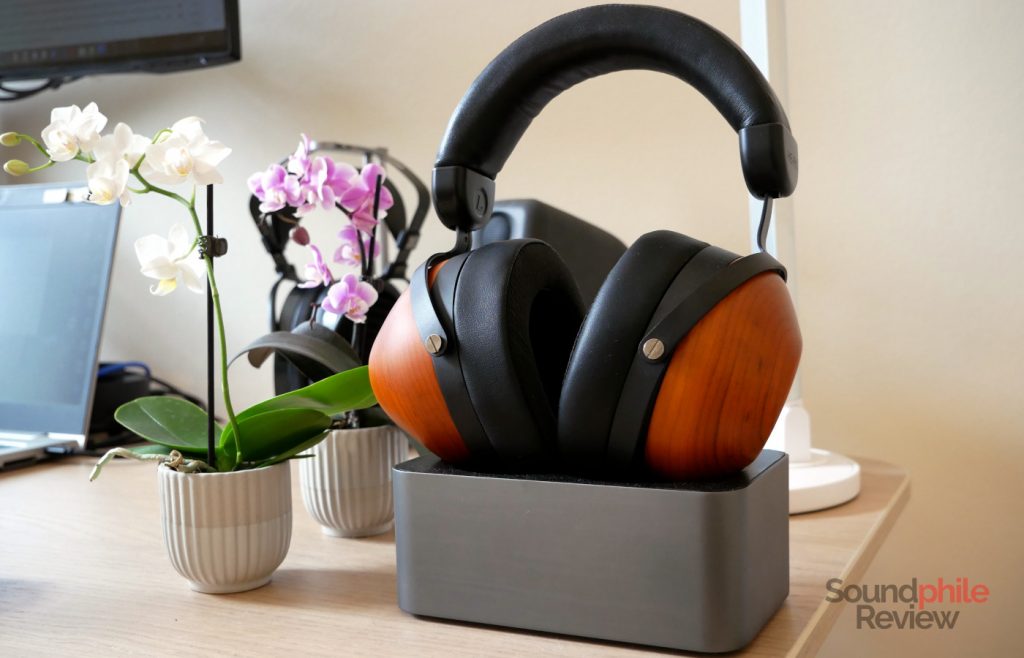 Now, regarding the functional part, the TrueStand is able to accommodate a wide variety of headphones. I tested it with the Cleer Flow II, the HiFiMAN HE-560, the HiFiMAN Arya, the Spirit Torino Radiante, the Meze 99 Classics, the Hyland Headphones Saturn One… They all fit, although some fit better than others (the Cleer Flow II, as an example, fit the best). Still, the variety of sizes and shapes is onsiderable and is a testament to the great design of this stand.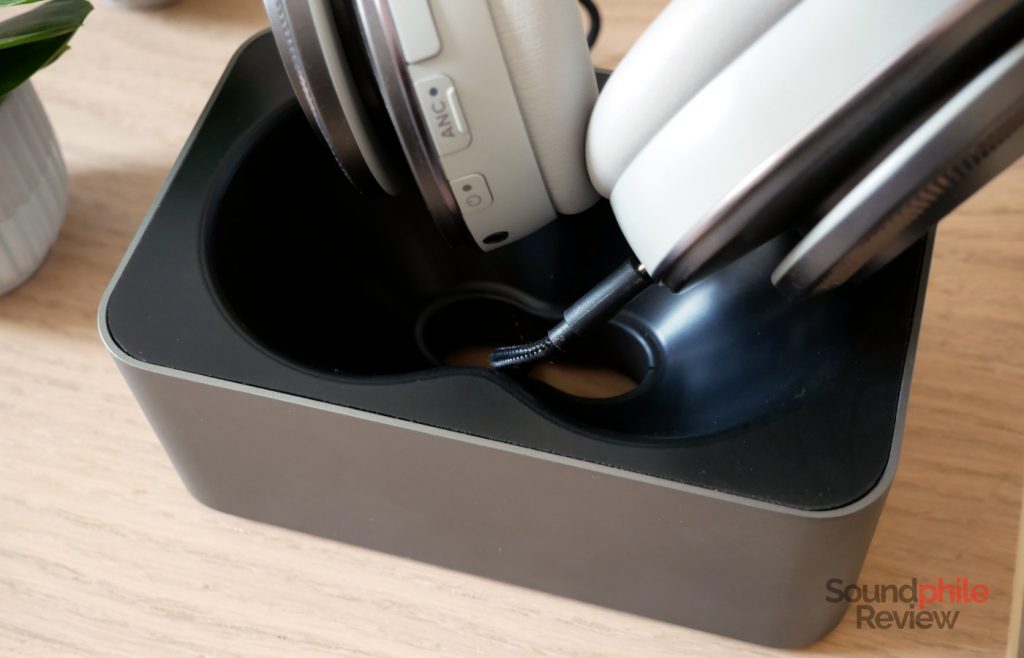 Now, on the bottom of the stand there is an "8"-shaped hole. I tried fitting the cables of the aforementioned headphones, but it didn't work that well. I then asked Neederland, and they told me this was designed to fit a USB cable to charge your wireless headphones, so that the cable is always in a place that's easy to reach while also staying hidden when not in use – basically form and function together. As you can see from the picture, it works quite well.
Now, I mentioned earlier that the connection with Apple is not a matter of chance and that's because the TrueStand actually contains two magnets that are picked up by the Apple AirPods Max so that they switch to the "low power" mode. Although it's rather specific, it's a very nice touch.
All in all, I found great value in the TrueStand. It really does solve an issue: it makes headphones rest on their earcups instead of their headbands, preventing them and the padding on the earcup from being damaged by the force of gravity or, as it happens with those omega-shaped stands, by the simple pressure applied on them. While the price is certainly in the "premium" range, the TrueStand is a high-end stand that solves many issues at once and saves you some money in the long run as well. I wish I had it before, so that my AKG K7XX's headband wouldn't need replacing!
The TrueStand offers an alternative way to keep your headphones safely while preserving them better than with alternative methods. And it does so while also looking modern and elegant – it is sure to look good on any desk or shelf. The great craftsmanship that went into making this product is the proverbial cherry on top. It gets my full recommendation, so much so that it's going to be featured in my best headphone stands article.