FiiO's entry-level portable Bluetooth adapter, the FiiO BTR3K, is actually anything but entry-level. This small Bluetooth DAC, or even Bluetooth amplifier (it seems there are actually countless ways to name these devices), is one of the smallest in its category but it packs lots of interesting features that make it especially compelling. In a world that's increasingly going wireless, for better or for worse, small devices like the BTR3K actually help in keeping the quality bar high without renouncing to convenience.
Disclaimer: I would like to thank Advanced MP3 Players for lending me this unit for a long time – I really appreciate it! They sell the BTR3K for £69.
TL;DR: recap
Pros




Cons

Well designed and built

Very long battery life

Supports practically all Bluetooth codecs

Balanced output

Good power output

Clicks and pops with very low volume content
Rating: 8.2/10
Packaging & Accessories
The package includes a transparent hard plastic shell, a USB to USB Type-C cable and a lanyard, plus some manuals. It's a down-to-basics set, but there's enough to get one started.
Design & Build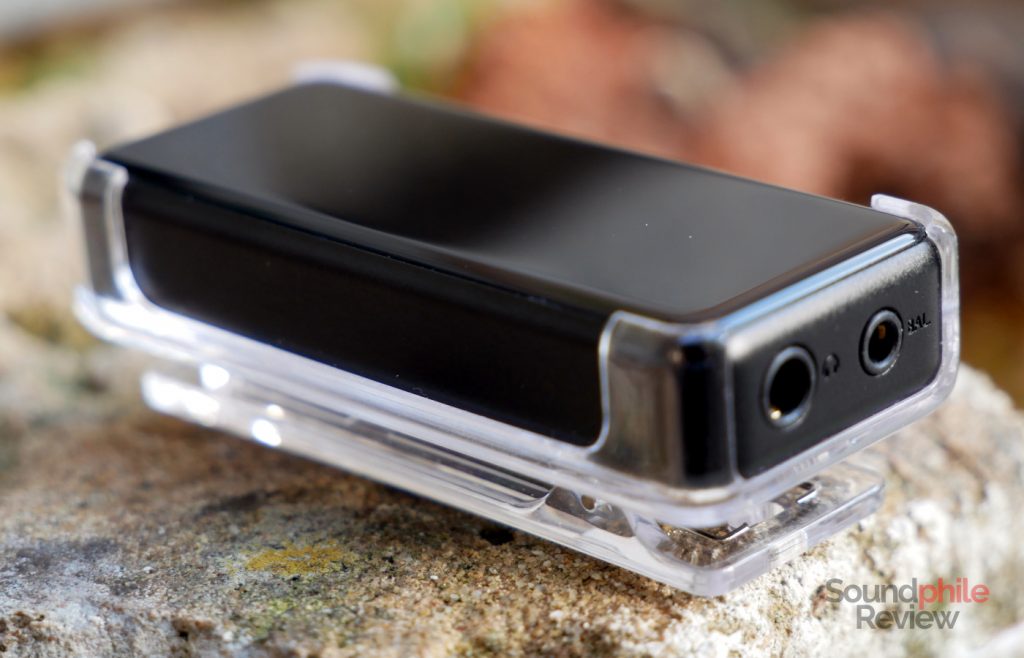 The current trend in the audiophile world is that of glass and metal for portable devices… which, incidentally, is just the same of mobile devices like smartphones and tablets. The FiiO BTR3K goes with the flow and sports a metal and glass body, with the four sides made of metal (presumably aluminium) and the top and bottom covered by a sheet of so-called "2.5D" glass (which is to say, a sheet of glass that's thinner around the edges so it appears tapered). FiiO used bold, squared lines for this device and the result is a black slab that's almost imposing. Well, it's small so it's not really imposing, but you notice its design.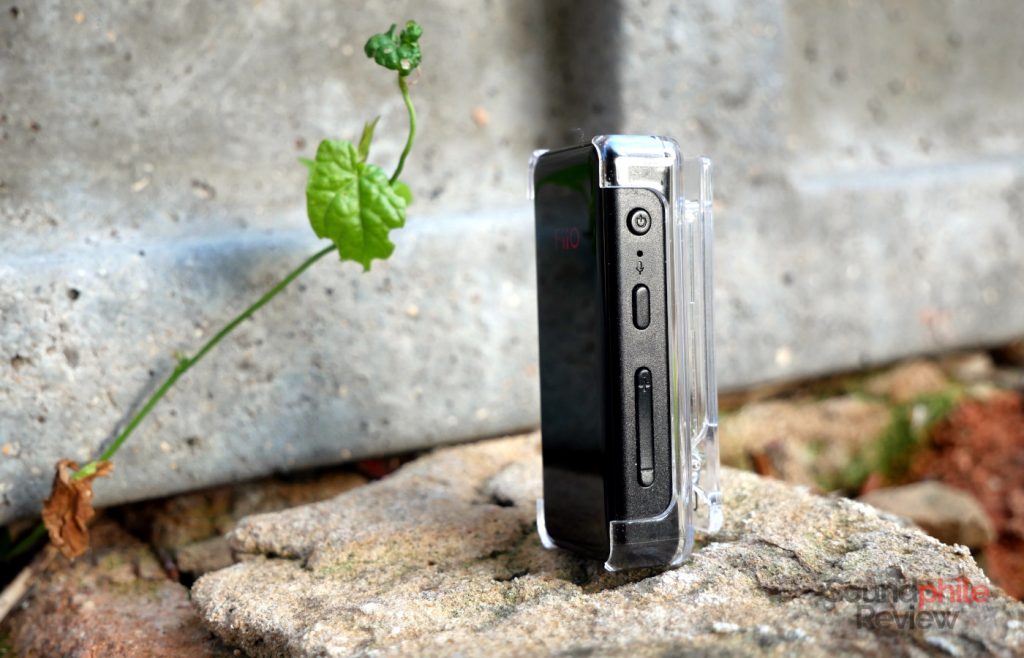 The left side is clean, while the right side hosts the physical controls (power button, play/pause button, volume rocker), the lower side hosts the two jacks (3.5 mm and 2.5 mm) and the upper side hosts the USB Type-C port.
The metal and glass construction lends the FiiO BTR3K a feeling of solidity and durability; the materials are impeccably worked and the device is flawlessly assembled.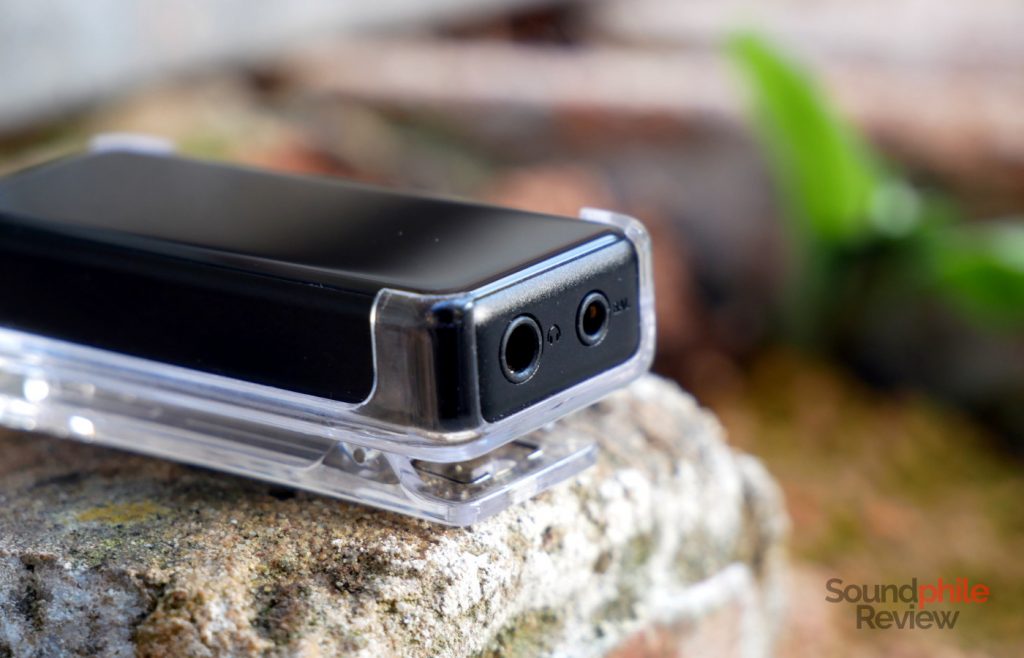 The thing that really surprises me about the FiiO BTR3K is the size: the device is so small it's even smaller than the already small Shanling UP2 and, despite this small size, it offers balanced output. Apart from size, what impresses me is also the general design: it's really clean and simple.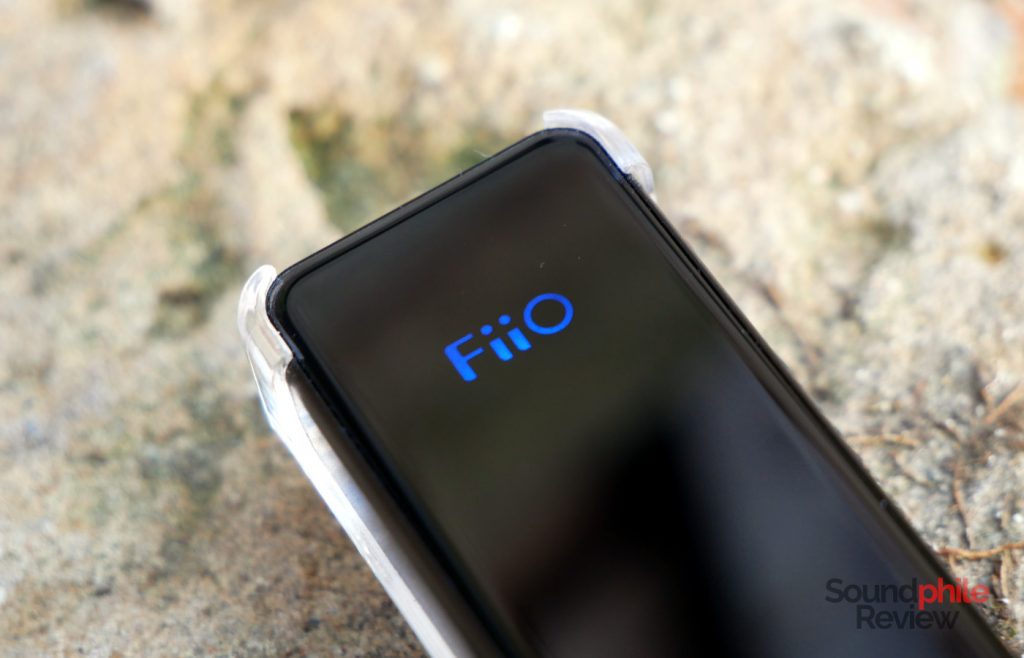 A status LED is hidden under the glass on the front; it lights up the FiiO logo in various colours to indicate the current sample rate being played. It's discreet and well done, without any light leak.
Features & Specs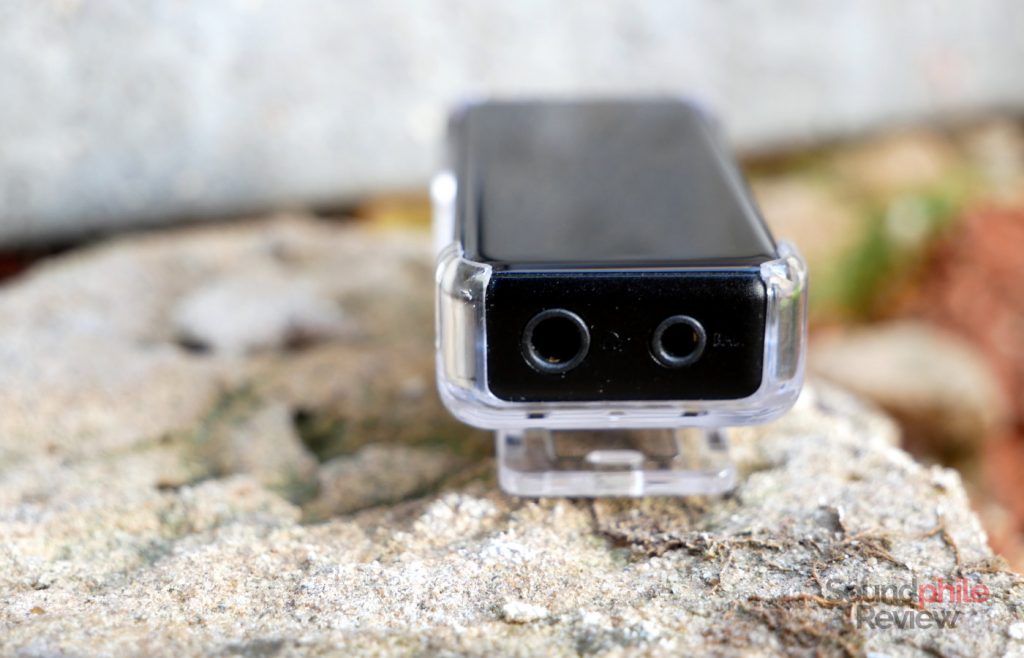 Volume adjustment is independent from the source device, whether the BTR3K is connected via Bluetooth or USB. In both cases it keeps its own volume that's distinct from that of the source; this is especially useful if your device does not have fine-grained volume levels.
Via USB the device supports decoding streams up to 16 bit and 48 kHz; anything above that will simply be downsampled so there is little benefit in using the BTR3K for high-res content. I tested using it with Linux and it works without issues; on Windows it requires drivers, while on macOS it should be plug-and-play.
There is a microphone on the right side which can be used to take/make calls when connecting the BTR3K to a phones; it works with PCs, too, but it doesn't work when connecting the device through USB. The microphone works decently well, although it has to be kept near the speaker's mouth to get the best results.
Input
USB (up to 16 bit / 48 kHz PCM)

Bluetooth 5.0 (SBC, AAC, aptX, aptX LL, aptX HD, LDAC)

Suitable headphones impedance
16 – 100 Ω
Output impedance
⩽ 0.3 Ω (single-ended)
⩽ 0.5 Ω (balanced)
Maximum output power
Single-ended output:

50 mW (16 Ω)
25 mW (32 Ω)

Balanced:

40 mW (16 Ω)
78 mW (32 Ω)

Frequency response
20 – 20,000 Hz (aptX)
20 – 40,000 Hz (LDAC)
THD+N (@1 kHz)
< 0.003% (LDAC, single-ended)
< 0.002% (LDAC, balanced)
SNR
⩾ 119 dB (single-ended)
⩾ 122 dB (balanced)
Crosstalk
73 dB (single-ended, 32 Ω)
108 dB (balanced, 32 Ω)
The FiiO BTR3K uses two AKM AK4377A DACs, which are specifically made for mobile applications (which have a very limited power envelope). It seems like FiiO opted for using the DACs' integrated amplifier stage and this may explain the low power output. The added power available in balanced mode would also be explained by the presence of a dedicated amplification stage per channel.
The only slightly disappointing thing about the FiiO BTR3K is the power output, which is relatively limited: at 50 mW in single-ended mode it's definitely not a powerhouse. At 78 mW on 32 Ω loads it is a bit better, though you definitely won't be able to drive super-high-impedance or super-low-sensitivity headphones with this thing.
FiiO opted for the Qualcomm CSR8675 chip which is the de facto industry standard, as it's also used by Shanling and EarStudio (plus many other companies) in their competing products.
Battery Life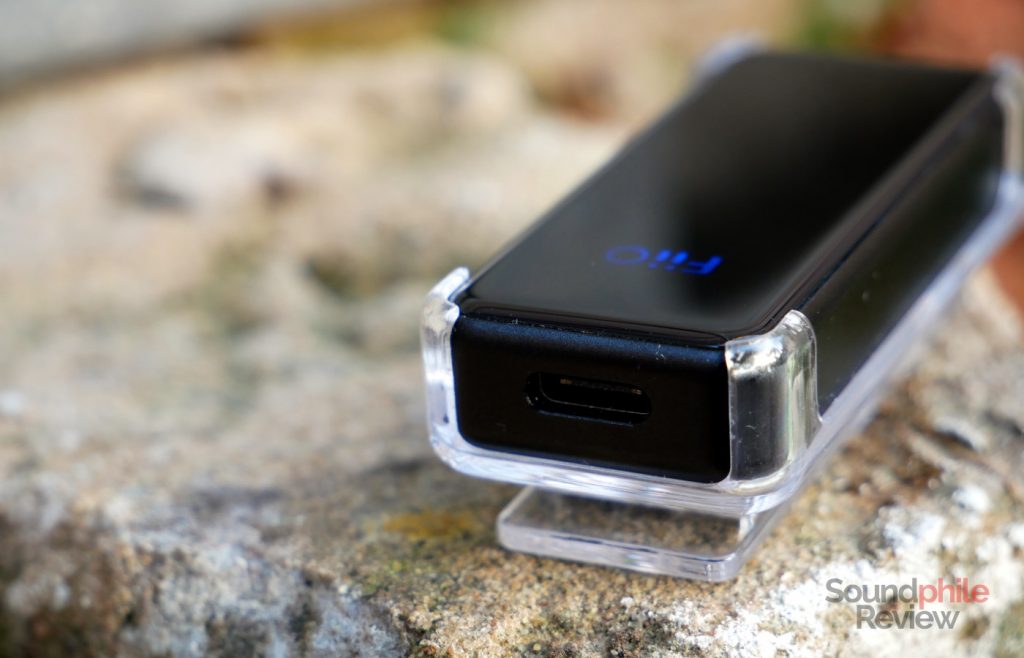 One thing I really like about the FiiO BTR3K is the battery life. I don't know what magic FiiO conjured up, but this thing is small and it has a phenomenal battery life. I can hook it up to my PC in the morning and just leave it connected until evening – some 9 hours later. It really does great in this regard and it's downright impressive, especially once we factor in the diminutive size. With balanced output it's a bit less than that (around 7 hours), but still quite remarkable.
Software
The FiiO BTR3K can be controlled through the FiiO Music app, available for Android and iOS. It's not really straightforward to get to the controls, as you have to scroll through the vast amount of items in the drawer on the left, select the device for connection (even if it's already connected to the smartphone), then click on it once it says it's connected. Apart from this access hurdles, the options offered there are reasonable and allow one to customise the device to their liking, including an equaliser and four filters.
Sound
I tested the FiiO BTR3K with various headphones; among those are the HiFiMAN HE-560, the Thieaudio Voyager 3 and Legacy 3 and the Shanling ME500 Platinum Edition. I used a Shanling M2X as the main source, though I also connected the BTR3K to my desktop PC (with a Bluetooth 5 adapter).
Now the HiFiMAN HE-560 sound okay-ish with the BTR3K; the volume is limited and there's also limited physicality. With easier-to-drive headphones and earphones the situation is much better and there are no specific issues.
There is a faint hiss in the background when using sensitive earphones. What I find most interesting is the fact that there are "pops" when there is a transition to or from silence, as if there were small peaks in current output. This is consistent with both Bluetooth and USB connection with multiple devices, so it appears to be an issue of the BTR3K in itself. It's hardly noticeable with headphones with impedance greater than 32 Ω, but with 16 Ω (or less) impedance it's quite evident. A song that displays this behaviour is Opeth's The Moor, which starts with a very low volume that progressively increases.
As far as I've been able to assess, there is no deviation from an ideal, neutral sound signature: the BTR3K reproduces sounds without adding or subtracting anything from the intended sound of the track being reproduced. It's also correctly fast and detailed, without any smearing. It presents music as it is, for better or for worse.
FiiO BTR3K Comparisons
There's a whole world of portable Bluetooth DACs out there at this point and I have three of them that I deem especially worthy:
FiiO BTR3K vs Shanling UP2: the UP2 and the BTR3K are quite similar, with the main difference being the FiiO unit offering balanced output. The rest of the features are quite similar, with the BTR3K offering slightly more power (78 vs 67 mW), the UP2 offering more codecs (it is compatible with the LHDC/HWA codec) and higher resolution when used in cabled mode. Battery life is also similar, with the BTR3K possibly having a very slight edge; Bluetooth connection quality is comparable. Soundwise, the UP2 has a cleaner background and more volume levels, so it's easier to adjust the volume to one's liking. There's no clear prevalence of one over the other, though.
FiiO BTR3K vs Shanling UP4: the UP4 is an UP2 on steroids and it's better than the BTR3K on many fronts. Among those are power output (160 mW vs 78 mW), codec compatibility (LHDC/HWA), battery life, background noise (there's none) and higher resolution for USB connections. The UP4 is also larger and heavier, though, and while it's still tiny some people may trade the added power and battery life for an even smaller size.
FiiO BTR3K vs EarStudio ES100:  the ES100 is the de facto standard of this category of devices and for good reason. The competitors are catching up, as demonstrated by the BTR3K, but there are still some areas where the EarStudio device leads. Amongthose are power output (at a massive 300 mW), Bluetooth range, battery life (at an astounding 14 hours despite being even smaller than the BTR3K!) and configurability. Overall the ES100 offers more choice in terms of what one can drive with it, so it should be chosen if one wants to drive even hard-to-drive full-size headphones (e.g. planars).
Final Thoughts
I really enjoy using the FiiO BTR3K – we may well say I'm a fan. I'm pretty enthusiast about it because it offers everything I need in such a device: small size, decent power output, Bluetooth 5 with high quality codecs, great build quality and very long battery life. Plus it has a very good Bluetooth range. Considering it's well below $99, its value is quite remarkable. It's a joy to use and being so small it is so easy to fit in any pocket it's the ideal travel companion for any audiophile who wishes to give their headphones the Bluetooth treatment.