Bluetooth is becoming more and more a viable option even for audiophiles, thanks to the advent of high-quality codecs such as LDAC. That's true not only about portable devices, but about desktop stuff as well. The xDuoo XQ-100 is part of a new wave of Bluetooth adapters that you can put into your audio chain to get the convenience of wireless without sacrificing sound quality.
Disclaimer: I received this unit free of charge from xDuoo. The XQ-100 retails for $389.

TL;DR: recap
Pros




Cons

+ Relatively small, elegant

+ Clear display

+ Great Bluetooth codec choice

+ Very good Bluetooth connectivity

+ Balanced output

– Only offers Bluetooth and coaxial connections

– A remote would have been nice
Rating: 8.5/10
Packaging & Accessories
The xDuoo XQ-100 doesn't come with a lot of accessories and, in fact, there are none in the package. The only thing you'll find is the power cable and this is the reason why I'm not uploading any pictures.
Design & Build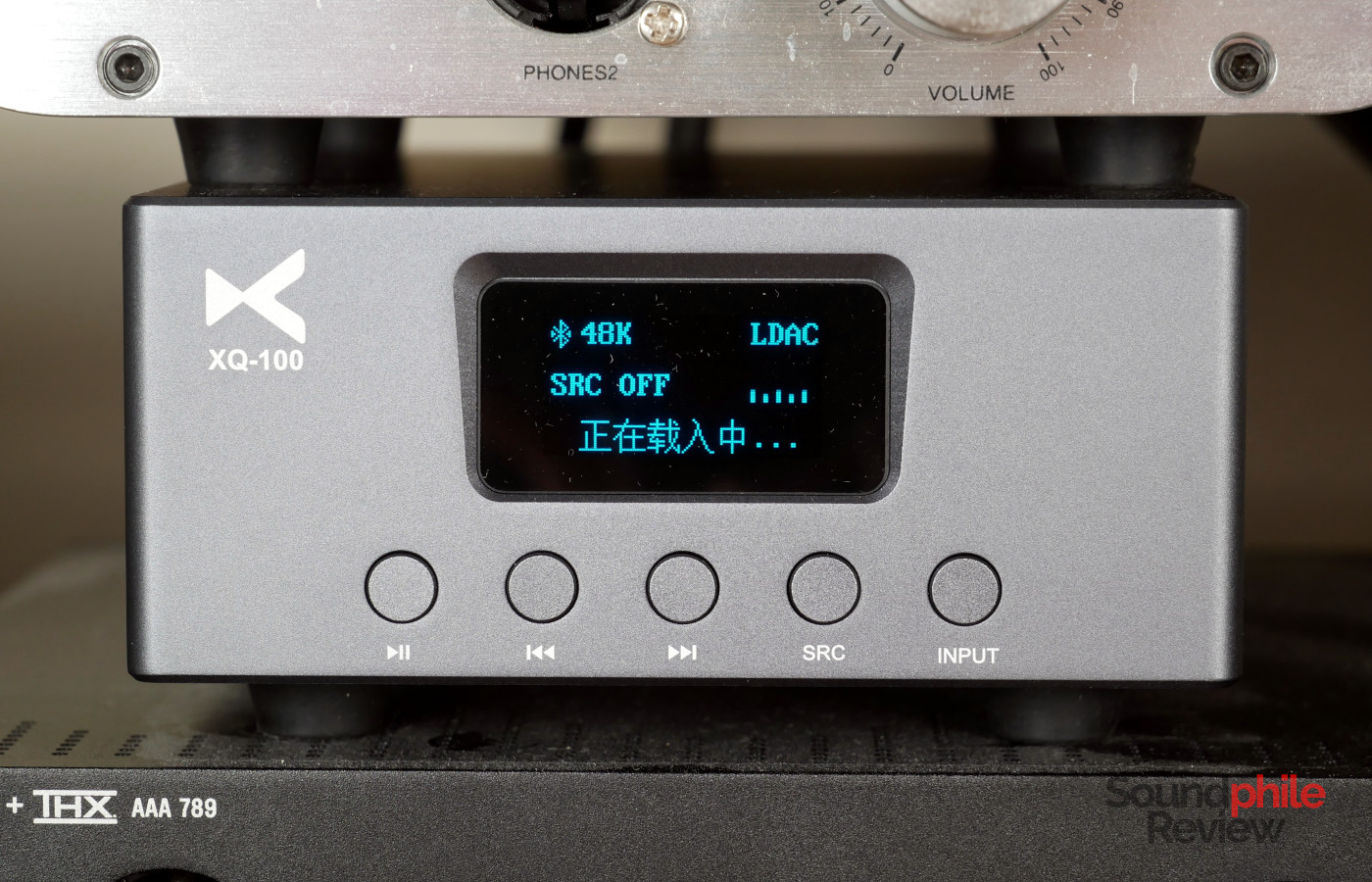 The design of the xDuoo XQ-100 is similar to other recent xDuoo products and is therefore a grey metal parallelepiped. It's a simple design, but (or maybe therefore) it is quite serious and elegant and it goes well with most other audio devices on the market. The XQ-100 is relatively compact, being just 21 x 12 x 5.2 cm (height is actually 6.2 cm with the included feet). It is quite narrow compared to the usual width we find in other devices, but it is the same size as other xDuoo products, such as the TA series, so it can easily be stacked with those. Regarding this, it is interesting to note how xDuoo officially discourages you to stack other things on top of the XQ-100, but then shows you exactly that on official product images. I've used it stacked with a Little Dot MKIII SE and it has had no problems at all.
The front hosts an OLED screen and five buttons. The screen is rather bright and is perfectly visible even with sunlight hitting it directly; it shows various information like Bluetooth connection, sampling rate, codec used and upsampling status; it also shows some Chinese text that cannot seemingly be translated to English or other languages.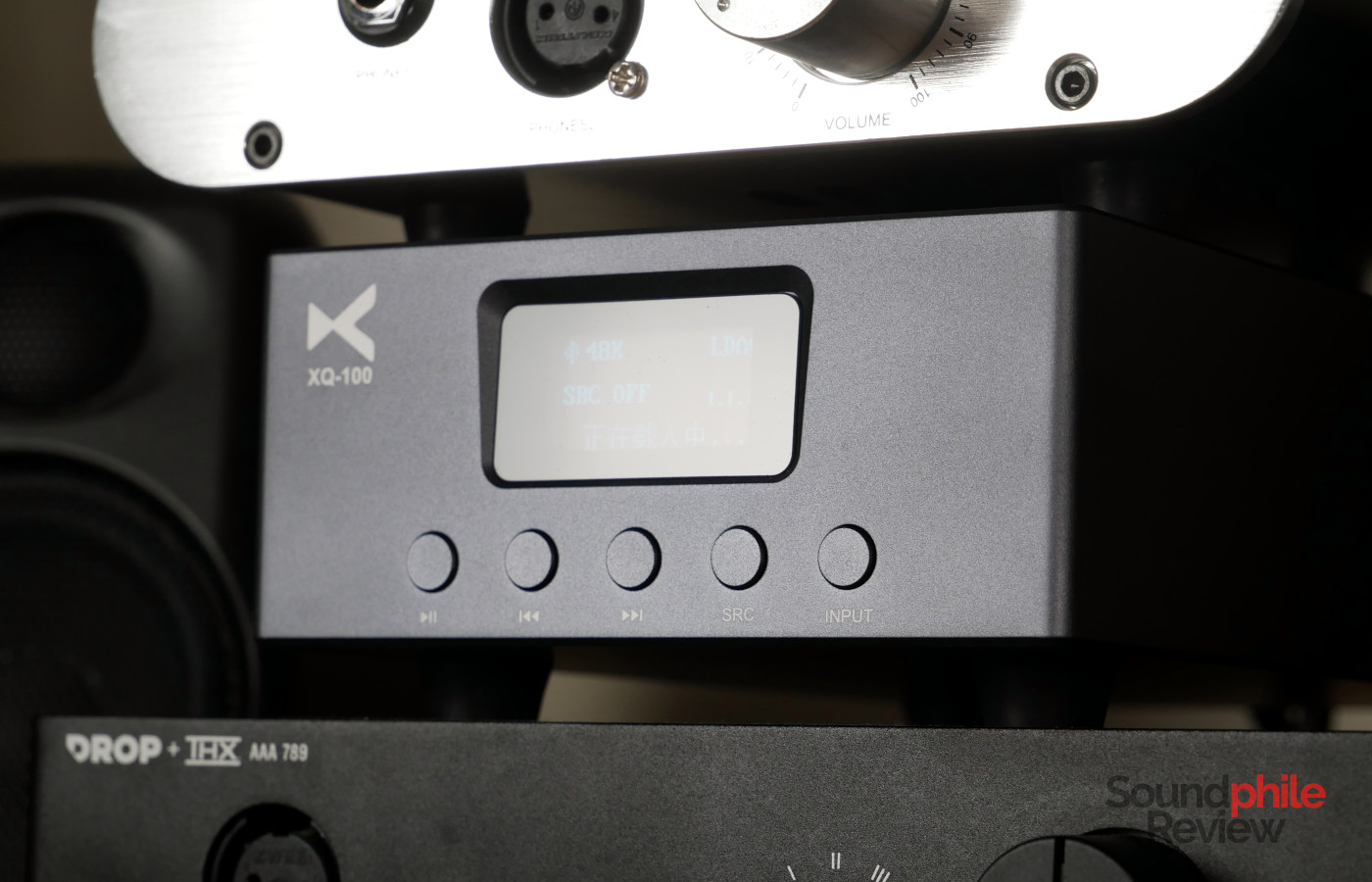 The five buttons below it are play/pause/standby, previous track, next track, upsampling (called SRC) and input selection. The play/pause button also allows you to put the xDuoo XQ-100 in standby mode; it is not quite convenient at that, as it requires you to press it for about seven seconds to put the unit in standby and about five seconds to wake it back up. A dedicated button or, even better, a remote would have been much better, especially once we factor in the price of this unit.
Specs & Features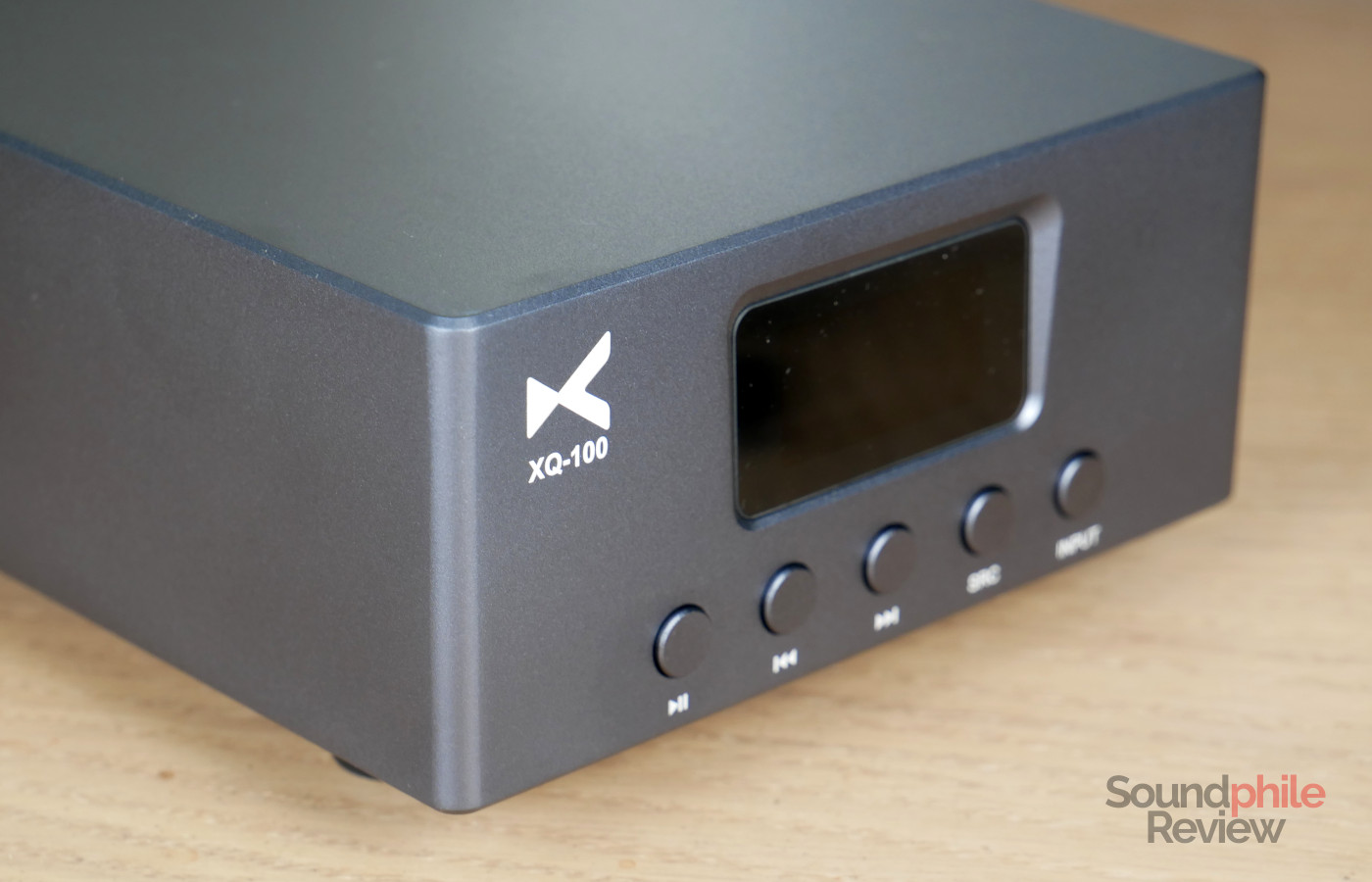 By all means and purposes, we can consider the xDuoo XQ-100 as a DAC with Bluetooth capabilities and no traditional USB input. In fact, the only other available input is coaxial. On the Bluetooth side we find support for the Bluetooth 5.0 standard with various codecs: SBC, AAC, aptX, aptX LL (low latency), aptX HD and LDAC. That's a rather complete set and allows you to get wide compatibility as well as great sound quality with codecs such as aptX HD and especially LDAC.
The Bluetooth connection is rock solid and I've never had any issues with it, despite the large amount of wireless devices around. Range is quite good as well and I had no trouble streaming music even from outside the room. As before I mentioned the possibility to put it in a stack, I've done that with no significant effect.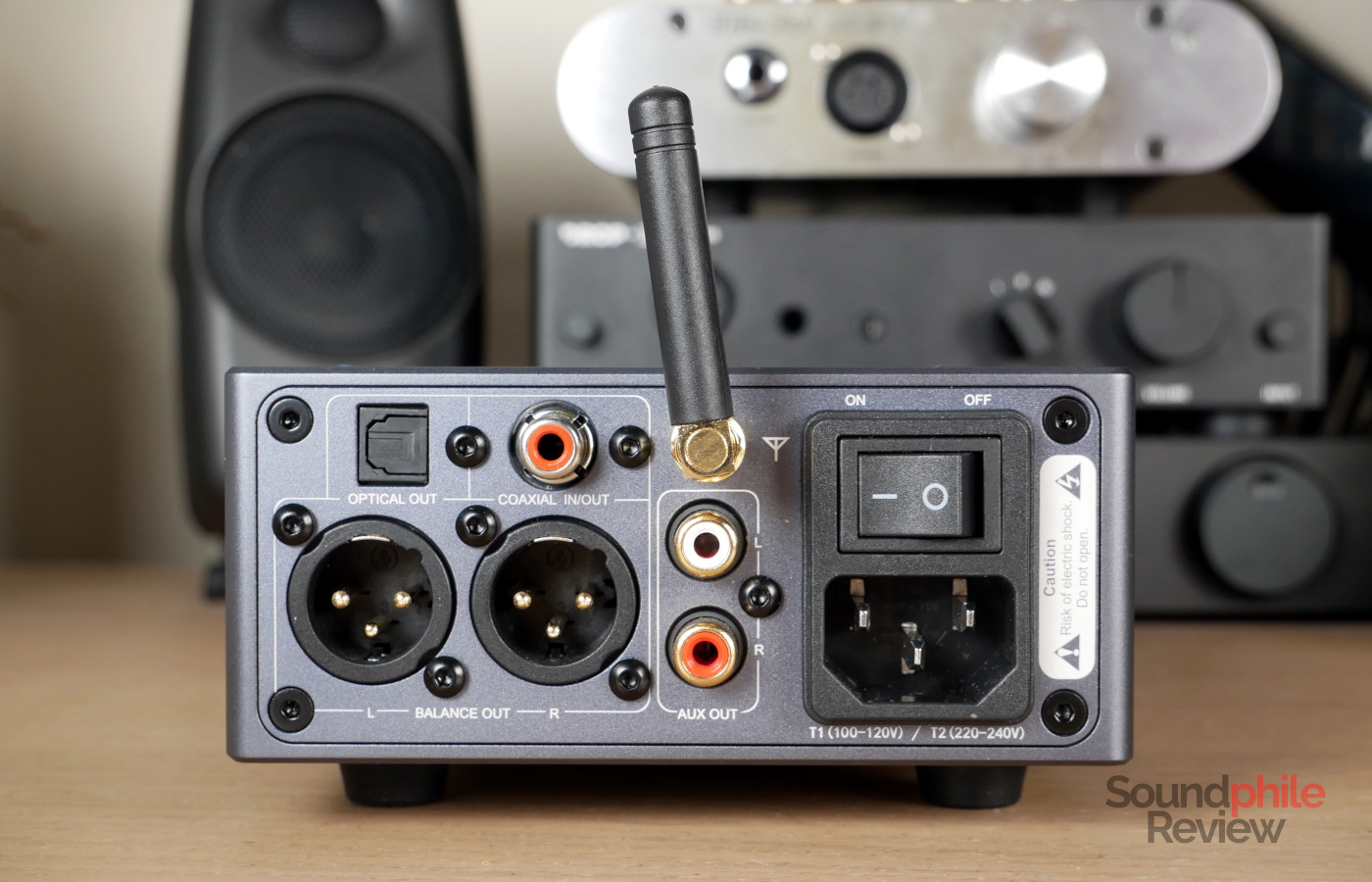 As for the outputs, the XQ-100 offers RCA and XLR on the analogue front, plus coaxial and optical on the digital one. Coaxial, as you can see, can double as both input and output which gives you a bit of flexibility in case you want to connect the XQ-100 to your source using a cable.
Input
Bluetooth (up to 24 bit / 96 kHz)

Coaxial (up to 24 bit / 192 kHz)

Output
Digital: optical and coaxial (up to 24 bit / 192 kHz)

Analogue: RCA and XLR (up to 24 bit / 192 kHz)

Frequency response
N/A
THD+N (@1 kHz)
< 0.00087% (optical and coaxial)
< 0.07% (RCA)
< 0.005% (XLR)
SNR
N/A
Crosstalk
N/A
The xDuoo XQ-100 uses the ESS Sabre ES9038Q2M DAC chips in a balanced configuration, meaning there is one DAC per channel. Output through RCA connectors is 2 V, while through XLR connectors it's 4 V. As the XQ-100 is a simple transport, it has no volume adjustment.
The chip that takes care of the Bluetooth connection is a Qualcomm CSR8675, which has native support for aptX and LDAC, while the conversion to optical and coaxial is assigned to a Cirrus Logic CS8406 chip, which is able to output at 24 bit / 192 kHz. In this regard the XQ-100 is basically identical to the XQ-50 Pro, the main difference being the balanced output.
Sound
I've tested the xDuoo XQ-100 with various devices; the chain I've used the most was as follows: XQ-100 → Topping DX7 through coaxial → IK Multimedia iLoud Micro Monitor. I've also tested it connecting it directly to a THX AAA 789 amplifier using both RCA and XLR outputs.
Bluetooth codecs have come such a long way that in my tests I couldn't tell the difference between using the XQ-100 with LDAC and using the DX7 through USB! The difference in sound quality is null, which is great news as it means you can integrate this device in whatever chain you already have (or you want to build) without fear of it getting in the way. There's no sound colouration whatsoever even when it comes to the analogue output: RCA and XLR sound the same, and I can't really distinguish the xDuoo from the Topping.
The XQ-100 sports the "SRC" feature which upsamples the audio signal to 96 or 192 kHz. As reasonably expected, this feature does not alter the sound in any appreciable way.
Final Thoughts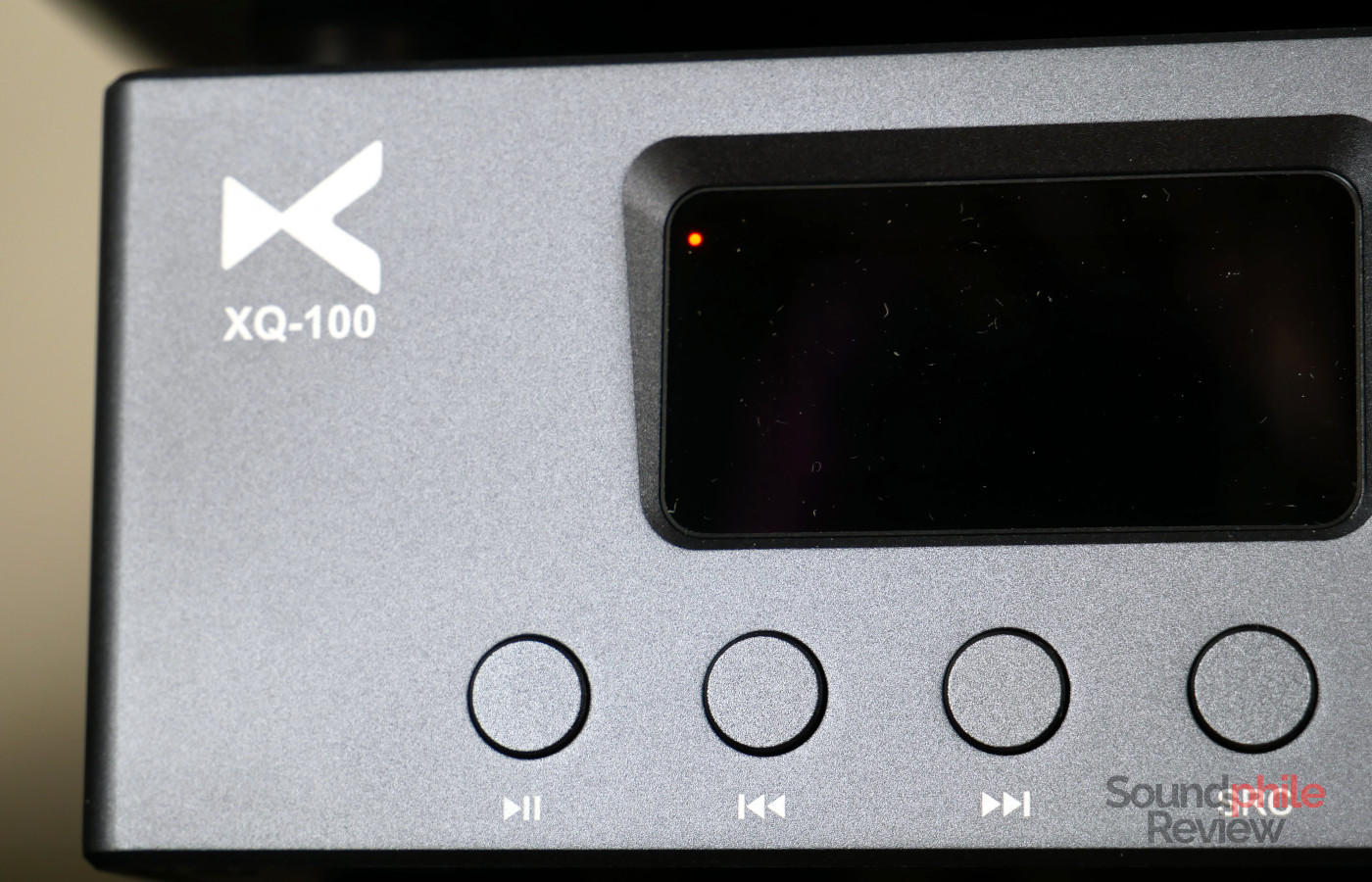 If you would like to extend your current system with Bluetooth capabilities, the xDuoo XQ-100 is certainly a solid option that you need to consider. It does one thing – giving you Bluetooth connectivity – and it does it very, very well. In fact, it is a great alternative to having to plug in your DAC to your computer and is great for any desktop system as well as any living room system, as it adds a lot of convenience to both.
I can't really find any major faults in the XQ-100 and the only things I wish were different are the way the standby button works and the absence of a remote; everything else is just so good I can't help but recommend you to buy it if you are in the market for a device that adds Bluetooth to your audio experience. It still is quite a bit expensive for what it does, though, and this is something to remember while shopping: if you already have a DAC that you like, buying a device like the iFi Zen Blue that offers more flexibility in the digital output department could be a better choice and save you some money. But if you definitely want to use those XLR outputs, this is a great option.