Sometimes very decent products come from never-before-heard companies. That's the case with the WG T-one, coming from a company that I'd never heard of before. The T-one use a single dynamic driver with results that show that this configuration still has its own place in the market – and for very good reasons!
Disclaimer: this unit comes courtesy of Linsoul Audio. They sell the T-one for $99.
Packaging & Accessories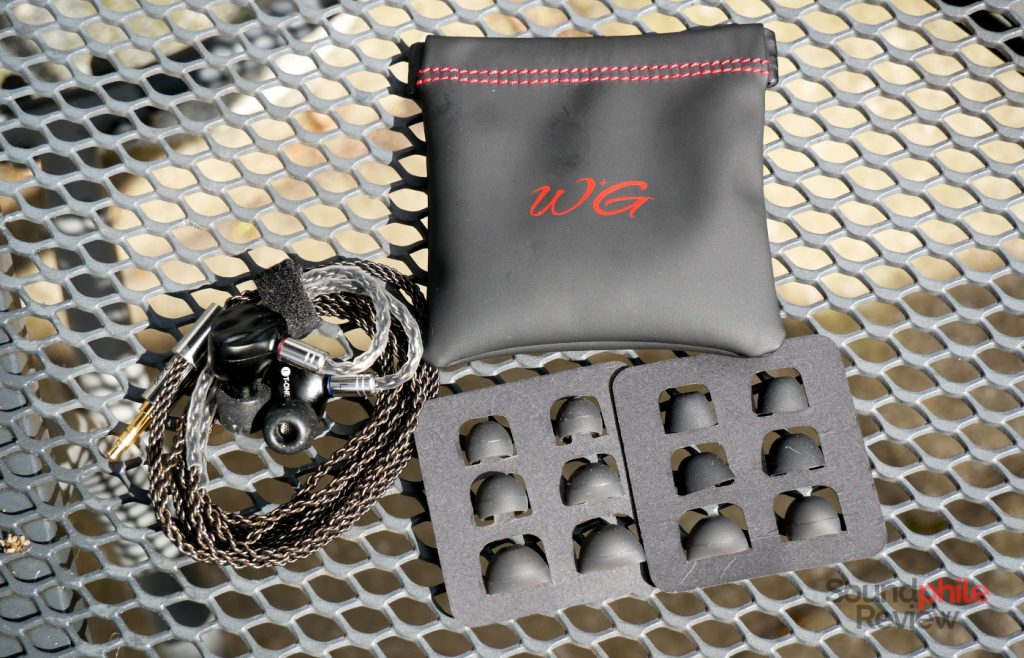 The box contains the earphones, the cable, a large and varied set of eartips (six pairs silicone, one pair foam) and a plastic bag with a magnetic latch.
Design & Comfort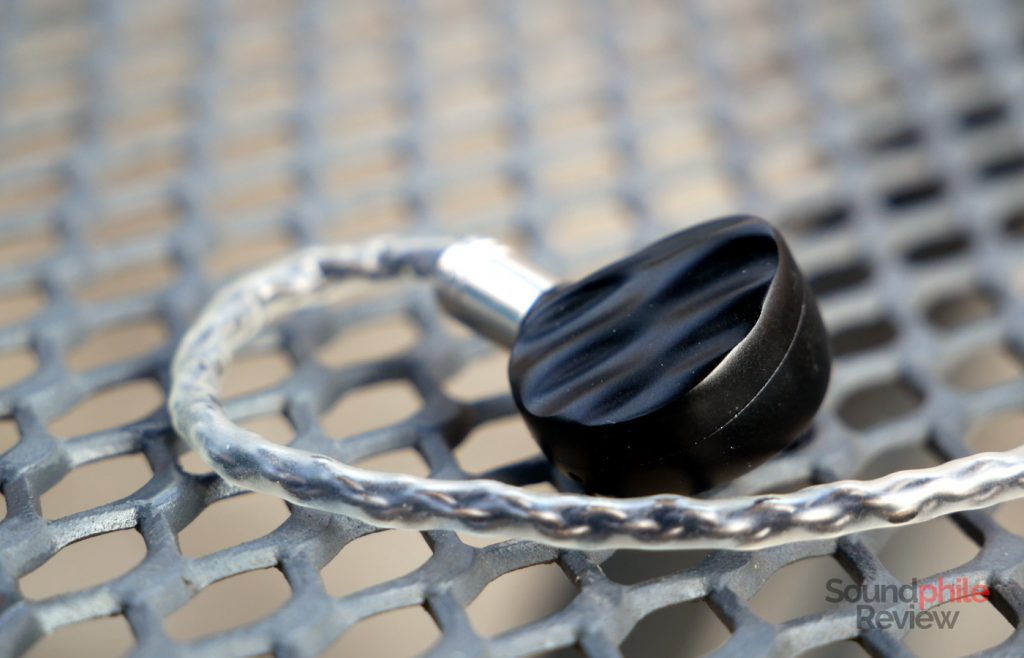 The design is quite different from most other earphones out there and reminds me of Japanese metalworks. There are waves on the faceplate which certainly make it unique. The shells are entirely made of metal, presumably aluminium, with rounded shapes and no hard edges.
Build quality appears to be quite good as there are no flaws I can spot in it: the two halves of the shells are solidly jointed and the seam between them is minimal, so they feel smooth to the touch.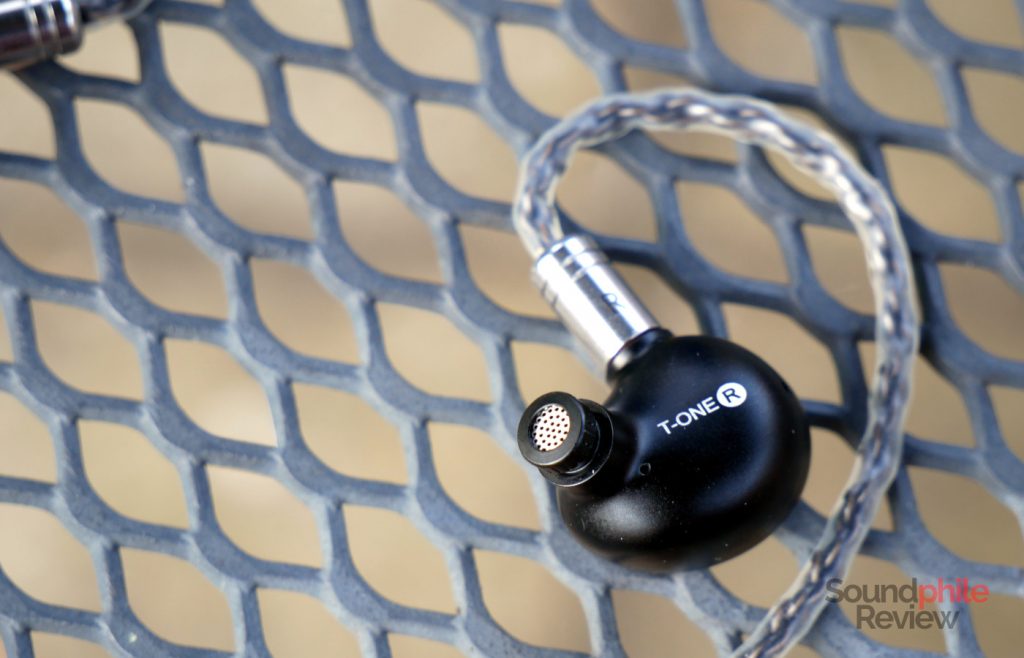 WG says that the shells are "equipped with acoustic guide holes". There is one hole on top of the shells that, according to the manufacturer, has a mesh "with different air permeability coefficients to rationally control the acoustic guide holes to optimize the diaphragm movement". This is a widely-used technique, but WG says they've taken it to the next level thus achieving better bass control.
The smooth, curved shells offer a good level of comfort thanks to which I can wear the T-one for more than two hours before feeling discomfort or fatigue. The relatively small size of the shells also helps with this as well. Of course this is my own personal experience, though, and yours might be different due to the differences in ear shapes and so on.
The WG T-one offer moderate passive isolation, with attenuation of the loudest noises but a general poor ability to completely exclude sounds from outside. Someone watching a series at a low volume on their laptop PC a couple of metres away is as audible wearing the headphones as if you were wearing nothing.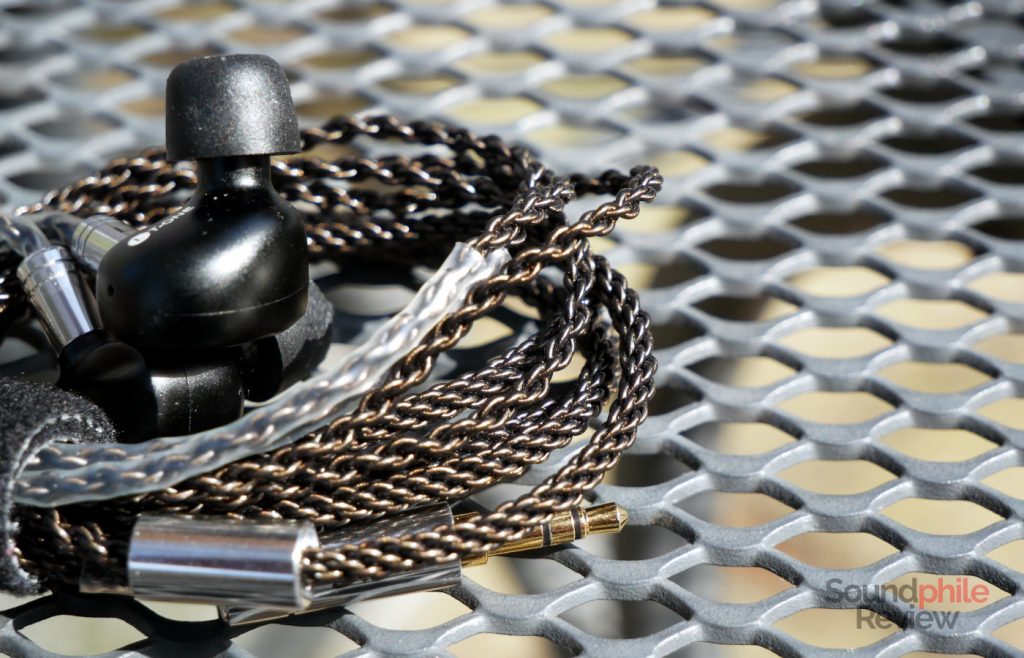 The cable has eight cores, each of which sleeved in relatively thick plastic. It's decently well made and appears robust and durable enough. The only criticism I can make is the fact that the strain reliefs are made of cheap transparent plastic and it shows. Overall it's a good cable though, soft and comfortable.
Sound & Specs
I tested the WG T-one using a FiiO M9, a Shanling M2X and an iFi Zen DAC. All of them reproduced the same files, mostly FLACs ripped from CDs.
| | |
| --- | --- |
| Frequency response | 20 – 20,000 Hz |
| Impedance | 36 Ω |
| Sensitivity | 105 dB |
WG claims a lot of interesting design choices that should improve the sound. Among them are the placement of the neodymium magnets in such a way that the magnetic flux is improved and allows for better response of the driver, the use of a cavity behind the driver which should improve the sound (through better overall extension, smoother frequency response and higher resolution) and make appear larger than it is. It's hard to say how or even if any of these purported improvements actually do have any effect, but the soundstage is in fact quite large for closed-back in-ear headphones. It doesn't have much depth, but it extends quite a bit to the sides which is quite an interesting thing and makes me wonder if WG's claim do actually have some truth to them.
As soundstage is quite good, imaging follows suit and is remarkable: not only is there a good placement in terms of left-centre-right, but also a good placement in space of individual instruments, each of which has its own place. There is a good separation of instruments, with little mash-up even in relatively crowded tracks.
The additional presence in the bass area takes it to a level that's more than in an ideal neutrality setting without however having a large impact on the general sense of good balance. The dynamic driver reaches down to ~40 Hz with good presence, with a roll off after that that makes 20 Hz audible but not much more than that. Among the perks of dynamic drivers is the great physicality and this applies to the T-one as well, with transients delivering a good impact with very good speed. Detail is average and it stays so even in complex, multi-layered situations, which is quite positive.
Midrange has moderate emphasis on the upper area, which is noticeably forward compared to the rest but in a relatively limited way, so it sounds livelier and more forward without being excessive and therefore fatiguing. I wouldn't go as far as calling the midrange "bright", as there's still a good presence of the lower and middle regions. The midrange area is slightly recessed compared to the rest. Detail is quite good, as there are lots of details (but no micro-details) and even in crowded tracks you can still hear a lot of them. Physicality is, again, very good, with drums being impactful and immediate.
Treble has good extension and a good sensation of air and openness. It has a very good amount of detail that makes it pop out in a very pleasant way. It sits in the right place, maybe with a bit of added emphasis, overall resulting clear and easily reachable in the mix.
WG T-One Comparisons
Due to the ongoing situation I only have a limited selection of earphones available, so here is a comparison with the most relevant ones among them:
WG T-one vs Tin HiFi T4: the T4 place much more emphasis on midrange and treble: while bass is more reserved (but similarly deep), midrange is clearly more emphasised and with more emphasis on the upper area, while treble is more emphasised and more extended. This makes the T4 sound almost as wide as the T-one, which however has the largest stage. Imaging is better on the T4, though by a small margin, as is instrument separation.
WG T-one vs Shozy Form 1.1: the Form 1.1 are less U-shaped than the T-one, but there are some other differences on top of that. Bass is deeper on the Form 1.1, but less emphasised; midrange is less recessed and warmer; treble is less emphasised and less extended. The main difference is soundstage: the T-one sound much wider and open. Imaging is comparable, maybe slightly better on the T-one, while instrument separation is better on the T-one.
Final Thoughts
The WG T-one are honestly great. This previously-unknown company pulled off the right mix of comfort, build quality and sound quality at the right price point. And while there is heated competition in this space, it's still difficult not to recommend the T-one given their evident qualities. While many earphones these days seem to target either a neutral curve or a V-shaped one, the T-one show that there's still a place for U-shaped signatures done well – fun yet not excessive, with good technical ability as well. A good choice without a double!