Shozy has been busy launching notable IEMs for a while now. Their latest offerings have been widely acclaimed by both critics and public for their high quality, and the company is now moving to a lower price tier. But they aren't giving the quality up. The Shozy Form 1.1 (or, better said, the Shozy x Neo Form 1.1 since it's made in collaboration with Neo) indeed has a peculiar name, which seems to be that of a software – but the "1.1" part stands for "one dynamic driver, one balanced armature". So that might indicate that other Form headphones will be released in the future. The Shozy Form 1.1 is made to please most people, and after listening to it I can totally see why!
Disclaimer: I received this unit from Linsoul free of charge. They sell it on their website at $75. It's also available on Drop at 60$.

TL;DR: recap
Pros




Cons

Well-built with quality materials

Comfortable

Fun, engaging U-shaped frequency response

High value

Low separation of instruments
Rating: 8.8/10
Packaging & Accessories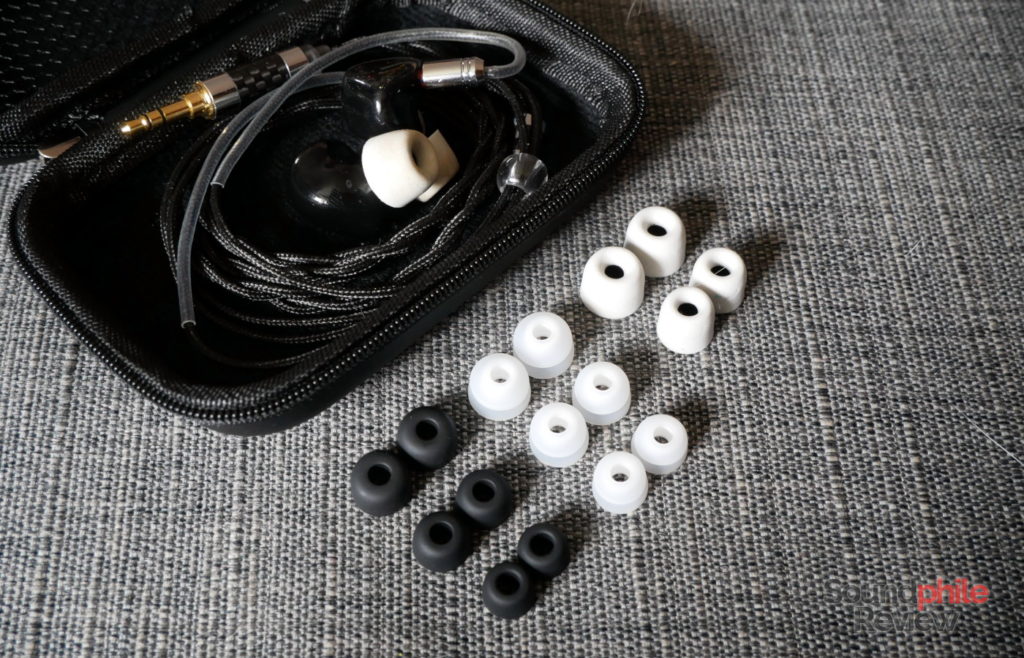 The Shozy Form 1.1 is sold in a cardboard box with a very odd opening: it takes quite a bit to open it if you pay attention not to break it, and even then it's difficult. I had to use a Stanley knife to help me take the lid off, which is not exactly ideal. The content is then the exact same of the other Shozy earphones I reviewed: a large case with a wide set of eartips which includes three pairs of single-flange black silicone tips, three pairs of double-flange white silicone tips and three pairs of foam tips.
Design & Comfort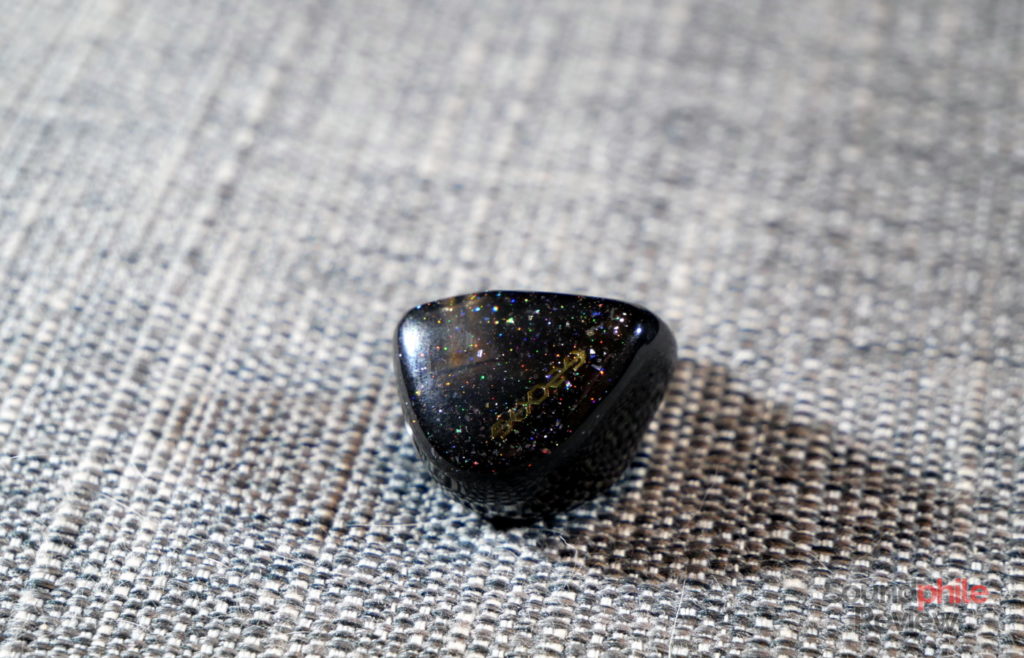 The Shozy Form 1.1 have a black resin shell with a triangular shape. It's nothing unheard of, and it's not the shape or the material that make them peculiar: it's the glitter applied to the faceplate that, according to Shozy, reminds of stars in a black night sky. I'm not entirely convinced that's the case, but it surely looks good. There's also the Shozy logo, seemingly made with some metal sheet cut to size. The shells are totally black, with some transparency that emerges when exposing them to some hard light, with little in terms of ergonomic shapes – a pro and a con at the same time, depending on if the ergonomic shapes adapt to one's specific ears. The nozzle is made of metal, just like the venting on top.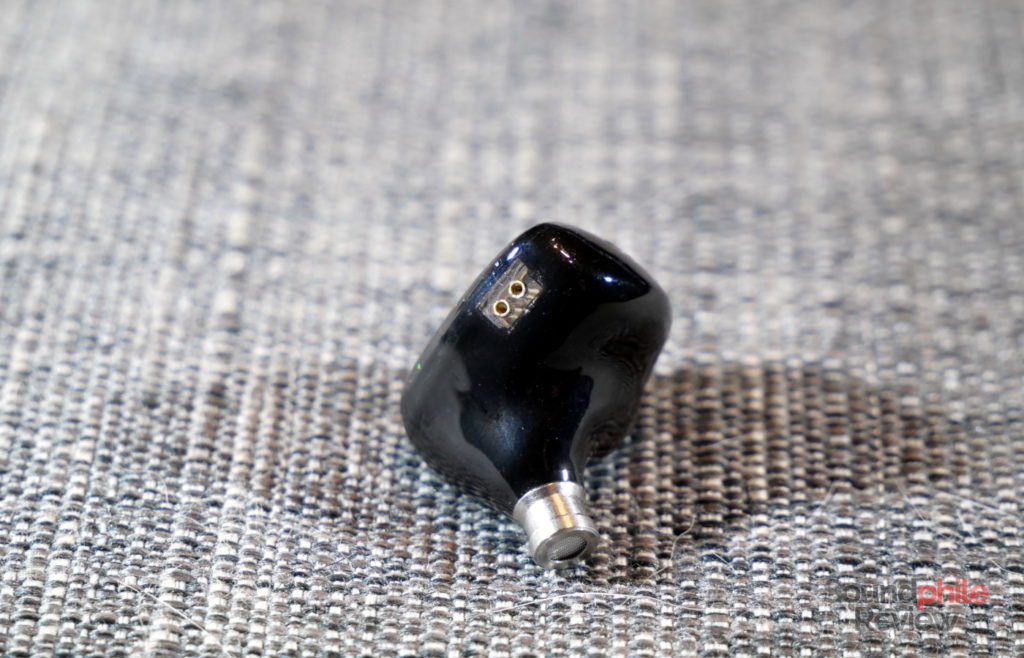 Build quality is exceptional at this price range and is more like that of earphones that cost $120+. There are no seams or other elements that would make one think that the shells are moulded – they seem to be a single piece. The resin seems to be durable and resistant, as far as I can tell, and feels really polished. It's glossy black and tends to show fingerprints and any dirt that gets on it easily.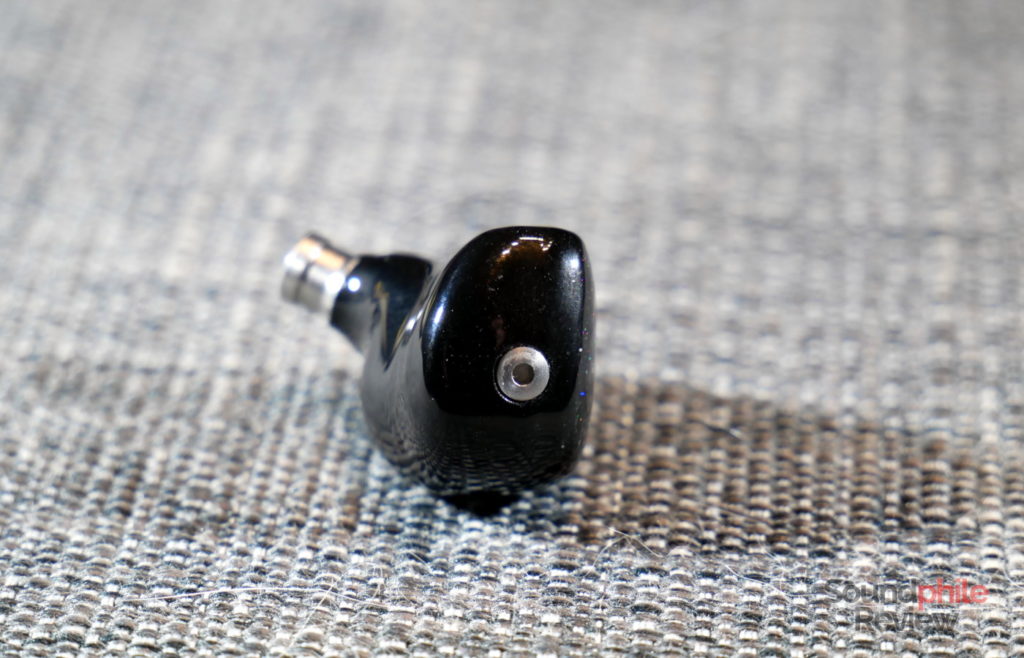 Comfort is great, probably thanks to the small size and (in my case at least) the absence of ergonomic shapes that often tend not to be ergonomic at all. The Shozy Form 1.1 are a deep-insertion IEM, which requires one to shove them deep in the ear – something not everyone is comfortable with, but which I found to be perfectly fine when using the foam eartips.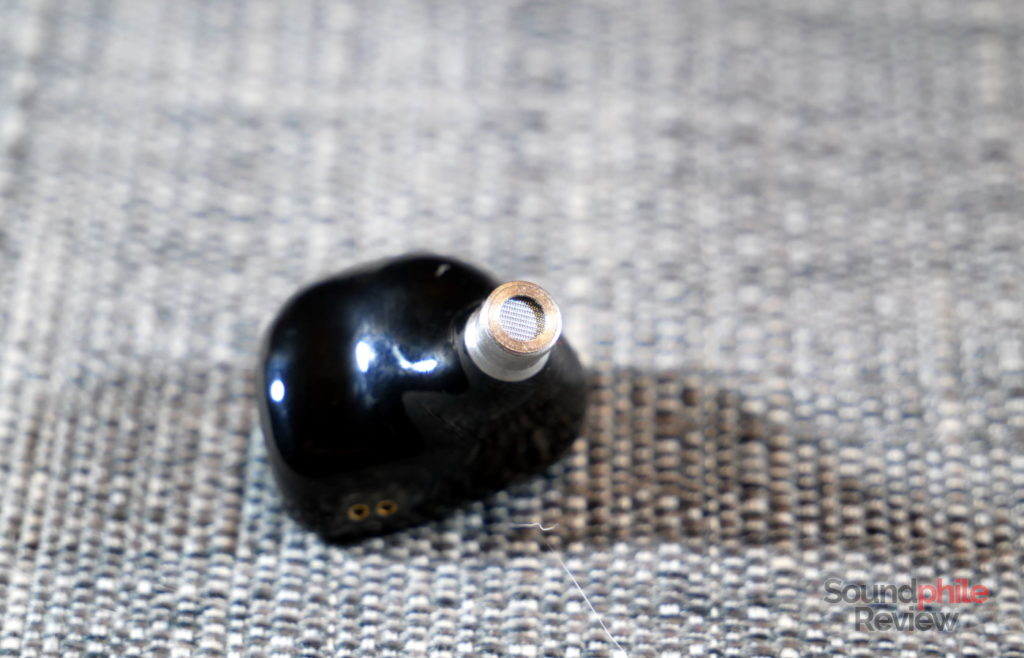 The Shozy Form 1.1 can't offer as much isolation as their higher-tier siblings. While those offered almost perfect isolation, the Form 1.1 can only take ambient noise down a notch. That's probably caused by the vent on top of the shells, which was not present in the higher-end models using balanced armatures.
The cable has two cores, each individually sleeved with fabric. The effect is stunning and looks and feels really great without interfering with softness. There's no stiffness at all. Contrary to previous products by the company, the Shozy Form 1.1 use 2-pin connectors. This is in fact part of a wider shift to this connector; despite being more reliable than in the past, the MMCX connector is still seen as the inferior choice.
Sound & Specs
I mostly listened to the Shozy Form 1.1 using a Topping DX7 while at the desk and a Shanling M2X while on the go.
| | |
| --- | --- |
| Frequency response | 20 – 20,000 Hz |
| Impedance | 19 Ω |
| Sensitivity | 100 dB |
The Shozy Form 1.1 uses one 9.2 mm composite dynamic driver, made with a beryllium-coated PVC diaphragm, and a single full-range balanced armature. A passive crossover takes care of dividing their operating ranges.
Soundstage is decently large and has a bit of depth, which is quite remarkable; it's not a concert hall, but it's wide enough for the music to feel spacious. Imaging is also very good as instruments are positioned on the stage in distinct places and with decent accuracy, with a good variety of positions. Instrument separation is where the Shozy Form 1.1 don't excel, as even moderately crowded tracks tend to expose a bit of mash-up of sounds – it's limited, but it's there. Instruments are not well separated and the scene appears a bit congested.
The overall signature is U-shaped, with a bit of added emphasis on both bass and treble. Truth be told, treble is a bit more emphasised than bass. In general, though, they're well balanced and the emphasis is likeable and pleasant. They're almost a Tin HiFi T3 with added bass, or an HD 650 with a bit more lower bass and treble.
Bass extends quite well into the deeper range, and although it doesn't touch the deepest notes it does have some heft that's clearly heard in the mix. I would say that the most concentration is in the mid-bass range, though it's a limited bump. There are many of the features that make dynamic drivers popular for bass: depth, physicality (there's some slam with percussions and other sudden sounds) and fast-but-not-too-fast transients are all there. Speaking of transients, they're fast and well controlled, with a level of control that I honestly expect of earphones double the price of the Form 1.1. There's also a good amount of details which emerge clearly even in relatively crowded tracks.
Midrange is slightly recessed compared to bass and treble, but mids remain always clearly audible. There's a bit of emphasis on the upper range which adds some sparkle and bite to trumpets, violins and other instruments – Paolo Fresu's trumpet in Haruka by Gaia Cuatro is a good example of that, as it emerges clearly from the mix with some pungency. This additional presence does not, however, result in any harshness or fatigue; on the contrary, it just adds a bit of excitement and liveliness. Detail is remarkable, though in tracks where there are lots of lows it may be a bit more mashed up than in tracks with less lows.
If I had to pick something I really like about the Shozy Form 1.1, that would be treble. It is really well detailed and it stands out in the mix but it's never overbearing or fatiguing. It delivers a lot of what treble should be: detailed, clear, airy, a bit sparkling. It's not perfect, as there are some ups-and-downs in the middle range that may make it too present for treble-sensitive folks, but it's enjoyable most of the time and that's what counts. It sounds refined and likeable, with most of the right qualities being displayed clearly. It's not super-extended and this is probably its main flaw.
Shozy Form 1.1 Comparisons
The Shozy Form 1.1 are in an especially hot area of the market, so let's compare them to other hot earphones:
Tin HiFi T3: the T3 are, as I wrote, similar in some respects to the Form 1.1. Their bass is more reserved and less deep, but more controlled and slightly more detailed; midrange is similar, but a bit brighter and more detailed; treble is more detailed and more extended, and also more pronounced in the lower area. The two ends are where the T3 and the Form 1.1 differ the most. In general, the T3 are more detailed and faster than the Form 1.1. Soundstage is slightly wider on the T3 and imaging is slightly better, but it's instrument separation where the two really differ: the T3 is much better at it. So while the Form 1.1 may be more likeable in terms of tuning to many people, it is less technical.
KZ ZS10 Pro: the ZS10 Pro are similar to the Shozy, but they're less refined. Bass is less present and less deep, with less detail too; midrange has more emphasis on the upper range and appears brighter, again with less detail; treble is slightly more detailed, but less extended and less present in the mix. Soundstage is smaller, imaging is a bit more accurate and instrument separation is comparable. Overall the tuning is much brighter on the ZS10 Pro and almost tinnier, but most importantly it's less detailed and less balanced. It's likeable anyway, but it's probably not as good to a lot of people.
1More Triple Driver: the Triple Driver are different enough to the Shozy. Their bass is a bit more emphasised, with more presence in the middle area than in the lowest one, but it is a bit less detailed; midrange is warmer and lacks the same vividness and sparkle, also being slightly more in the background; treble is less emphasised and also less detailed. Soundstage is similar, imaging is better on the Form 1.1 and instrument separation is slightly better on the 1More. All in all I would recommend the Form 1.1.
Final Thoughts
Chatting with people at Shozy they told me the Form 1.1 are basically a gift to their fans, an IEM which takes the almost artisanal workmanship and high-quality design and material of their higher-end offerings and takes them to a much lower price point. I can see why they say so. They're exceptional earphones which combine fun, great technical ability, great design and good-quality materials in a single, affordable product. There are more neutral offerings out there, and more technical too, but the Shozy Form 1.1 have the mix of qualities many people are looking for. It goes straight to the best earphones page!