When I was a child, back in the glorious Nineties, I remember I had a model car of what was among the fastest cars back then: the Lamborghini Diablo. It was fantastic and its design and colour really gave the impression of speed and power. Being around 3 years old, I obviously destroyed it and I still regret that. Now, I don't know if the Italian supercar is the inspiration behind the iFi iDSD Diablo, but surely the impression of unrestrained power it gives is the same as the car – and for all the good reasons.
Disclaimer: thank you to iFi for sending out this unit on loan. The iDSD Diablo is a hell of a lot expensive (yes, I'm going to make jokes for the whole review), retailing at £999. Additional info on the official website.
TL;DR: recap
Pros




Cons

Sturdy built with supercar-like design

Possibly the most powerful portable device: 5 W output at 32 Ω!

Balanced output through 4.4 mm jack

Incredible amount of accessories

Requires separate USB-C cable for charging

Loses all the extra features of predecessors

Charge indicator is impractical

Should have included an IEMatch feature
Rating: 9/10
Accessories & Packaging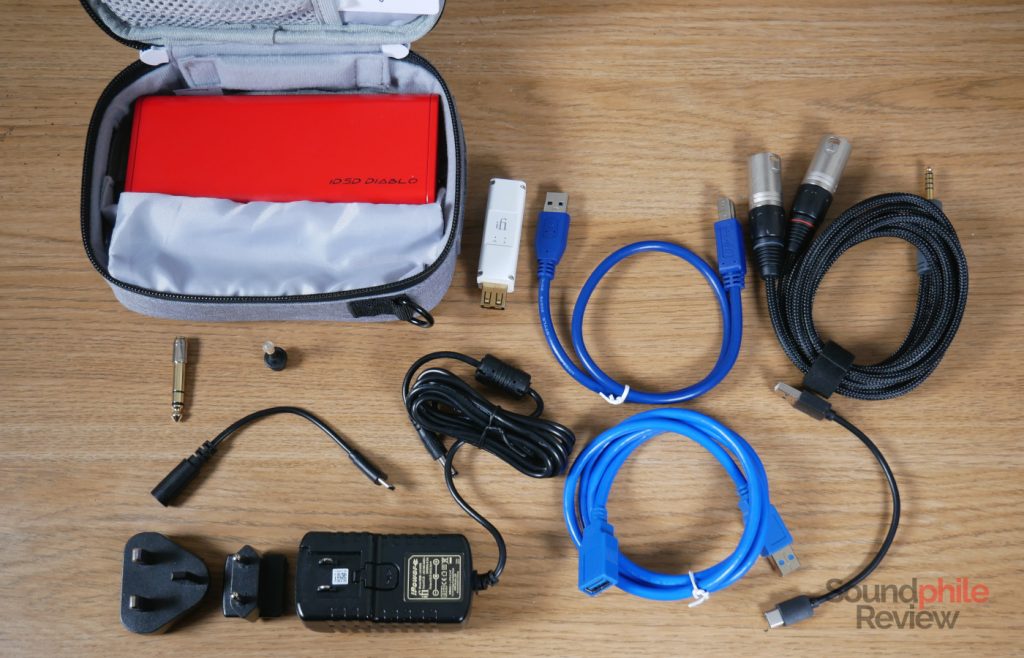 The iFi iDSD Diablo comes in a very different package from that of the other micro iDSD devices: it's much larger and more akin to the Neo iDSD. That's because the amount of accessories has increased exponentially and includes:
an iTraveller carrying case
an iPurifier3 (which is, unfortunately, limited to just the first batch)
a 3.5 mm to 6.3 mm jack adapter
a USB-A male to USB-A female cable
a USB-B male to USB-B female cable (useful if you want to use the iPurifier)
a short USB-A male to USB-C male (to charge the
a short USB-C male to USB-A male (basically an OTG cable)
an optical to mini-optical adapter
an RCA to RCA cable
a 4.4 mm to double XLR cable
an iPower power adapter
a barrel connector to USB-C connector (to use the iPower)
The list is quite long and shows the sheer quantity of stuff iFi has put into this box. It's quite a complete set and I can't think of anything I would add to it.
Design & Build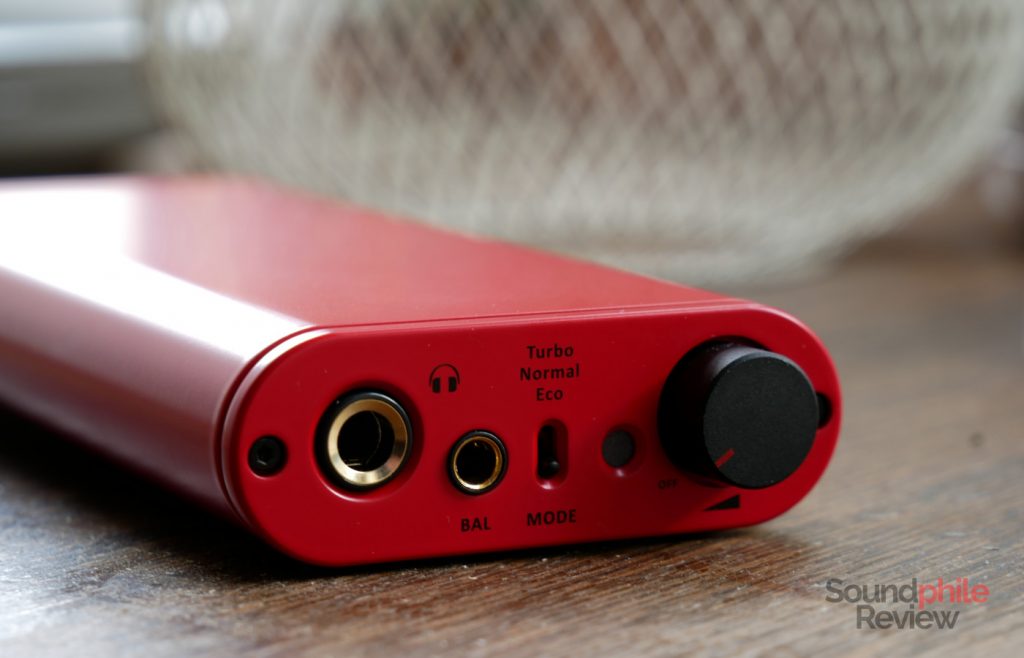 Again, I don't know where iFi drew inspiration from, but the Diablo reminds me of a track by Rodrigo y Gabriela, Diablo Rojo. I know, that's quite an original association, isn't it? I totally don't know where I got that from.
It might be this, it might be Italian cars, it might be something else entirely – but as any fan of Warhammer 40000 knows, just the fact that the iDSD Diablo is red makes it faster, which is obviously great. On a less humorous note, the Diablo is obviously very noticeable in that it uses a very eye-catching colour for its chassis, with a black volume knob on the front. It's certainly unique in an industry dominated by serious, often sombre colours. At first I thought that, contrary to the other micro iDSD devices which use metal for their chassis, the Diablo used plastic. That's actually not the case: the iDSD Diablo's chassis is in fact made of metal just like all of its ancestors. The paint finish, though, is remarkably similar in feel to plastic (and a few hot days here in Scotland meant that it was hot enough for the metal not to feel too cold, tricking me into thinking it was plastic).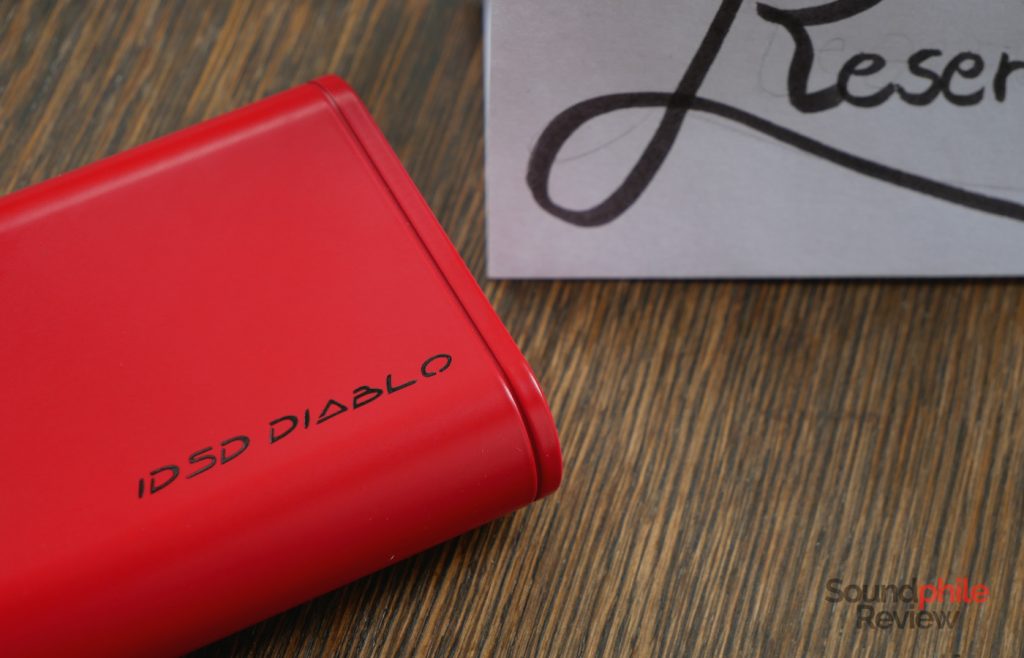 The front hosts the aforementioned volume knob, a status LED which indicates the currently-played format (e.g. CD quality, MQA, hi-res, etc), a "turbo mode" switch (a gain switch, basically), a 4.4 mm port and a 6.3 mm port. The back, on the other side (sorry, I had to do this), hosts a full-size male USB-A connector, a female USB-C connector, a 4.4 mm port and a 3.5 mm port for optical SPDIF input. It's a rather complete set of features, but sadly there is no unbalanced line out, which can be a problem if you plan to use the Diablo as a DAC for an unbalanced amplifier.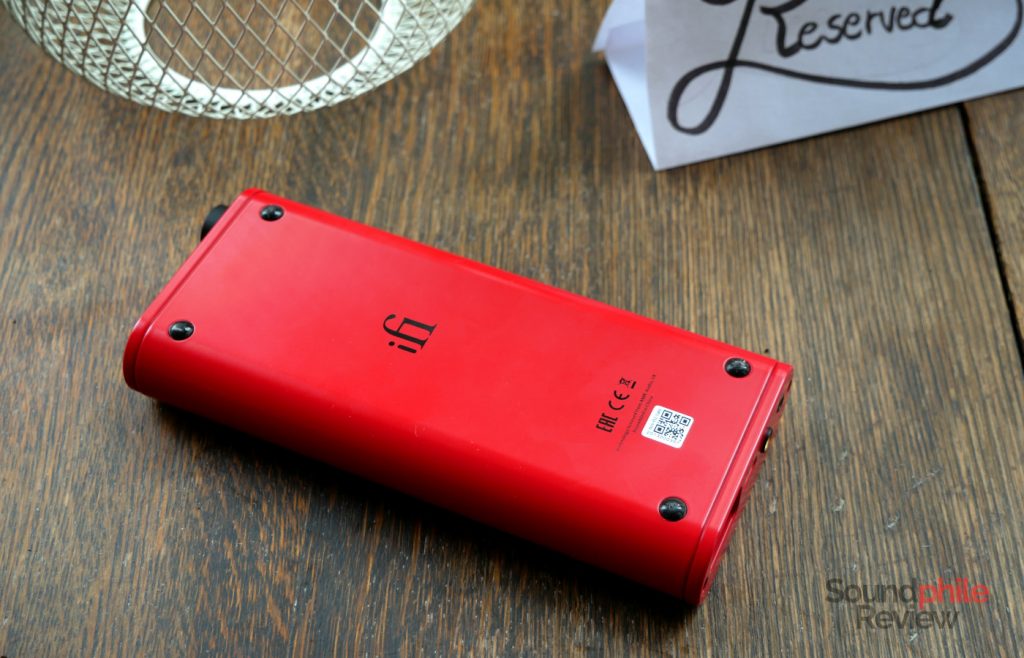 As with practically every single device by iFi I've ever tried, the iDSD Diablo, too, is built quite well and leaves no room for criticism regarding this area. If anything, some things have improved: the bottom of the device has in fact four rubber feet embedded in it.
The volume knob has a very good weight to it, so it is relatively hard to turn. While this might seem like a flaw, it is in fact a feature as it allows for very precise adjustments. It has a dead zone which goes from its starting position around 7 to around 10 – so in that area you can expect to have large volume imbalances between channels. This, together with other things, contributes to making the iDSD Diablo difficult to use with low-impedance, sensitive headphones and earphones.
Features & Specs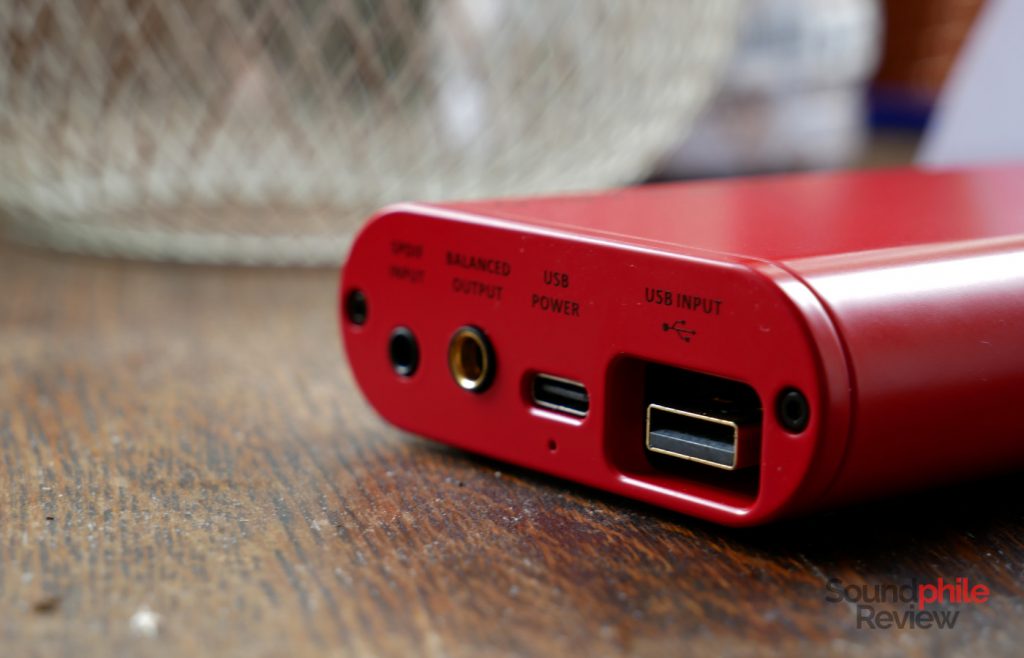 The Diablo is not a replacement for the other devices in the micro iDSD line-up: in fact it offers quite fewer options in terms of output power, filters and so on, only allowing you to select gain (you can choose between Eco, Normal and Turbo). This is in stark contrast to the micro iDSD Black Label, which offered almost any option under the Sun. It's as if iFi decided to take its previous offerings and extract their essence: lots of power and little compromise in terms of how the audio signal is treated. That's a philosophical approach that leads to some compromises, though, so this needs to be thought of carefully.
Unfortunately the volume of the line output is fixed and can't be controlled using the knob.
Input
USB (up to 32 bit / 768 kHz PCM/DXDx2, up to DSD512, MQA)
Bluetooth (up to 24 bit / 96 kHz)
Suitable headphones impedance
32 – 600 Ω (at least)
Output impedance
N/A
Maximum output power
Single-ended:

2,417 mW (32 Ω)
153 mW (600 Ω)

Balanced:

4,980 mW (32 Ω)
611 mW (600 Ω)

Frequency response
10 – 80,000 Hz
THD+N (@1 kHz)
< 0.002% (balanced)
< 0.001% (single-ended)
SNR
> 120 dB (balanced)
> 114 dB (single-ended)
Crosstalk
N/A
As is tradition for iFi, the iDSD Diablo uses a Burr-Brown DAC. The company mentions "[t]he Burr-Brown True Native® chipset" in its material, so I'm taking a guess and say there is a single DAC chip in this device, leading to it not being a "true" balanced design.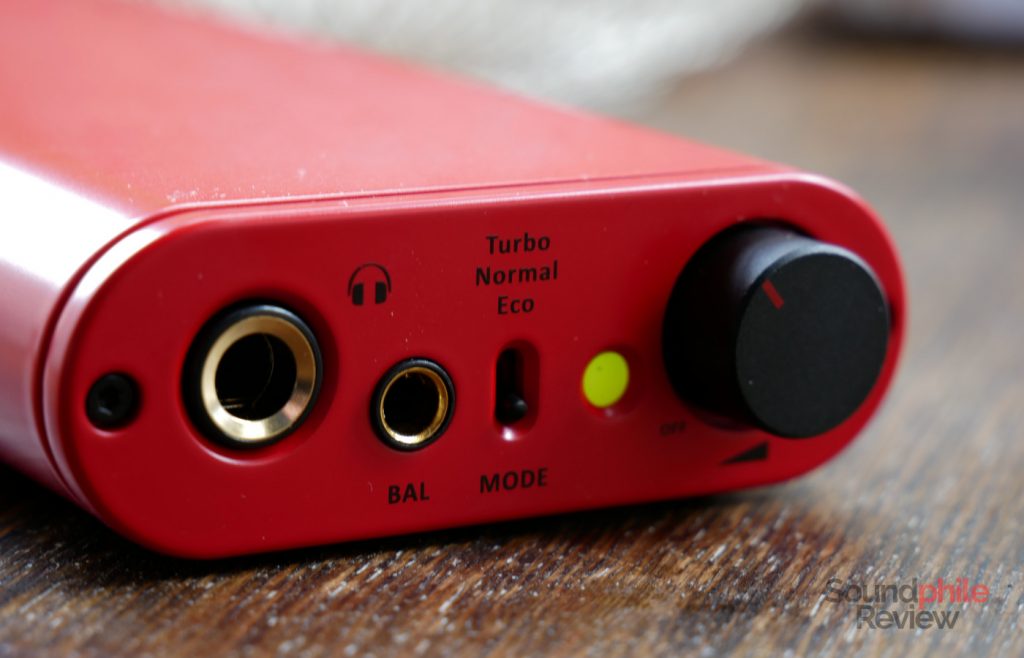 On the other hand, the amount of power the iDSD Diablo gives you is astonishing and well into the territory of large desktop amplifiers. At an output power that's just short of 5 W at 32 Ω (theoretically double the output of the micro iDSD Black Label!), this device can drive anything under the Sun save for some earspeakers (e.g. Raal Requisite SR1, AKG K10000, etc). Speaking of output power, the lack of the IEMatch switch is felt when you try to use the Diablo to drive IEMs: it's just too powerful for them, so it ends up being just too loud without using an actual IEMatch or adjusting the volume via software on the source device.
Now, there's also something to be said about the steps of the gain selector. The difference between them is quite large, so going from one to the next means that you get a very large jump in volume, more so than on other amplifiers. This, coupled with the lack of an integrated IEMatch feature, means that it might be hard to use the iDSD Diablo with lower-impedance headphones.
Battery Life
The iFi iDSD Diablo offers a whole day of activity, which clocks in at around 10 hours using relatively easy to drive headphones and the "eco" mode. The figures will probably be lower when using more demanding headphones, but the result is still quite good.
A major annoyance, though, is the lack of any indication that the battery is running out of charge and the necessity to use a second cable to power the device. "Traditional" desktop use is not quite as convenient as with previous micro iDSD devices, as you have to connect the Diablo to a charger for desktop usage – with all the inconvenience that this entails, of course. I would consider this a desktop device that you can optionally use on a battery, a bit like the Head 'n' HiFi Objective2 amplifier.
One thing about the battery is that it is always used. Even if you plug in the device to the mains outlet, that current will be used to charge the battery which is then going to power your headphones. There is just no way to use the power adapter directly to power your headphones. While this can have a good effect on audio (battery power is, by definition, clean and devoid of noise), on the other hand this might be an issue down the road, as after a few years of use I imagine the battery is going to give up and to be in need of replacement.
This also means that the iPower provided with the device is actually useless: it should theoretically offer less noise and therefore improve the performance of a connected device, but in practice this supposed positive effect is cancelled by the fact that the power to drive your headphones comes from the battery anyway.
Sound
I tested the iFi iDSD Diablo using my notebook computer, an HP EliteBook 745 G5, and FLAC files (most ripped from CDs).
Despite removing the IEMatch feature, the iDSD Diablo is absolutely dead silent, even when using it with sensitive earphones.
Just like its predecessors, the iDSD Diablo doesn't really have a sound signature of its own that I can discern. In fact it is completely neutral to my ears, as I can hear no differences when comparing it to other DACs and amplifiers. As it offers an insane amount of power, it can drive anything I throw at it without breaking a sweat and with very good speed, too. Maybe (let's put some stress on it: maybe) there is a tad more micro-detail here compared to other devices such as, say, the nano iDSD Black Label – possibly thanks to the pitch black background.
One thing that I miss here is the various options that were there in previous models, such as XBass and 3D+, but the choice of iFi of focusing on pure performance has the side effect of removing these options.
Final Thoughts
While thinking about what mark I should award the iFi iDSD Diablo, I thought: "you lose some, you win some". And that's exactly what has happened with the Diablo: it got some improvements over its predecessors, but at the same time it gave up some features. It's rare to see a company so hell-bent into creating a portable amplifier so powerful it beats most desktop counterparts, but here we are. And with this also come some compromises.
The iDSD Diablo has a lot of things I really like, from the incredibly powerful output to the balanced port, from the vast amount of accessories to the optical input. It also misses a few things I would have liked to see, such as an IEMatch feature to better drive sensitive earphones. All in all, though, the Diablo is incredibly competent and a great option if you want to experience the sound of very-hard-to-drive headphones with a small DAC/amp instead of large desktop devices. It's just fiendishly good at that.