GuideRay's GR-i series is made of three earphones: the GR-i18, the GR-i58 and the GR-i68. As far as I can tell, the only difference between them is the colour, with the GR-i18 being pink, the GR-i58 being blue and the GR-i68 being black. They're affordable hybrid earphones with an exceptional build quality for the price and an unusual sound signature.
Disclaimer: I received this unit from Linsoul free of charge. They retail for $49.99.

TL;DR: recap
Pros




Cons

Superb build quality for the price

Good accessory set

Comfortable

Unbalanced, fatiguing signature

Piercing highs

Unremarkable bass
Rating: 6.5/10
Packaging & Accessories
The GuideRay GR-i come in a simple package which contains the earpieces, the cable, a soft carrying bag and a wide variety of eartips, including three pairs of white silicone tips, two pairs of double-flanged white silicone tips and three pairs of semi-transparent silicone tips. In this price range it's more than fair.
Design & Comfort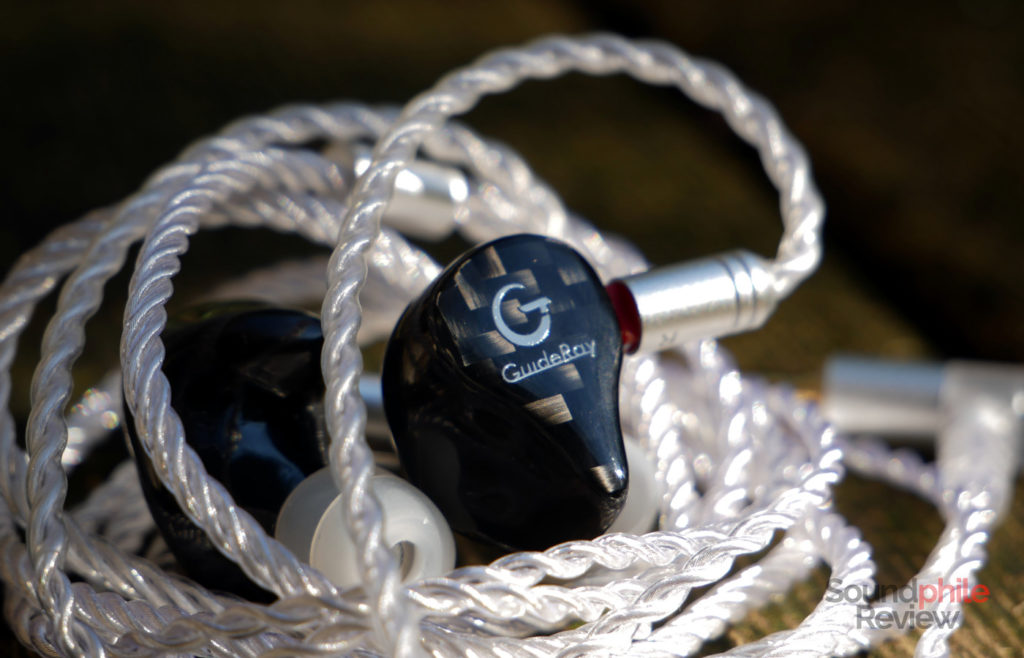 The GuideRay GR-i closely remind me of earphones by Shozy: the design is similar and components such as the metal nozzle are almost identical. The shell is made of resin, with a carbon fibre-like pattern on the faceplate. The design is nothing really new, but it has its own twist on the usual IEM shapes. The shell does not ave any ergonomic shaping, so it (however unintuitive that might sound) is actually more comfortable. The resin is black in colour in this case, while it is pink in the case of the GR-i18 and blue in the GR-i58.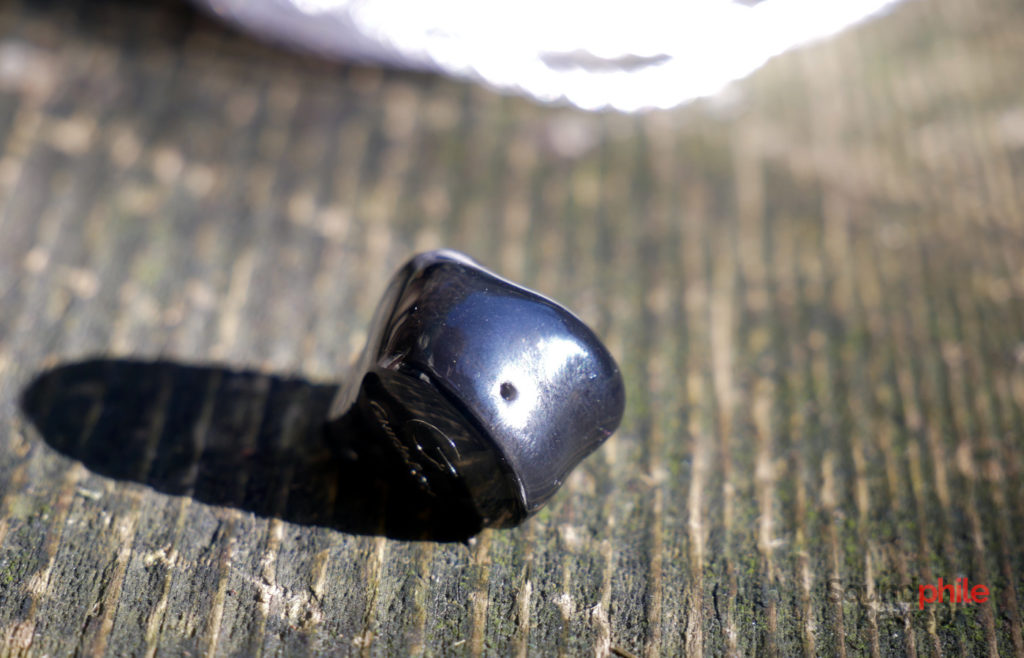 From the perspective of build quality, the GuideRay GR-i are quite exceptional in this price range: they are built like tanks and with quality materials. The shells are made with glossy resin with no seams or other signs that they're made of multiple parts. The metal nozzle – and the way it's built – also adds to the impression that they're premium earphones.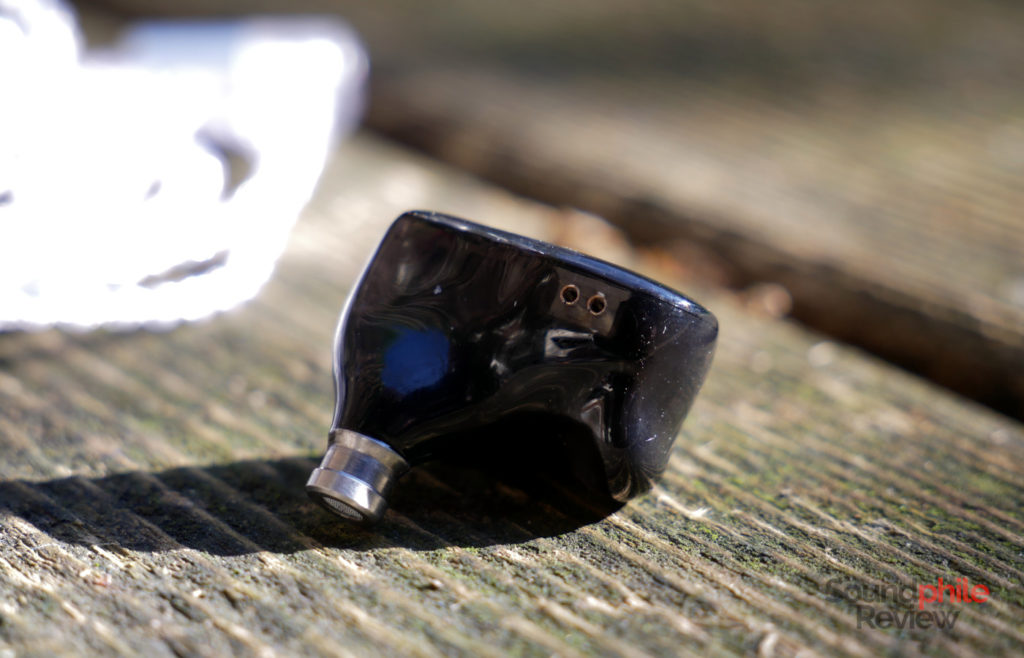 The GuideRay GR-i are deep-insertion earphones: they are meant to be pushed deep inside the ear canal and the eartips confirm this as even the larger ones are rather small. I found the GR-i to be (subjectively, of course) really comfortable, as they fit in perfectly and are just the right size. The only downside I found is that eartips are all too small for my ears: even the larger double-flanged ones always give me the impression of not offering proper seal. All of this is highly subjective, though, so keep the salt cellar at hand.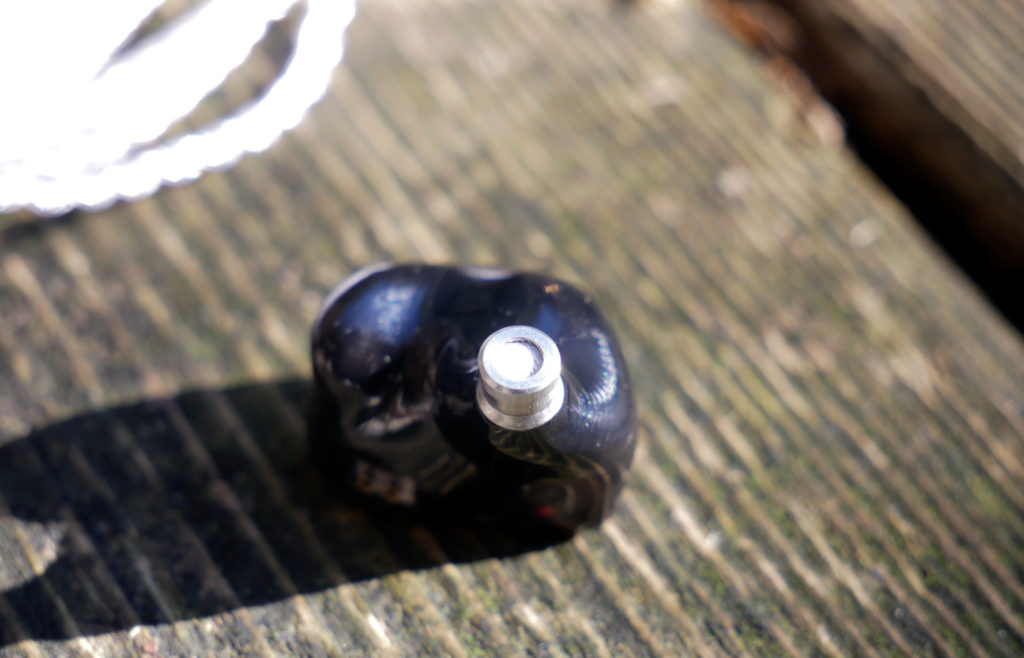 Isolation is decent, but there's only a slight reduction in noise from outside and this forces you to raise the volume anyway to keep on hearing stuff correctly.
The GuideRay GR-i use a 2-pin connector for the cable, which is roughly 1.2 m long and is made of four cores. Unusually, they are twisted for the whole length, instead of being woven/braided like most cables. It seems like every core is covered in a thick layer of plastic which acts as sleeving.
Sound & Specs
I tested the GuideRay GR-i using a variety of sources as usual. Those include a Topping DX7 feeding a Drop THX AAA 789 amplifier while at the desk, plus a Shanling M2X while out and about.
| | |
| --- | --- |
| Frequency response | 20 – 20,000 Hz |
| Impedance | 16 Ω |
| Sensitivity | 106 dB |
The GuideRay GR-i offer a V-shaped signature with a peak in the mid-bass area and the corresponding one in the lower and middle area of treble. The overall signature is not really balanced. This may be a result of taking a dynamic driver and a balanced armature and putting them together without much tuning: they do what they do best, which is respectively bass and treble.
The GR-i offer a small-sized soundstage which has little width and no depth. This leads to music sounding as if it was produced inside a very small room. Imaging is decent, but fails at giving clear-cut positions to instruments (while it offers good distinction between left, right and centre). Instrument separation is sufficient, but hardly more than that.
Bass is reasonably deep and reaches its peak around 100 Hz before rolling off and reaching 20 Hz with little presence. It's fast, but it's not really physical. It's also neither detailed nor well-controlled, often sounding a bit too aggressive and covering the mids. It's unremarkable at best.
A larger-than-ideal presence in lower midrange coupled with a large dip around the 1 kHz mark, followed by a rapid rise in the area at the border with treble, makes midrange quite unbalanced and odd-sounding. A good example is Slayer's South of Heaven: the voice appears quite distant and subdued, while guitars appear in the front row. The guitar at the end of the track is also very fatiguing, as it exposes the peak in the upper area. In general midrange appears recessed and almost distant. There's a decent amount of detail, in line with the average of this price range.
Treble has two large peaks: one is in the lower area, and one is around 8 kHz. Those two peaks combined result in a highly fatiguing listening experience. Tracks such as Steely Dan's Do It Again or Snarky Puppy's Chonks have almost piercing highs, with aggressive cymbals that sound overbearing even at lower volume levels. As a result details appear artificial and instruments lack depth. Highs are not really airy or sparkly either, as there is a cliff after the 8 kHz mark. There's also a large dip between 3 kHz and 6 kHz, which is why treble sounds artificial.
GuideRay GR-i Comparisons
Let's compare the GuideRay GR-i to other earphones in the same price range:
GuideRay GR-i vs EarStudio HE100: the HE100 are a better GR-i: they offer a similar V-shaped signature without the issues the GuideRay have. Bass has similar extension and tuning, but better speed and detail; midrange is way less recessed and more balanced, without the peaks of the GR-i and with better detail; treble is also less fatiguing thanks to the lack of peaks, and appears to be reasonably detailed. Soundstage is a bit comparable to the GR-i's, while imaging and instrument separation are better on the HE100.
GuideRay GR-i vs KZ ZS10 Pro: the ZS10 Pro offer a more refined and balanced signature. Bass extension is similar, but there's more detail on the ZSS10 Pro, which also offer better balance. Midrange is much more recessed on the GR-i, where it appears almost distant by comparison, with a lower level of detail. Treble is less peaky and fatiguing on the KZ, where it also has a bit more detail. Technically the KZ are better, with wider soundstage and better imaging and instrument separation.
Final Thoughts
The GuideRay GR-i impress thanks to their build quality and design: they're rather good for the price, and actually challenge products higher up in the price tiers on this front. Where the GR-i do not perform as well is in the acoustic department: the large spikes in the upper region make them fatiguing even during shorter listening sessions, while the general imbalance in the signature makes midrange appear distant and dark. Were it not for the problematic treble, the GR-i would be much more attractive. As things stand, they cater to a very specific audience – those who have very little sensitivity to treble.