I have now been working from home for nine years – the entirety of my career. This year has changed many aspects of my job, though: interviews are not carried out in person any more and calls are more frequent as meeting in person has become much more difficult. So when the folks over at TikTech asked me if I wanted to review a speakerphone, the eMeet Luna, I accepted: not only did it promise to work well as a general speaker, but it could also help with working from home. I am glad I accepted, because the performance of the Luna is fantastic as a speakerphone (and decent as a speaker, too).
Disclaimer: I received a free sample from TikTech. Although they sponsor the site, no incentive whatsoever was given for this review. The Luna is on sale for $99. With coupon code g8vwpear you can get it for $69.

TL;DR: recap
Pros




Cons

Very good build quality

Great range of connections

Incredible ambient noise removal

Superb microphone quality

Great battery life

Only good for vocal tracks
Rating: 8.5/10
Packaging & Accessories
The eMeet Luna comes in a small carboard box with a plastic tray that holds the speakerphone, a USB dongle, a USB cable and an aux cable with 3.5 mm jacks at both ends.
Design, Build & Materials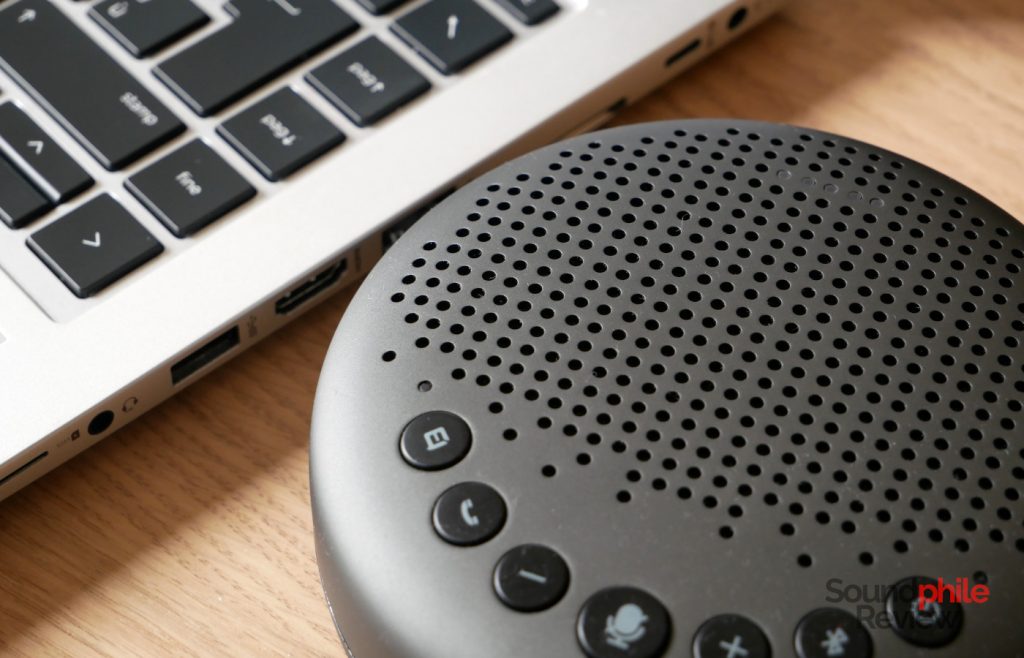 The eMeet Luna is a speakerphone whose portability is only betrayed by the small size (11.5 cm in diameter). It has what I would define as a rather standard shape for a speakerphone – it's round – and everything about it speaks of utilitarianism. Form after function, as they say. This is apparent when you look at the Luna: the top hosts a grille to let the sound through, together with a set of buttons to operate the device. It's this set of buttons that tells us this is a device made for work, as you wouldn't find them – or at least not in such a large number – on a consumer-orientated device.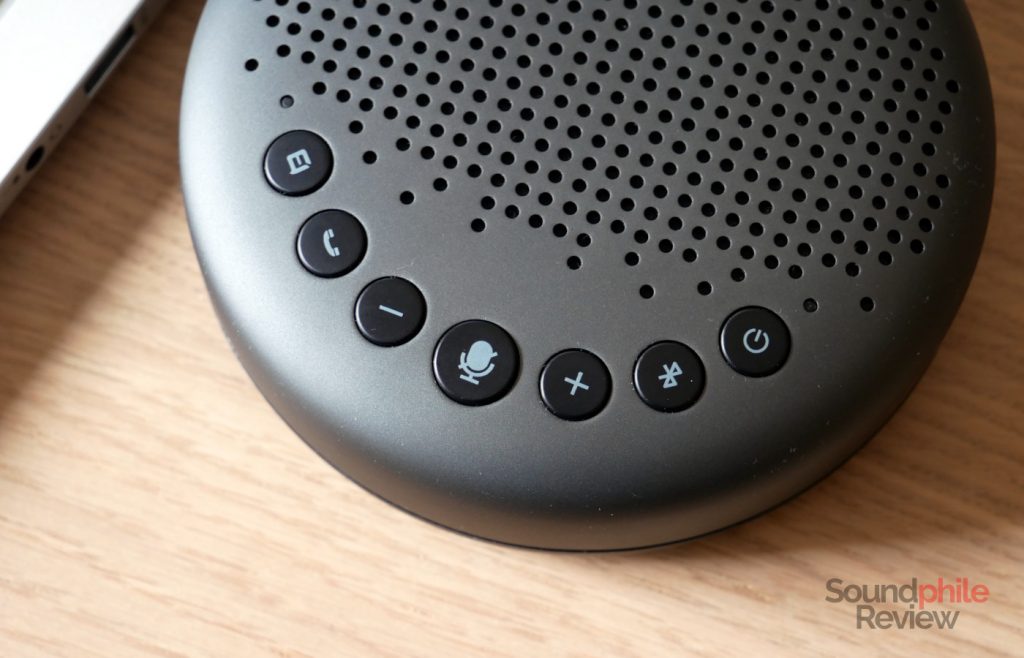 The buttons include power, Bluetooth pairing mode, volume buttons, mic mute (which is the largest one in the centre), accept/end call and so-called "Voice AI". There's also a set of five status LEDs in the upper section of the grille. On the side, near the LEDs, are a USB Type-C port for charging and connecting to a PC, an output jack, an input jack and a Kensington lock hole. The lower side has three rubbery feet that help the device stay in place and a hole to fit the USB dongle. There are also three small triangular indents in the outer rim: that's where the microphones are.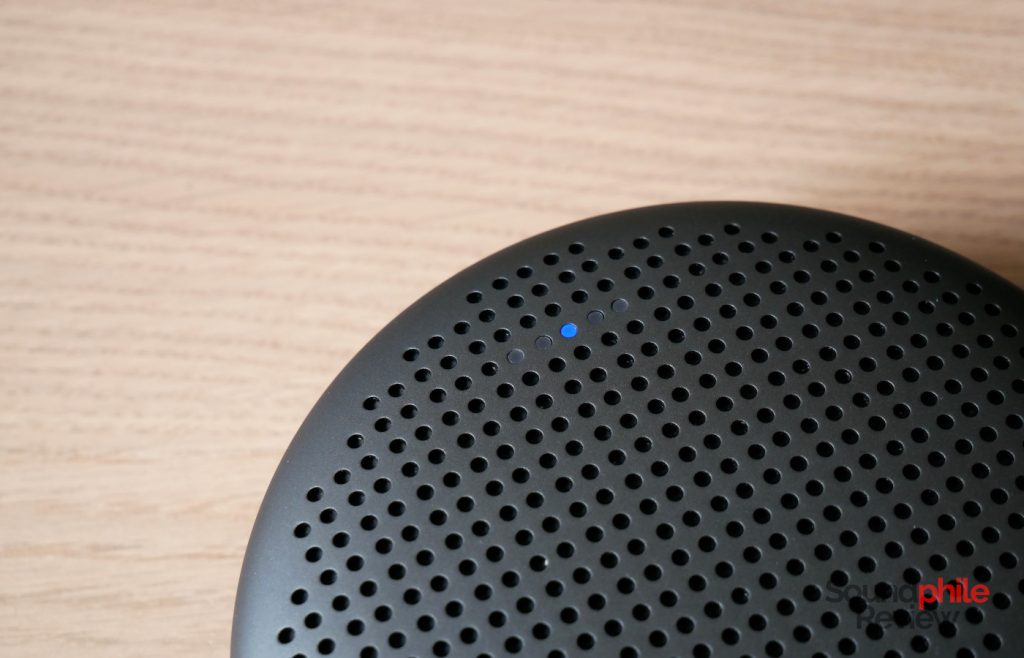 The top of the Luna is made of metal coloured in grey and with a smooth finish, while the bottom part is made of black hard plastic; the design is almost severe and adds to the "professional" look of the device.
I find that the decision to place all those buttons there was a very good one. When you are on a call, especially if it's related to work, you really don't want to mess things up by pressing the wrong button or by activating the wrong feature by accident. So having all controls clearly laid out really helps with the ease of use of the device. The buttons do not light up in the dark, though, so you always need a source of light to see what action they perform.
Features & Specs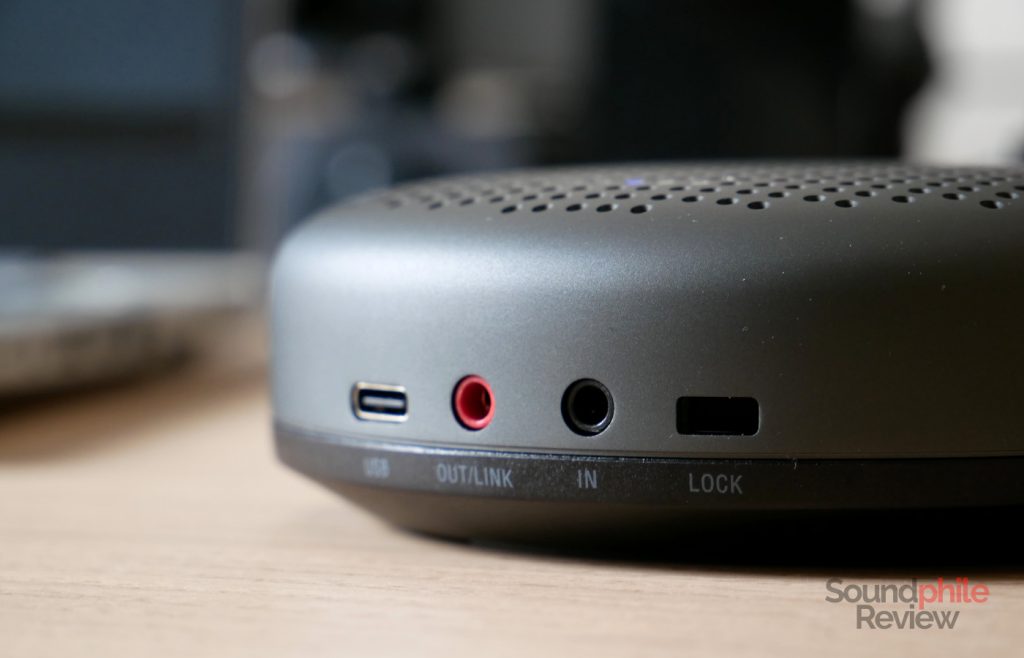 The eMeet Luna is a workhorse and as such lacks the fancy bits, including high-quality codecs. The only supported codec is SBC, which also entails that sound quality will be limited by this. It supports Bluetooth version 4.2.
In my experience having to mess with Bluetooth in a professional setting is a nightmare: it doesn't work the way one would like more often than not. The inclusion of a dedicated USB key to bypass Bluetooth entirely is then a very welcome plus that makes life so much easier. One could also use a USB cable, which also means that the Luna is usable even when in charge.
At least on Linux volume is controlled directly on the Luna, as the operating system allows for minimal adjustments. On Windows it appears like using the volume buttons on the Luna also triggers changes in the volume at the OS level.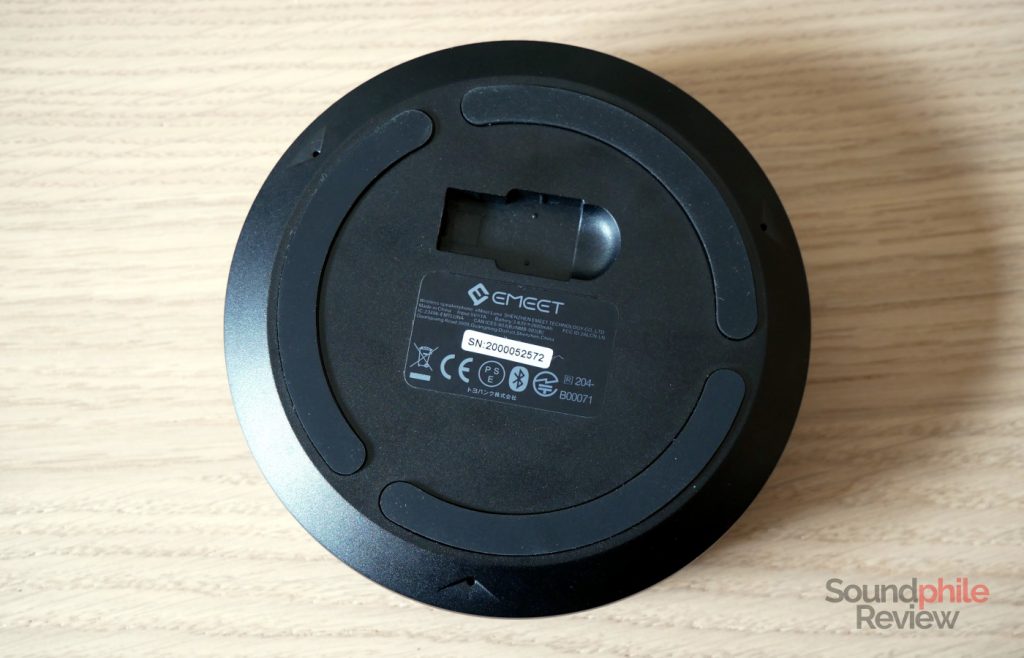 The company flaunts a maximum SPL of 89 dB; this is rather high considering the size of the speaker and the relatively low power (3 W) fed to the driver, but the volume can in fact get quite loud and enough to fill conference rooms which can get quite large. If that wasn't enough, the eMeet Luna allows daisy chaining of up to two speakerphones to achieve a better distribution of sound in the room, as well as picking up the voices of participants better. In a less formal environment this feature allows one to have a stereo setup with a much stronger volume.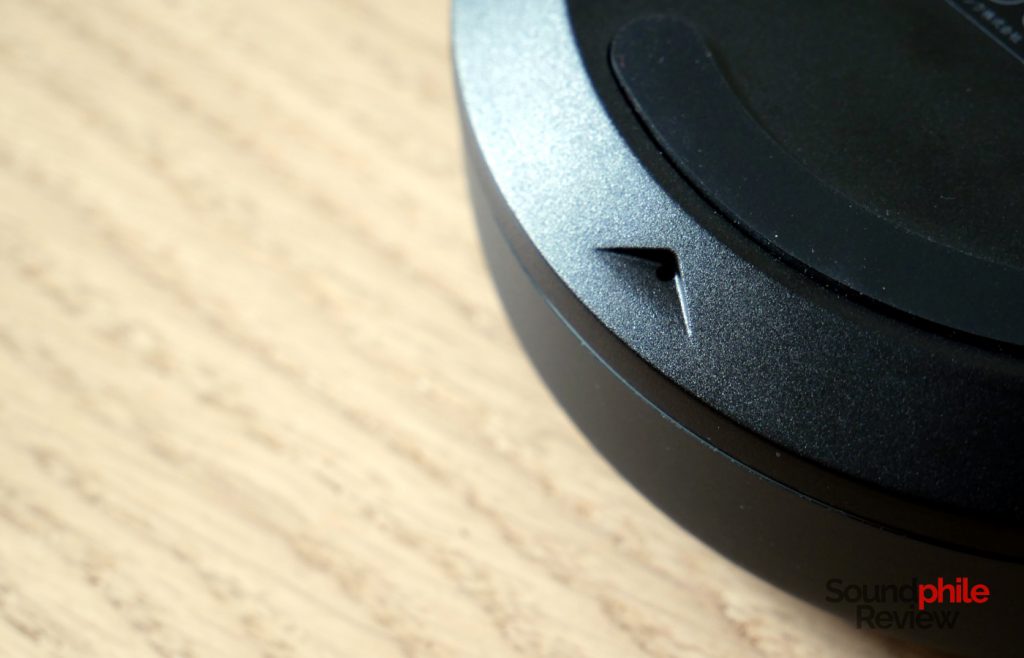 One of the main selling points of the eMeet Luna is the Voice AI feature: according to the manufacturer it allows to remove any unwanted sound from the background, be it the hum of an air conditioner or the sound of the typing on a keyboard. Now, like many others, I too enjoy using a mechanical keyboard due to the way typing feels on that. I use a Drevo GRAMR with Gateron Black switches; while it's not the loudest keyboard I've used, it's still quite loud compared to a traditional rubber dome one. That's why I was quite surprised to hear that people on the other side of the phone could not hear me typing at all when I enabled the AI filtering feature! I was flabbergasted, as what appeared to be a claim of something ideal but not easily attainable appeared to be backed by facts.
This finding has been confirmed to me by multiple people at this point, so it's not just a coincidence or a one-off chance. This is a game changer for many people as having better, more focused audio during calls is essential to improve the quality of communication.
The interesting bit is that one can take advantage of that even when using headphones, as those can be connected to the aux out port on the Luna. This way one can take advantage of the best of the two worlds: the great mic quality of the Luna and the privacy of the headphones.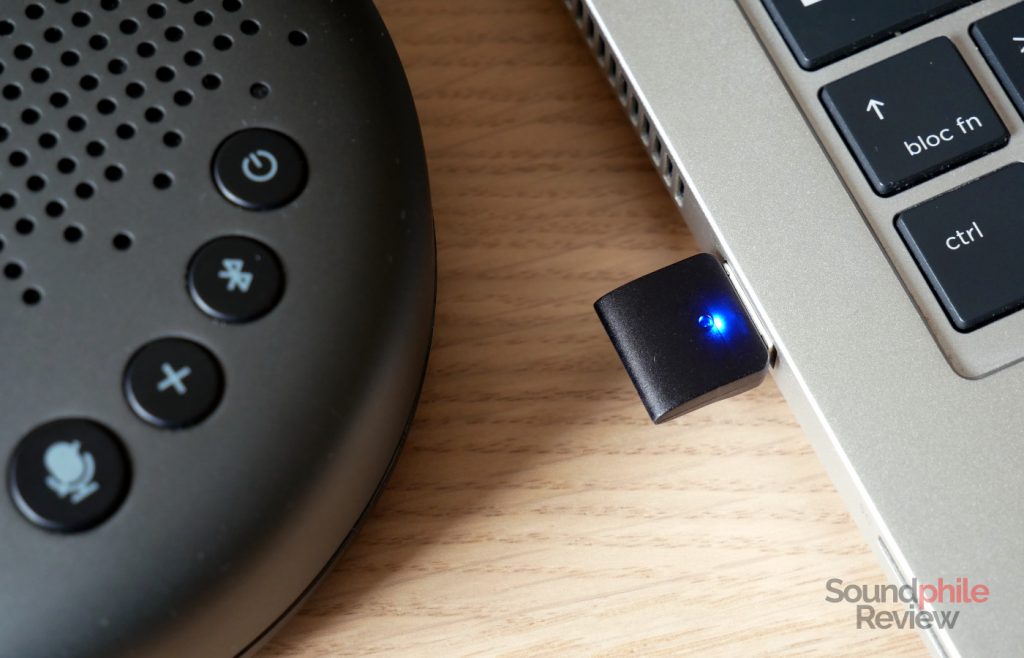 I tried the Luna using Skype, Slack, Microsoft Teams and Cisco WebEx and it worked flawlessly with all of those. As the Voice AI feature resides on the speaker itself, it works without any need for the specific application to support it. This is an especially important detail as it means that the Luna can be used effectively irrespectively of what software one uses.
| | |
| --- | --- |
| Frequency response | N/A |
| Power output | 3 W |
| Maximum SPL | 89 dB |
| Connections | Bluetooth 5.0, aux in, USB-C, proprietary USB key |
| Driver type | N/A |
Battery Life
I have been using the eMeet Luna both as a speakerphone and as a speaker for the past couple of weeks and I found battery life to be quite good: I only had to charge it twice, with ~8 hours of active usage between charges. In addition to those, I often left it idling because I forgot to turn it off, therefore I would deem it safe to add at least 4 hours to the battery life of the device. It stays idle for about an hour before turning itself off automatically, which appears to me like a good compromise between keeping the device available for further calls and saving its battery.
It's indeed a great result, as the unit is quite small and light; this battery performance means you can use it all day long for calls and still be able to enjoy a few additional hours in case you want to use it for music or for watching films.
Sound
I tested the eMeet Luna using my desktop PC and my laptop. Most source files were in FLAC (16 bit, 44.1 kHz).
I already mentioned that better audio quality during calls is essential to enable better communication and that works for audio reproduction as well. The eMeet Luna is nothing short of extraordinary at reproducing voices, at least for its size. It seems like it was optimised through the use of DSPs to reproduce human voices, which appear crystal clear, detailed and lively. I never had issues understanding the person(s) on the other side, even when there was noise around me.
While the Luna works wonders with voice, everything else is… not up to standards. Any bass shows the limits of the device: when bass kicks in there is distortion and it's as if other instruments were muddied up and almost muted. This driver is evidently not made to reproduce music with lots of bass, but that's expected. If you are looking for a general-purpose speaker that sounds great with anything you throw at it, then the Luna is not the device for you. On the other hand, I found that the Luna makes a very sizeable improvement over any speaker integrated into devices such as notebooks, tablets and phones. I tried watching a TV series on a couple of laptops (my HP EliteBook 745 G5 and my girlfriend's Surface 3) and the difference was stark, with a massive improvement not just in terms of volume, but also bass presence and overall clarity.
But overall the Luna is just not great as a multimedia speaker. It's decent and nothing more, being a couple of notches better than laptop speakers but also a couple of notches below other portable Bluetooth speakers I tried (e.g. the Creative iRoar Go).
Final Thoughts
I wouldn't be exaggerating if I said that the Luna has changed the quality of my work. This nifty little device provides the sound quality one needs in a work environment and a series of ingenious feature that really make one's life easier. Conversations are crystal clear and a massive improvement not only over the integrated speaker and microphone on a laptop, but also over many headphones. I found only professional headphones such as the Plantronics Voyager Focus UC beat it – but their MSRP at launch was three times that of the Luna, so it's a bit of an unfair comparison.
From the pure perspective of sound, the eMeet Luna is a bit of a disappointment, as it performs worse than comparably-priced speakers made for music. That's expected, given the focus of the Luna is not on music, and it still performs better than phones and laptops. The eMeet Luna is mainly a work device – a task which it accomplishes excellently – and it can do the part of the entertainment device with a bit of a stretch. All in all it's a great little speaker which I will keep on using for years to come: it just works too well. If you are looking for a speakerphone that's going to massively improve your call quality, then the Luna is a great option.