Sony's first generation of its 1000-series "true wireless" earphones were disappointing under any perspective. But with the third generation, the Sony WF-1000XM3, it looks like the Japanese manufacturer found the winning recipe with the right mix of ingredients. In a world made of many mediocre earphones, the WF-1000XM3 stand out as especially interesting thanks to their great mix of features and audio quality.
Disclaimer: this unit was loaned to me by a colleague of mine, Roberto, whom I thank.
TL;DR: recap
Pros




Cons

Comfortable

Great passive isolation

Very strong Bluetooth connection

Possibly the best ANC around

Long battery life

Pleasant, likeable sound signature

The case gets damaged easily
Rating: 8.5/10
Packaging & Accessories
As this unit was loaned to me, I did not receive the full retail packaging. I imagine it includes a range of eartips and a USB to USB-C cable to charge the battery.
Design & Comfort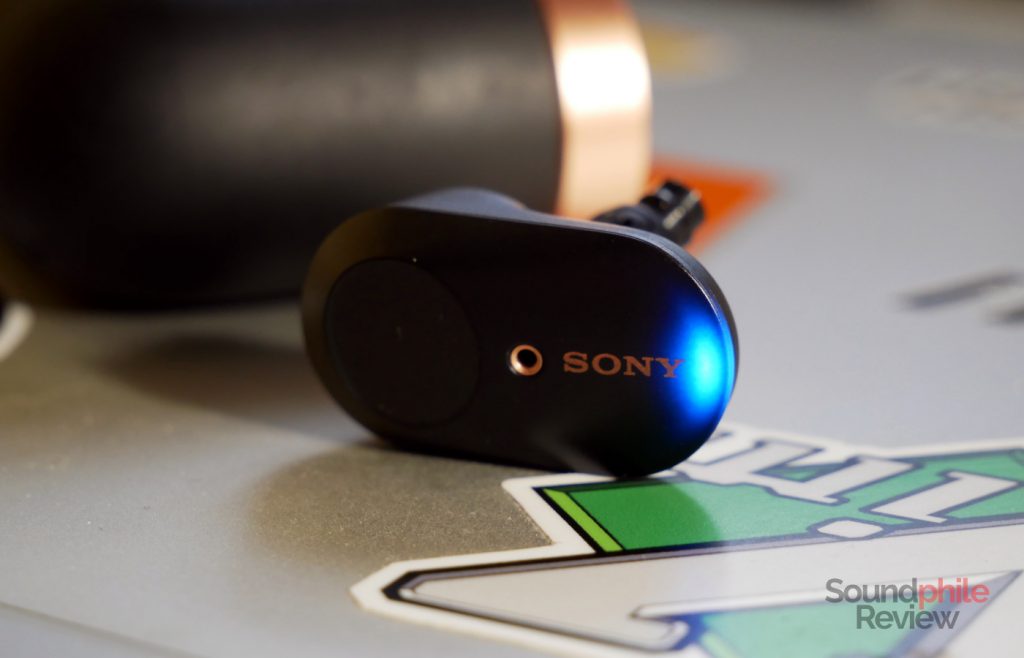 The Sony WF-1000XM3 feature a stylish, sleek design that matches Sony's other products using curved lines and flat surfaces. The earphones are quite simple a they are pill-shaped, yet they feature a flat faceplate instead of the usual bulge. The interesting thing is that the actual shell where the dynamic driver is is smaller, so the part that goes inside one's ear fits perfectly in. This is what has allows Sony to feature both touch controls and ANC that work well on the earphones.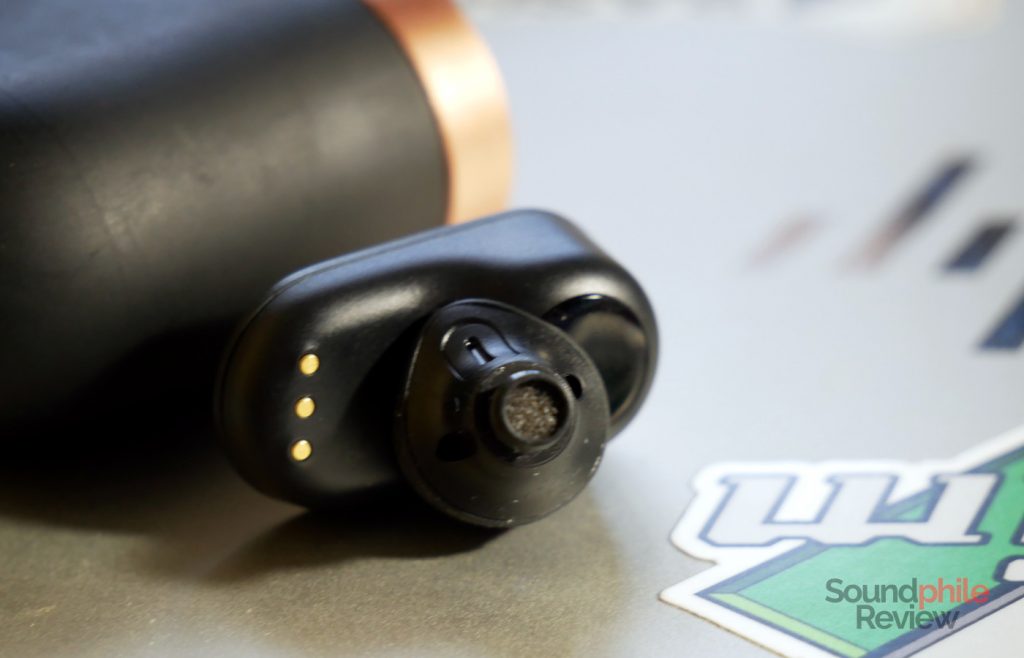 As is expected with most Sony products, the WF-1000XM3 are built quite well. They are actually among the few TWS earphones that can be safely opened and closed again to replace the battery (which is a standard one!). So in this regard Sony gets full approval. The only thing that's worth noting is that the paint of the lid can be easily damaged, as you can see from the pictures in this review, so a bit of care is needed for them to last in good condition.
Despite the odd shape, I found the WF-1000XM3 to be quite comfortable. I had to use foam eartips in order to get the best comfort, but the shape of the earphones themselves is quite spot on. On the other hand, though, my colleague Roberto told me he had the earphones falling off constantly, something I have never experienced, so it seems like it really varies from person to person. Finding the right tips is probably necessary in order to get the best out of these earphones (and you can use my best eartips guide as a starting point).
Although they're really light (8.5 g each), the Sony WF-1000XM3 offer great passive isolation that is enough to shield you from most external sounds. They are quite silent even without using ANC, which is really great as you can use them most of the time with ANC off and save battery.
The case is rather peculiar in terms of design: there is a flat lid on top and a round base which makes it impossible for it to stand upright. The main part of the case is covered in some soft-touch plastic, while the lid is made of hard plastic; it is pink-copper in colour and thankfully stays open once you open it – a small detail many manufacturers overlook. There is a status LED on the front that indicates whether the earphones are currently charging. There's enough space inside for relatively large tips to fit perfectly, even full-size Comply foams. All in all it's a rather attractive case which works quite well and is small enough to fit in most pockets effortlessly.
Extra Features & Battery Life
Alas Sony did not include any high-quality codecs, despite being the original inventor of LDAC. Maybe they did this on the grounds of a reduction in power consumption, but I can't be sure. Either way, the WF-1000XM3 only support SBC and AAC. At least the connection is Bluetooth 5.0, which grants an almost lag-free experience – I could watch videos and even play games on my PC without issues.
Range is nothing short of phenomenal, without any hint of interruptions or stuttering even when moving throughout my house – so in a very difficult environment for Bluetooth devices – and using the Shanling M2X, which does not really have a strong Bluetooth signal, as the source. The earphones automatically power on and pair with the source as soon as you take them out of the case, then they power off when you put them back in.
Now I've tried many earphones with ANC and with most of them the experience was hit-and-miss. Not so with the Sony WF-1000XM3: they are a full hit. The ANC works incredibly well, so much so that it allowed me to completely isolate myself in rather crowded pubs (in those happy, pre-pandemic times) and concentrate on the music without hearing anything of what was going on around me. On planes the background hum of the jet engines just vanished completely, as if some magic happened and took it away. It was rather astonishing when I took out one earbud and realised just how much noise there was – and this happened every single time I used the feature.
I think it's not exaggerated to say that the Sony WF-1000XM3 are the best noise-cancelling TWS earphones on the market right now. They are very consistent in removing most of the noise and in making the listening experience pleasing and silent. Their ability to remove not just lower frequencies, but even mids and highs makes them quite versatile and that's probably their main attraction.
Playback automatically pauses when you take the earbuds out (even just one of them) and then starts again once you put them back in. This is quite useful as it allows you to hear something or to speak to other people without having to manually pause music.
The earbuds offer touch controls that work as follows: the left earbud controls the ANC and ambient modes (one tap), calls (two taps) and Quick Attention Mode (tap and hold; temporarily mutes music and starts ambient mode, so that you can e.g. hear announcements in a train station); the right controls playback (one tap), calls or skip to next track (two taps), previous track (three taps) and voice assistants (tap and hold). It's a complete set of options and it's also rather intuitive. As always with touch controls, unwanted interactions are quite common, but with some practice they are reduced considerably. A quick note goes to the manual, which says "when tapping the touch sensor 2 or 3 times, tap it quickly with an interval of about 0.4 seconds between taps"… Sony, do I look like a living chronometer that knows exactly how much is 0.4 seconds?!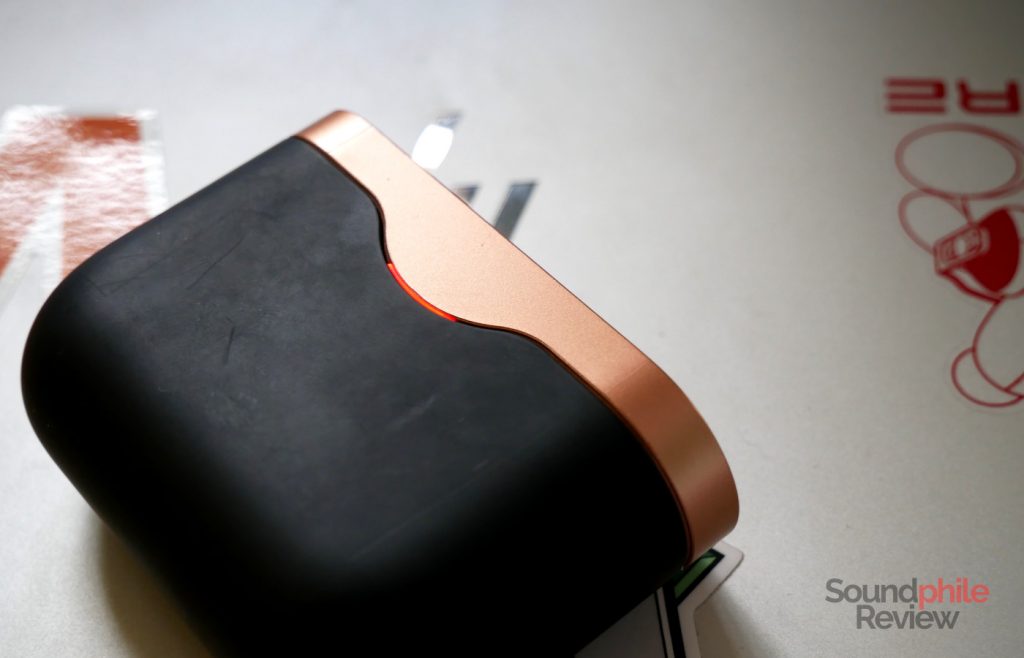 I took quite a few calls using the earphones and the microphone worked quite great, with people on the other side hearing me clearly despite some noise around me. I can't vouch for the performance of the earphones in super-crowded and noisy situations (as I was not able to test them, you know… pandemic and everything), but it seems like they would work quite well even then.
Battery life is very good: it is around 6 hours when using ANC and 8 hours without it, which is quite good considering the small size of the earphones. The case should give you around 3 full additional charges, amounting to 18 hours with noise cancelling or 24 hours without it.
Sound & Specs
I tested the Sony WF-1000XM3 using mainly my Shanling M2X DAP. Most files on the device were FLAC in 16 bit, 44.1 kHz resolution.
| | |
| --- | --- |
| Frequency response | 20 – 20,000 Hz |
| Impedance | N/A |
| Sensitivity | N/A |
| Bluetooth version | 5.0 |
| Codecs | SBC, AAC |
The Sony WF-1000XM3 offer Sony's house sound with little compromise, which is quite interesting given their "true wireless" nature. The signature privileges bass, and mid-bass specifically, but keeping a generally balanced approach. This means that the sound does appear "bold" and large, but it stays balanced so that no single part prevails over the others. It's a very pleasant signature, especially if you are into modern genres (though not limited to that!).
Soundstage is quite large for closed, wireless earphones which have to overcome a lot of obstacles. What surprises me the most is that there is more depth than width: the sound seems to extend in an almost-squared room, just with a bit more depth at the front. The spatial sensation is quite great honestly and better than even some wired earphones I've heard. Imaging is, on the other hand, good in terms of placing instruments in the left-centre-right areas, but limited in terms of giving instruments their own specific placement on the scene. Instrument separation is generally good, with moderately complex tracks that expose the limits of the drivers – one such track is Let me put my love into you by AC/DC, where a bit of mash-up happens.
Bass is generally pleasing and well crafted, with enough oomph to be clearly audible and strong, but without excesses that would lead it to being fatiguing and overpowering. It's undoubtedly coloured, yet it is in a way that still makes most genres sound reasonably well. Depth is limited, but quite good for TWS earphones as they reach down to around 40 Hz. Bass is not really physical, due to the limited size of the driver, but it does deliver a bit of impact – enough that percussions are felt a bit – while speed is relatively limited and transients are not well-defined and immediate, as they are a bit blunted. Detail is therefore good but far from being exceptional. All in all these features make the WF-1000XM3 quite good for casual listening, but not for critical listening.
Midrange is well positioned in the mix, sitting in a fairly forward position that makes it clearly audible. There is a bump in the upper region of the midrange which makes female vocals pop out, but which also exposes some sibilance. Curiously enough, though, male vocals are not altered too much and still possess the necessary lower-end focus despite the sibilance and emphasis on the upper range. The bump is not large enough to completely alter the character of the music, but it is enough that you can hear there is some emphasis there. It seems to hit a specific set of frequencies that my ears don't seem to like, for whatever reason – surely not to make my life as a reviewer easier, it seems. Detail is very decent, stopping just short of providing micro-details (they're hinted at but never fully rendered).
Treble is slightly emphasised and with decent extension, with a couple of peaks in the central region that add air and openness to the sound as a whole. Those same peaks might be a bit fatiguing to the sensitive folks out there, but unless you are really sensitive it should be mostly fine – it's not a massive, piercing spike. There's a fair amount of detail, right there at the border with micro-detail which makes treble especially rich and interesting to listen to. Cymbals are clear and clean, with splashes being quite enjoyable.
Final Thoughts
The Sony WF-1000XM3 are now about one year old, yet they still are among the top "true wireless" earphones on the market. Their signature is relaxing while still delivering lots of details with great technical ability. The sound alone makes the WF-1000XM3 worth their asking price – which currently sits around €150-180 in Europe. But what really sets these earphones apart is their fantastic ANC, which removes noise so effectively that after a while you actually forget how noisy the world is. Pair that with great battery life and you get a pair of earphones that I can wholeheartedly recommend – at the current price they're almost a steal, compared to what they offer.