ThieAudio keeps on expanding their line-up and the Legacy 2 are their latest offering that brings many of the qualities of higher-tier models to a more affordable price point. The ThieAudio Legacy 2 are in fact the most affordable earphones to date by Linsoul's own brand, but they do not appear to compromise on any of the qualities the other models have become known for.
Disclaimer: Linsoul sent me a complimentary unit to write this review. The Legacy 2 retail for $89.
TL;DR: recap
Pros




Cons

+ Very comfortable

+ Good accessory set

+ Good tonal balance

– Mids are veiled and muddy
Rating: 7.8/10
Packaging & Accessories
The ThieAudio Legacy 2 comes with a decently-sized accessory set that includes a hard carrying case made of faux leather, plus three sizes of two different kind of tips, one of dual-density silicone (hard inner bore, soft dome) and the other of single-density silicone. There are no foam eartips. The packaging itself is quite simple, with a cardboard box that comes with its own cardboard sleeve.
Design & Comfort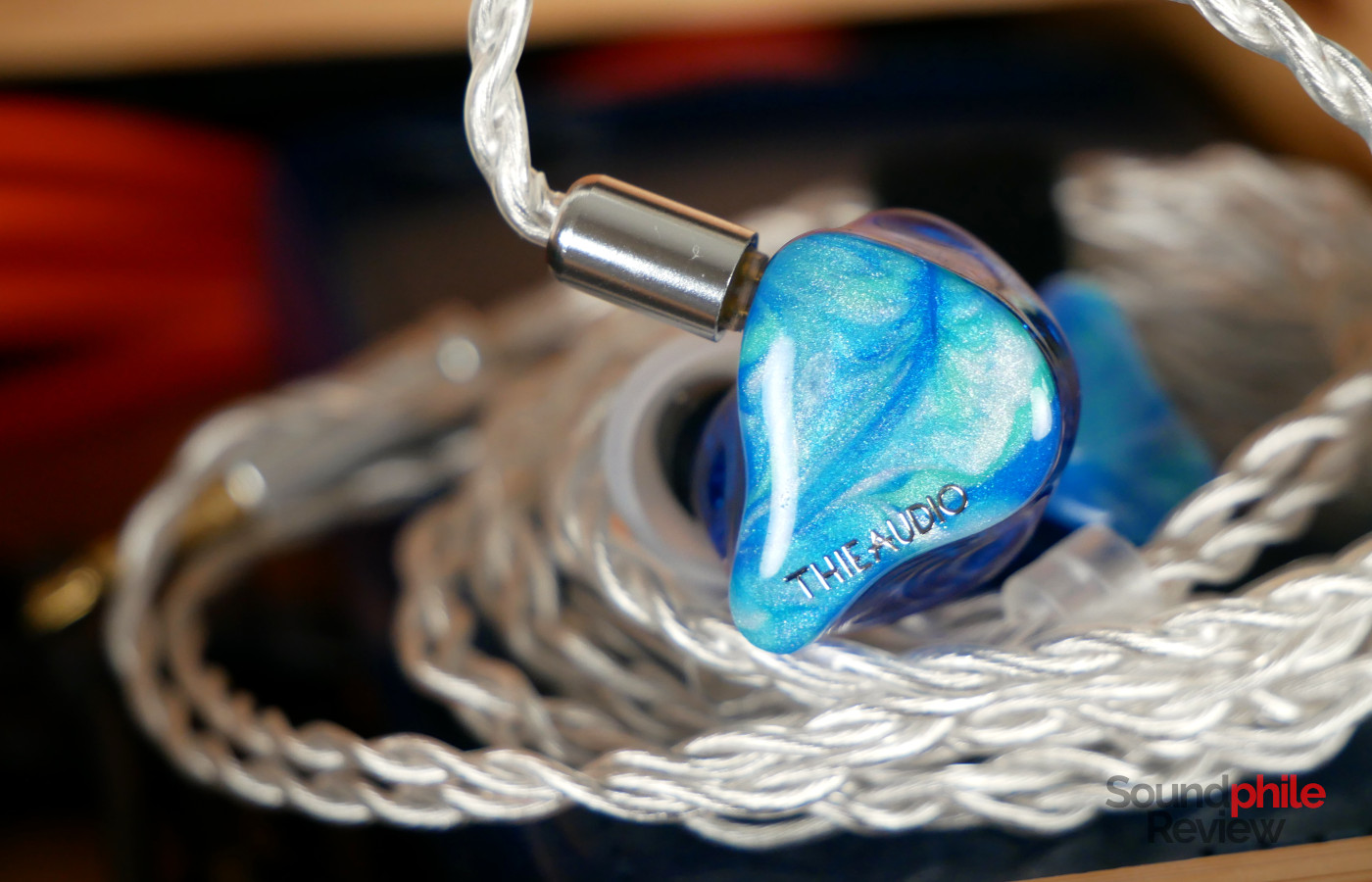 While the shape of the ThieAudio Legacy 2 is nothing new, being the usual IEM-like shell design, the colours really got my attention. They are in fact a more refined, better-looking version of the Legacy 3, with swirls of different light blue hues creating movement on the faceplate and a darker blue for the rest of the shells. The interesting bit is that the plastic of the shells is transparent, so you can peek inside! As a Monster Hunter: World player, I can't help but think of the ice caves in the Iceborne expansion. The Legacy 2 are quite cool indeed! (I know, it wasn't explicitly meant as a pun, okay?)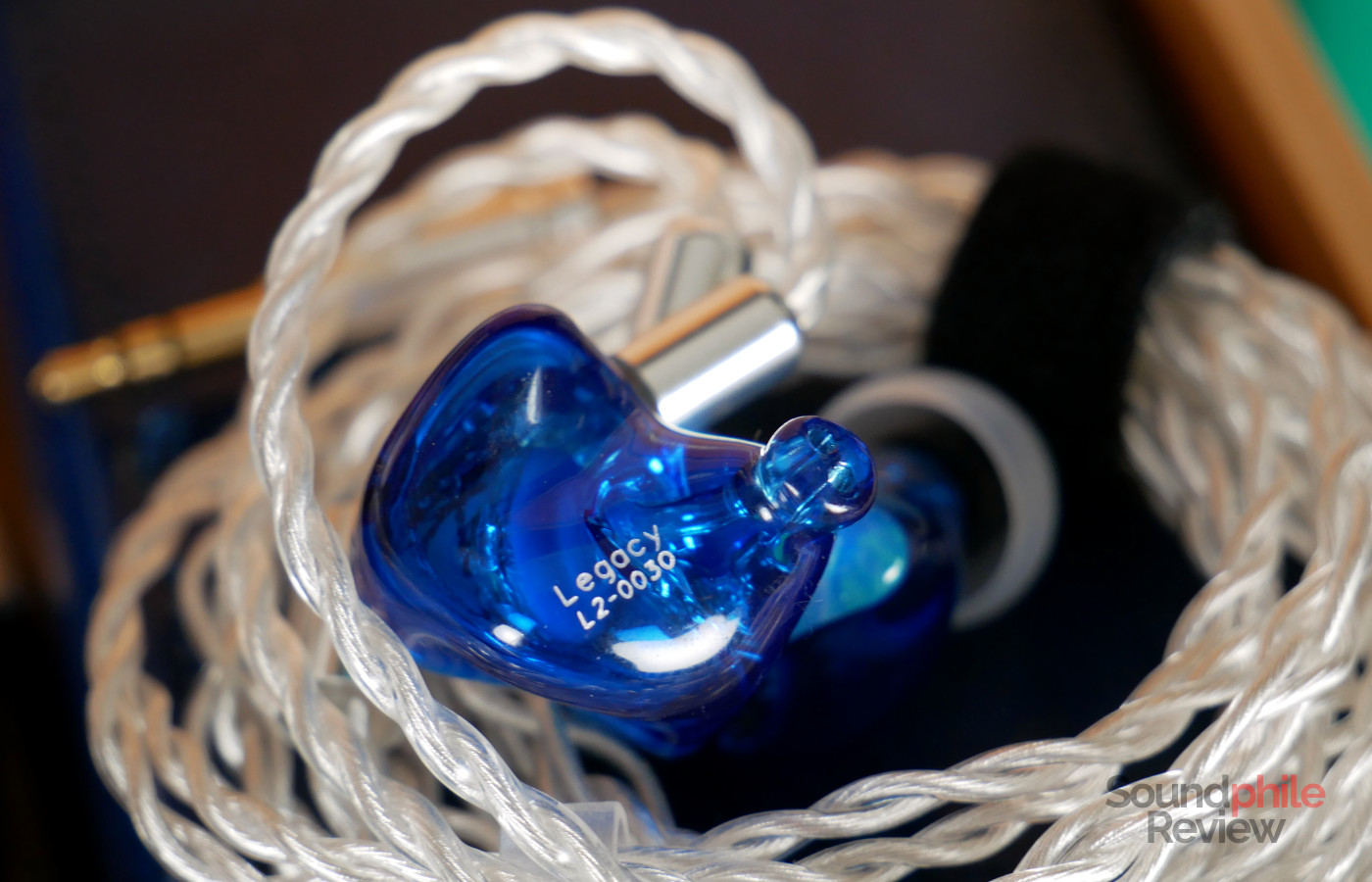 Build quality is definitely good and in line with expectations from ThieAudio – which are quite high at this point.
I find the Legacy 2 to be extremely comfortable as they're small and have no hard edges whatsoever, so they don't put any pressure on the ears resulting in long-lasting comfort. In fact I've been able to use the Legacy 2 for more than four hours with no discomfort whatsoever!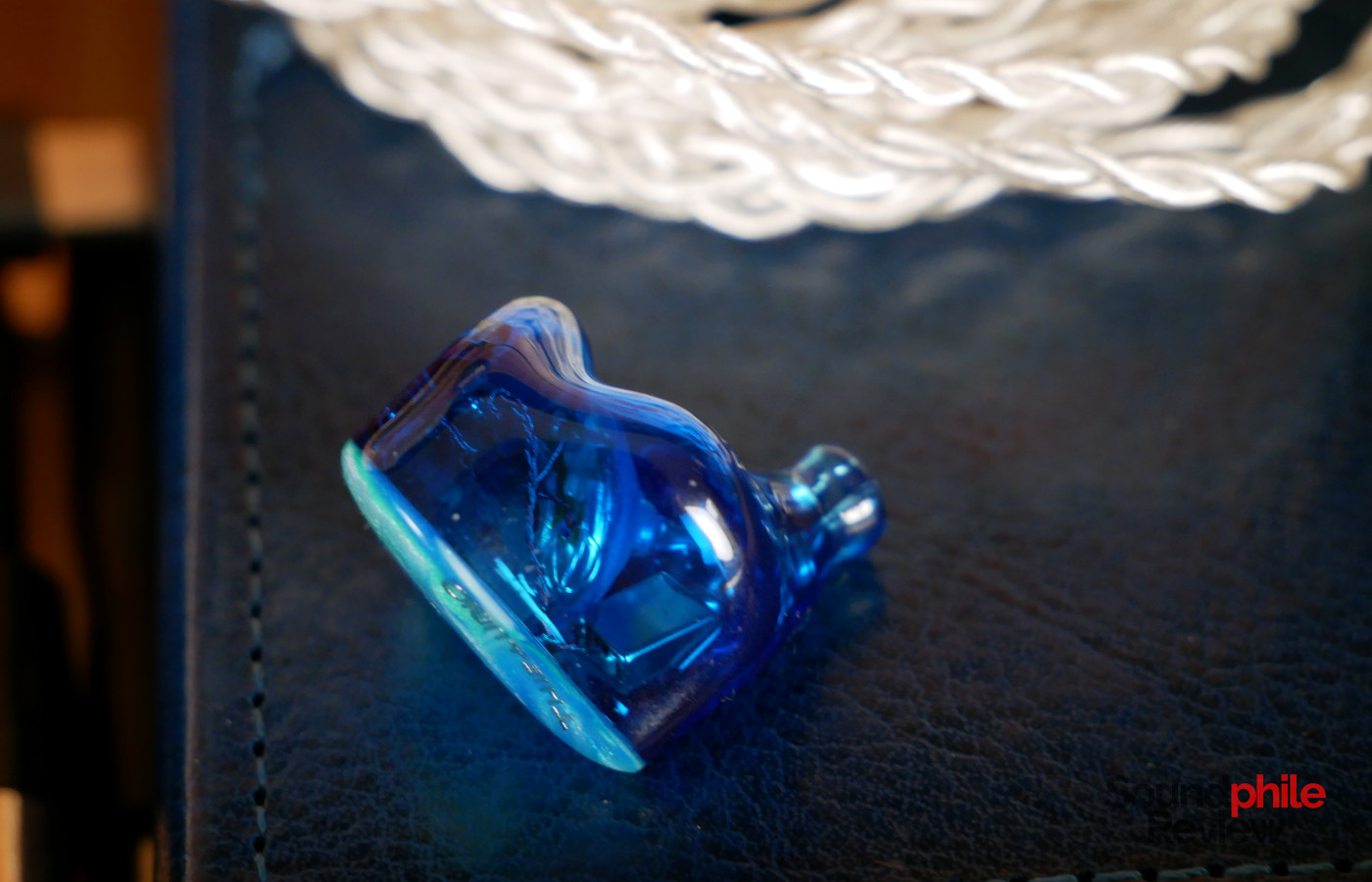 Passive isolation is quite good, too, as my girlfriend can confirm – I've found myself multiple times not hearing her talk to me because I was wearing the earphones. While on the subway I had to raise the volume slightly, but I was still able to hear music clearly even at relatively low volume levels.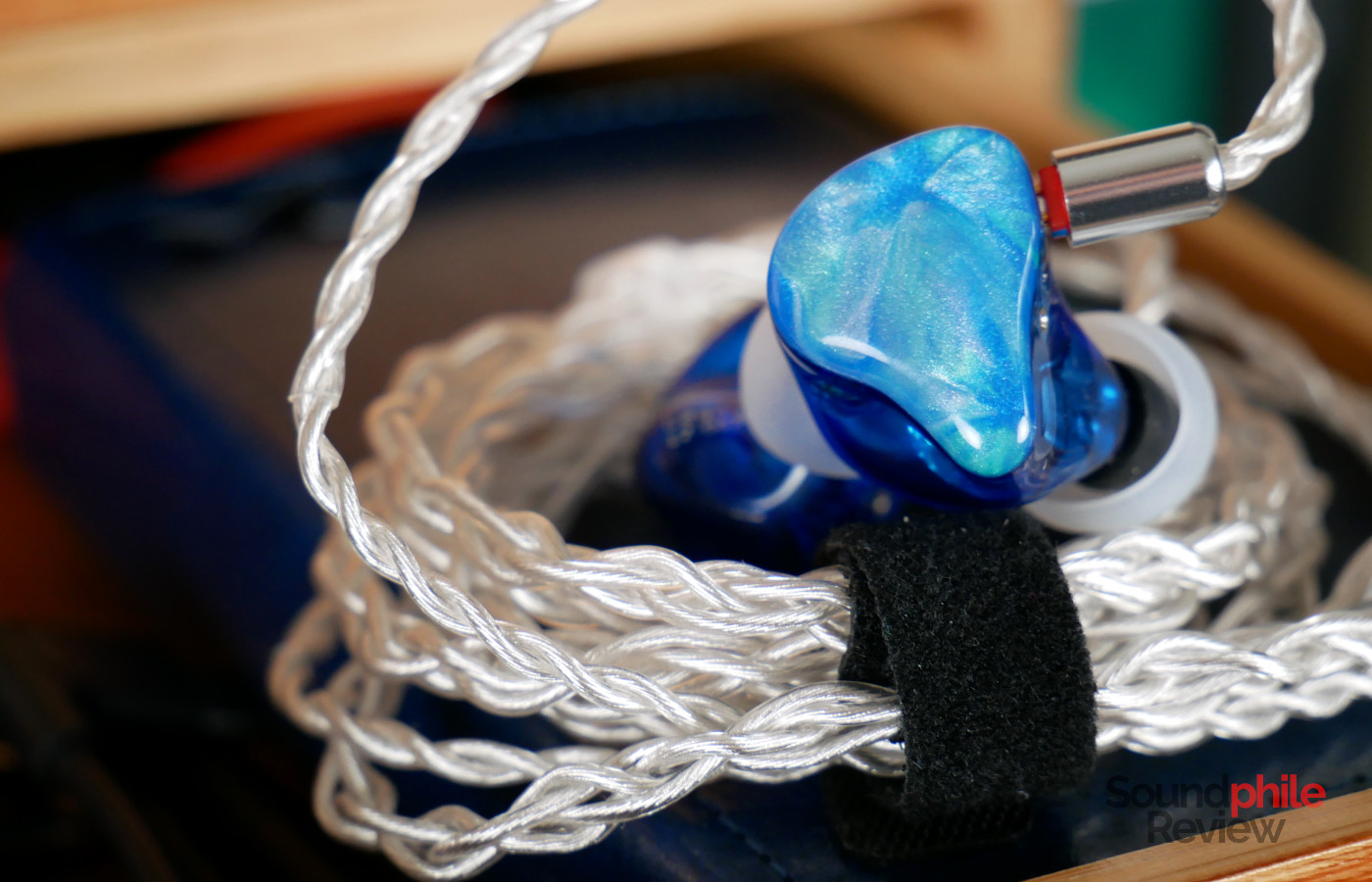 The cable is quite good: it has four cores, braided between the metal housings of the 3.5 mm jack and of the Y-split, and then simply twisted in pairs after that. It's seemingly made of silver-plated copper, if its silvery colour is of any indication, and it's decently soft and microphonics-free.
Sound & Specs
I tested the ThieAudio Legacy 2 with the help of an IKKO ITM01 playing FLAC files from my computer.
| | |
| --- | --- |
| Frequency response | 20 – 20,000 Hz |
| Impedance | 32 Ω |
| Sensitivity | 108 dB |
As the name implies, the ThieAudio Legacy 2 use two drivers: a beryllium dynamic driver that takes care of bass plus a Knowles ED29689 balanced armature that reproduces mids and highs.
Soundstage has quite a good width for a closed-back in-ear and a hint of depth as well, though instruments still sound like they are very close to the listener and give a more intimate feeling. Imaging gives you a sufficient impression of where the instruments are, though it fails to give an individual place to each of them and it doesn't give too large a difference to the channels. Instrument separation is more than acceptable, even though it suffers a bit in more crowded tracks.
Just like the other earphones in the Legacy range, bass is a bit more abundant than in an ideal, neutral tuning, but it is so by a small margin and is therefore just a bit coloured without interfering with the general tonality too much. What I really like about ass on the Legacy 2 is that it is quite fast and with a relatively short decay. It also offers a good amount of detail, even though layering is not great and leads to details being smeared.
Midrange has a touch of added emphasis on the upper area that gives it more bite without adding fatigue. But it is overall very well balanced and mostly in line with bass and treble, so it is really rewarding as well in that sense as you can hear it very clearly. I'd say that "clear" is not quite the best definition I can give of the mids, as there is some muddiness (audible e.g. in J.S. Bach's Prelude from the Unaccompanied Cello Suite No.1 in G Major, BWV1007 recorded for the Master and Commander soundtrack), plus detail is not spectacular and lacks that finesse that would make it really pop out.
Treble is – for the first time in what feels like quite a long series of reviews – well balanced and lacking any aggressiveness or harshness. It is well tuned and has no significant peaks or dips which make it quite pleasant overall. Detail is quite good, as is speed.
ThieAudio Legacy 2 Comparisons
Let's do a comparison with other earphones:
ThieAudio Legacy 2 vs ThieAudio Legacy 3: the Legacy 3 are basically Legacy 2 on steroids that do everything better. Bass is basically identical and there are minor differences, if any at all. Midrange is more prominent on the Legacy 3, which portray it more vividly and without the same muddiness – it is as if a veil is lifted, and this in turn exposes many more details as well as makes the mids more central to the scene. Treble is quite similar, but more detailed on the Legacy 3 – which also offers a tad wider soundstage, more accurate imaging as well as better overall instrument separation.
ThieAudio Legacy 2 vs Moondrop Aria: the Aria are somewhat close to the Legacy 3, but they offer something different. Bass is similarly extended and has a comparable presence in the scene; although it is not as physical nor as fast, its detail is surprisingly better portrayed – something that applies to mids and highs as well. Midrange is different in that it has a more prominent bump in the upper area, just like the Harman curve dictates, and it sounds more vivid and lively – again, as if a veil had been lifted. Treble is slightly less emphasised in general, but it is comparable in the lower region; it appears to be more detailed as well as slightly more extended. Soundstage is quite a bit wider, while imaging is more accurate and instrument separation is better.
Final Thoughts
I admit I didn't have a lot of expectations of the ThieAudio Legacy 2, but man did they smash them completely. They're great earphones for the price that offer a spot on tuning and decent enough technical ability at a price that's hard to ignore. If you top it off with a very nice design, great comfort, very good isolation and a great cable, you have an IEM that's quite interesting. It must also be noted that the Legacy 2 do have their share of flaws, too, with detail that's not always up there and a general muddiness that compromises the listening experience a bit. Still, I find the Legacy 2 good enough for most people looking for something in the sub-$100 range.