What happens when you take a headphone with a… very opinionated tuning and you make it wireless? Well, you get a wireless headphone with very opinionated tuning. Which is something that surely is not going to please everyone. That's our premise for the OneOdio A70, which are basically a wireless Pro-50, with all the good and the bad things that come from that.
Disclaimer: I received the A70 free of charge from OneOdio. The A70 retail for $44.99 at the moment of this review's writing. You can also buy them on Amazon.

TL;DR: recap
Pros




Cons

+ Very lightweight

+ Innovative cable management

+ Very long battery life

+ Stable, wide-range Bluetooth connection

– Bass is overwhelming

– Treble is fatiguing

– Low isolation
Rating: 6.5/10
Packaging & Accessories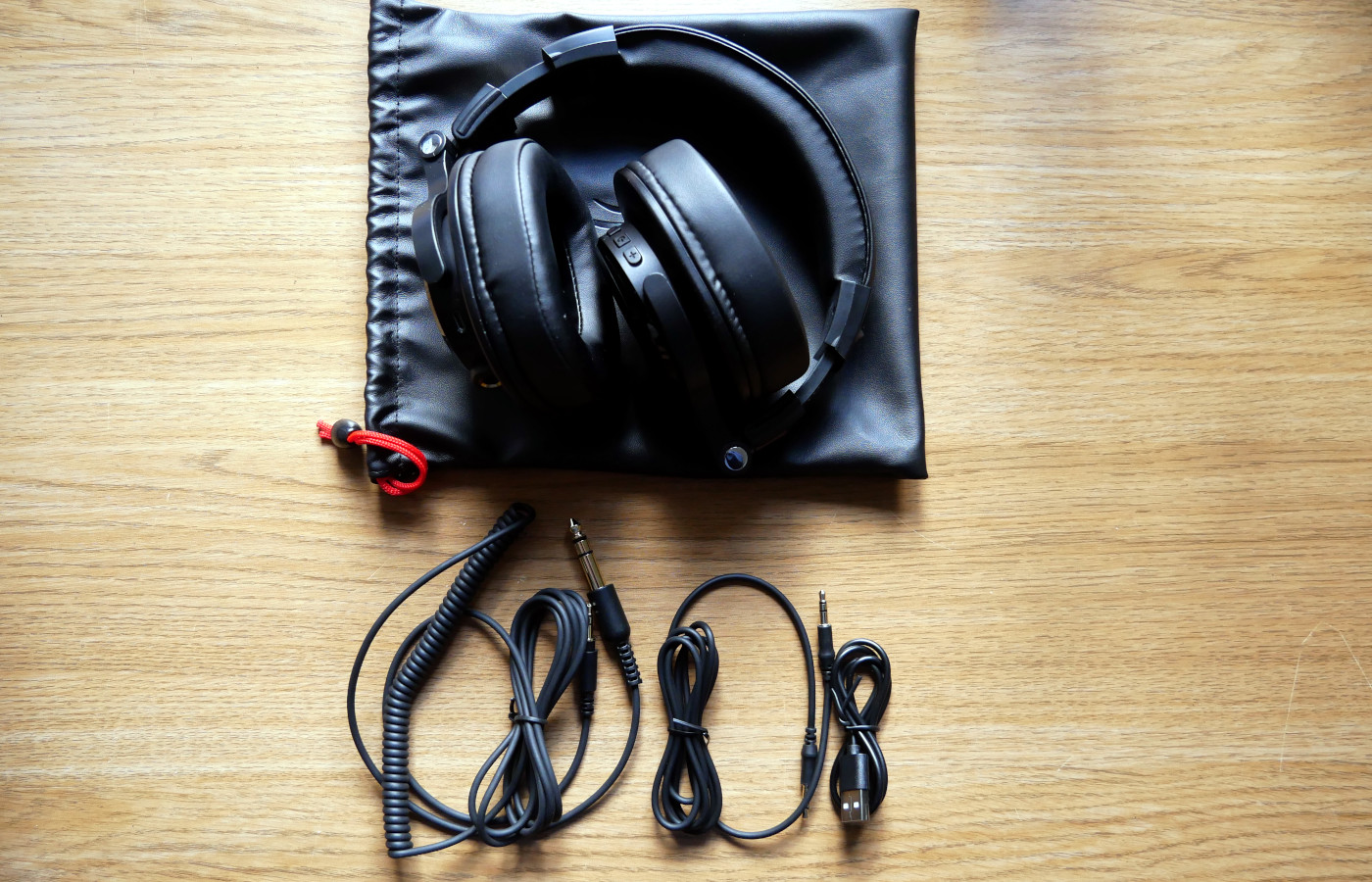 Packaging is quite simple and to the point, as you only get a bare cardboard box that contains everything – I'm all for this simplicity with cheap products. Inside this box there's actually a good accessory set, as the OneOdio A70 come with a 3.5 mm to 6.3 mm coiled cable, a USB to micro-USB (yeah, I know) cable as well as a protein leather string pouch. For the price, that's quite great.
Design & Comfort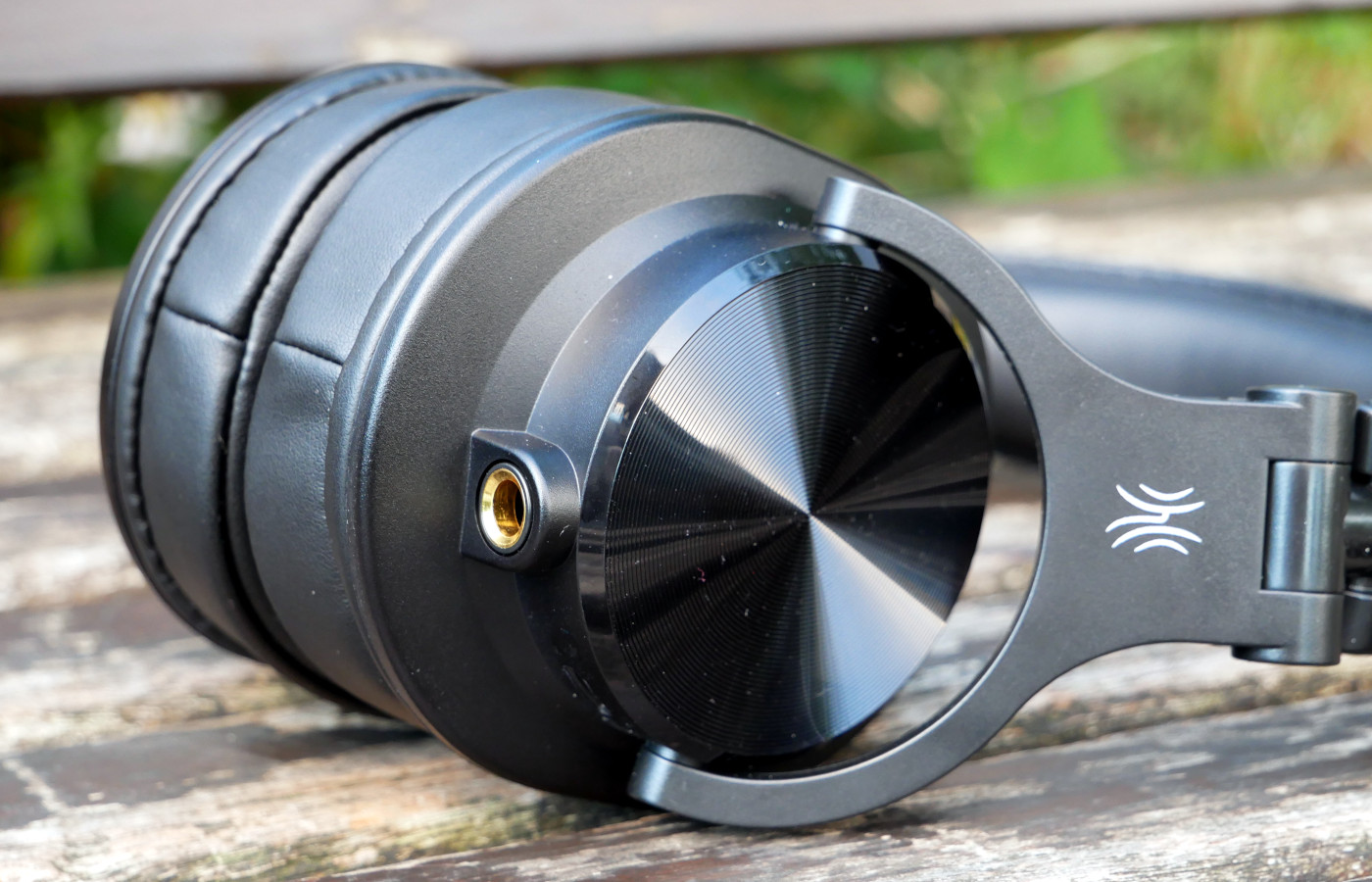 One thing is different with the A70: the design. They got rid of that gaudy fake metal finish and instead went with a much more elegant matte plastic finish, save for a circle on the earcups that has glossy concentric circles on it. It looks so much better, also because the matte black colour gives the OneOdio A70 a much more refined and sturdy appearance. The headband is the same and it is covered in black faux leather sewn with red thread (this looks like OneOdio's signature style).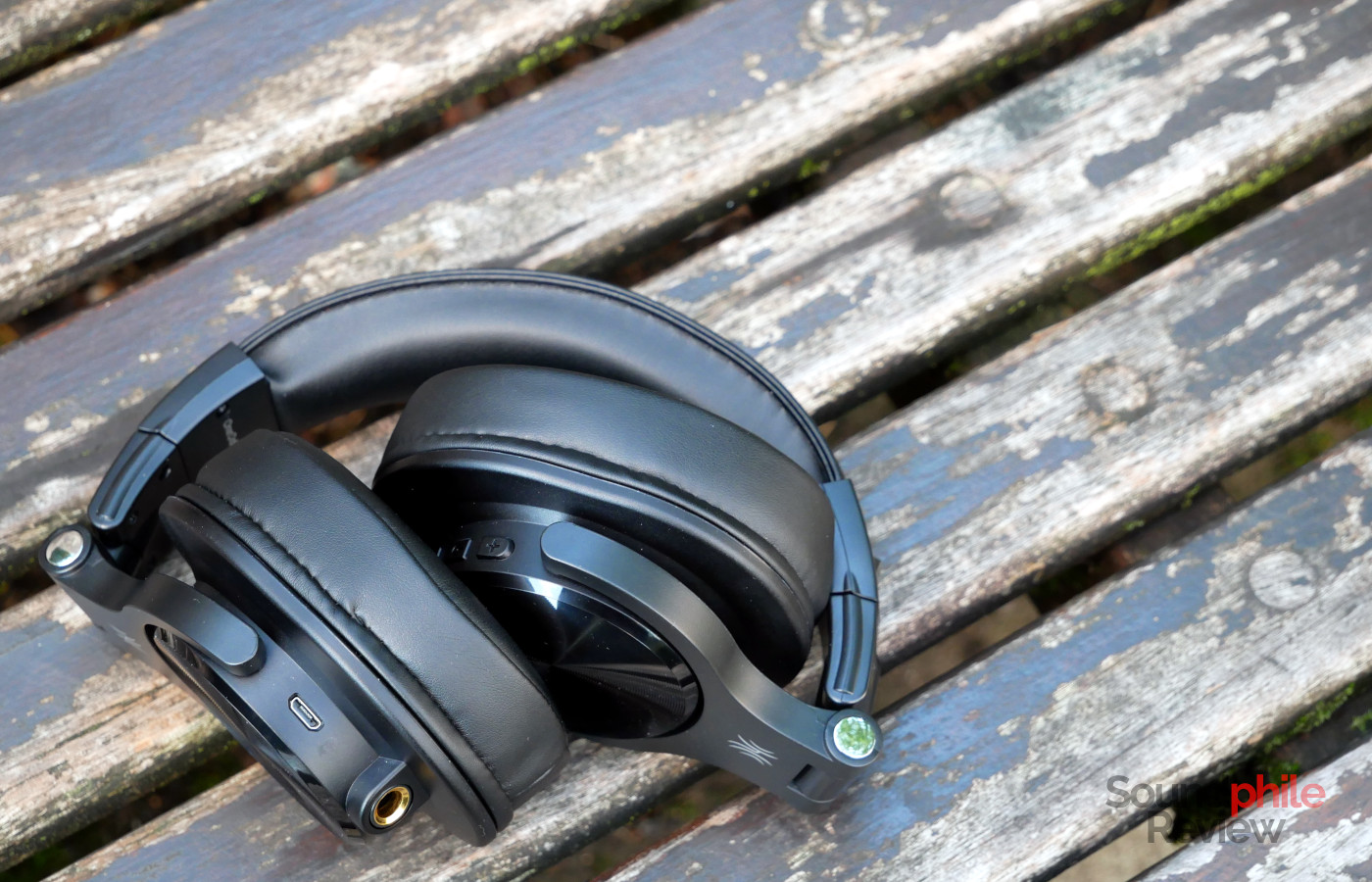 The A70 are extremely lightweight, scratch that, they're 250 g actually, which is definitely light but they feel so much lighter! That's thanks to the use of very light plastics and to the use of metal just as a reinforcement for the headband. Overall build quality is acceptable for headphones in this price range and there are actually a few things I quite like, like the clear adjustment steps for the headband and the gimbal rotating both vertically and horizontally. The headphones can also be folded if you want to transport them in a more compact form.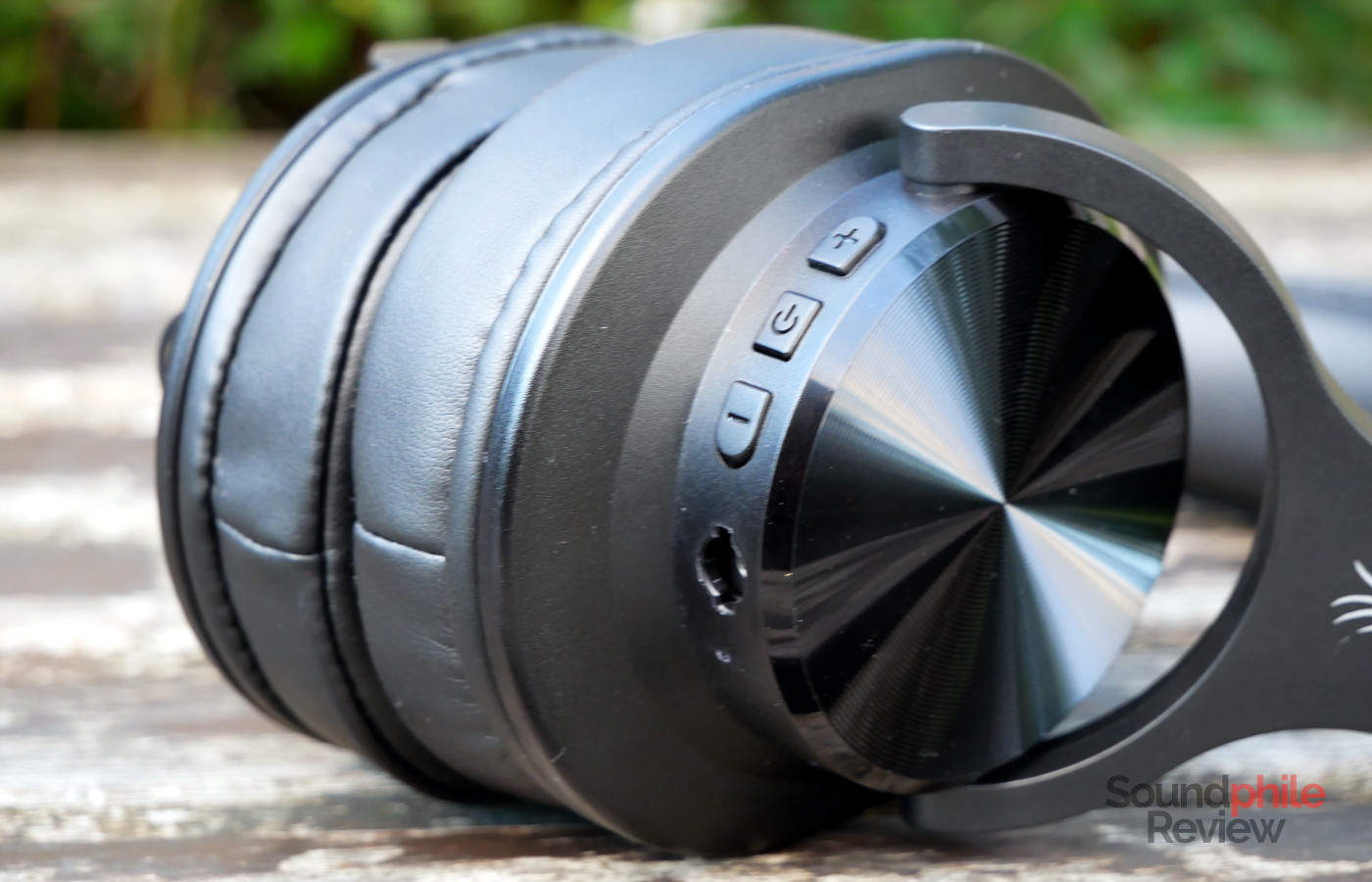 The earcup on the right hand side hosts three buttons: volume up, power/play/pause and volume down. It also has a status LED and a microphone. The earcup on the left hand side has a micro-USB connector to charge the headphones.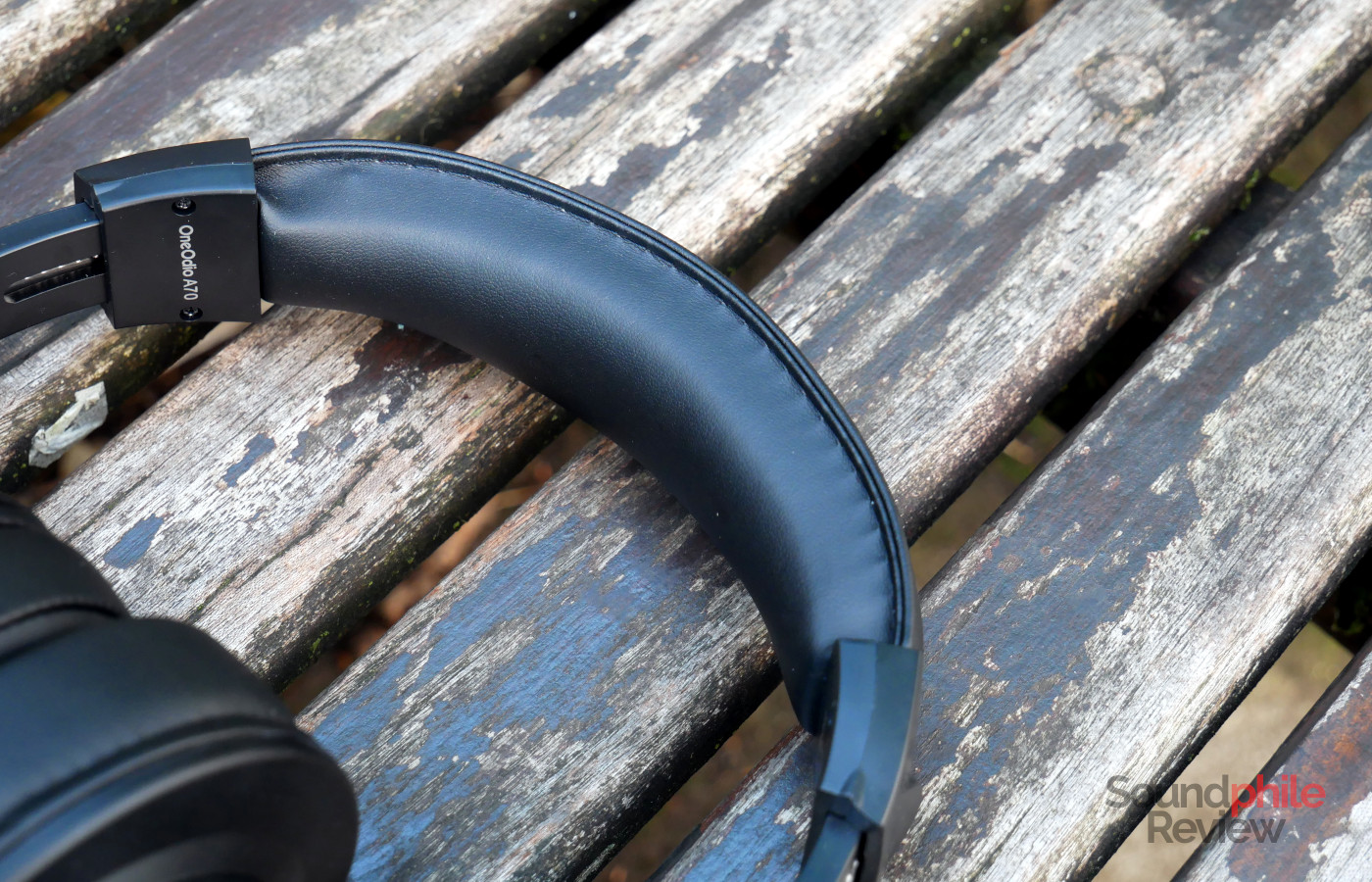 Now, despite the very low weight, I find the OneOdio A70 not to be that comfortable. That's because the padding doesn't follow the shape of your head, but is straight: this makes it press down on the top of your head, making that the single point of pressure where all the weight lays on. This means that the A70 quickly become fatiguing and uncomfortable, at least if you have sensitive scalp like me. Half an hour is enough for me, which means that normal people will probably be tired after more than an hour. The faux leather also is quite hot and in a matter of minutes I feel my ears burning.
Isolation is basically nil. Due to the light plastic the A70 are made of, they offer virtually no isolation whatsoever and even low-volume noise such as the fan of my oven get through as if I was not wearing anything.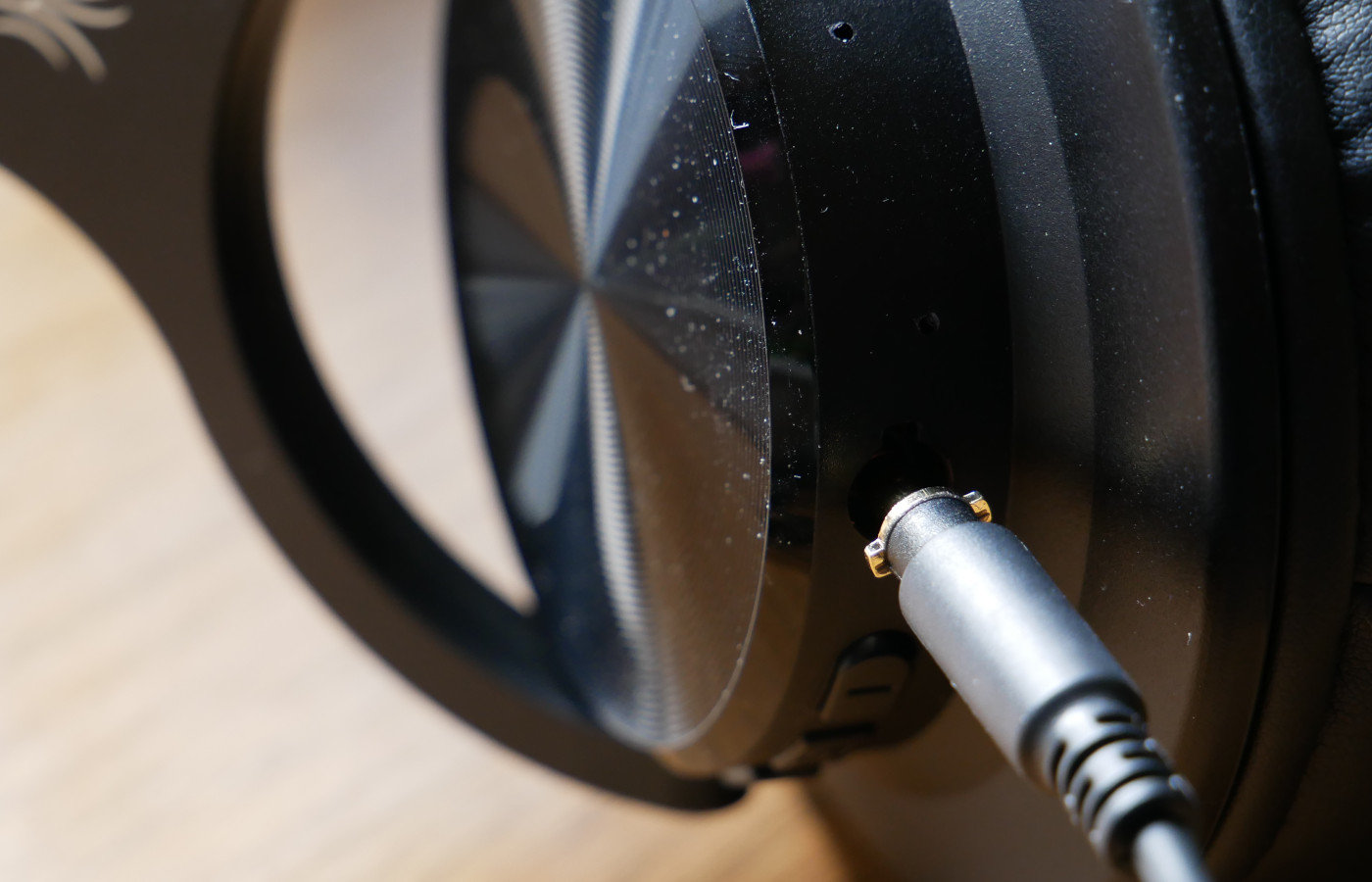 The one thing I really like about the A70 is that they use the same cable system as the Pro-50: a 3.5 mm jack on the right hand side and a 6.3 mm jack on the left hand side, so that you can always use the same cable irrespective of what plug your source device uses, and without any need to use any adaptors. The 3.5 mm connector also has a lock mechanism, so that you insert the jack and rotate it to lock it in place.
Extra Features & Battery Life
OneOdio does not disclose the Bluetooth standard the A70 uses. The headphones only support the SBC and the AAC codecs, which is to be expected given the very affordable price range they're in. One thing I noticed, and which I don't especially like, is that there's a delay of about one second when you start playing music, so the first second is basically skipped. It doesn't always happen, so I have yet to figure out what triggers it. Range is entirely in the average for this category of devices and so is strength – I can move around the house with a good degree of freedom and they still play music without interruptions, though in the furthest corners the sound stops and I have to get back closer to the source for it to start again.
The A70 offer only basic Bluetooth features and they don't have more advanced stuff like voice assistant compatibility.
Battery life is estimated at 50 hours by OneOdio, though in reality it is possibly lower than that. I haven't been able to completely discharge them, though after more than 30 hours of use they are still working, so that's quite a good result!
Sound & Specs
I've mostly tested the OneOdio A70 using my laptop as source. Music files used were FLACs by a good majority.
| | |
| --- | --- |
| Frequency response | 20 – 20,000 Hz |
| Impedance | 32 Ω |
| Sensitivity | 110 dB |
| Bluetooth version | N/A |
| Codecs | SBC, AAC |
Just like the Pro-50, the A70 sounds heavily V-shaped with massive bass presence and very strong highs that leave mids quite recessed. They use a 50 mm dynamic driver which appears to be the same as the one used on the Pro-50. When using the A70 wirelessly, there is a constant background hiss that is quite noticeable with low-volume music.
Soundstage extends mostly laterally with virtually no depth and has limited width in any case, though it's better than expected considering these are closed-back headphones. Imaging is poor, as one can probably expect, with a good channel separation but with no accurate placing of instruments on the stage. Instrument separation is decent, but it shows all its limits as soon as the track exhibits some bass.
Bass is quite emphasised, so much so that it often obliterates the rest. It is concentrated in the 60-80 Hz region, with a relatively steep decline on the left side and a gentler one on the other; the result is the classic Beats-like boomy and bloated bass region. It does sound okay with some electronic music and it's plenty of fun, but it also ends up being excessive with tracks that already have a large bass presence in them. Detail is sufficient, but it's often lost in the mix.
Midrange is quite recessed in the lower and middle regions, and especially in the latter one where there's a vast chasm. There's then a quick rise in the upper area which gives energy and vividness to the sound, but which also results in quite a big unbalance. The end result is quite weird. Detail is sufficient, but it is less and less audible as the track increases in complexity.
In Zeromus by the Black Mages you can clearly hear the main issues that the A70 have: the treble is way too emphasised and peaky, which makes them quite fatiguing. There are actually multiple peaks going on and you can hear this in the aforementioned track, as the cymbals show them quite clearly. Detail is also barely sufficient.
Final Thoughts
Surely the OneOdio A70 aren't quite what I call a "best buy". In fact they epitomise the kind of sound signature that I don't like: there is no balance whatsoever, making it so that bass leaks over mids and treble has wild peaks that make it fatiguing. They're just like the Pro-50: headphones that can be interesting if you really like this kind of tuning, but which otherwise aren't great as their tuning limits them too much. OneOdio says you should use this for DJing (and I can't say anything about this, as this is a field I don't know enough about), as well as monitoring and mixing; I very much doubt that these headphones can be good for mixing, due to their heavily coloured signature that can mask details and give a wrong impression of how the music really sounds. They can surely be fun if you listen to bass-heavy electronica or other similarly bass-intensive genres.
On the positive side, though, I laud OneOdio for the innovative cable management solutions as well as for creating a cheap wireless headphone that works quite well and has great battery life. You usually have issues with this kind of product, but that's not the case here. One last positive thing I would like to mention is that OneOdio has, for the second time, accepted my opinion even though it is not entirely positive. They gave me full liberty of criticism and said they were interesting in hearing my advice on how to improve their products. They only asked me to highlight the pros of the headphones, which is fair and which I always do even when my opinion is negative. Although the A70 are meant for a very specific audience that can like them despite their flaws, OneOdio's attitude makes me think that they can grow beyond these products.