Portable Bluetooth speakers are becoming more and more a part of our everyday life… and the trend seems to be more towards omnidirectional speakers than towards "classic" semi-stereo speakers. It's undoubtedly interesting to see how these speakers perform, so I took the SoundCore Flare+ for a spin. This portable speaker, made by famous accessory maker Anker, is targeted at parties and other social situations, as the lighting shows. But is it any good?
Disclaimer: I received this unit directly from Anker. The Flare+ is on sale for $99.
TL;DR: recap
Pros




Cons

Good Bluetooth connection

Fun tuning

Well-done bass boost

Sound has good spatial consistency

Complex tracks will show the limits of the speaker
Rating: 7/10
Packaging & Accessories
Anker cut it to the bone in terms of accessories: there are just a micro-USB cable (to charge the speaker) and a 3.5 mm to 3.5 mm jack cable. The packaging itself is quite simple: a cardboard box with a plastic holder inside it. I am completely in favour of cutting down on packaging and accessories to keep the price down – bravo, Anker!
Design, Build & Materials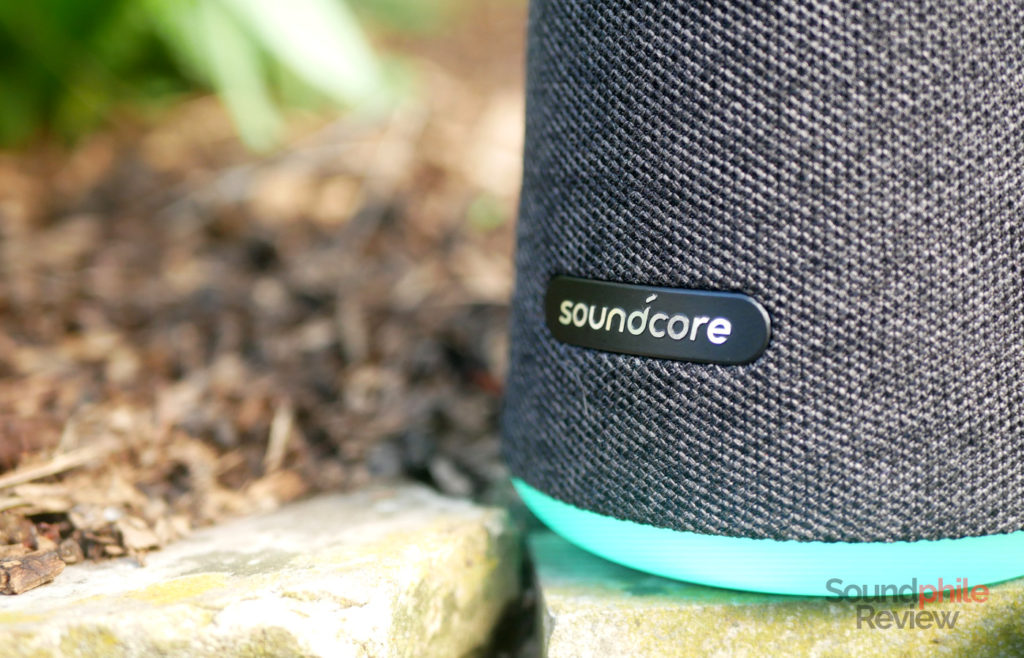 The SoundCore Flare+ appears almost as a truncated cone, with a slight repotting at the bottom. The lateral surface is covered with a mesh-like, non-uniformly coloured fabric that gives the speaker a more sturdy look. The top and bottom are covered in plastic, though it's rubbery and softer on the top and harder on the bottom, with an anti-slip coating. All in all it seems very well assembled and it resisted to some falls and hits, so it appears to be decently durable too.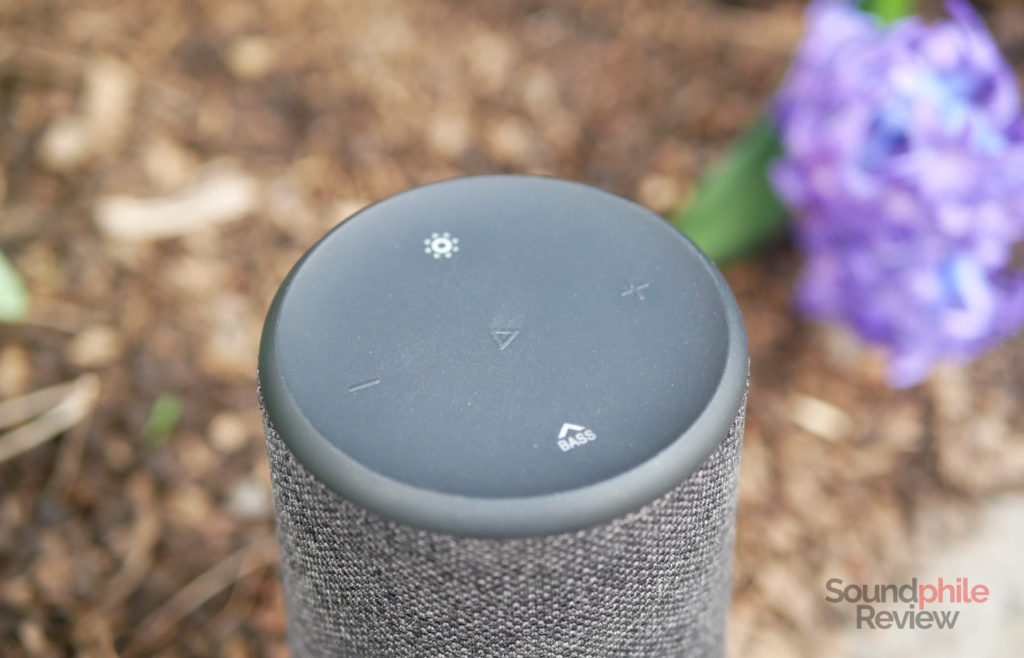 The top hosts the main controls (play/pause, volù, vol-, bass boost and lightning), while the "back" (whatever that is on a circular surface…) hosts the power button, the Bluetooth button and a rubber flap that hides the aux port, a micro-USB port to charge the speaker and a USB port one can use to charge another device with the Flare+'s internal battery. The flap also protects the electronics from water. There's also a fabric handle. The bottom has a white plastic cover because there are LEDs inside that light up in various modes.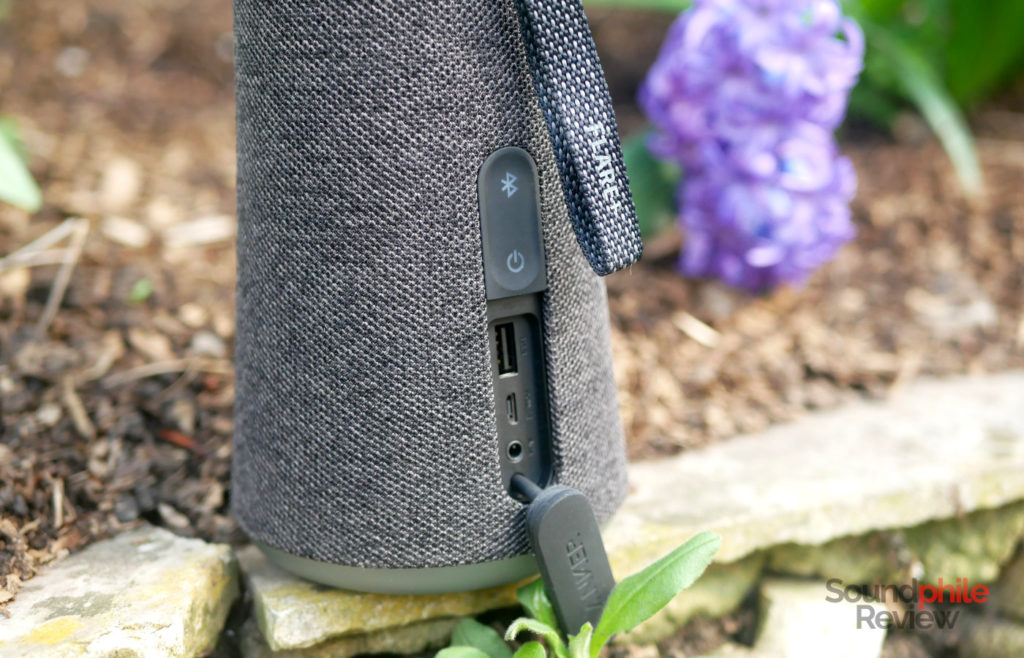 The SoundCore Flare+ is IPX7 certified, so it can even resist being completely submerged in water up to 1 m for up to 30 minutes. You can basically use it while you take a shower or a bath, or even if you go to the swimming pool.
Features & Specs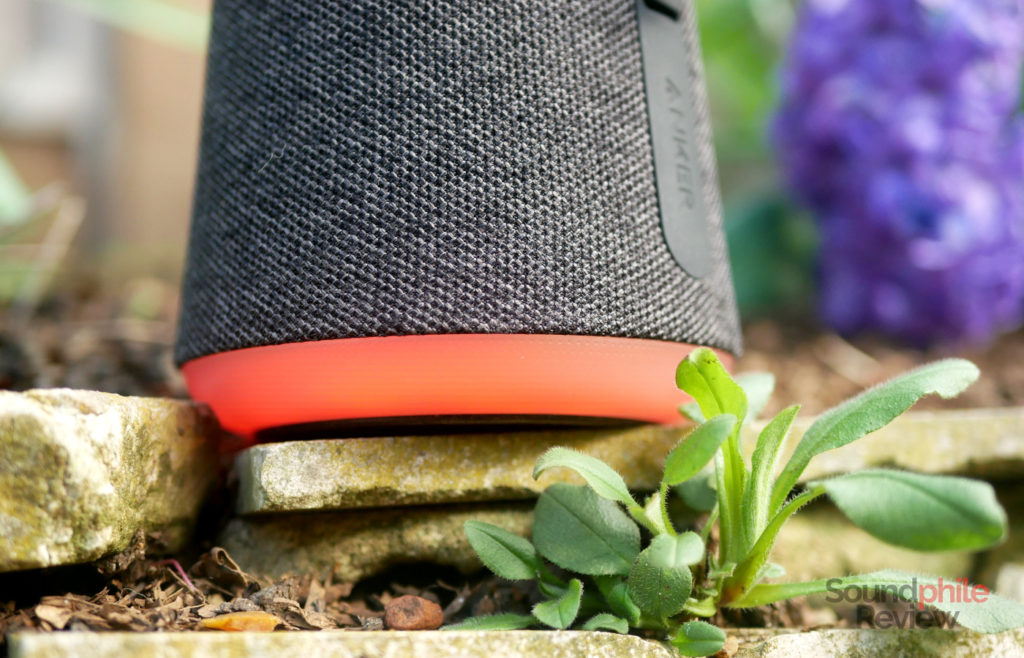 The most striking feature of the Flare+ is its ability to light up using the LEDs in its base. In case you really want to have some light to accompany your music, you can choose between four modes: slowly-changing cycling colours, colours that follow the music, slowly rotating colours and counter-clockwise cycling colours. The "colours that follow the music" feature is decently well done. The light does not have high intensity, but it's enough to be clearly visible in the dark.
There's also a "bass boost" feature which gives more presence to bass and appears to boost it in the 80-120 Hz area, which gives the illusion of bass being slightly deeper. It's decently well done, though in most occasions you won't need it as bass often becomes excessive when using this feature.
Multiple speakers can be chained in order to get a multi-channel setup. I was not able to test this feature as I only received one speaker.
| | |
| --- | --- |
| Frequency response | N/A |
| Power output | 25 W |
| Maximum SPL | N/A |
| Connections | Bluetooth 5.0, aux in |
| Driver type | 2-inch full range, 2 passive radiators, 2 tweeters |
There's no support for codecs other than SBC, so this is not a speaker to reproduce high-quality files with.
Battery Life
SoundCore touts a battery life of 20 hours on the Flare+, which appears to be mostly accurate. Listening to music at ~50% volume leads to a battery life of ~18 hours, which is reasonably close to the figure provided by the manufacturer and good enough for most use cases.
Sound
I tested the SoundCore Flare+ using both a HiBy R5 and my HP EliteBook 745 G5 laptop as sources, both loaded with FLAC files in 16 bit, 44.1 kHz.
The sound signature is honestly consumer-oriented, but still decently balanced: bass, and especially mid-bass, is emphasised and takes the lead in the signature. This makes music such as electronica, hard rock, pop and hip-hop actually sound more impactful and involving, but on the other hand it also sometimes gets a bit in the way when there's already a large presence of bass in the track. There's a decent amount of detail but, due to obvious limitations in the size of the driver, not much physicality. Midrange is clear enough, with voices that emerge from the mix and are therefore easy to listen to; detail is nicely done, but still limited. Treble didn't get as much love as the rest and it's recessed, but it's present enough to let you hear what's going on (but not much more than that: it's not really extended nor detailed).
Instrument separation is limited and in relatively crowded tracks (e.g. Queens of the Stone Age's Another Love Song) you can hear a bit of a mash-up happening. That's expected in a speaker of this type and size, though. What's most peculiar about this speaker is that it is not a "traditional" speaker, but one with drivers pointing to opposing directions that make you lose the soundstage and imaging completely.
What you lose in terms of sound spatiality, you gain in terms of how well you can hear in different places. I did an experiment: I placed the speaker in the centre of the room and then moved around; the sound changed very little with my position. The SoundCore Flare+ is in fact a good speaker for parties and other social situations where you want sound to be audible with more-or-less the same volume and quality independent of where you are. That appears to be the main field of application for this speaker, as also suggested by the "chain mode".
Final Thoughts
Let's face the fact that we, as audiophiles, don't always need extremely high-quality audio. If you're at the park, camping, at a party or in some other similar situation, what you want is something to listen to your favourite tunes easily and with a good enough quality – but you don't need super-hi-fi quality. The SoundCore Flare+ fills in that gap with a very decent listening experience for those situations. It has its flaws, such as treble being mostly an afterthought, but it offers enough other features to be a device to consider: it's water resistant and well-built and it has a decent tuning (not one of those "all you hear it's bass" tunings that are so prevalent today!). It's a good device for all your casual listening needs, and it's small enough to be easily portable. A great speaker for the outdoors!