When I think about "Bristol sound" names such as Massive Attack, Portishead, Maxinquaye and Morcheeba come to my mind… but it seems like Bristol is also home to the largest UK hi-fi show. This year is the 33rd they are holding it and it's been quite a busy one too. The amount of brands present at the show is staggering and I'm not exaggerating when I say it's in the hundreds.
Before going on, I must say that I will not write about speakers except for a couple cases. That's not because I would not like to write about them, but because the rooms were so bad in terms of acoustics that everything – everything – sounded bass-heavy, muffled and distorted. I blame the hotel for this, but the result is I could not get any idea of how the stuff showed was sounding. Also, the featured image is because I liked the great street art you can find in Bristol!
Audeze
Exertis was present at the show and they were showcasing the Astell & Kern line-ups. I tried the Audeze LCD i3: my impression of them – however really flawed because of all the noise around me – was that of almost bright earphones, with lots of presence in the treble and upper midrange regions. Still they had plenty of bass presence and depth and open soundstage, which I would say are the main attractions in such earphones.
Chord Electronics
Chord Electronics was introducing the new 2go and 2yu. The 2go is the equivalent of the Poly, but applied to the Hugo2. The 2yu is an audio interface that goes with the 2go if you don't have (or don't want) a Hugo2.
The 2go fits perfectly with the Hugo2, so much that it seems like they were designed at the same time! The braces to connect the two are very solid and basically make them a single device. One just needs to use a key in order to make the braces connect the two devices firmly, so it's an easy and straightforward process – but one you can't do as easily as separating the Mojo and the Poly was. A notable thing is that one can still use the Hugo2 with other devices (e.g. a PC) thanks to the presence of the optical port. The 2go has an Ethernet port which de facto makes it a full streaming platform even for desktop use, rivalling dedicated devices. It's compatible with the same app that's already available for the Poly and boasts the same compatibility.
If you don't have a Hugo2 or if you really want to take advantage of the streaming capabilities of the 2go and couple it with your existing system, Chord created the 2yu just for that use case. The 2yu is really small and complements from a functional and design perspective. It outputs the digital signal to coaxial, optical, USB and BNC so that one can use their own DAC. It uses the same braces system as the Hugo2, but it's much smaller.
Dynaudio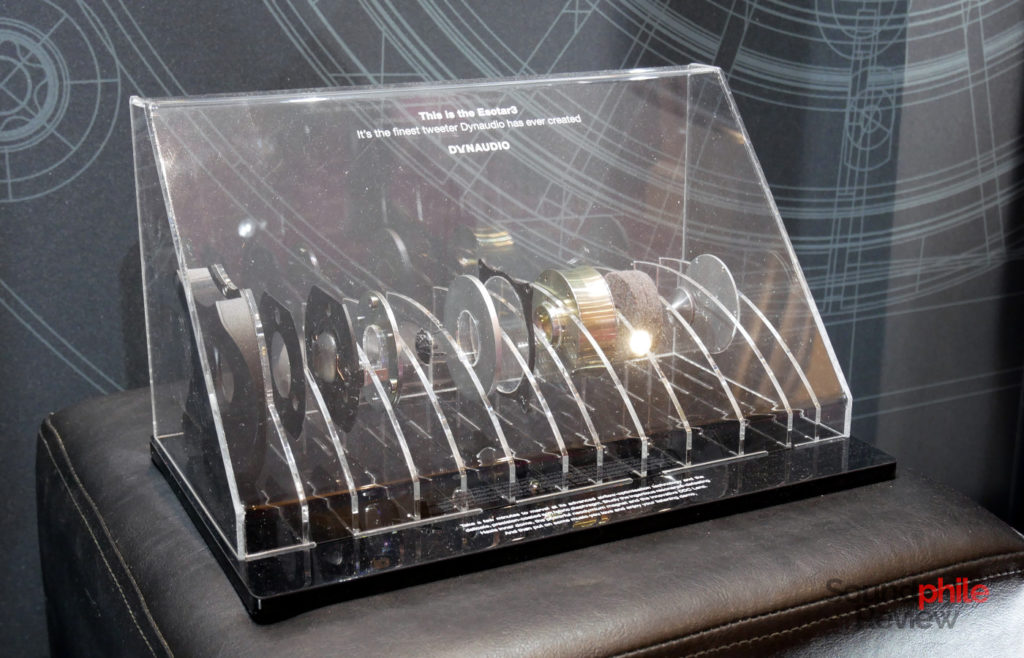 I had an interesting chat with people from Dynaudio regarding the current state of the hi-fi market: according to them hi-fi has always been a niche thing and it's keeping its status without significant alterations with newer generations (so apparently us millennials aren't ruining everything, after all). What they do see is an increase in interest for active speakers. They're easier to manage and they don't require a full rack to work, so more and more people are turning to them. According to Dynaudio, though, people who are buying active speakers aren't the same that buy passive ones: they're people who were used to lower-quality speakers who are turning to higher-quality stuff. The market for hi-fi seems to be actually expanding, but in different ways than it was before. "Traditional" stuff isn't going anywhere, it just isn't expanding the same way newer things are growing.
That's quite a refreshing view on things and one that I can get behind – I hate when they tell me that "young people are ruining everything" – as if younger generations never did stuff differently from their parents! That's called evolution or change, and I quite like it.
Rega
Rega had its System One on show. It's a "one-box analogue system" made of three components: the P1 turntable, the Io amplifier and the Kyte loudspeakers. As far as I've been able to assess at the show, this setup offers quite a large soundstage and good detail, with a tonal balance that tends towards warmth (though that might well be because of the room). I found it interesting that the tweeter was placed on bottom instead of on top; speaking to Ashton Wagner, who designed the speakers, this is because this enables good time alignment between low frequencies and high frequencies. The curved back and stiff internal structure also allow for better reproduction of high frequencies, which leads to a more open sound.
I also had quite an interesting talk with Roy Gandy, Rega's founder. It was a very long and complex discussion which I can't possibly report in its entirety (or even in parts!), but I will try to cover the most important parts. We mainly talked about how the world of turntables is plagued by issues in the engineering process: according to Gandy, many of the wrong assumptions are originating from the fact that many people working on turntables are not specialised engineers, but either engineers who specialised in other fields or people who have nothing to do with engineering entirely. This makes it possible for a whole host of wrong ideas about how turntables work to be born and to proliferate. An example of such wrong assumption is that turntables should have a large mass: mass transmits vibrations, so it would actually be better to reduce mass! The ideal thing would be to have the rigidity that comes with a large mass, so turntable manufacturers should concentrate on material research instead of using workarounds. It is therefore important to rely on facts and physics instead of assumptions, as only doing so will make it possible to create products that give value to the listener and correctly portray music.
Another (actually unexpected) thing that Roy told me is that digital is inherently imperfect. With specialised equipment you can monitor the input and output going on in a CD player and it's never the same if you check it multiple times. There is an in-built defect in CD players that is only avoidable by increasing the computing power: that's why you don't see as many errors on PCs, because they have more processing power and they can better cope with the issues of the format. So contrarily to what many people believe, digital formats are not "just ones and zeroes" as they are formats that require lots of error correction. Yet vinyl is not always better, as only a few of the vinyls ever printed are actually really high quality.
That's a wrap for the day one!