Creative is not as on the forefront of personal and PC audio as it was a couple decades ago, but they still have an interesting line-up of products which includes various earphones and headphones. The Creative Aurvana SE are among them and they're closely related to the well-known E-MU Purplehearts and to the Aurvana Live!. The Aurvana SE is in fact just a black-coloured Aurvana Live! which is certified for SX-Fi – no other differences between the two exist. Either way, they're remarkable by any standard.
Disclaimer: I got this unit for free from Creative. They sell the headphones on their website. The price varies in the different regions: in the EU it's €59.99, in the UK it's £55.99, in the US it's $84.99.
TL;DR: recap
Pros




Cons

Light and comfortable

Vivid, lively sound with good punchiness

Good technical ability

Great value

Relatively stiff cable
Rating: 8.5/10
Packaging & Accessories
The Aurvana SE comes in a plain black cardboard box without anything else – just the headphones. The Aurvana Live! probably has a bit more packaging and accessories, though I have no first-hand experience of that.
Design & Comfort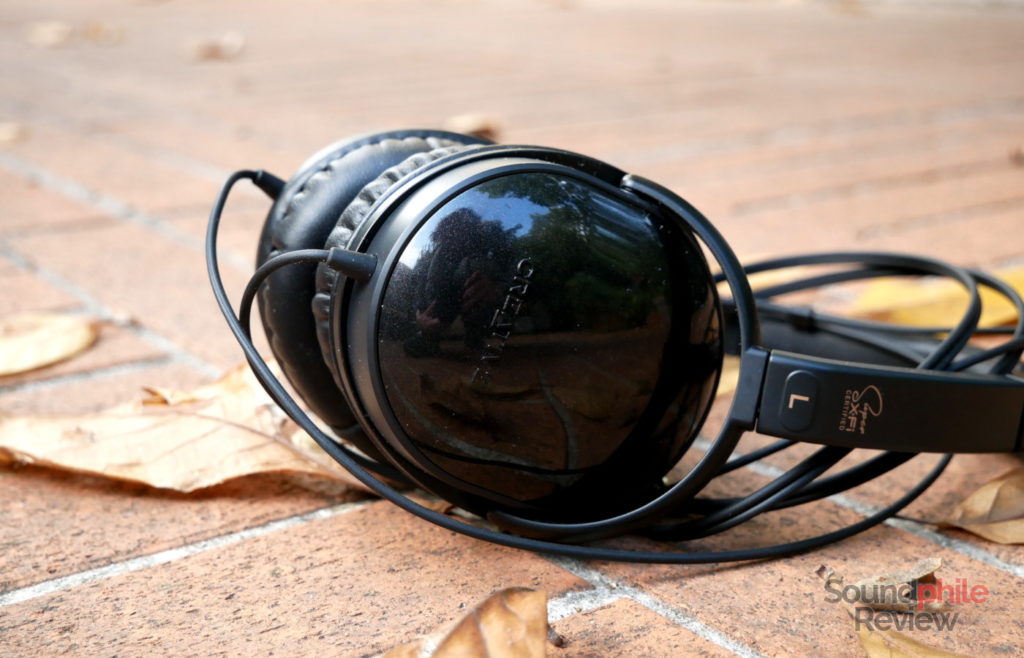 Being made by Foster/Fostex, the Creative Aurvana SE (and the Aurvana Live!, too) share many design cues with headphones from that manufacturer: in fact they appear as a smaller version of headphones such as the TH-900 or the Denon AH-A100. The earcups are made of plastic, with the frame being matte and the external part (what we might call the faceplate) being shiny. Everything is coloured in black. The headband is made of plastic, with a metal band adding rigidity to it. The overall design is really simple and essential, almost utilitarian, but it's also elegant.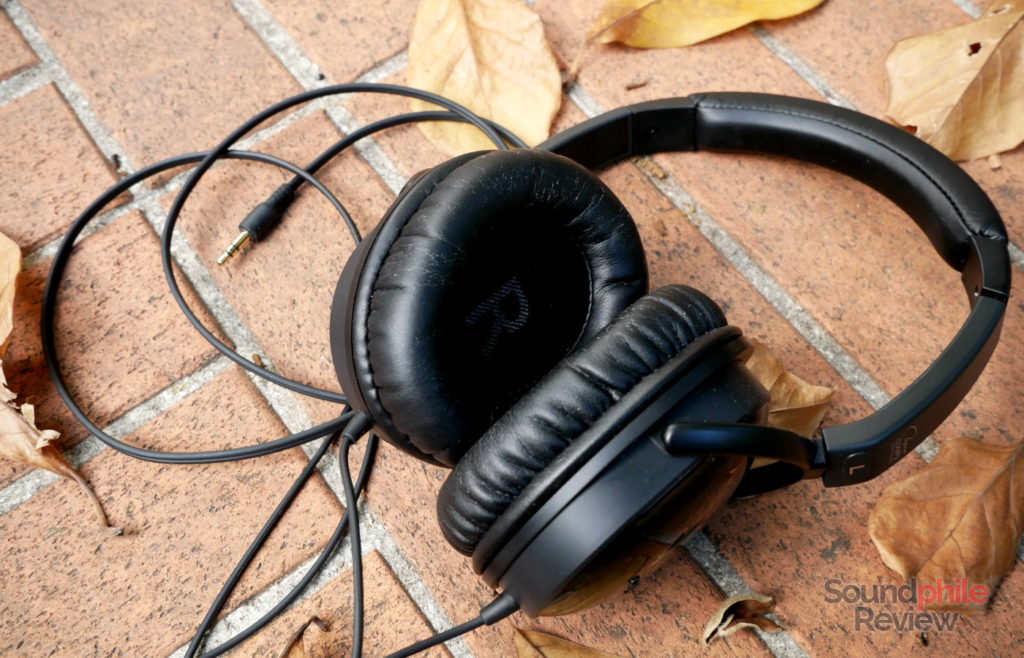 The top of the headband is covered in faux leather and has a bit of padding. The padding of the earcups is covered with the same faux leather. Build quality is generally good, with plastic feeling strong enough to resist daily use. It definitely does not come off as cheap, but neither as premium.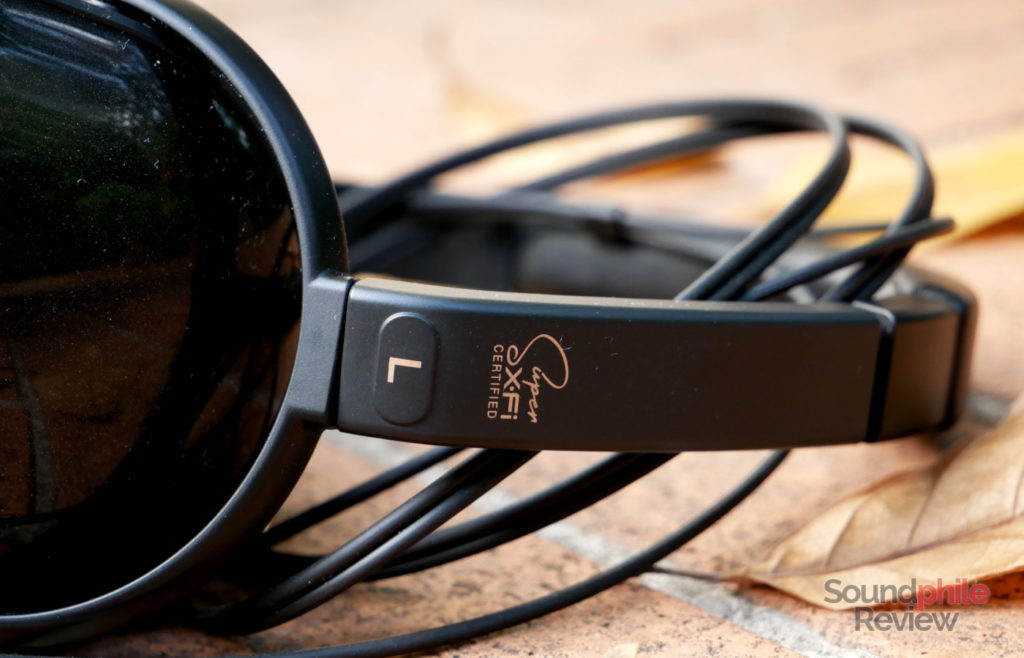 I had the chance of trying the Aurvana SE on a train. Despite it being relatively quiet, I could hear everything around me, from the sounds of the train moving to the people talking. The Aurvana SE are unremarkable to say the least in terms of isolation. They're in fact not ideal to use in loud environments as they offer just basic isolation.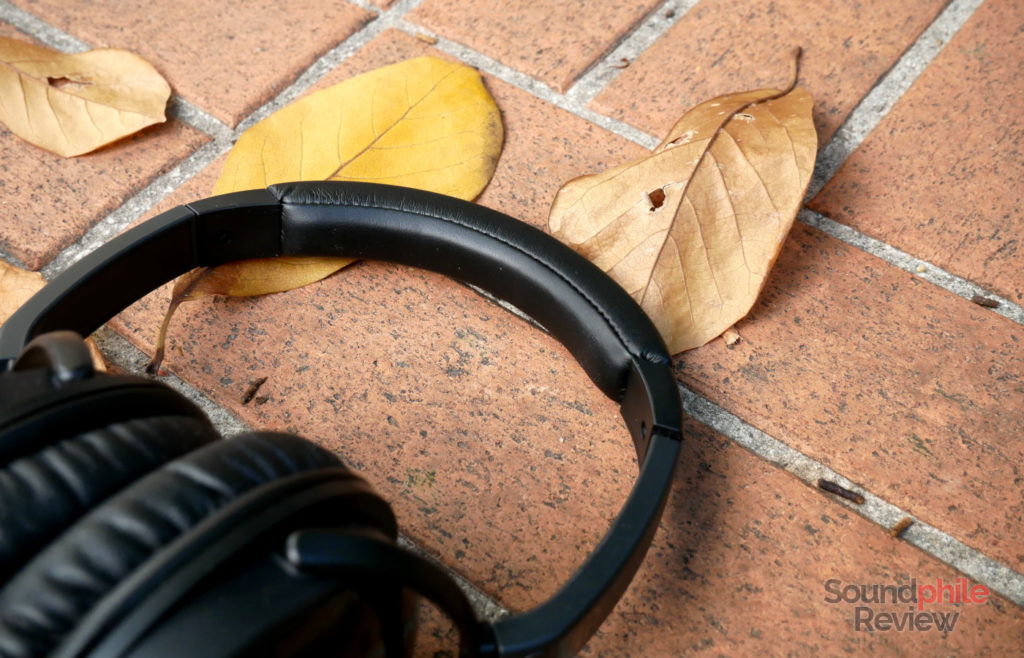 The Creative Aurvana SE are actually more than decently comfortable to me, which means that they should be really comfortable to anyone else. The ear pads are decently sized and they never press too much on the ears, while being decently soft (but not too much). Although they are on-ear headphones, they encircle my ears completely, with the pinnae touching the back of the pads. The headband is decently comfortable, though it's the weaker link in the chain to me: my sensitive scalp would have liked it to be a bit larger and more padded. All in all they're quite good anyway and I have no issues wearing them for four straight hours. As comfort is strictly personal, though, take these comments just as a general indication, rather than an objective measurement.
The cable is reasonably sized (1.2 m) and made of two different cores running parallel and joined on one side. This causes the cable to be a bit stiff as it won't bend sideways, but it's otherwise decently soft and lightweight. The housing of the 3.5 mm jack is made of plastic and has some rubbery strain relief, just as the junction with the earcups.
Sound & Specs
I mostly tried the Creative Aurvana SE while away from home, so I used a Shanling M2X as the main source and my laptop with a Creative SXFi AMP connected to it. Music files were mainly FLACs in standard resolution (16 bit, 44.1 kHz).
| | |
| --- | --- |
| Frequency response | 10 – 30,000 Hz |
| Impedance | N/A |
| Sensitivity | N/A |
The Creative Aurvana SE use a single 40 mm dynamic driver with neodymium magnets. Alas Creative does not publish any technical specification other than frequency response. The Aurvana SE are fairly easy to drive though, and any source I could plug them in would drive them well. They're not too fuzzy on amplification.
The main (and probably only) difference between the Aurvana SE and the Aurvana Live! is the fact that the former are certified for Creative's SX-Fi tech. That means that one can use the Creative SXFi AMP or another SX-Fi-enabled source device with custom presets that take the frequency response into account and therefore offer a better effect.
I wouldn't define soundstage as very wide or deep; on the contrary, it's somewhat intimate. It has some depth though, which is positive. The instruments are placed on the whole stage, with each having a more-or-less well defined place. They're well separated, too, and even in complex tracks they're identifiable individually.
The sound signature is V-shaped, but gently enough so that midrange is not too much recessed. Bass is strong and punchy, while treble is definitely crisp. All in all it's a fun-orientated tuning which is especially god for modern music genres (I especially like it with electronic music).
Lows are deep enough, though they're concentrated in the middle. The large dynamic driver is good at adding some kick to the bass: it feels physical and powerful, more than the small size of the headphones as a whole would make one think. It's also fast, with rapid transients that help convey the aforementioned physicality. Detail is not extreme, but it conveys the necessary elements to get a hold of what's going on. Even in relatively crowded tracks the different elements are easy to distinguish, though a bit of detail is lost in the most complicated tracks. What I like the most about bass is that it's punchy, lively and fun, hitting with enough strength and speed to make you feel it.
Midrange is a bit recessed and appears behind the rest, but not dramatically so. It is tuned to a V shape, with more emphasis on the lower and upper parts than on the middle one. This makes for a signature that has instruments operating in the lower range (e.g. piano, male voices) and in the upper range (e.g. trumpets, violins) to stand out from the rest. There are lots of details, down to some smaller ones, though the finest details are left out. Thanks to the driver there's a good physicality and speed is especially remarkable.
Treble often comes out on top, clearly audible in the mix. It's mostly concentrated in the lower part, with some presence extending to the middle and the roll-off taking most of the upper range away. It's still somewhat airy, though not exactly sparkling. Detail is more than enough and it actually delivers a lot of fine details that make treble come alive.
Creative Aurvana SE Comparisons
I currently don't have many headphones that I can compare the Aurvana SE to, mainly due to price constraints. So here's a couple of headphones I have that I can compare these to:
Superlux HD681 EVO: the HD681 EVO are more L-shaped than V-shaped, so they appear darker than the Aurvana SE. Bass is more emphasised and impactful, but also less controlled and detailed; midrange is a bit more recessed and less bright, so it appears less vivid and more distant; treble is more emphasised on the Aurvana SE and appears more detailed there, with the HD681 also having less extension. Soundstage is wider on the HD681 EVO, though that's expected as they are semi-open. Imaging is better on the Aurvana SE, and so is instrument separation. It's also peculiar that both headphones offer the same amount of isolation – that is to say, almost none!
1More Triple Driver Over Ear: the Triple Driver Over Ear are a bit more balanced than the Aurvana SE. Their bass is not as prominent, but it's slightly better controlled and more nuanced; midrange is similar in terms of emphasis in the general tuning, but it's also a bit more balanced internally; treble has a bigger peak in the middle region and is more fatiguing, and it appears to be slightly more extended but also less detailed. The overall detail is similar, though the Aurvana SE have an edge on treble. Soundstage is wider on the 1More, though it's not as deep; imaging is superior on those, too, and they have better instrument separation as well. It's not a night-and-day difference, despite the 1More costing at least three times as much as the Aurvana (and five times as much in the EU!).
Final Thoughts
At the price point they're sold at (especially in Europe!), the Creative Aurvana SE are just incredible. I wouldn't call them a "flagship killer", given how little that means, but they're headphones that sound much much better than one would legitimately expect from a product priced at less then $100. They compromise on things like materials, which are not premium, but they sound really well. They're undoubtedly fun, thanks to well-executed added emphasis to bass and treble, and they pair that with more-than-decent technical ability.
If you want fun-orientated, light and comfortable headphones you can enjoy while at home and on the go, the Creative Aurvana SE are surely an option to consider. And that's why they will be included in Soundphile Review's Best Headphones page.