TaoTronics is one of the many brands under the Sunvalleytek umbrella and they manufacture a lot of different products, including the desk lamps I've been using for the past several years. They also manufacture earphones and the SoundLiberty P10 Pro are among their latest. Sporting ANC and automatic ear detection, these earphones are affordable yet offer interesting features – with a sound signature that aligns more to the "mainstream" tuning with loads of bass and quite a bit of emphasis on treble.
Disclaimer: TaoTronics sent me this unit directly and for free. They sell for $89.90.
TL;DR: recap
Pros




Cons

+ Comfortable

+ Superb connection quality

+ Extremely good ANC

– Very unbalanced tuning
Rating: 7/10
Accessories & Packaging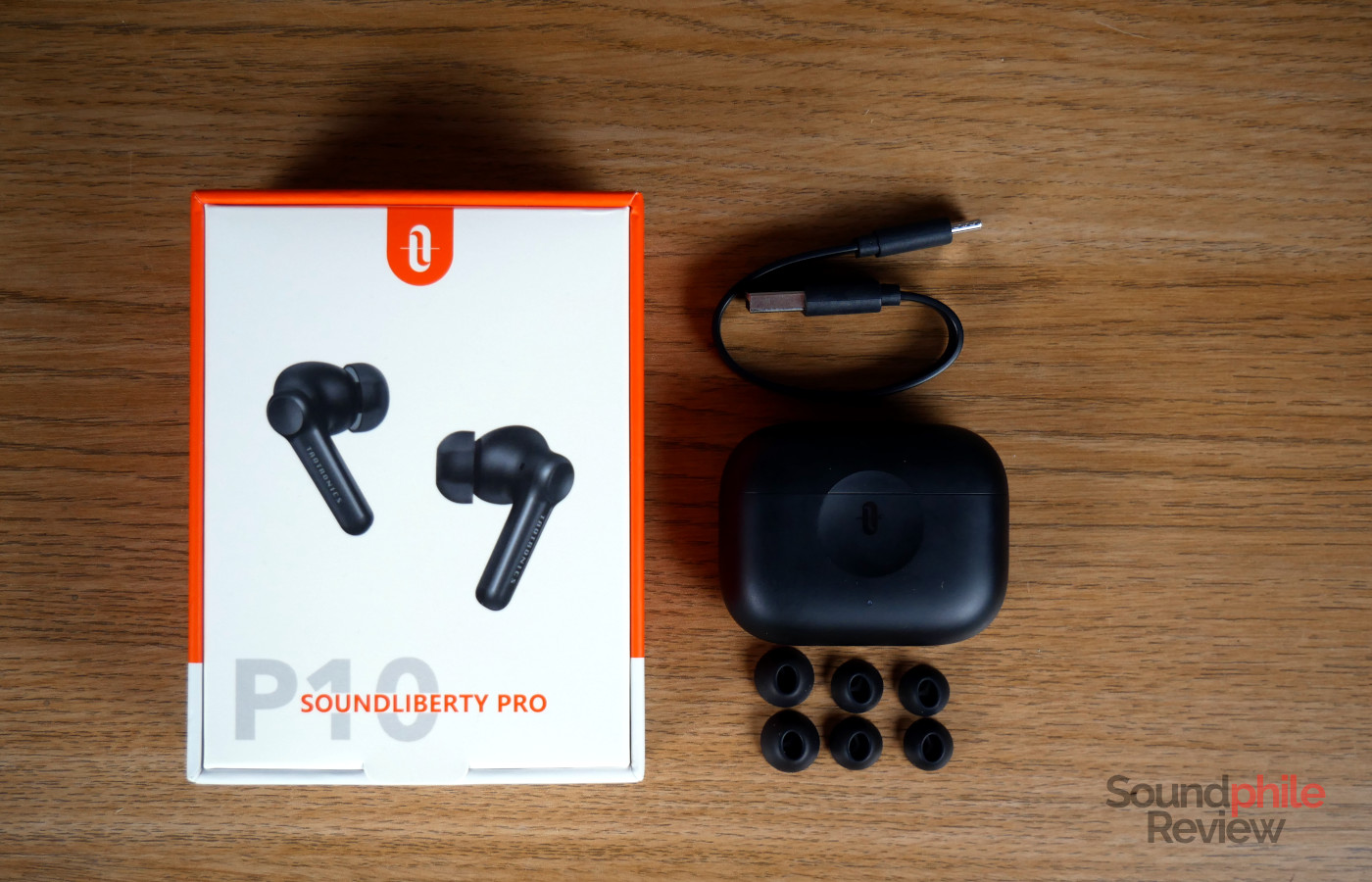 The packaging is quite simple and includes a manual, a quick start guide, a USB to USB-C cable and a set of three different sizes of silicone tips (plus one size already installed on the earphones). I quite like that the packaging is entirely made of recyclable cardboard.
Design & Comfort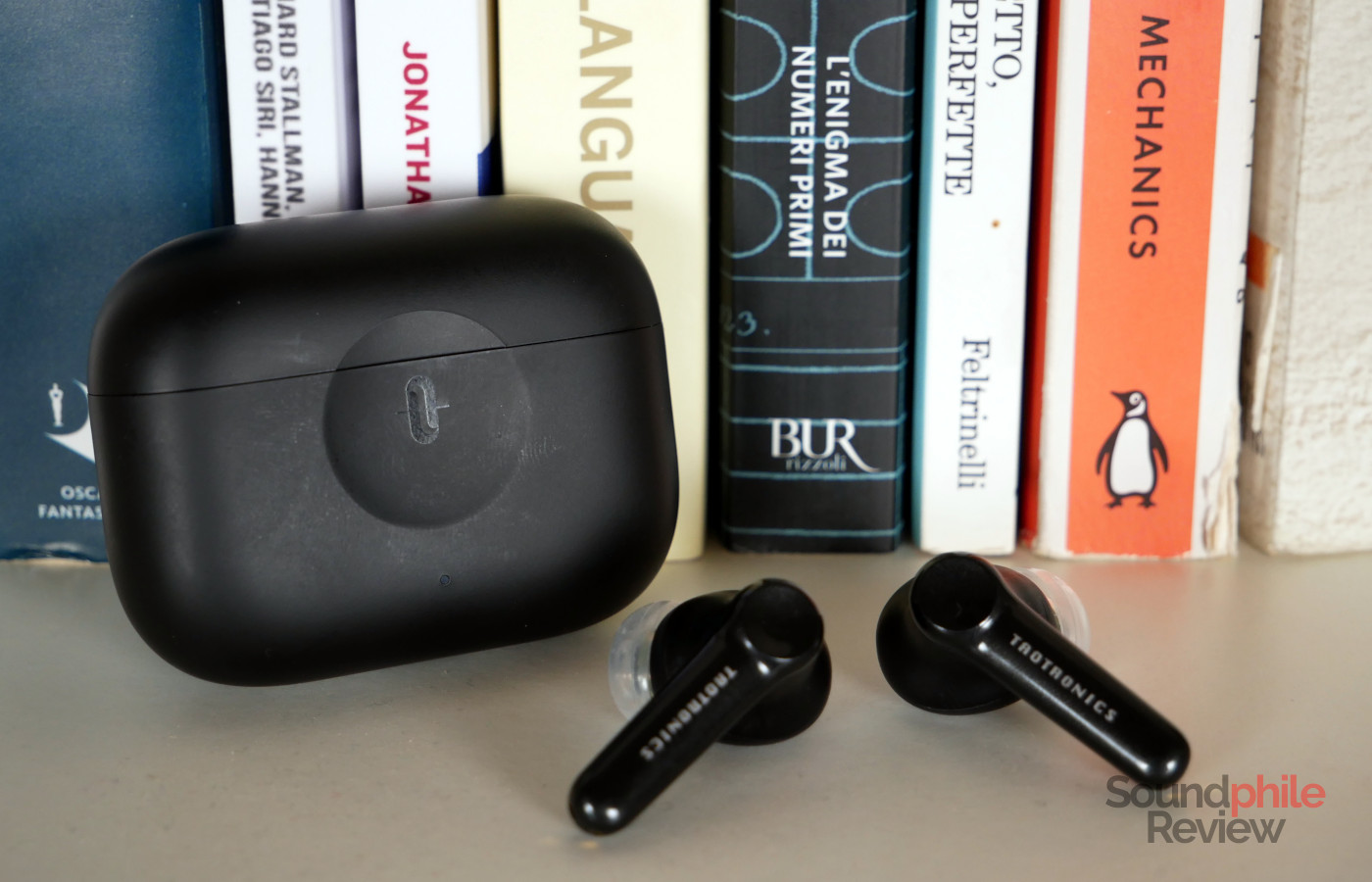 The design of the SoundLiberty P1 Pro is quite simple and understated, with a shape that reminds me a bit of the earphones by 1More like the Triple Driver, although with gentler and more curved and organic lines. There are stems, just like on the AirPods as this appears to be the winning trend in the industry; they're detached from the main shell, though, which also has a reflex on the comfort as we'll see later. The P10 Pro are made of plastic coloured in semi-matte black, with the outer part of the stems being glossy.
Build quality is in line with my expectations from earphones in this price range: they're solid enough, though they still look like an affordable product – and it's difficult to put my finger on the exact reason why. Still, TaoTronics must be doing something right with the way they built these because they're IPX8 certified, which is quite rare on TWS earphones in any price range.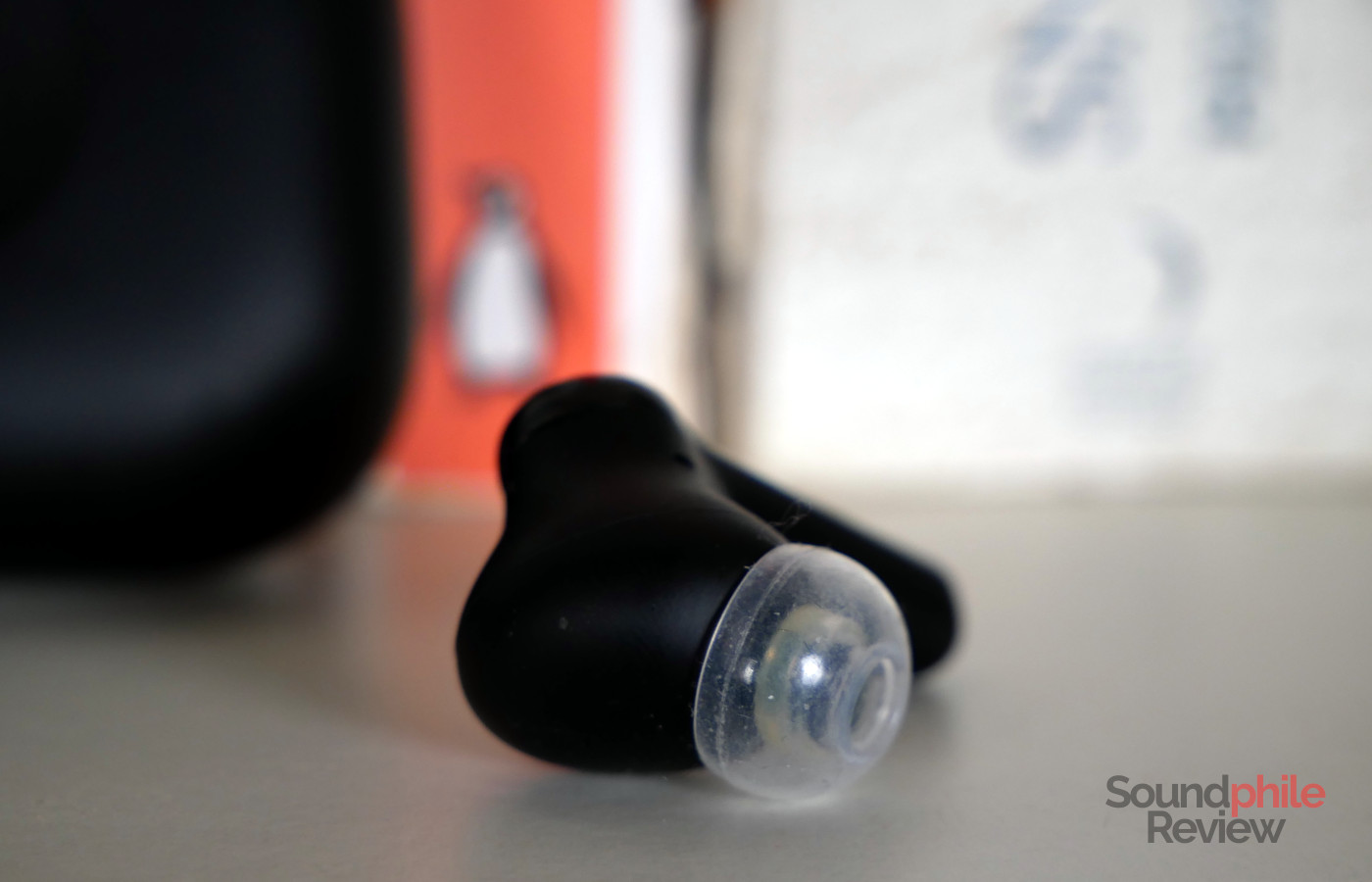 Comfort is quite good thanks to the small size of the shell and to the angle of nozzle: the SoundLiberty P10 Pro can sit comfortably in the ears for hours at a time. I found that the P10 Pro work much better using regular-sized eartips like the SpinFit CP100+, in terms of both audio quality and functioning of the earphones; smaller eartips made for TWS earphones, like the stock ones or the CP1025 pictured above, are still usable, but they don't provide the same isolation and seal. This, in turn, has an effect on noise cancellation, which is definitely not as good with shallower tips. Passive isolation is overall decent, though it won't shield you from louder noises like those of a busy street.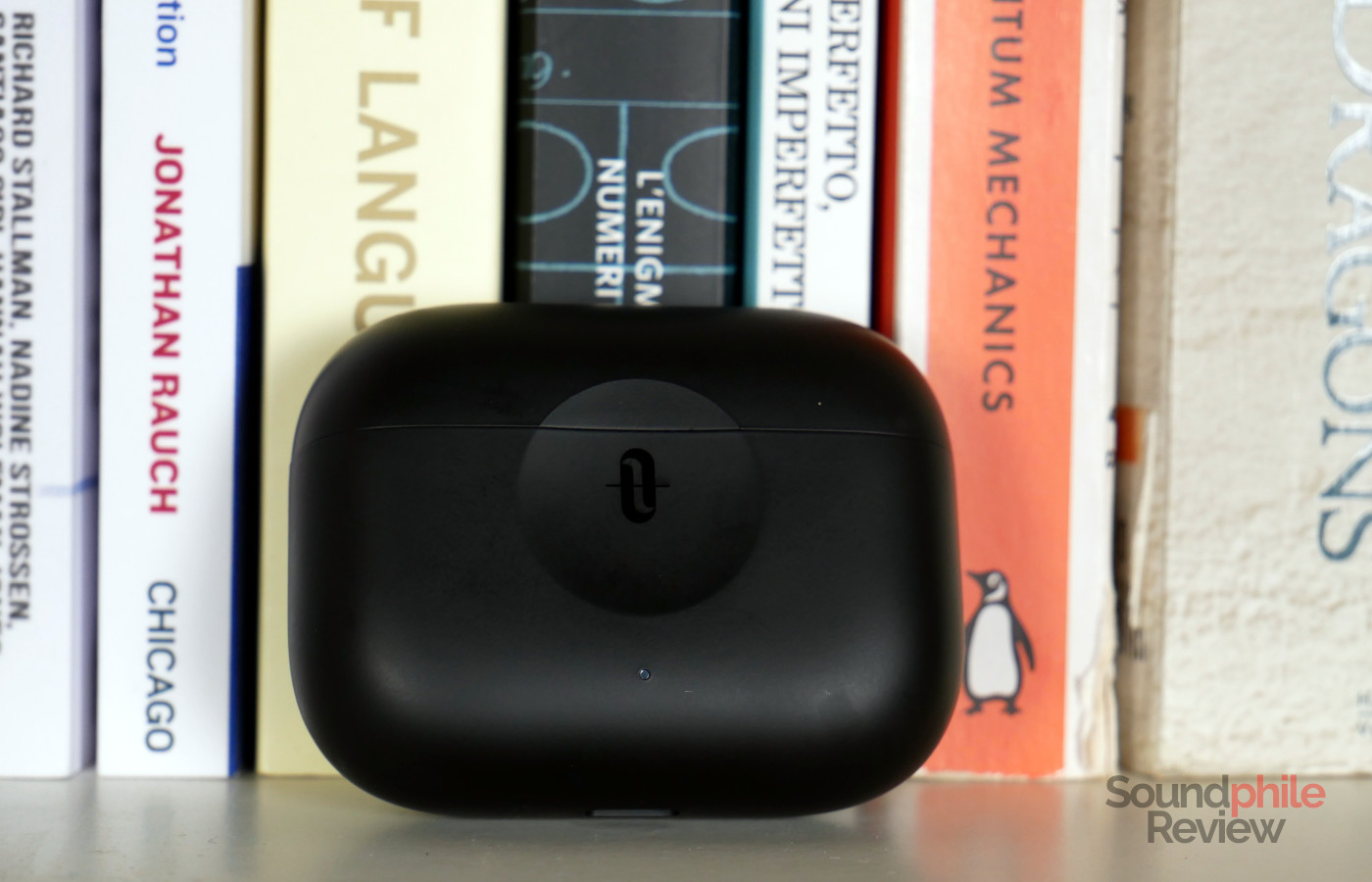 The case is small enough to slip easily into any pocket (so long as you're a man. Yes, I do hate that women's trousers do not have large pockets) and it's quite light as well. It has one physical button, oddly placed on the back, as well as a USB-C port for charging. I really like that the lid springs open and stays that way until you willingly close it, so you can also put the case on a flat surface and it will still stay open. The only issue I can see is that the semi-matte finish is a total fingerprint magnet, but that's a very minor thing!
Extra Features & Battery Life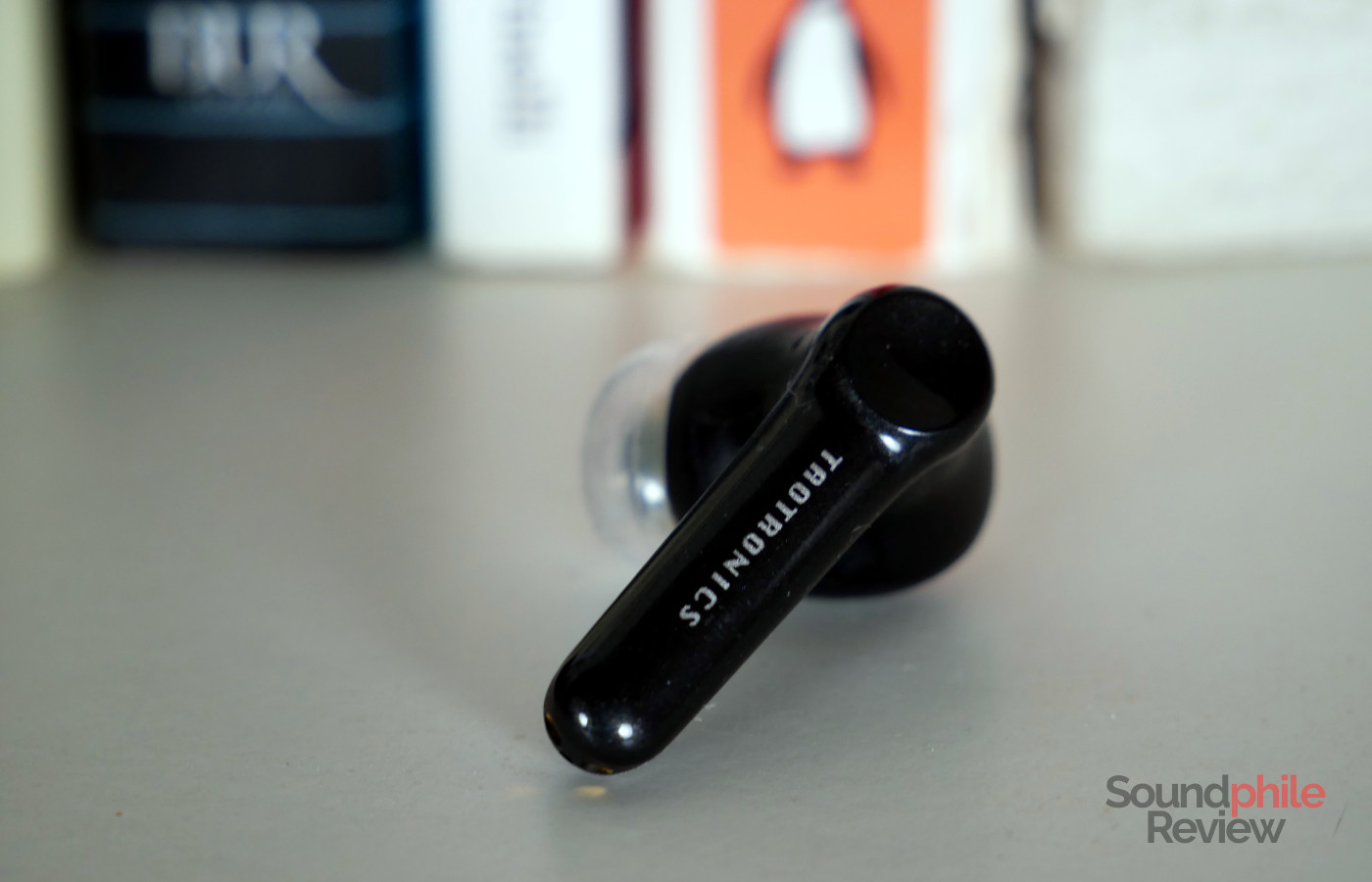 TaoTronics chose the Bluetooth 5.2 standard coupled with SBC and AAC codecs, both of which are standard features in their price bracket. Now, the specs say that the SoundLiberty P10 Pro have a range of about 15 m, but this doesn't really tell you that their range and connection stability are actually absolutely amazing. I can walk throughout my house while the earphones are connected to my laptop and the connection stays stable and without stuttering even in the furthest corners, with multiple walls in between. Even full-size headphones typically falter in such conditions, but the P10 Pro show no sign of this affecting them, which is quite great for TWS earphones!
The control set is quite complete and easy to both understand and operate: one tap adjusts volume (down on the left hand side, up on the right hand side) or answers calls, two taps play or pause the music on both channels; a tap-and-hold action invokes the voice assistant on the right hand side and cycles between ANC, anti-wind, ambient and normal modes on the left hand side, as well as hang up or reject calls.
I also quite like that the earphones have automatic in-ear detection – if you take one (or both) out, they will pause music; when you put them back in, the music will play again.
I have to admit I was quite impressed when I realised how effective the noise cancellation is. I had the earphones on and I was listening to music in my studio, which is relatively quiet, when my girlfriend came and started speaking to me – I was barely able to make out her words because of how good ANC is on these earphones. The difference between wearing them and not doing so is quite large and immediately noticeable. I haven't had the chance to try the P10 Pro on an aeroplane, but I am quite sure they would fare very well in that kind of environment as well. The thing is that this ANC implementation does not only remove bass frequencies almost entirely, but also some midrange, making most noise quite a bit quieter, when it is not removed entirely. This makes the SoundLiberty P10 Pro quite good for commuting, as an example.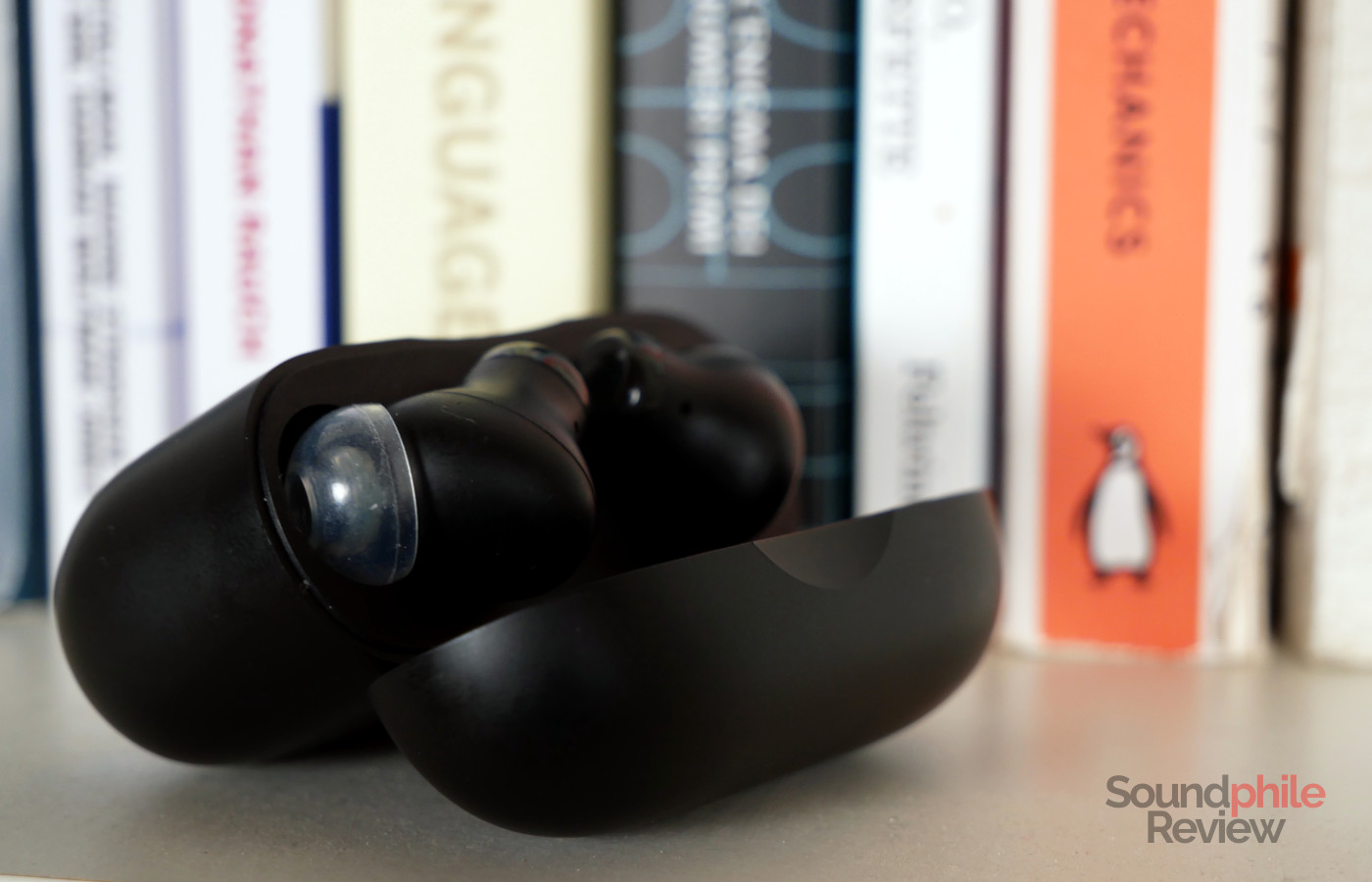 Battery life is decent at about 6 hours with ANC on, with three further charges provided by the case. Disabling the ANC gives you two additional hours per charge, which then amount to about 32 hours of usage. Although far from the leaders in this regard, this results are average for the price point and they're therefore entirely acceptable.
Sound & Specs
I've used both my PC and my Shanling M2X as sources during my tests.
| | |
| --- | --- |
| Frequency response | N/A |
| Impedance | N/A |
| Sensitivity | N/A |
| Bluetooth version | 5.2 |
| Codecs | SBC, AAC |
The sound signature of the P10 Pro is not exactly what I would call balanced and neutral and, in fact, it is quite heavily skewed towards the lows. The P10 Pro use 9 mm composite drivers made of PU and PEEK.
Soundstage is not quite wide, nor is it deep; the impression is that of having earphones on. Imaging is also not quite great, as you only have basic left-centre-right positions and little else. Instrument separation is heavily dependent on the track, as those with lots of bass make it practically null – and more generally, it's not that great.
Bass is quite prominent, if not outright invasive, as it often sits in front of the mids. It has its peak in the mid-bass section, but it also does have good extension. It is not quite fast, either, and it often sounds slow and damp; it's as if drum hits were not immediate and sudden, but longer and lingering. Despite this, and probably thanks to the large side of the diaphragm, it is also quite physical. Detail is not exactly its forte, as even in calmer tracks it's difficult to hear much detail in this area.
Midrange is quite recessed and in fact it is sometimes hard to hear. It has its peak in the upper region, with the lower one being completely overpowered by the lows and the middle one being quite recessed. This creates a weird signature that sounds bright, though not overly so, but at the same time lacks clarity and liveliness. Instruments often sound muffled and muddied up, as if there was a veil on top of them that dampens their sound. In these conditions, detail is definitely not the best quality of these earphones.
Treble doesn't have great extension, nor a balanced tuning. There are in fact multiple peaks in the lower and middle area that make it a bit fatiguing if he track already has a large presence of instruments in this area (e.g. Root Beer from the American Beauty soundtrack). Detail is barely sufficient, mostly because the peaks make some things stand out and therefore more audible, otherwise it would be barely there.
SoundLiberty P10 Pro Comparisons
This comparison is going to be a bit weird, because I won't compare the P10 Pro to the best in their class from the perspective of sound quality – that would be pointless, given their performance as described above. I am instead going to compare them to other earphones that are more comparable in terms of features and type of sound signature:
SoundLiberty P10 Pro vs Nothing ear (1): the ear (1) are somewhat similar to the P10 Pro, though they tend to be a bit more balanced. Bass is a bit less overpowered, as well as less deep; it keeps a similar level of detail as well as similar physicality. Midrange is definitely more balanced and less recessed, though it offers a similar level of detail. Treble is less emphasised and peaky, although with a similar extension. Soundstage is a bit wider and imaging and instrument separation are definitely better. ANC is actually much better on the P10 Pro, just like Bluetooth stability and range, while the ear (1) win in terms of controls – just because the "flick up to raise volume and flick down to lower it" feature is just too cool.
SoundLiberty P10 Pro vs 1More ColorBuds 2: the ColorBuds 2 are better than the P10 Pro when it comes to pure sound quality. Bass is leaner and faster, with a lot less presence that makes it closer to being (though still not quite) neutral, also with better detail overall. Midrange has an emphasis on the upper range, too, but it's more balanced and therefore sounds fuller; it is also better detailed. Treble is better balanced as well, and not quite as peaky. The ColorBuds 2 are also better throughout the whole technical department. Where the P10 Pro are actually better, though, is functionality: they have distinctly better ANC as well as better passive isolation, together with better controls and better Bluetooth connection in terms of stability and range.
Final Thoughts
From a purely acoustic standpoint, the SoundLiberty P10 Pro are not exactly great. In fact, they're not earphones I would recommend at all as they are not even comparable to the likes of the Lypertek SoundFree S20. Still, I think that the SoundLiberty P10 Pro can be good earphones for when you're on the go and you need the ANC features more than you need sound quality. In that case, these earphones are absolutely excellent, as their ANC is one of best I've ever found in sub-$150 earphones and their connection is top-class as well. So while I don't recommend the SoundLiberty P10 Pro based on their acoustic performance, I wholeheartedly recommend them for their functional performance and this is the reason why I'm giving them 7/10 instead of a lower rating as I normally would based on the sound alone.