Replaceable cables make it possible to select a cable that fit one's preferences, either functional or aesthetic. Bluetooth cables fall in the former category, as they allow to make every earphone wireless with seemingly no difference with native Bluetooth earphones. Reality is, however, different: the KZ Bluetooth cable offers cheap access to the wireless world, but this access comes at the price of poor connectivity, limited features and limited battery life.
Disclaimer: Linsoul Audio shipped this sample free of charge. They sell it on AliExpress at ~$15.
TL;DR: recap
Pros




Cons

Allows to cut the cord on wired earphones

Good battery life

Decent battery life

Available with 2-pin and MMCX connectors

Supports aptX codec

Connection is not too stable

Not too comfortable, also due to the length of the cable

Background hiss is always present
Rating: 7/10
Packaging & Accessories
KZ stuck with an extremely simple packaging: there is a cardboard box that holds the cable and a micro-USB cable to charge it, together with a small manual to operate it. KZ even comments on the fact that they keep things simple: "no matter how luxurious, packaging can not change the inherent quality of the product, adhere to the KZ style, packaging exquisite small, so environmentally friendly". While not in perfect English, the message is clear and is one I can get behind.
Design & Comfort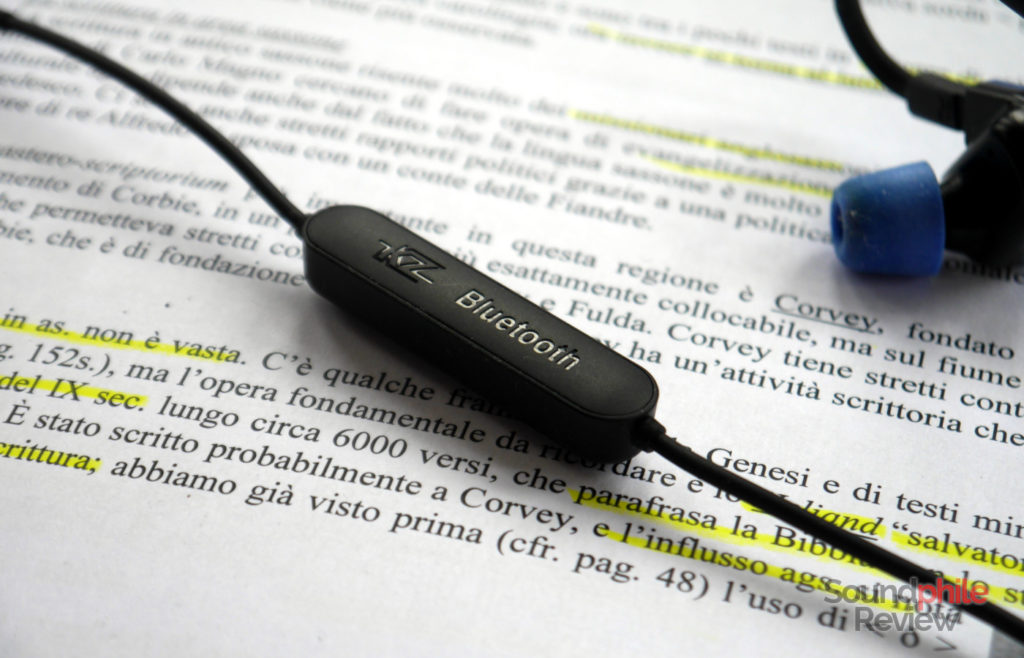 The Bluetooth cable is typically KZ in style: it's really simple, if not downright bare, with earhooks that get their shape from memory wire – the same design KZ uses for their cables for wired in-ears, unfortunately. I say "unfortunately" because I can never get them right and they always bend in a way that is not the one I want – so they're not all that comfortable. There are two "boxes" (I couldn't come up with a better term, sorry!) on the cable: one hosts the in-line remote and the microphone, while the other is probably home to the battery. Both are made of matte black plastic, and the right one (with the remote) also has a flap that covers the micro-USB port for charging. The cable comes in two variants: one ("A") has a straight plug, the other ("B") has a curved plug to better fit headphones such as the KZ ZS10 or KZ AS10. There's also an MMCX version.
The cable is 62.5 cm long, excluding the part that goes behind the ears; this makes it especially long and poses a problem as the box does not include any clip to make it shorter (though those clips are usually included: see the Xiaomi Mi Sports Bluetooth Headset for reference). A cable so long means it will bounce around and if you're going to use the cable while working out it will be somewhat of a hassle. Not only that, but this excessive length also causes connection issues, as the Bluetooth module in the in-line remote will bounce around and lose the signal. Keeping it in place by simply tying a knot in the cable largely alleviates the issue.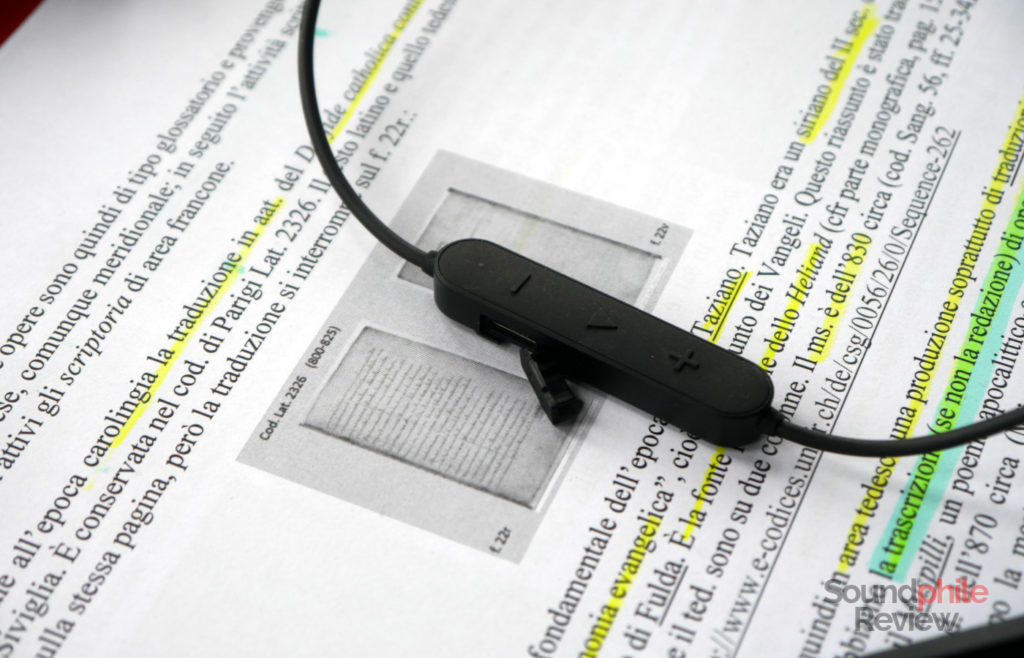 The KZ Bluetooth cable is credited with being IPX5 certified, which would mean it is resistant to water enough to withstand heavy rain or lots of sweat. While I do not doubt that to be true for the cable itself, that's certainly not the case with most earphones! The certification is therefore quite useless if the cable is not paired with earphones with the same (or superior) degree of water resistance.
Build quality is decent, but not much more than that: the cable is not as solid-looking as that of Bluetooth earphones such as the Jabra Sport Pace, but it is in fact better than that of the Xiaomi Mi Sports Bluetooth Headset. If treated with proper care, though, and considering it should not be exposed to the same level of stress as usual cables with jack connectors, it should last in time.
Comfort is not only influenced by the length, but also by the very material the cable is made of. It is flimsy and really rubbery, so it sticks quite well to one's skin – the reason why I would not recommend this cable for sports. On top of that, earhooks are disappointing in the comfort they provide, as they tend to be quite uncomfortable: they're rigid and they don't adapt too well to the shape of the pinnae, so I never find the right position. I largely attribute this to the memory wire inside them: using a spring, such as the one used in the RHA T20i, would be much better.
Extra Features & Battery Life
KZ flaunts a ceramic antenna that should grant better connectivity, especially on the stability front. That is, alas, not what I experienced. In fact I used the cable in conjunction with a few earphones (the exact list is found in the "Sound" paragraph) and both my tablet and smartphone, and I felt the experience was underwhelming. The connection would constantly drop or show signs of degradation with small stutters unless I stayed perfectly still. I even tried using the cable when doing light workouts in my room, which is a pretty standard test I run with wireless earphones: the connection dropped continuously even though all the other Bluetooth earphones I use (e.g. Jabra Sport Pace, Xiaomi Mi Sports Bluetooth Headset) maintain a stable connection in the same testing conditions.
What I find amazing is the presence of high-quality codecs on board the KZ Bluetooth cable: KZ managed to use the Qualcomm CSR8645 chipset that supports both AAC (useful for iOS devices) and aptX (for Android devices). Given how many (more expensive!) earphones do not feature these codecs and only leave you with SBC, this is indeed great.
Volume is controlled independently of the source, but you can't control the volume of announcements (e.g. "pairing") and they are set to play at full volume, which is often excessive. Talking about announcements, the number of the caller is spelled out when you receive calls.
The microphone is barely sufficient in audio quality: even in silent environments, the KZ Bluetooth cable is not able to pick up the voice with enough quality and volume, despite holding it as near to the mouth as possible. This rules out any use in crowded or noisy situations. KZ had to cut corners to offer the cable at such a low price and this is probably where they did.
Battery life is good and allows for ~6 hours of music playback using the aptX codec: it is not record-setting, yet it is enough when one considers the size and price of the cable. Of course a full-day runtime would have been better, but this is not too bad either.
Sound & Specs
I tried the KZ Bluetooth cable using IEMs, mainly by KZ themselves. Among those are the KZ ZS6, the KZ AS10, the TRN V80 and the BQEYZ KB3. Sources were a Honor 9 smartphone and a Honor X2 tablet loaded with FLAC files.
| | |
| --- | --- |
| Frequency response | N.D. |
| Impedance | N.D. |
| Sensitivity | N.D. |
The inclusion of aptX codecs means that you won't hear much difference when using the earphones wireless as opposed to wired. The only difference you might hear is related to power output: the KZ Bluetooth cable does not have high power output, so higher-impedance in-ear headphones are ruled out. Even using the earphones mentioned above, whose impedance and sensitivity place them firmly in the "easy to drive" category, the volume output is not too loud at full volume, so high-impedance models are not recommended.
I can't hear significant sound quality discrepancies between the KZ Bluetooth cable and a mobile phone's wired output, which I consider a good result as this is the most probable scenario of use. The only flaw I have to point out is a high-pitched background hiss, which is however reduced and barely noticeable.
Final Thoughts
The KZ Bluetooth cable has a low price, but its value is similarly not high. It offers a cheap and effective way to turn your favourite in-ear headphone with a 2-pin or MMCX connector into Bluetooth headphones, but there are many trade-offs one has to live with in order to achieve this. Comfort is decent at best, signal quality is often poor and disconnections are routine. Looking on the bright side of things, battery life is more than decent, there are high-quality codecs available and the convenience of being able to turn every earphone in a wireless device is certainly great.
All in all the KZ Bluetooth cable is a good device, although one has to be aware of its limitations. Native wireless earphones are better in most regards, as probably are more expensive cables from more widely-known brands (I'm thinking of RHA's Bluetooth cable included with their new planar IEMs, as an example). I think that compromise is a fundamental part of life, so I find it natural that one has to find a compromise even in this area – and the KZ Bluetooth cable is not a bad compromise.