Cleer has definitely made a name for itself in the ANC headphones space, thanks to products which offer a good balance between price and quality. Their new top-of-the-line wireless ANC headphones, the Cleer Alpha, continue this trend with advanced features offered at a mid-range price.
Disclaimer: I received a free unit from Cleer's UK distributor, KS Distribution. The Alpha have an MSRP of $/£249. Additional info on the manufacturer's website.

TL;DR: recap
Pros




Cons

+ Very comfortable

+ Effective ANC

+ Very long battery life

+ Overall balanced sound signature

+ Dirac Virtuo technology

+ Equalisation in the app is carried over to all sources

– Low passive isolation

– Doesn't turn off automatically by default

– Quite fatiguing treble

– Background hiss
Rating: 7.8/10
Packaging & Accessories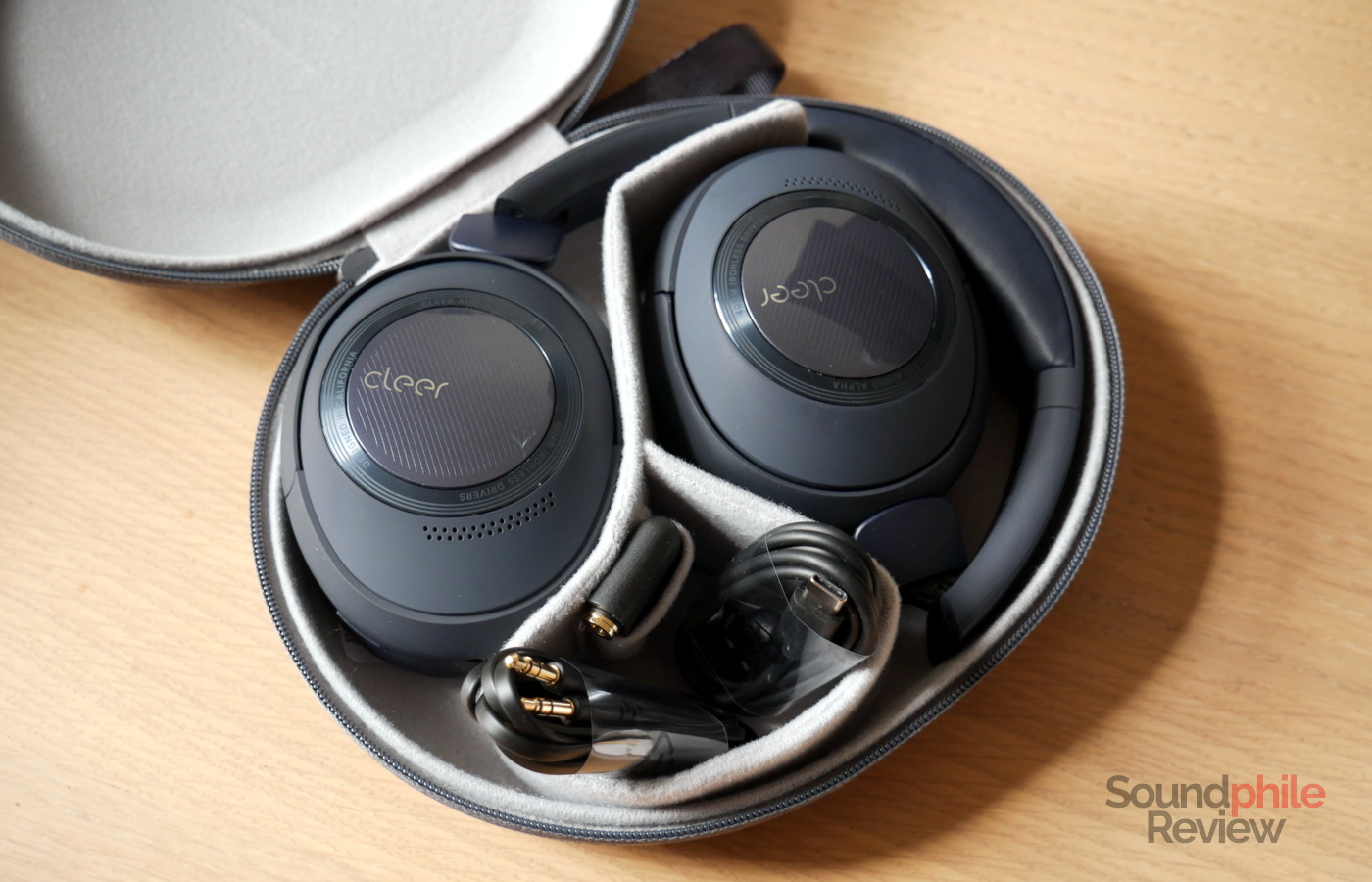 The Cleer Alpha come with a rich set of accessories which includes a hard carrying case, a USB-A to USB-C cable, an audio cable with 3.5 mm jacks at both ends, an aeroplane adapter and a manual. It's a very complete set.
Design & Comfort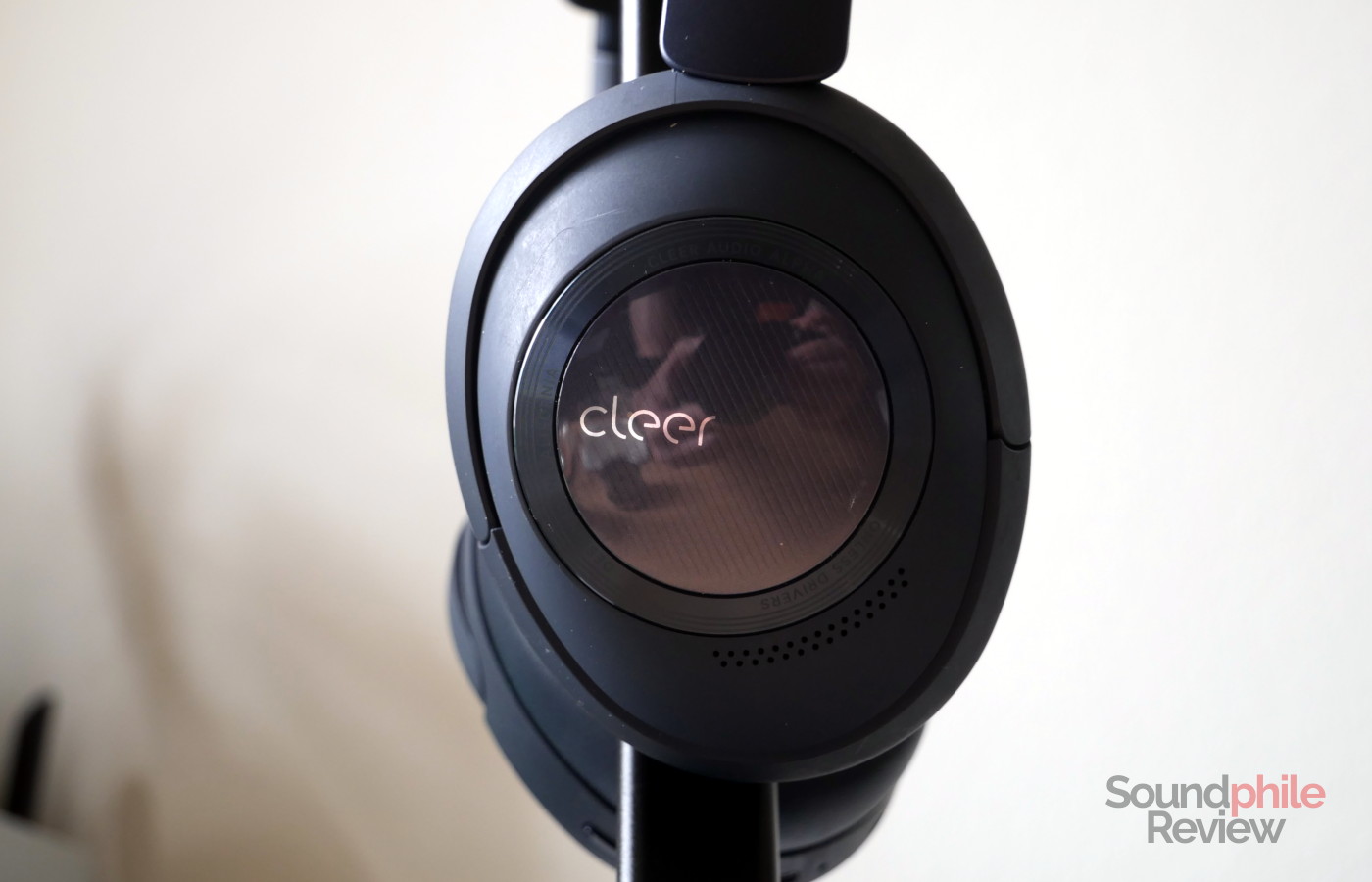 In terms of design, the Cleer Alpha appear somewhat similar to the previously-reviewed Cleer Flow II, but they look a bit more refined and classy as the lines flow better into each other. The unit I received is blue-grey, which also looks quite classy in itself. There are two other colours available: black and off-white (which the company calls "stone").
The earcup on the right hand side hosts the power button, the 3.5 mm jack input as well as a status LED. On the left hand side we find the USB-C port for charging, as well as a function button to cycle through the ANC modes. On both earcups there are holes for the microphones that make ANC possible.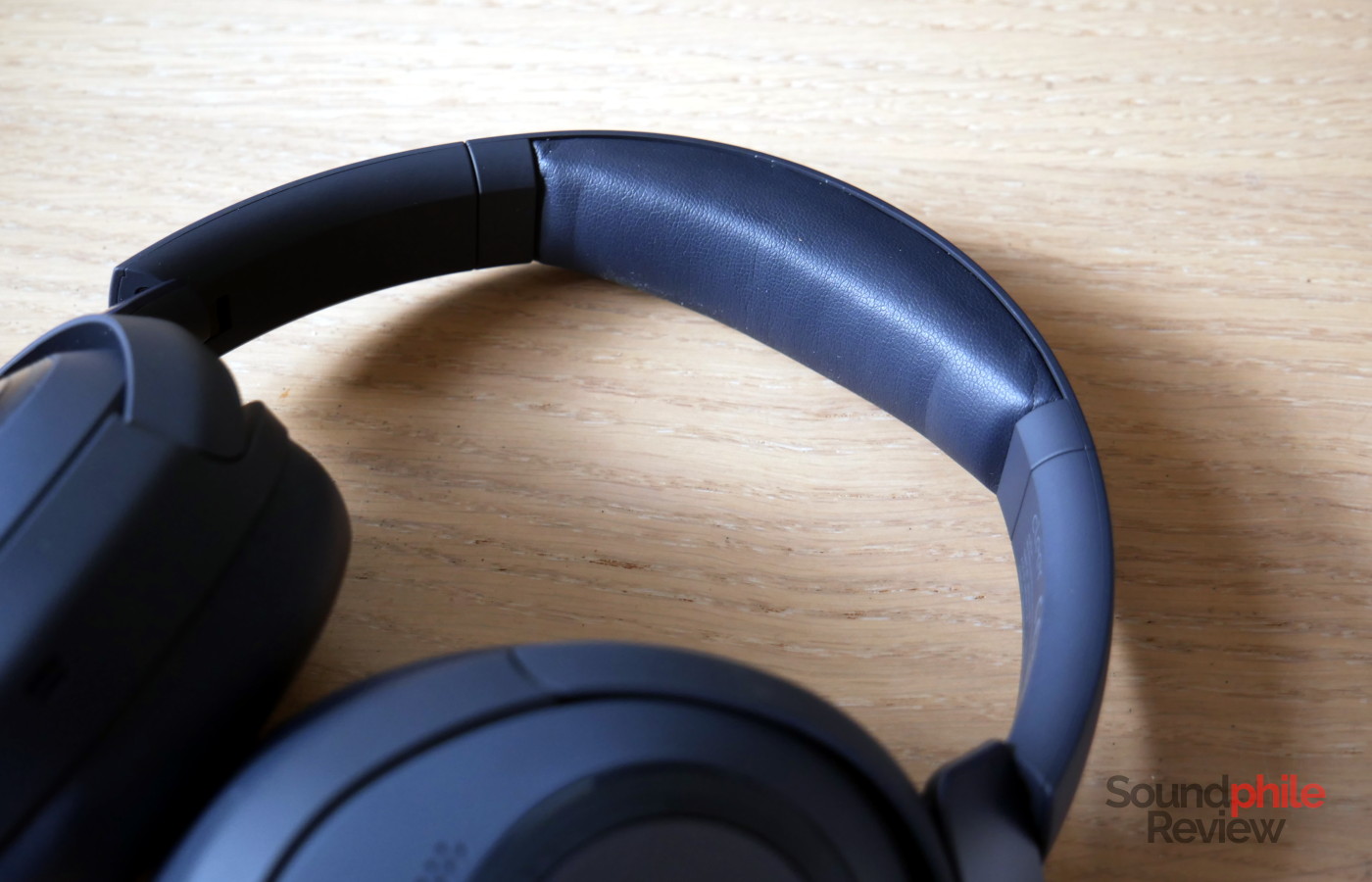 Comfort is quite good, as I can wear the headphones for at least one hour and a half before feeling any fatigue. Considering I have a very, very sensitive scalp, this means most people should be able to wear them for multiple hours without issues.
Passive isolation isn't great and it barely has an impact on the sounds you hear from around you. In fact it can't really block sounds in the mid and upper areas, which are the most important ones as they aren't covered by ANC. This is what actually makes headphones "great" rather than "good" at removing noise, and unfortunately the Alpha fall in the "good" category.
Extra Features & Battery Life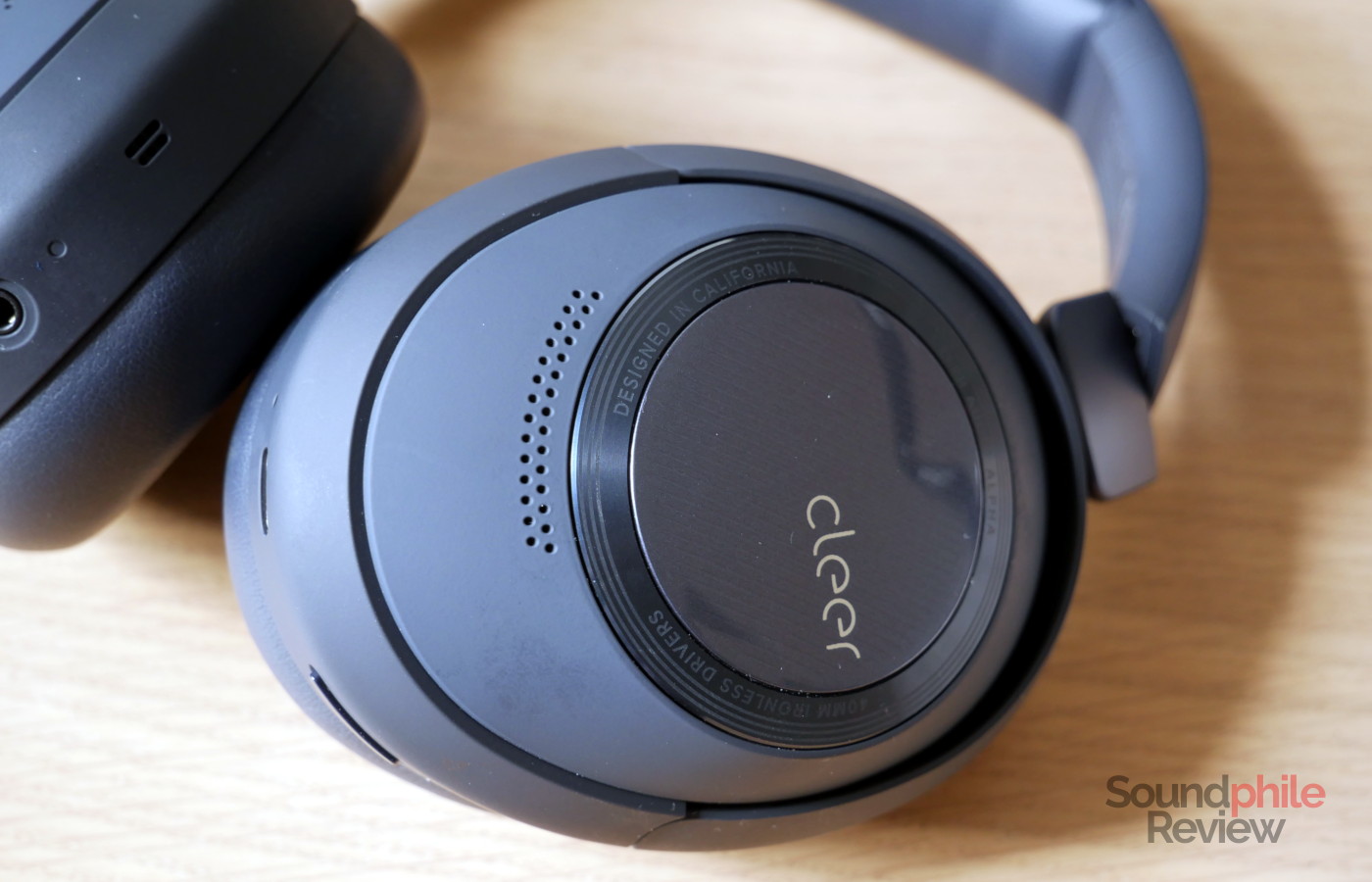 The Cleer Alpha come with the Bluetooth 5.0 standard and the SBC, AAC, aptX and aptX HD codecs. This is a very good selection of codecs which makes the Alpha compatible with virtually every possible device out there, although it doesn't support LDAC. The range is quite good, as I can freely walk around my house without any interruptions or stuttering; the signal is very stable. The headphones support multipoint connection, so you can connect them to e.g. both your smartphone and computer.
The control scheme in quite intuitive and requires you to touch the hard plastic circle on the right hand side earcup: by swiping up and down you can adjust the volume, by swiping forward and backwards you can skip tracks, by tapping twice you can play or pause music, while putting your palm on the surface cycles between ANC and ambient mode.
The ANC feature is effective and while it doesn't remove all of the noise, it removes enough that I can listen to music on Glasgow's subway (which, I can assure you, is quite loud) without raising the volume significantly. It does only cancel low-pitched sounds though, which means human voices and other sounds in the mid and high parts of the spectrum are still able to reach your ears almost unimpeded. This is in many ways expected, given the physics of sound, but it further exposes the limited passive isolation the Alpha offer.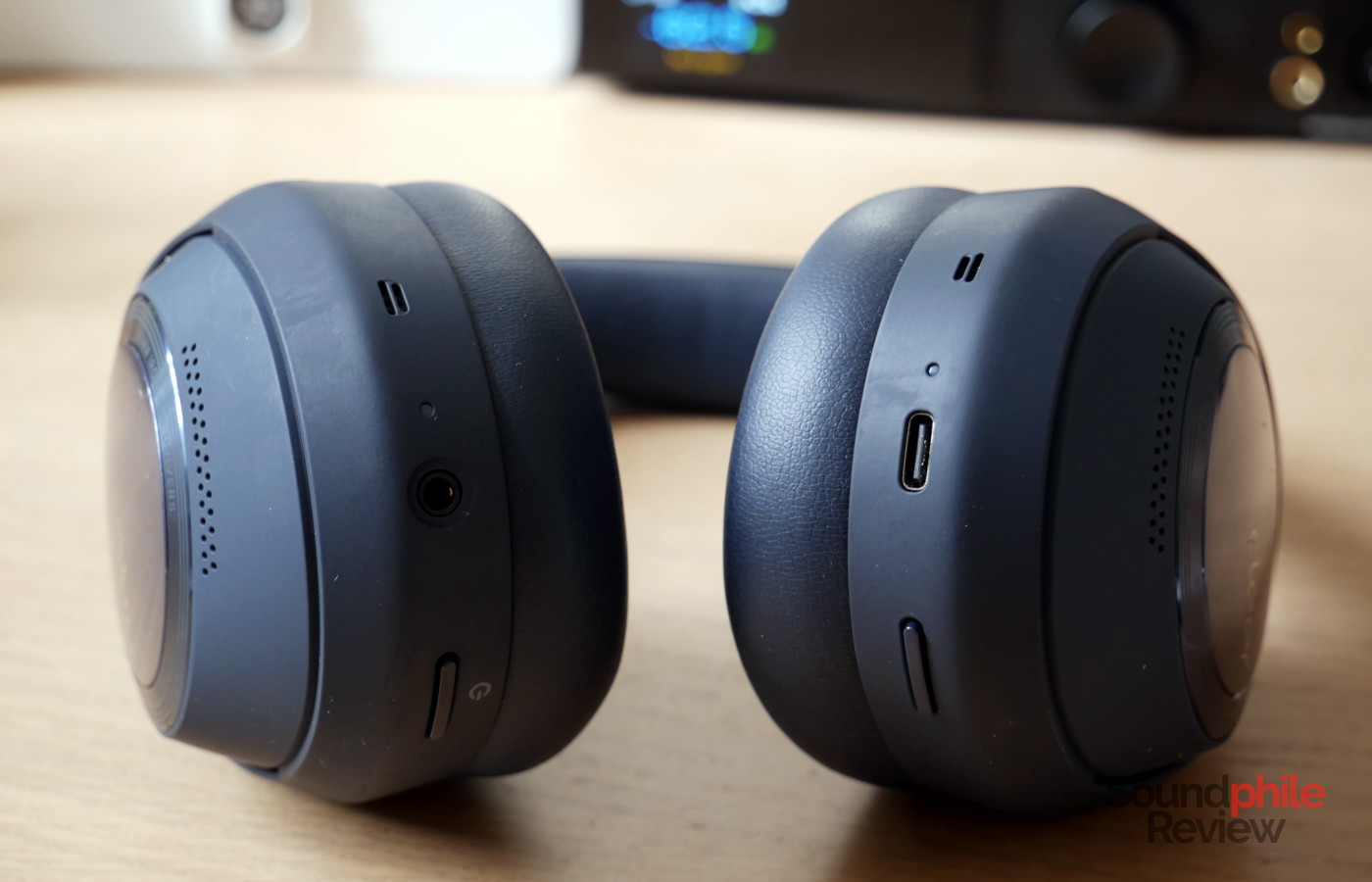 The Alpha offer a very long battery life: the official estimate is around 35 hours with ANC turned on, to which they manage to get close. The only issue with how the battery is managed is that the Alpha do not automatically turn off. Even if you disconnect them from your device, they never turn off automatically. This means that you need to remember to turn them off, lest they keep on looking for a device to pair with and run out of juice. In order to make them turn automatically off, you need to use the application, which allows you to set a timer of 5, 15, 30 or 60 minutes.
Software
The Cleer+ app, available for both Android and iOS, allows you to control the headphones directly from your phone. The main screen shows the status of the headphones, including the remaining battery life. You can control the noise cancellation by setting it to on, off or ambient mode; you can select how much ambient sounds you want the headphones to reproduce, as well as enable "smart noise cancellation" which adapts the level of ANC to the noise levels around you. You can also enable the Dirac Virtuo effect (more on that in the next section), as well as manage the equaliser and access the settings, which include options to turn off the unit automatically, to update the firmware and to enable or disable wearing detection.
The equaliser gives you very little to work with, as it only offers five bands: 64 Hz, 250 Hz, 1 kHz, 4 kHz and 8 kHz. Still, the equalisation is saved on the headphones themselves, so you can set it once to your liking and then forget about it entirely.
Sound & Specs
I have mostly tested the Cleer Alpha by connecting them to my laptop computer with Linux (which supports the aptX HD codec).
| | |
| --- | --- |
| Frequency response | 20 – 40,000 Hz |
| Impedance | N/A |
| Sensitivity | N/A |
| Bluetooth version | 5.0 |
| Codecs | SBC, AAC, aptX, aptX HD |
The Cleer Alpha display a strong hiss, whether ANC is enabled or not. It becomes much stronger when you enable ANC, but it's still there even if you disable it.
The Alpha offer compatibility with the Dirac Virtuo technology, which allows you to expand the soundstage through some DSP magic. The result is quite impressive as the scene changes completely not just in terms of how the space is perceived, but also in terms of how the instruments are perceived in it. Testing this with games I couldn't find a large difference, so this is mostly a feature for music. I personally prefer it to many other similar spatial audio technologies as not only it doesn't impact the sound signature too much, it arguably makes it better in many cases – classic rock just gets so much more likeable, as a practical example.
Soundstage is quite intimate and make instruments sound relatively close to the listener, though it sounds like they are playing in a relatively large space. Imaging places instruments with good accuracy across the stage, with a wide variety of placements that reproduces an almost three dimensional dimension to it. Instrument separation is very good, but there is a loss of separation with more complex and layered tracks.
I find bass to be almost right where it should be: it is just a tad too reserved to be actually perfect. The depth is not exceptional, but it is sufficient to create a convincing foundation for everything else and to deliver enough rumble and kick for music to have that physical aspect that many crave. The transition to the mids is done incredibly well and it sounds really organic and natural. There is a good level of detail, which is afforded by the decently fast transient speed.
The midrange is really the star of the show here, with a great balanced throughout which makes both male and female vocals sound just right, though there is a tiny bit of emphasis on the upper region which makes instruments such as electric guitars really pop out. If I had to nitpick, I would say that male vocals lack a bit of body and therefore sound a bit distant and hollow, as you can hear even with relatively high-toned voices such as Donald Fagen's in Steely Dan's Barrytown. Detail is quite good, although there's not much micro-detail to be found here.
Treble is the problematic area on the Alpha. It is overly emphasised, with at least two large bumps around 8 kHz and around 10 kHz which make the sound very fatiguing – and not just in the long term. In fact those peaks are so prevalent they end up being invasive. There is sufficient detail for cymbal crashes and hi-hats to be clearly distinguishable in the mix, but at the same time there's not much resolution so those same instruments sound a bit faded and muddied up.
Final Thoughts
There are lots of things to like about the Cleer Alpha. The fact that they stray away from the mainstream path to experiment with a brighter, arguably overall more balanced tuning than the usual (and tiresome) V-shaped response is in itself commendable. The problem is that Cleer overdid the treble and made it piercing and aggressive, which is not quite a great thing. Thankfully they also allow you to set an equalisation profile which can correct this problem effectively and easily – without this, it would be much harder to recommend the Alpha. Looking beyond the sole frequency response, the Alpha deliver exceptional battery life and great ANC, though the low passive isolation means that feature is less effective than it could be. Overall, the Cleer Alpha look, feel and sound like premium headphones and their flaws are compensated by their great qualities, which means I can recommend them.