Sequels are always hard and they're even harder when the first episode was successful. That's the case with the Lypertek PurePlay Z3 2.0, heirs to the acclaimed Lypertek Tevi, still my overall favourite "true wireless" earphones. In this case there was a change in nomenclature between the two generations and this change is also a signal of a deeper change in how the PurePlay Z3 2.0 are tuned. The new name surely does its best not to roll off the tongue, that's for sure!
Lypertek has left many of the elements that contributed to the success of the Tevi intact: the design of both the earphones and the case, the water resistance, the long battery life, the materials… All these things have been kept in the second generation, making the PurePlay Z3 2.0 extremely enjoyable.
Disclaimer: I received this unit from KS Distribution. They sell the PurePlay Z3 2.0 on Hifiheadphones for £99. Additional info on the official website.
TL;DR: recap
Pros




Cons

+ Small and comfortable

+ Very long battery life

+ High-quality codecs

+ Almost-neutral signature

– Background hum

– A few bugs with the smartphone app
Rating: 8.5/10
Packaging & Accessories
Lypertek kept the packaging simple and to the point and included a good swath of accessories: there are three different sizes of single-flange silicone tips, plus a very welcome pair of foam eartips. The latter were not included with the SoundFree S20, but the company decided to include them again with the PurePlay Z3 2.0.
Design & Comfort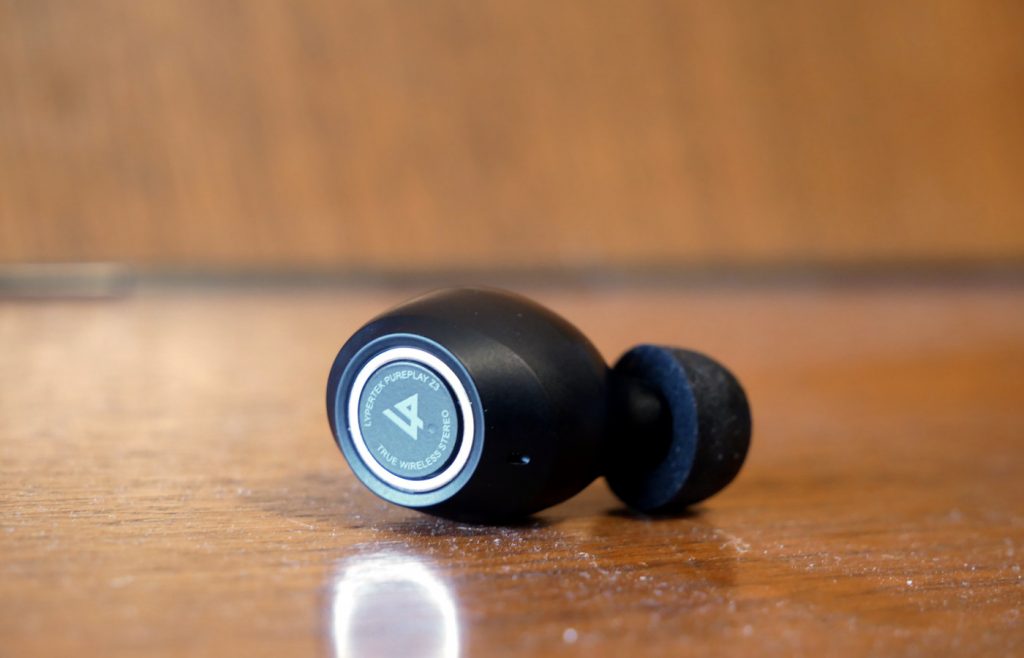 The Lypertek PurePlay Z3 2.0 feature a design that's identical to the first-gen Tevi. And that's a good thing! The small, curvy Tevi were extremely comfortable and durable, plus they were good for people with smaller ears as well, so the reuse of that design is quite welcome. Never change a winning team, as they say…
The shell is made of matte black plastic with white text printed on it. The earphones feature physical buttons that you actually press, but the force required to do so is so low that this doesn't cause any issues. The PurePlay Z3 2.0 are built quite well and there's little to say in this regard, in a very positive sense: materials are good quality and assembly is done right.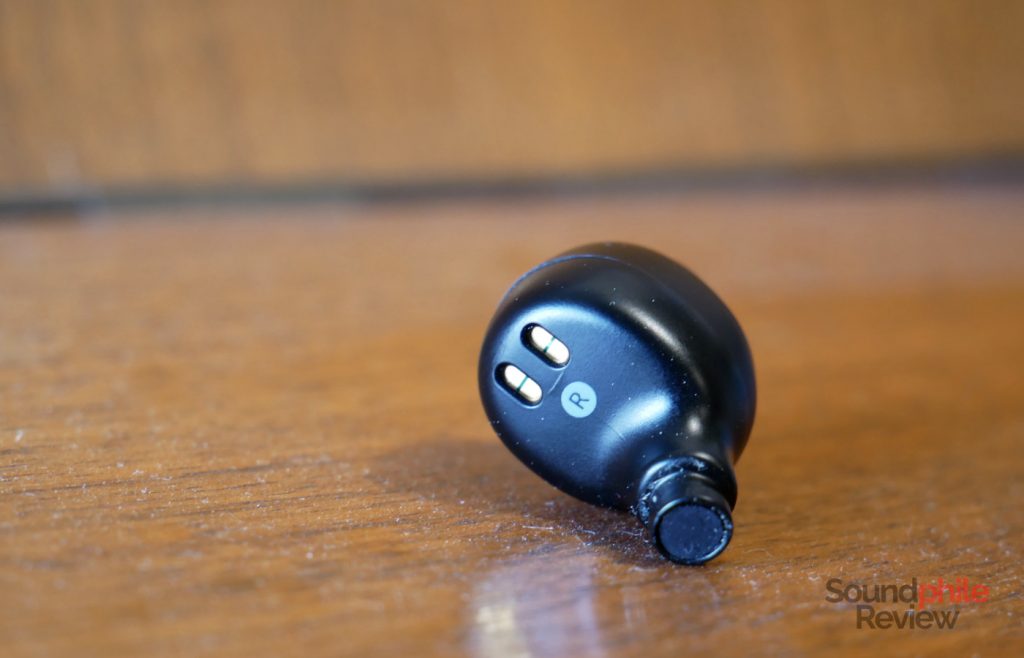 Just like the first generation the PurePlay Z3 2.0 flaunt IPX7 certification – enough to hold them under water for half an hour at 1 m depth, without any risk of damaging them. That comes in quite handy and allows you to use the headphones while working out or under a shower… or even while taking a full bath!
Thanks to the small size of the shells and to their curved shapes, comfort is excellent. I can wear the PurePlay Z3 2.0 for multiple hours and still not feel any kind of discomfort or fatigue, though I first need to find the right position: usually this entails twisting the earphones upwards a bit. I've never worried about the earphones falling off, as they stay firmly in place once I put them in, even when doing sports.
Isolation is remarkable once I find the right position: if I push the earphones in my ears deeply and then twist them a bit upwards I get an almost-perfect seal that shields me from almost any sound. Even the noise of subway is curbed effectively. Lypertek managed to improve this aspect greatly, so much so that I don't feel the need for ANC in most daily situations, as passive isolation is more than enough.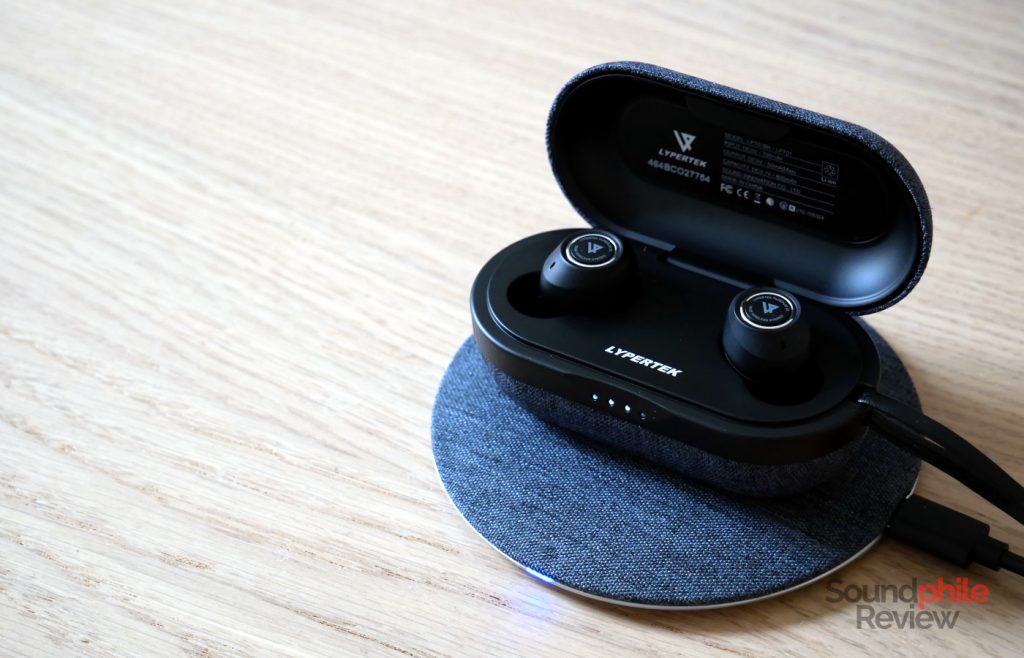 The case is identical as well, with the only difference being the grey is a darker hue. There's one other difference as well: the case now features wireless charging, which is a welcome addition.
Lypertek also released a Qi-compliant wireless charging base with the PurePlay Z3 2.0 that features the same fabric on the top part, plus a metal base. It has a status LED on the front and a USB-C port on the right hand side to connect it to a power adaptor. It's quite solid and the design is among my all-time favourites – it's just so elegant! With an appropriate power supply, it can charge even phones at 15 W.
Extra Features & Battery Life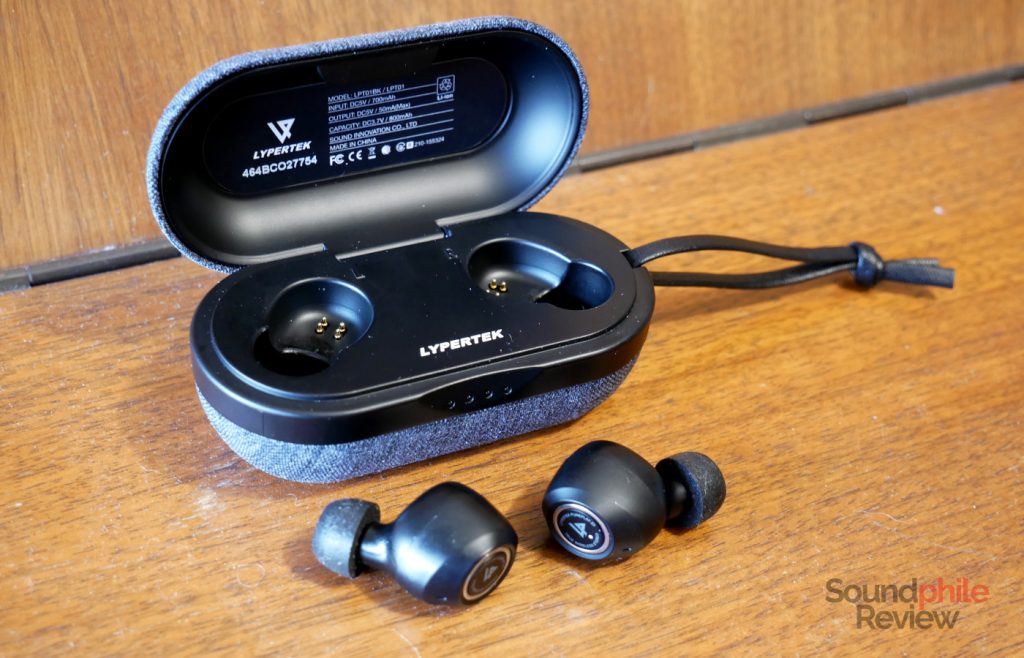 The Lypertek PurePlay Z3 2.0 feature the Bluetooth 5.2 standard with the SBC, AAC and aptX codecs. Range is quite surprising, as I can move around the house with no interruptions save for the furthest spots from my computers – quite an achievement for TWS earphones, as even full-size headphones struggle with that! Connection stability is excellent as well, with nary a stutter whenever I move around. This is the result of using Bluetooth 5.2 (and a Qualcomm QCC3040 chip) which allows for both earphones to be connected to the source at the same time, thereby removing the usual primary-secondary connection that adds delays and makes the primary earpiece's battery run out faster.
Controls are quite intuitive: one click on either earpiece plays or pauses the music, two clicks lower (left hand side) or increase (right hand side) the volume, and three clicks skip to the previous track (left hand side) or to the next (right hand side), while keeping the button pressed on either side triggers ambient mode (which plays back sounds from around you). There's no integration with any voice assistant.
The microphone was a huge let down. I haven't been able to speak with anyone on the phone when using the PurePlay Z3 2.0: the microphone simply appears not to pick up my voice correctly, even when placing an earpiece directly in front of my mouth: people on the other side simply can't hear me or hear me as if I was very distant.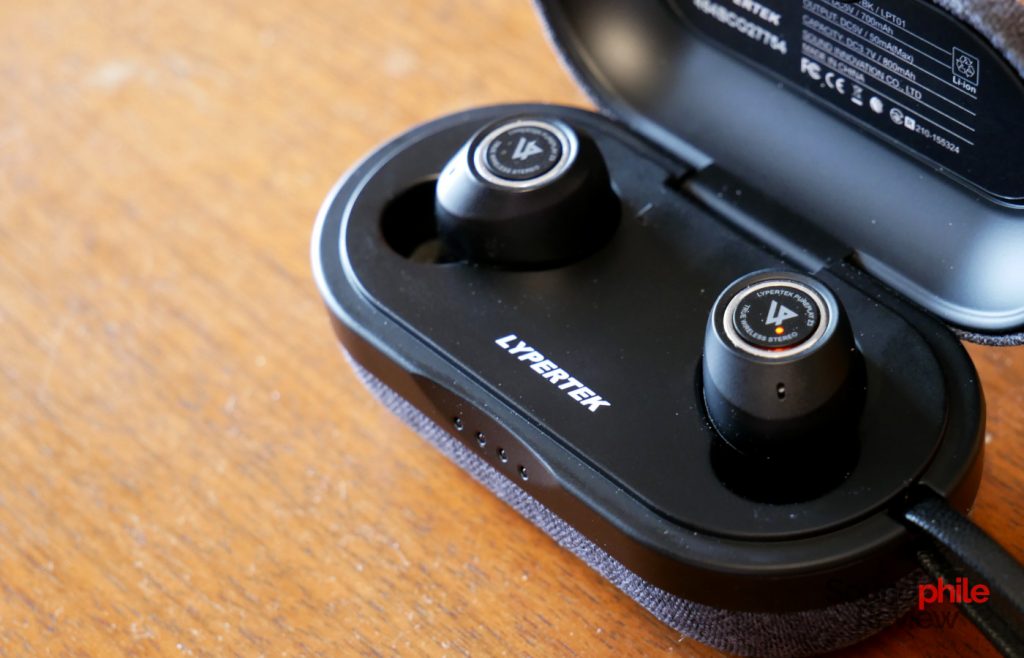 Lypertek promises 10 hours of battery life out of a single charge when using the SBC codec and in my experience this appears to be true: I've had the PurePlay Z3 2.0 play music for more than 8 hours using the more power-hungry aptX codec. The seven full charges granted by the case are, on the other hand, not quite there: I've only managed to get around 5 charges. This brings the total to 60 hours of playback anyway (or 48 hours in aptX), which is quite remarkable in any case.
Software
Lypertek has an application called PureControl for both Android and iOS. It offers various options to control the earphones, plus the ability to update their firmware. Among the features available are volume control, equaliser (which applies system-wide), LDX mode, settings for button controls, locating the earphones and update the firmware.
Immediately after opening the app for the first time, I faced an issue: the app appears to be made exclusively for modern smartphones with elongated screens, so my relatively old Honor 9 with a Full HD (1920 x 1080) screen doesn't show me the full roster of options and text.
The app offers the so-called LDX mode, from "Lypertek Definition eXpander", which alters the equalisation of the earphones to offer "an improved soundstage with added depth, increased definition and a greater sense of space". This is mostly true, although the mode also appears to boost bass by a sizeable bit and not to change soundstage and definition too much. It has to be noted that the LDX mode can only be used in conjunction with your smartphone with the app installed, so you can't use it with other sources such as a computer or a DAP.
The app also allows you to locate the last position where the phone was last connected to the earphones, which comes in quite handy.
Sound & Specs
I tested the Lypertek PurePlay Z3 2.0 using a few devices, including my Honor 9 smartphone, my HP EliteBook 745 G5 and my Shanling M2X. In all three cases I put mostly CD-ripped FLAC files on them.
| | |
| --- | --- |
| Frequency response | 20 – 20,000 Hz |
| Impedance | N/A |
| Sensitivity | N/A |
| Bluetooth version | 5.2 |
| Codecs | SBC, AAC, aptX |
It has to be noted that some significant changes were introduced after the update to firmware version 1.4. To be more specific, while the general sound profile hasn't changed (much?), the most glaring issue I've found is that the noise floor has increased substantially, so that quieter parts of tracks are now garbled and sound noisy. As a practical example, I can clearly hear distortion in Bioscape's Creation Dub, the beginning of which is messed up with notes sounding distorted. This was not present with the previous version of the firmware (1.3), which I noted to be excellent in terms of rendering even minute details at very low volume. This happens because whereas the previous version was almost entirely silent, there's now an audible background hiss that's always present.
The soundstage on the PurePlay Z3 2.0 is not expansive, but it's surely large for this type of earphones: the sounds appear to be reproduced near you, but to then expand in a relatively large space. It is mostly extended laterally, although it also has very good depth. Imaging is quite good, with accurate placing of instruments in space and a wide array of positions that help distinguish them also on a spatial basis. Instrument separation is frankly surprising, as even in crowded tracks instruments are presented with extreme clarity and smaller details are preserved. Another aspect which I quite like about the PurePlay Z3 2.0 is their dynamic range: it's quite extended, so that smaller details are clearly audible even when there's a lot of contrast in volume between instruments.
Bass is decidedly more abundant than in my personal definition of "neutral", in particular when it comes to the mid-bass region: although it is well controlled and never oversteps its boundaries, it is often slightly in front of the mids. It has extremely good depth with the lowest notes almost at the same volume as the rest; still, the presence in the lowest-end is very significant and that's remarkable, given the small size of the driver. Speed is one of the aspects that I like most about bass, as there's this very good sense of immediacy and suddenness that makes drums especially convincing; on the other hand, this also leads to great layering and to a host of details being presented to you.
Midrange is slightly warm, with the lower area being slightly emphasised, but it's overall quite well balanced. It sits front and centre and it's clearly the main ingredient in the PurePlay Z3 2.0's signature, with a great balance that doesn't detract from bass nor treble. The overall tonality is spot-on and it's only slightly warmer than my own personal neutral target: this makes most instrument sound as you would expect them to do, from pianos and acoustic guitars to trumpets, violins and female voices. The thing I like the most about mids is that they're very thoroughly detailed, so much so that their level of detail is comparable with wired earphones a few times their price. Just as with bass, speed is one of the good qualities of these earphones.
Treble is energetic and lively, with a good balance both internally and in the overall signature that makes it shine without any fatigue. Even those who are more sensitive to treble won't find any fatigue with these earphones. The best quality of treble is, without a doubt, its resolution: there is a lot of details popping out clearly and in a very natural way – in Gaia Cuatro's Mizuho, the rattle and cymbals are extremely detailed and clearly laid out despite not being the main instrument in the track. Extension is quite good and gives the sound quite some air and openness. Speed is quite good as well.
Lypertek PurePlay Z3 2.0 Comparisons
Here's a quick comparison with other TWS earphones:
Lypertek PurePlay Z3 2.0 vs Lypertek Tevi: the only real difference between the Tevi and the PurePlay Z3 2.0 is bass: the second-gen model has much more of it, especially in the sub-bass region. Most other features are practically identical and the most significant differences are in speed (the PurePlay Z3 2.0 is slightly faster), midrange tuning (the Tevi are brighter), treble quantity (the Tevi has a bit more), soundstage width (the Tevi are slightly wider), imaging (the PurePlay Z3 2.0 are more accurate in the placement). The differences in tuning are the most relevant, though, with the rest being mostly nit-picking. When it comes to non-sound aspects, the second generation wins in terms of Bluetooth range and stability, while the first generation has better microphones.
Lypertek PurePlay Z3 2.0 vs Shanling MTW300: the MTW300 is basically the true heir to the Tevi, as it has a very similar frequency response. Bass is lean and fast, neutral to the point it is almost recessed, while offering a great level of detail; the Lypertek are better in terms of physicality, though. Midrange is brighter and similarly detailed, while not as physical. Treble is much more detailed on the MTW300, while also being airier and more open. Soundstage is slightly wider, imaging is comparably accurate and instrument separation appears to be a tad better on the MTW300. Battery life is better on the MTW300, too.
Final Thoughts
Lypertek has made quite a few changes to the product that gave it notoriety and thus created the second generation, in some ways departing substantially from the previous approach. The Lypertek PurePlay Z3 2.0 differ quite a bit from the Tevi, with a more U-shaped signature that packs quite a punch in its lower region. Despite these differences, though, these earphones keep the main qualities of their predecessors intact: great technical ability, superb detail, solid connectivity, superb comfort and IPX7 certification, plus very long battery life. I would have preferred Lypertek to keep the previous tuning, but I have to admit they're also great as they are, despite not conforming to my ideal.
The Tevi were the champion to beat and the PurePlay Z3 2.0, despite changing the signature to a more bass-heavy one, keep this position as one of the benchmarks of true-wireless earphones below $100. If you are in the market for all-round solid earphones with a "mainstream" tuning, these are the ones to get, period.