Bowers & Wilkins is better known for its speakers, which it began creating about 50 years ago. The company has entered the portable speakers market two years ago with a Bluetooth speaker: the Bowers & Wilkins T7. This impressive device stands out from the crowd thanks to its peculiar design, but has a few cards up its sleeve when it comes to sound, too.
Disclaimer: I got the B&W T7 on loan from the local PR agency and I had to return it. You can buy it directly from B&W's website.
TL;DR: recap
Pros




Cons

Superb design

Great sound quality

Extremely long battery life

Good build quality

Proprietary power adapter

No microphone

Expensive

Fairly large and heavy
Rating: 7.9/10
Accessories & Packaging
Even though the T7 is marketed in the the higher price spectrum for portable Bluetooth speakers, its packaging is fairly simple and spartan. There are no accessories in the box, which only contains the speaker and the charger. I expected the speaker to also come with a transport bag, but this isn't the case. A hard case, however, can be bought separately.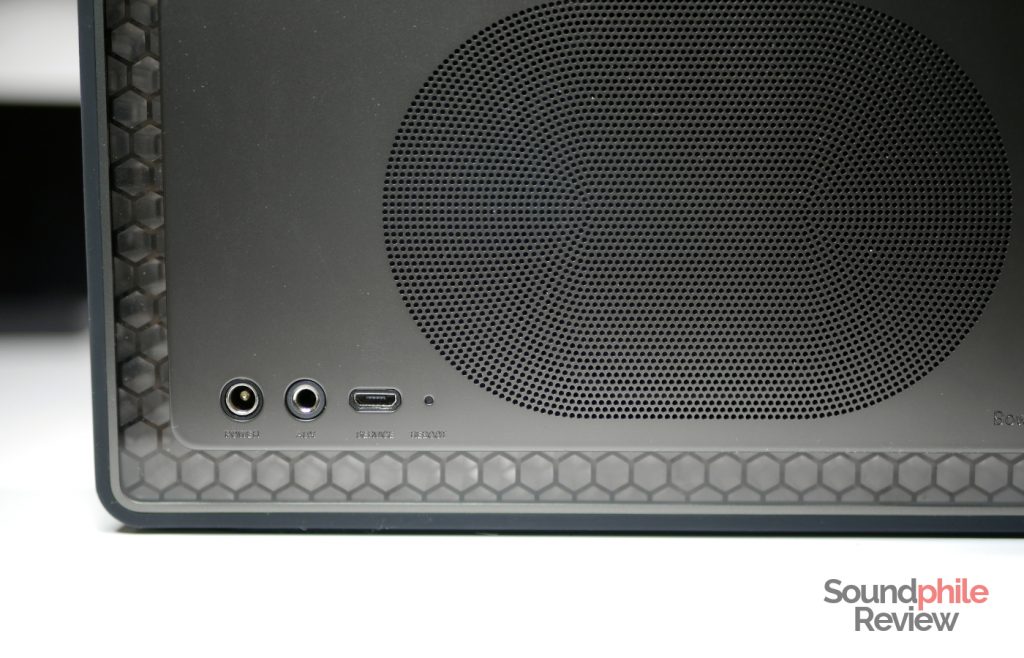 The first flaw I noticed is the need for a specific charger: you can't use the onboard micro-USB port to charge the device, as it is only used to deliver data when upgrading the firmware or checking the device's state (something only repair centres can do, I suspect). This means you can't use your phone's charger or a power bank if you are on a trip. In my opinion this is a severe flaw, but it is a status quo we have to live with.
Design, Build & Materials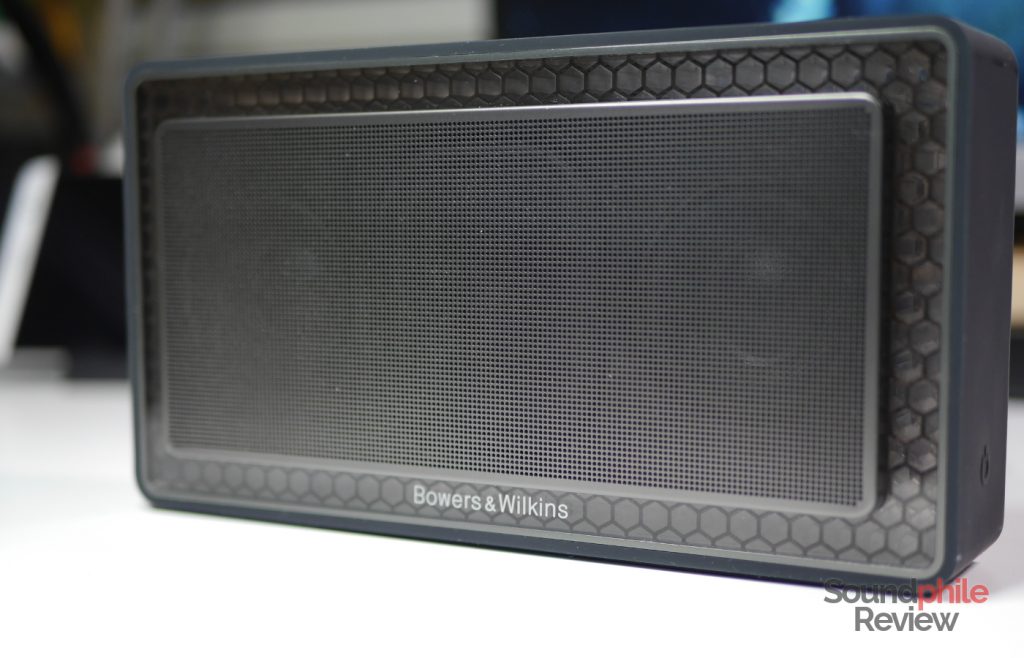 I found the design of the Bowers & Wilkins T7 to be polarising: there are people who love it and others who can't stand it. I happen to fall in the first category: I think the design is classy and elegant, with modern, minimalistic lines that make it fit in every setting.
What makes the Bowers & Wilkins T7 so peculiar is the use of a hexagonal mesh all around the main unit: not only it gives the speaker a futuristic look, but it also provides better cabinet rigidity and thus improves the sound (that's what the company claims, anyway). It is also the element which most people I showed the speaker did not like, as it indeed is a bit odd-looking. It sets the T7 apart, that's for sure!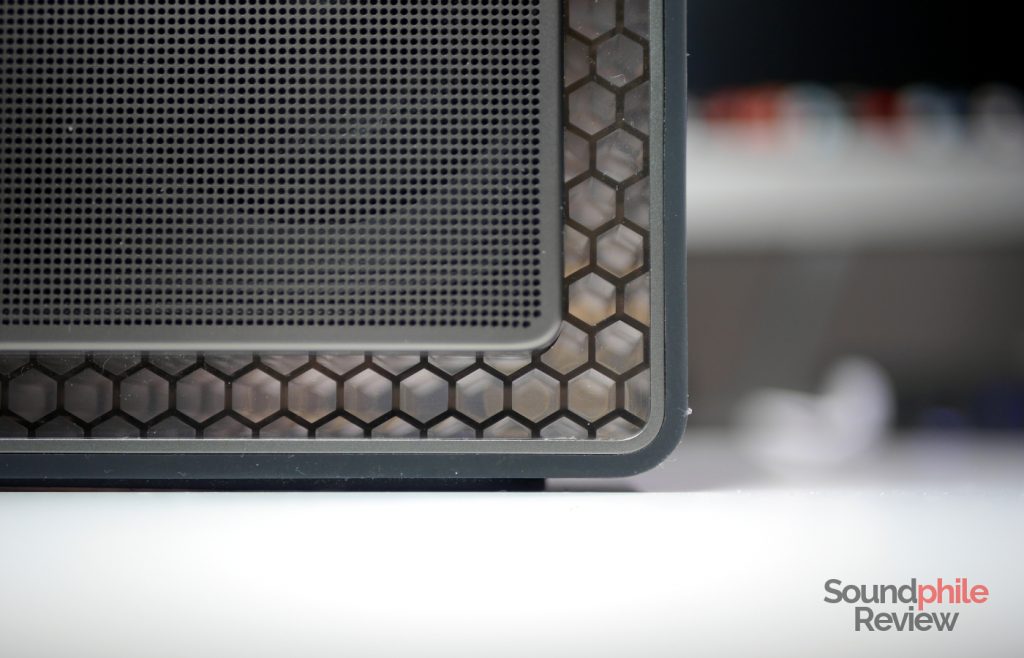 The main body is encased in the hexagonal frame and is slightly protruding from it; the external layer which covers the frame is made of rubbery plastic. A layer of aluminium with a gunmetal dye is used for the front and back faces. Design itself is minimal and without any frills, with clean lines and gentle curves; it is modern and classic at the same time. Whether you like it or not (de gustibus non disputandum est), Bowers & Wilkins put much effort in it and the result is an undeniably original design.
Bowers & Wilkins plays a well-known tune when it comes to materials, without bringing too many changes to the table: polycarbonate and the metal used in the two plates on the front and back are all there is to say about it. The device is pretty solid and appears to be very resistant, even though the front grille has a bit of play that allows it to bend.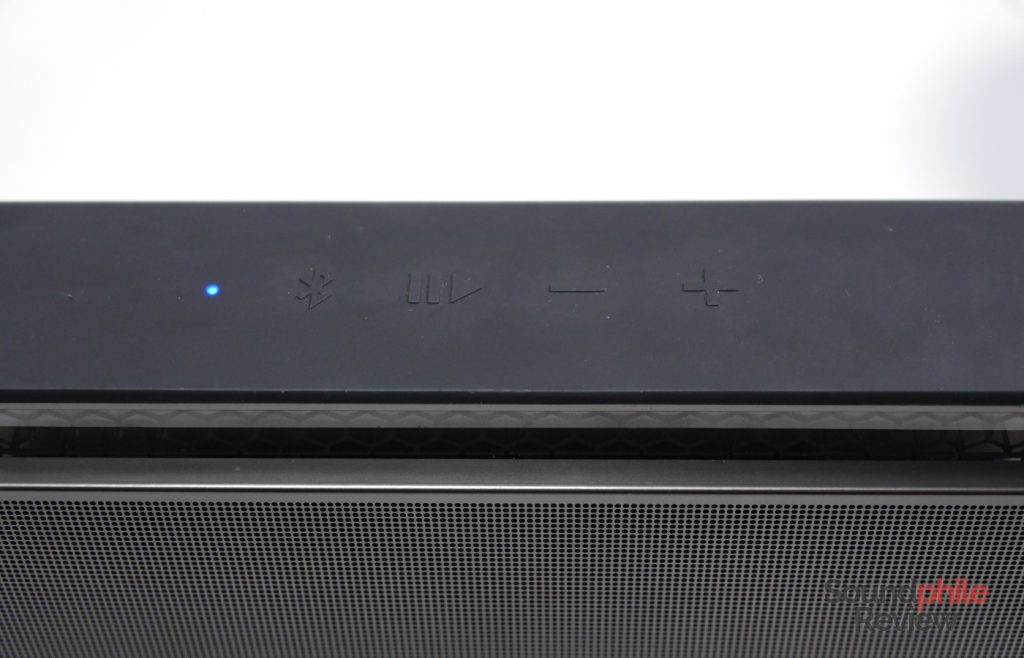 On the upper side there are a few buttons to control the speaker (Bluetooth pairing mode, play/pause, vol-, vol+) and a blue status LED, while the right side hosts the power button and five white LEDs which act as a battery charge indicator. The back side hosts the power connector, the 3.5-mm jack port and the micro-USB port. There is a reset button, too, which I never used during my trial.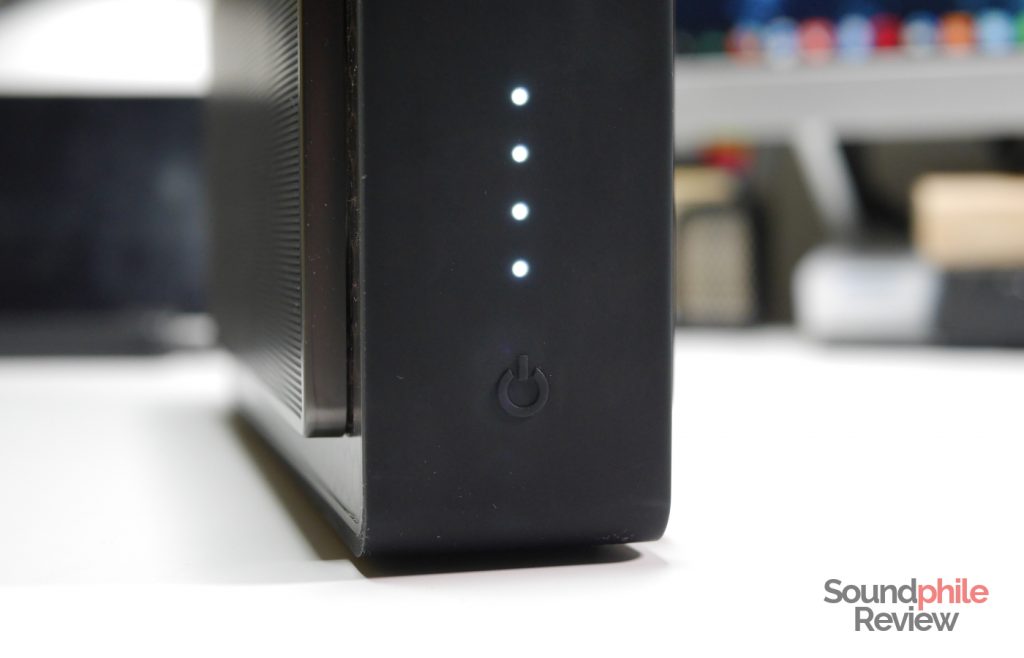 The device weighs in at 940 g and is 210 x 114 x 54 mm. It is by no means small, but it's still fairly portable.
Features & Battery Life
The Bowers & Wilkins T7 allows two devices to be connected at the same time, thus enabling you to connect both a PC and a smartphone or to connect your smartphone and one from a friend, so that you can take turns in playing music.
Unlike other portable speakers, you can't use the Bowers & Wilkins T7 as a speakerphone because it does not have any microphone. This is a device purely dedicated to music.
There are no additional options for equalization nor playback from alternate sources (e.g. USB or microSD). I have to also note that there is a slight hiss when the speaker is connected to a source with a cable.
Battery life is nothing short of great: I spent a few days in a mountain cottage with friends to celebrate the new year and there I used the Bowers & Wilkins T7 for four consecutive days, multiple hours each day. The battery withstood all of that and more! In fact I think it played music for ~20 hours, which is a great accomplishment for a speaker this size.
Sound & Specs
What I expected when I first listened to the B&W T7 was a clean, balanced sound with great detail. It delivers that and some more, with a great listening experience above what I've come to expect from portable speakers, even though it has a few flaws.
| | |
| --- | --- |
| Frequency response | 59 – 19,000 Hz |
| Bluetooth version | 4.1 with aptX, AAC and SBC codecs |
| Power output | 2 x 12 W |
The Bowers & Wilkins T7 features two 50-mm drivers and two bass radiators, which allow the speaker to produce more bass than its size would make one think. Bass is obviously not its strength, as the frequency response is 59 – 19,000 Hz, but it is great for a device this little.
Sound is engaging and neutral enough to allow for a number of different genres to be played. As a practical example, I used the T7 to listen to music during the party on New Year's Eve and people played anything from Celtic music through Italian disco – whether you listen to Gigi D'Agostino's Bla bla bla, The Doors' Roadhouse Blues or to Empyrium's Where at Night the Wood Grouse Plays, the Bowers & Wilkins T7 is not going to disappoint you. Quite the contrary, in fact. It's going to fill up a medium-sized room with sound, if you let it squeeze enough volume out of its drivers, and it's going to do that without any noticeable distortion.
Bass has a nice impact and is able to deliver the punch that many Bluetooth speakers of this size often miss; it's decently controlled and it does not wither away when the volume goes up. What surprised me most is the fact that the B&W T7 is capable of delivering sound which is consistent throughout different volume levels, without too many alterations. Bass is obviously not going to shake you, but it does get heard without much effort. It is in fact a bit too much: Empyrium's Nebel from the Weiland album was a bit too heavy on lows and midrange and I had to adjust the sound using an equalizer to get it right.
With such an untamed bass, one would expect midrange to be left in the background both in terms of quantity and quality. It is however full and rich, with nice details and a position in the foreground which makes it especially nice to listen to acoustic tracks. Voices are natural, both male and female (Janis Joplin's Move Over sounds great!), and guitars are very engaging and energic (as in I'd Love to Change the World by Ten Years After).
Treble is sufficiently detailed, even though not as front and centre as I'd like it to be – but that's just splitting hairs. It is anyway well beyond what I'd find acceptable in a Bluetooth speaker, as it is not overshadowed too much by the rest of the sound.
I have to say that a few songs did not play as well as I'd expect. Instrument separation is not the best feature and dense tracks can expose the T7's limits in managing many different instruments.
Final thoughts
Given the 349€/$ price, the Bowers & Wilkins T7 sees competition from both ends: on the cheaper side there is plenty of interesting products (i.e. UE MEGABOOM, Bose Soundlink…), but that is also true for the pricier side (i.e. Beoplay A2, Bose SoundTouch 20…). There is also stiff competition in the same price bucket, with the Creative iRoar probably being among the closest rivals.
Given the neat design, the great sound performance and the astounding battery life, the Bowers & Wilkins T7 is a great speaker which I recommend purchasing. It checks all the relevant boxes and does not compromise on sound, all while retaining an original look. There are a few caveats, though, in the sense that not every genre plays nice with it and it is strictly a mobile device – the difference between the T7 and a desktop system with the same price is beyond noticeable, for obvious reasons. It can be the companion for notebook owners, though, as the difference with the laptops' integrated speaker is enormous. All in all these seem minor issues, and the Bowers & Wilkins T7 deserves every praise.