The Arylic S50 Pro+ is an updated version of the S50 Pro which the company launched some time ago. The new device, which works as a bridge between your hi-fi system and the network, allowing you to access music from your local network as well as the Internet, sports a new DAC chip which should provide better performance than that offered by the previous version.
Disclaimer: Arylic provided a free unit to me for the purpose of reviewing it. They sell the S50 Pro+ for $219.
Packaging & Accessories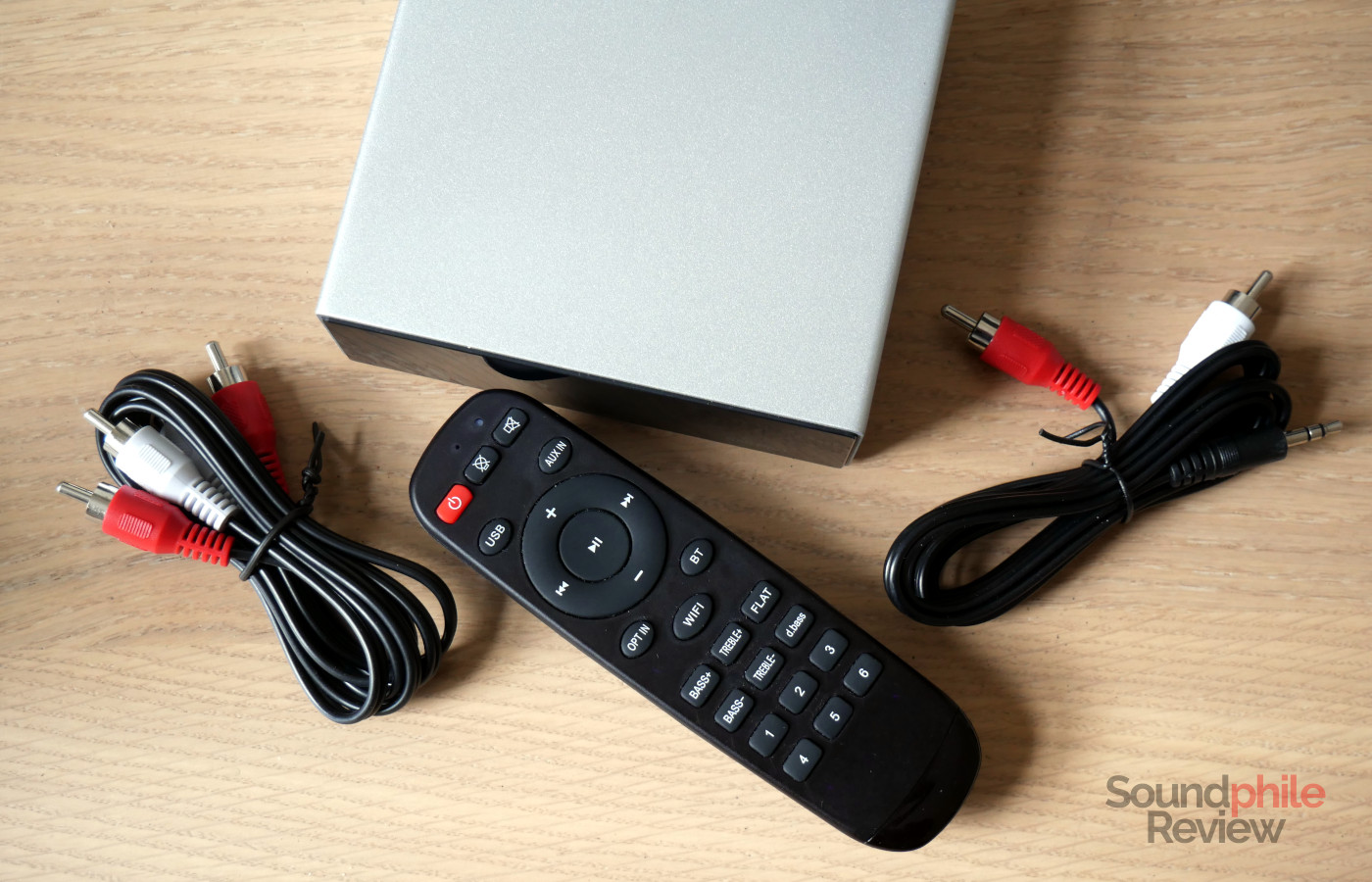 The Arylic S50 Pro+ comes in a cardboard box which holds the device itself (with the two antennas that you have to screw on), a manual, a power supply unit, a remote (no batteries included), an RCA to RCA cable and an RCA to 3.5 mm jack cable (useful if you want, as an example, to connect a phone or another similar device to it). Considering the price point, I would say that this is a decent accessory set.
Design & Build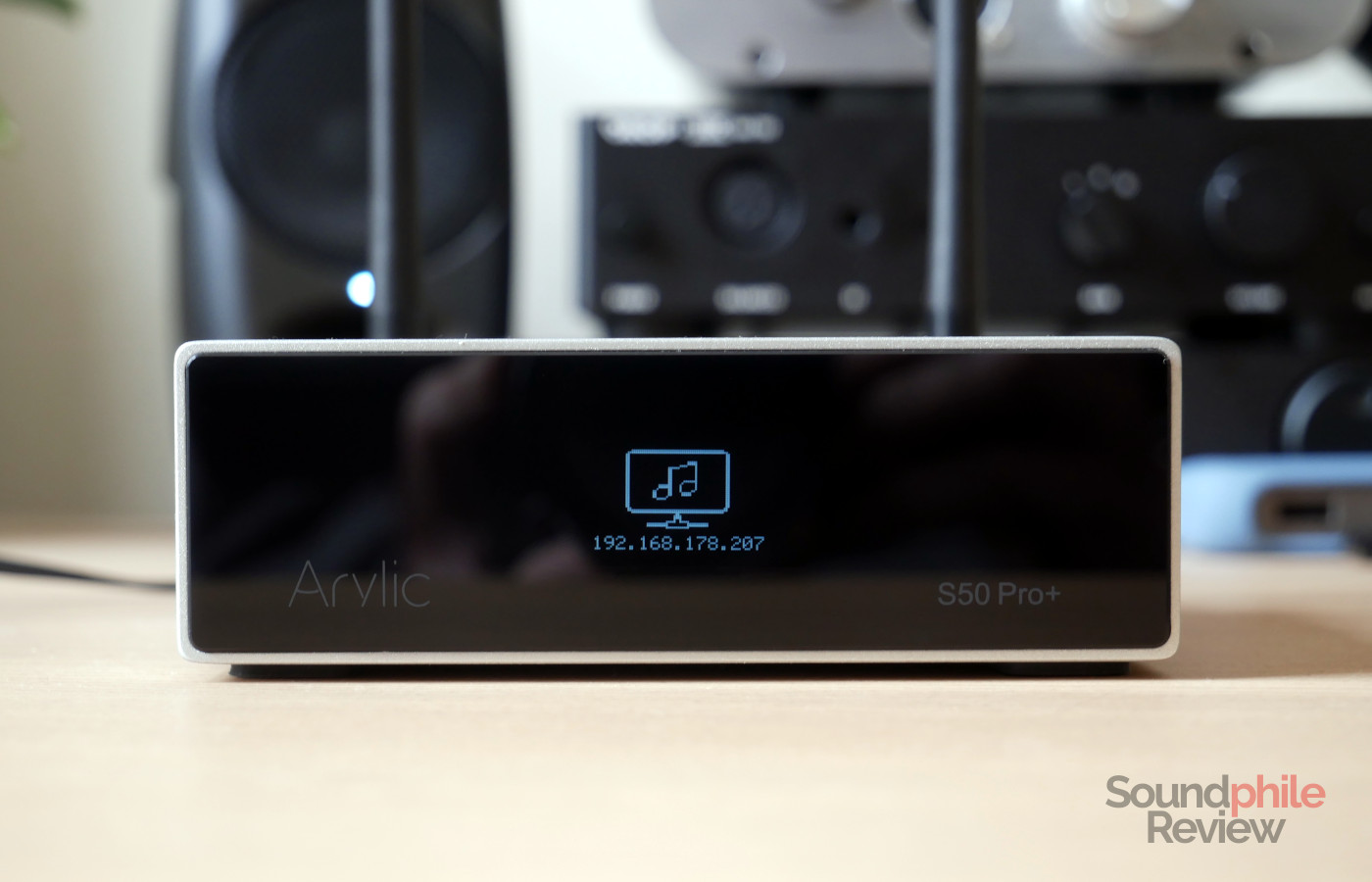 The Arylics S50 Pro+'s design is simple, yet effective. The chassis is made of a single piece of aluminium with a slightly rough finish; the front is covered with black plastic, while the back is made of aluminium. This simplicity makes the S50 Pro+ blend in well in basically every setting, as it is undoubtedly modern in style, but minimalist enough not to clash with anything. It's quite small, at just 12 x 11.3 x 3.7 cm, so it should be quite easy to fit it anywhere, even in an existing setup, and it can also fit on a desk.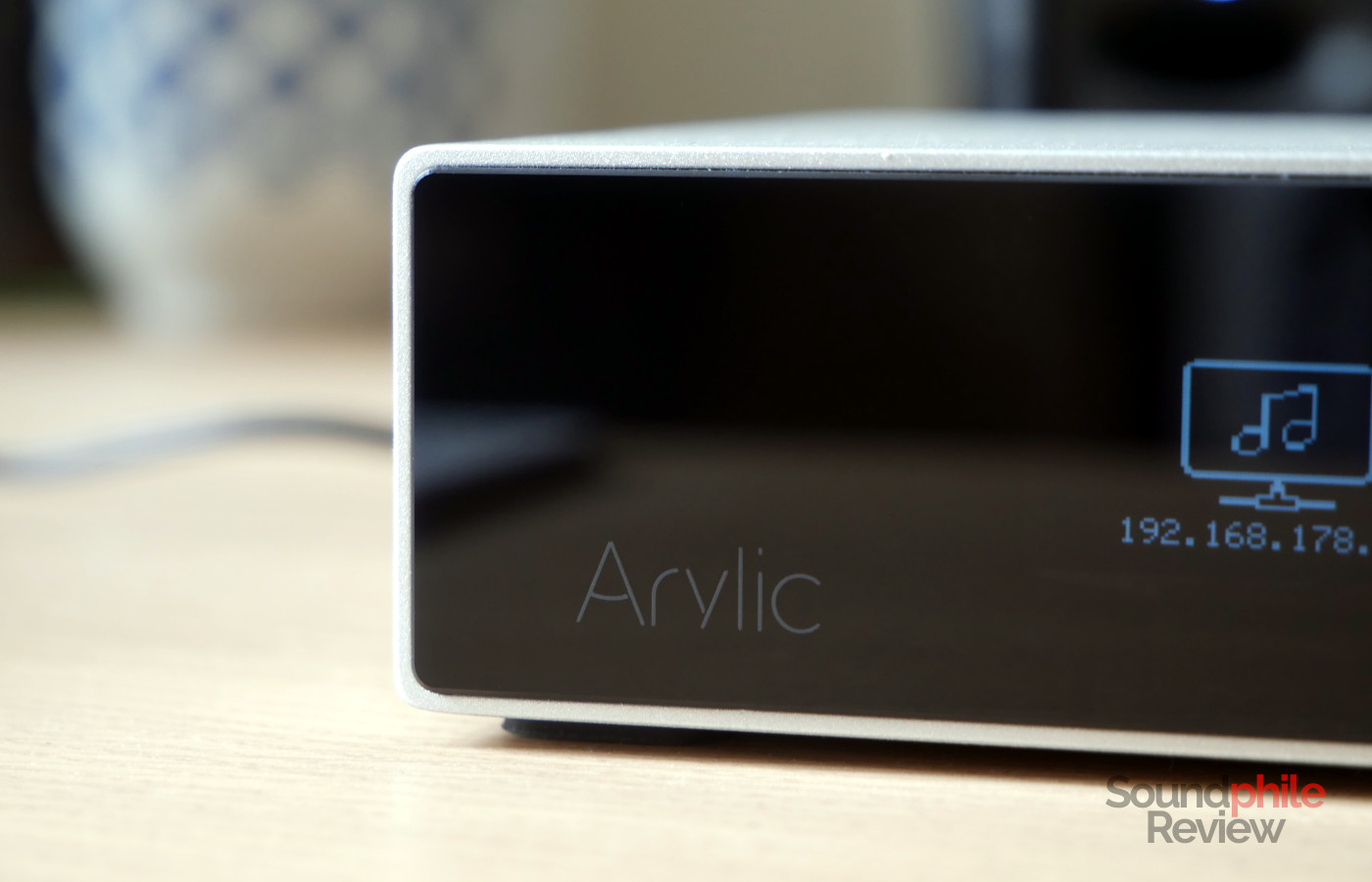 The front hosts a small display (presumably LCD?) as well as a status LED which stays on while the unit is powered off; there seems to be no way to turn it off. There's also white text with the Arylic logo and the model. The back is far more interesting as it hosts two connectors for the Bluetooth and WiFi antennas, a trigger output port, a reset button, two RCA line in connectors, a sub out RCA, an optical in port, two line out RCAs, a coaxial out, an optical out, an Ethernet port (only up to 100 Mbps), a USB port and a barrel connector for the power. There's a lot of stuff going on which makes the S50 Pro+ quite flexible in terms of both input and output.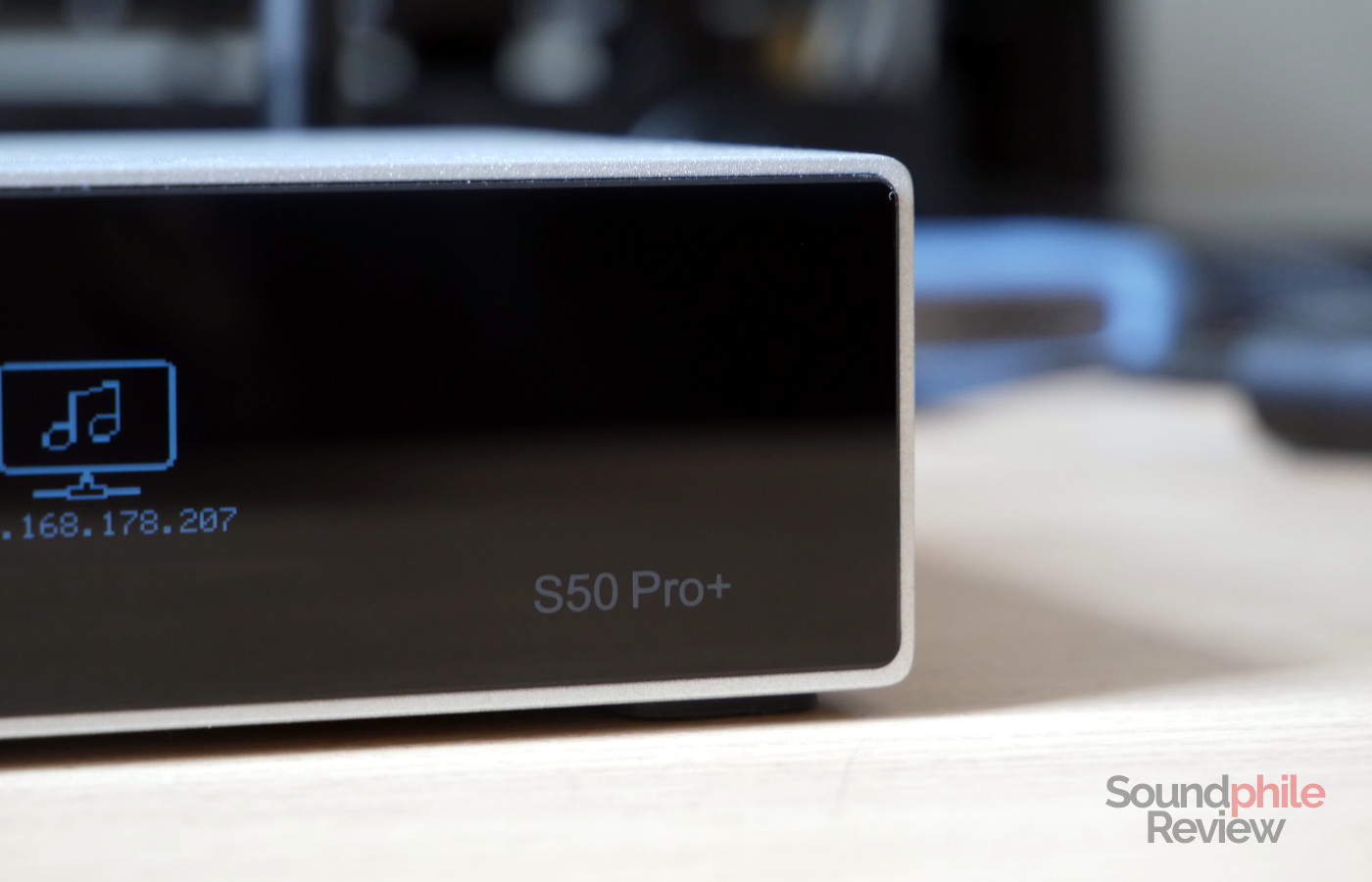 On the bottom there are four rubber feet which are sticky, so the device doesn't move around easily (in case that's a problem). There is no power button on the device itself, as you can only use the remote to power it on and off.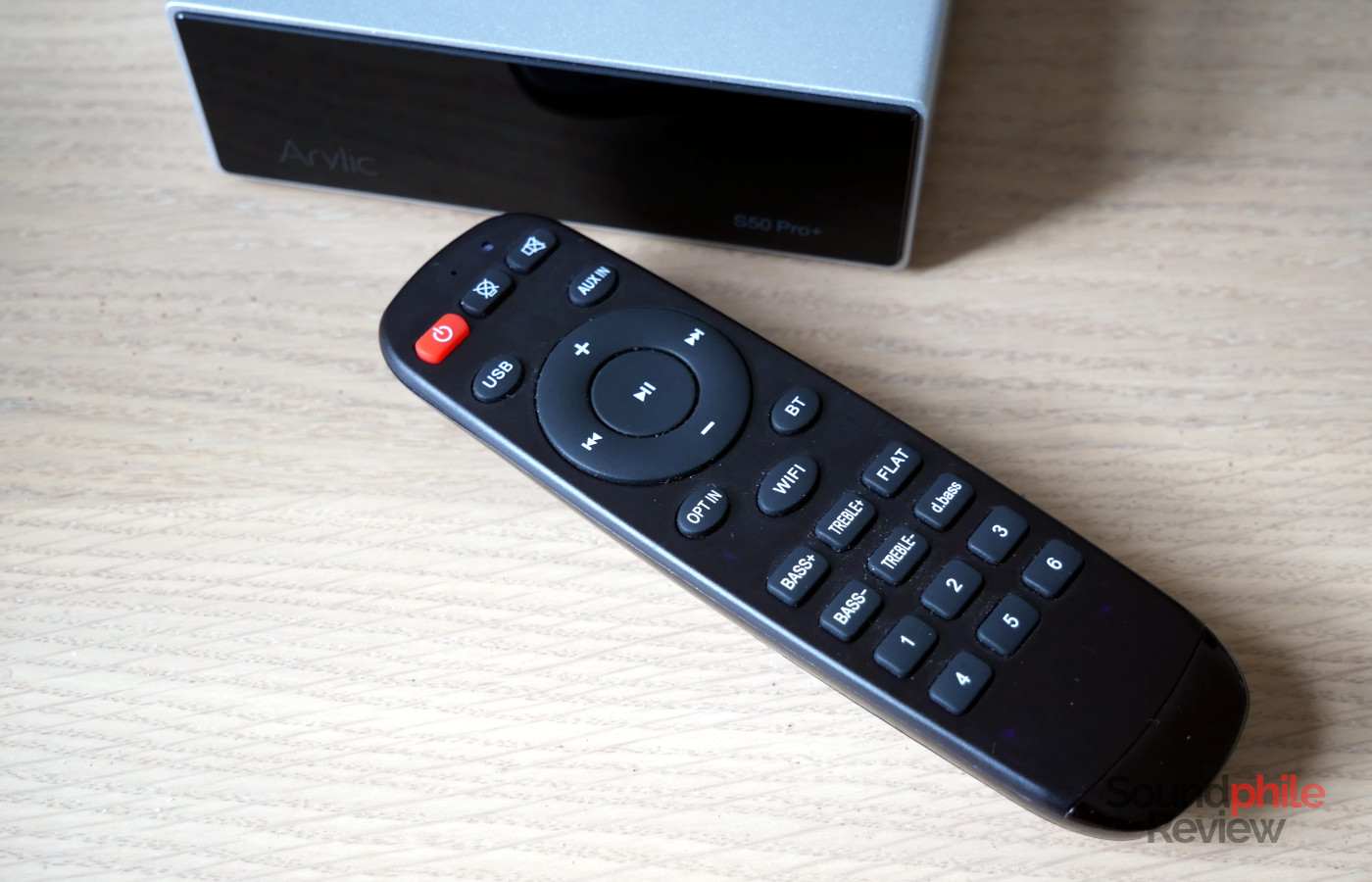 The remote is small and made of plastic. It requires two AAA batteries to operate. It has buttons to power on and off the device, to turn off the screen, to mute music, to select input(USB, aux in, optical in, WiFi and Bluetooth), to adjust volume, to control playback (previous track, play/pause, next track), to equalise the sound (increase and decrease bass and treble, as well as to bring the equaliser back to a flat line and to use the d.bass preset which dramatically boosts bass), as well as six numbered buttons you can program through the application.
Specifications
DAC chip
ESS Sabre ES9023
Amp chip
N/A
Suitable headphones impedance
N/A
Output impedance
N/A
Maximum output power
N/A
THD+N (@1 kHz)
< 0.03%
SNR
110 dB
Operating System
Not disclosed
Supported formats
PCM up to 24 bit / 192 kHz
Bluetooth (aptX-HD)
The Arylic S50 Pro+ is built around the ESS Sabre ES9023 DAC, which is now showing its age but is still quite a good chip. It also offers Bluetooth 5.0 compatibility, with support for the aptX-HD codec, as well as Ethernet (up to 100 Mbps, as mentioned, which is still enough for streaming music) and WiFi. It has to be noted that the device only supports WiFi up to version 4 (802.11b/g/n) and only in the 2.4 GHz part of spectrum, so there's no support for more modern 5 GHz networks.
The output through RCAs is described as "line out", but it actually works as a preamplifier so you can adjust the volume right from the S50 Pro+. This way you can use its remote to control the volume without needing to adjust it on the speaker amplifier, as an example.
The boot process takes around 30 seconds and when it's complete the unit plays a short notification sound (it's actually from Android!) and a voice confirms that the unit is connected to the network. The display also shows that the device is done booting and displays the IP address of the device.
The USB port only works with storage devices like pen drives and hard drives; I've asked the company if it would support playing CDs through a USB drive, but they answered that it is not possible.
In terms of file formats, the list of supported ones is quite extensive and includes MP3, AAC, AAC+, ALAC, FLAC, APE and WAV. Unfortunately there's no support for DSDs.
Software & Features
Arylic provides an application to control their devices called 4STREAM, available for both Android and iOS. This application allows you to set up and manage all of Arylic's devices, as well as set up the connection to streaming services and multi-room setups.
The setup process is not quite streamlined, but overall it's easy to go through its step. It requires you to enable both WiFi and Bluetooth on your device, scan for any Arylic devices on the network and then connect to the new device's own WiFi network so that you can select the correct network and provide a password. Once this is done, you can play music from your device, from any compatible sources on your local network (e.g. DLNA servers) and from a variety of online sources which includes Spotify, Tidal, Qobuz, Deezer, Napster, Amazon Music, Pandora, iHeartRadio and TuneIn. That's quite a long list! It should be noted that the connection to Amazon Music happens with the US-based services, so if you reside outside of the United States and have an active subscription for Music Unlimited, it won't work. The app also allows you to select the source between WiFi, Bluetooth, optical and line in.
Among the (few) options the app provides, there are a sleep timer and alarm clock: you can use the former to stop playback after some time, and the second to wake you up. The app also allows you to specify what happens when you press the number buttons on the remote: you can set individual playlists from local storage, the local network or a streaming service like Spotify.
There is also the possibility of creating a multi-room setup, through which you can pair multiple devices and make them play music e.g. with synchronisation across rooms. You can set a name for every device in order to more easily recognise them.
Finally, there is an equaliser which is overly simple and only allows you to boost or reduce "bass" and "treble" by five stops, without further indication of what that means in terms of frequencies affected; that could be an advantage, though, if you are not into manually fiddling with frequencies, but having the option of accessing an "advanced" equaliser would be nice.
I'm overall not too fond of the 4STREAM application Arylic provides to control the device. It is quite unintuitive, with the interface that's not overly clear and that could really use some rework; plus, on Android it looks like it has been adapted from iOS, which makes it feel less integrated in the OS than it could. On top of that, the UI and UX are a bit clunky. There is a potential issue with devices having lower computing power, as the app appears to automatically build a library of the tracks on the device the first time you tap on "my music", but it gives no visual cue that this is happening and appears to be frozen (with the OS even prompting to close the app because it's unresponsive); it can take several minutes for this process to finish, which is something Arylic could look into improving.
Sound
I have mostly done testing on the Arylic S50 Pro+ by connecting it via an RCA cable to my SMSL DA-8S amplifier powering a pair of Q Acoustics Concept 20 speakers.
My impression is that the S50 Pro+ does its job quite darn well. Comparing it with the SMSL SU-8 v2, I can hear no differences whatsoever, meaning that the S50 Pro+ sounds transparent and doesn't add any colouration of its own – as it should. Transients have the right impact and decay, and instrument separation is great.
Although it falls in the affordable range for its category, the S50 Pro+ delivers everything it's expected to. From a purely acoustical perspective, it is totally in line with many great DACs out there, at least from the perspective of subjective listening tests.
Final Thoughts
I think that the Arylic S50 Pro+ is quite a good device, but it is held a bit back by its software. It is a very capable device that does quite a lot of things and can really work as the centrepiece of a sound system by providing it with a whole lot of connectivity options, from simple Bluetooth to Ethernet and WiFi, not to mention optical. Although it sounds good on its own, it can also act as a transport for more capable DACs, as an example, as it offers optical and coaxial output. It is a great addition to an existing system that lacks connectivity, but it can also be used to create a whole new system of course.
The software needs some work to be at the same level as the hardware. It is functional and it provides everything you need, but it has some roughness around the edges that could be smoothed out to make the experience better. Still, this doesn't stop me from recommending the purchase of the S50 Pro+: at the price it sells at, it's a very good device that can surely provide a lot of value.