The new 1More Spearhead VRX are not your average gaming headphones. What started as a fad made of aesthetics and adherence to a standard view of what is "gaming" (chiefly, again, in terms of looks) is now becoming something more from an acoustical and technological point of view. The 1More Spearhead VRX in fact offer something entirely new – active head tracking and 3D soundstage reconstruction – that is interesting to people beyond gamers, including audiophiles. I was initially sceptical due to the general exaggeration in announcements regarding gaming headphones, but the first time I tried these headphones they immediately showed they were different from other products I had tried before.
1More has a track record of producing headphones meant to be used by the average consumer or the audiophile, with a somewhat large line-up that goes from the low end to the mid-range. This line-up recently got further expanded to include gaming headphones. The Spearhead VR were the first and they're now being supplanted by the Spearhead VRX, which include the Waves NX technology that promises to get immersion to the next level. And that technology is the reason why they are so interesting.
Disclaimer: this unit came from 1More Europe. I would like to thank Thomas for making this possible – and my colleagues at Hardware Upgrade, too. More information on 1More's website.

TL;DR: recap
Pros




Cons

Decent build quality

Bass boost adds engagement but keeps balance in check

Use of Waves NX makes them  incredibly immersive and engaging

Creaking headband

Shallow earcups

Comfort needs improvement

Software only works with Windows
Rating: 7.5/10
Packaging & Accessories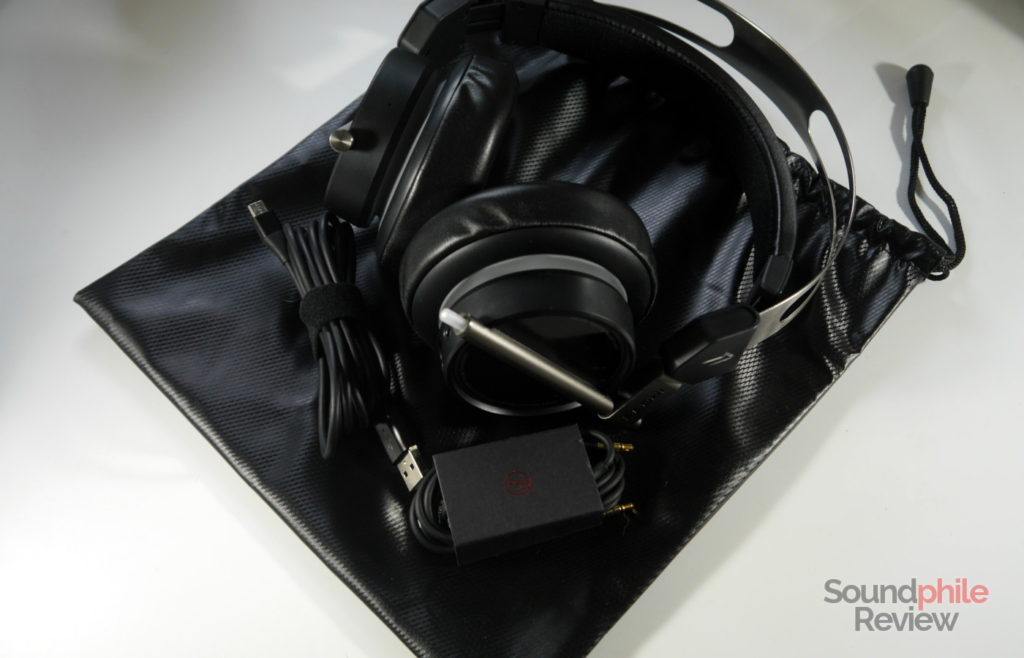 The heavy cardboard box comes with a few accessories. 1More included a traditional 3.5 mm jack (4-poles or TRRS) to connect the Spearhead VRX to sources other than a PC, such as a console controller, and a USB to micro-USB cable to use the headphones with a PC. There's also a soft bag to fit the headphones in when not in use, made of plastic.
Design & Comfort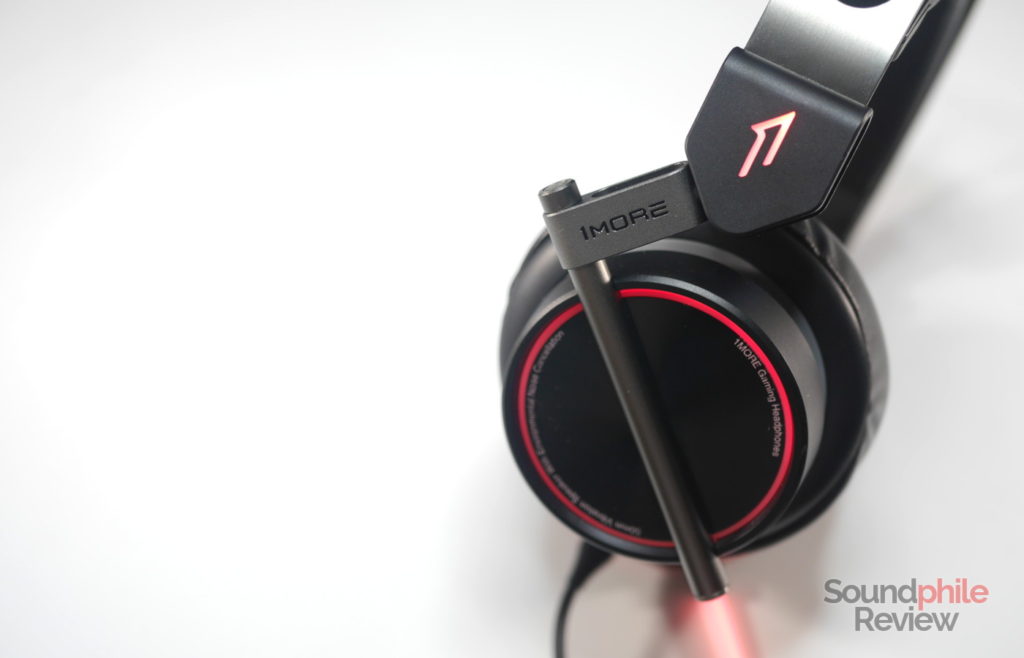 The 1More Spearhead VRX are just like your archetypal gaming headphones: flashy, full of LED lighting of various colours and definitely aggressive in their looks. This obstinacy in producing such designs by manufacturers is a bit of a running joke by now, but all in all the Spearhead VRX are not that bad – I've seen worse. The design principle is that of the suspended band, similarly to the Meze 99 Classics – it is pretty much the norm nowadays. The metal headband has large holes in it that keep it light; the metal is not painted and it is polished so that it's shiny. The other metal parts, such as the hinges and the bars that cross the earcups, are instead matte and more raw-looking.
The earcups are covered by plastic circles that have circular grooves that reflect light like a CD would. The text that appears inside the earcups, as well as the "1More" text and logo on the hinges, lights up when using the micro-USB connection.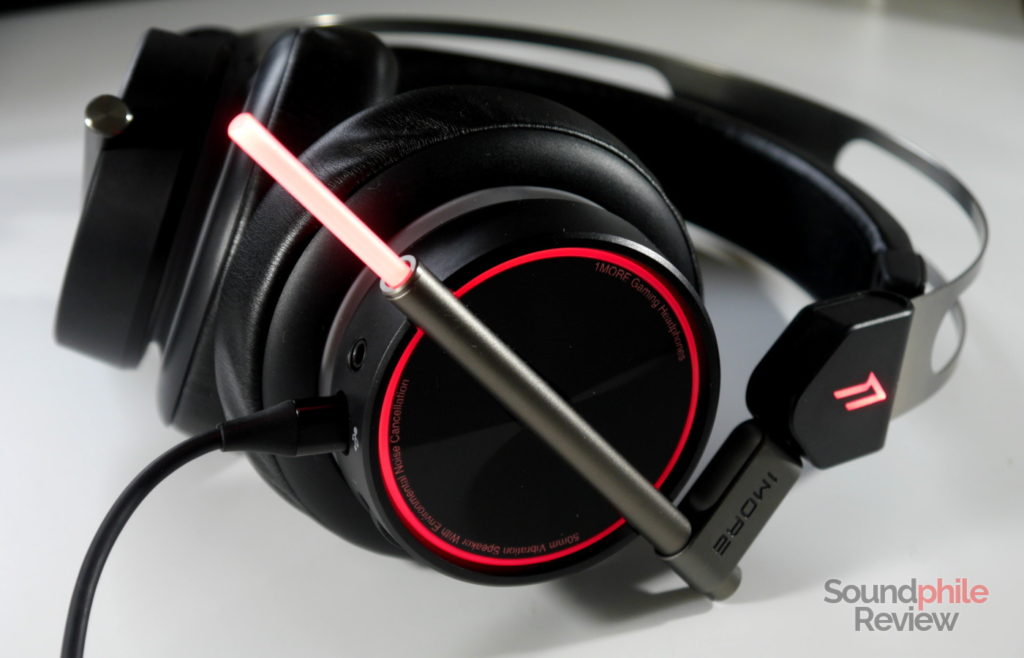 The padding on the earcups is spacious enough to let the ears fit, but it's not very deep and causes the pinnae to come in contact with the plate covering the driver. This makes comfort inferior than ideal, even though the padding is soft and it is covered in soft faux leather. The headband is not covered in equally soft padding, as it uses minimal padding covered in fabric. The padding is not enough to shield you from the inner plastic core and makes long listening or gaming sessions difficult – especially if you have sensitive scalp like mine.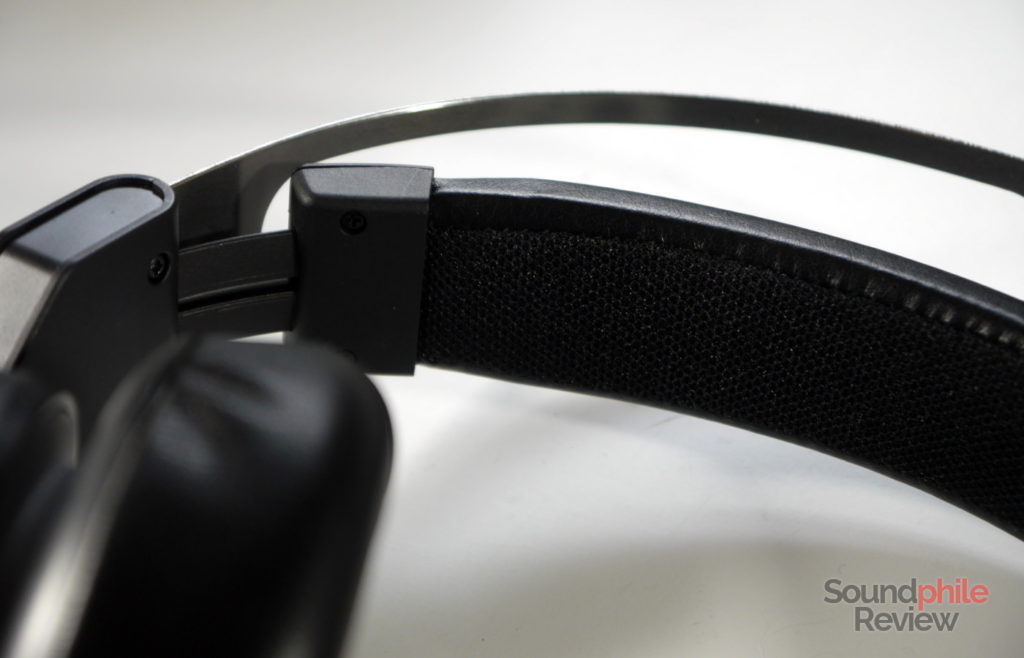 On top of this, there is a whole lot of creaking: every movement causes the headband to creak. It seems like something in the headband's inner plastic core is not entirely fine. It's definitely not the best thing, as it can get annoying soon. This issue aside, everything else is quite well built: high quality materials, including hard plastic and metal, are assembled with precision and without apparent flaws.
The left earcup is home to all the controls and connectors: there is the microphone switch, a volume dial (which you can also press to switch between volume and bass boost adjustments), a micro-USB port and a 3.5 mm jack connector. There's also a retractable boom that lights up together with the rest of the headphones and serves as a mic activity indicator – it lights up when the microphone picks up any sound.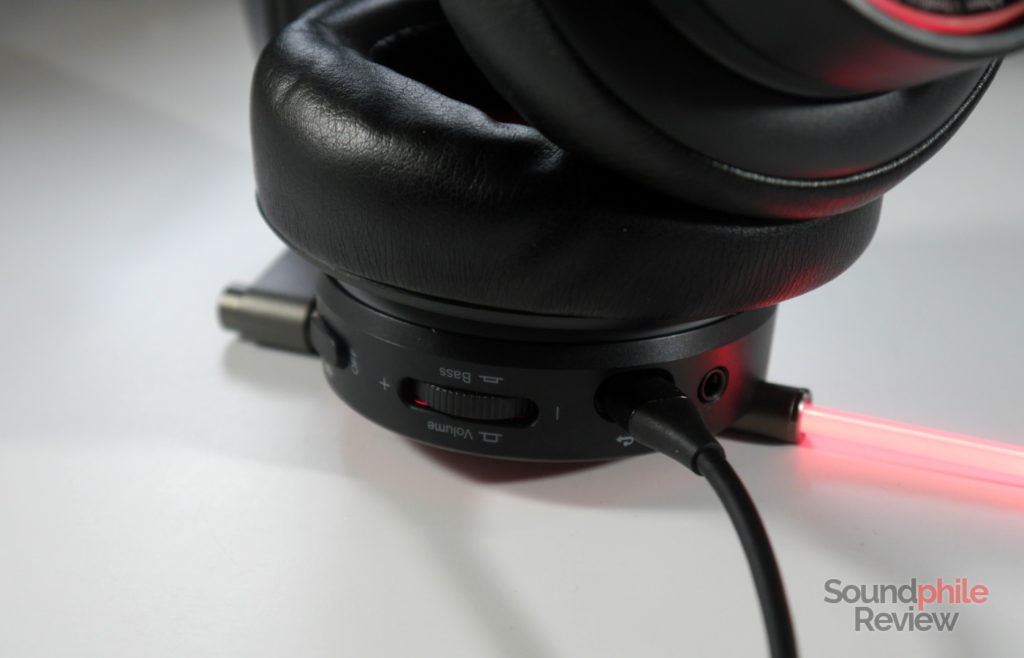 Software
What makes the 1More Spearhead VRX so interesting is in fact software. It is in fact the Waves NX technology that makes these headphones stand out from the overcrowded gaming headphones space with peculiar sound features. The NX technology tracks the head position and dynamically equalises sound so that it seems to come from different directions. This does not seem too different from a standard software 7.1 surround implementation, yet it is fundamentally different in the result – though we'll delve deeper into this in the Sound section.
The 1More Spearhead VRX are only compatible with Windows using the USB connection, as the driver is only available for the Microsoft platform. This means that consoles and other computer platforms (e.g. macOS, Linux) will not benefit from Waves NX and therefore will forego all the software audio changes. While I find that unfortunate as a Linux user, that's the way things are now and not an exclusive to 1More (I'm looking at you, Razer, and at your Synapse software).
The application that comes with the driver allows one to set all the different settings and features of the headphones. This includes volume, bass balance (as one can increase bass to their liking), LED lighting, noise cancelling on the microphone, head tracking and equalisation. Bass can be adjusted using the volume wheel on the left earcup, as explained before, but the visual control can help adjust it better. LED lighting can be set to one of the 16.8 million colours possible and there is a colour picker in the form of a wheel; additional effects such as breathing can be added. The equaliser has 10 bands, so it's pretty standard; the best thing is that it is system-wide, so it will influence games, music, videos and Internet content. The experience will therefore be consistent across all kinds of content – which is nice!
The real news is the fact that moving your head also makes the sound move, as if it was coming from a source with a precise location. The Waves NX software is able to successfully mimics the same positioning in space of sound that we find in our everyday reality – the effect is pretty convincing. I tried a few games, such as Crysis and DOOM (2016), and I was amazed at how good the effect was. It was like finding myself directly in the middle of the action – just as if I was there. The same applies to multimedia content such as films: the effect is impressive, as the sensation is similar to that of being at the cinema with more advanced surround sound system. When listening to dialogue, the impression is that the person(s) speaking are right there in front of you. It is definitely a step up from previous technologies.
Alas I was not able to try the 1More Spearhead VRX using a virtual reality headset, but given how it performs with "normal" content I can only imagine what it can do with VR – this is the future of audio with virtual reality, you can bet on that.
Sound & Specs
I tried the 1More Spearhead VRX using its own internal DAC and amplifier, thanks to the USB connection, but I also paired it up to my Topping DX7 using the jack cable. In order to use the microphone I also paired it with my PC's integrated sound card (I have an ASUS ROG Crosshair VI Hero, which has a "ROG SupremeFX" audio card with an ESS Sabre ES9023P DAC).
| | |
| --- | --- |
| Frequency response | 20 – 20,000 Hz |
| Impedance | 32 Ω |
| Sensitivity | N.D. |
The 1More Spearhead VRX use a single dynamic driver which the company says is coated with graphene. This should make it stiffer and therefore better at reproducing low frequencies. In fact, when listening to the headphones using the 3.5 mm jack the tuning is decently balanced, though biased towards the mid-bass. They're actually decent even as "music headphones", which is not that common for gaming headphones.
That changes completely when using the USB connection, though. That excludes your DAC and amplifier (even those integrated in the PC's sound card) to take advantage of the headphones' integrated electronics; this makes the sound much brighter and shifted towards the higher frequencies – so much that using the equaliser to boost bass is almost mandatory in order to get a somewhat balanced tuning.
When using the Spearhead VRX as passive headphones they're fairly average in their technical ability; soundstage is notably not too wide. Using the integrated sound processing, however, soundstage becomes very wide and there is a change in how the sound is presented: it appears like it is coming from the front, as if there were speakers playing. That's remarkable in and by itself, but it is then joined by all the processing described in the software section. That makes listening to music and multimedia content an entirely different experience from what we've seen so far in the headphones space. Imaging is of course completely different, as using the micro-USB connection makes the software kick in and take over sound representation leading to extremely precise imaging – though the Spearhead VRX are of course good at imaging even when driven with the jack cable. This is the gist of the thing: as the Spearhead VRX are good headphones by themselves, they can take advantage of the additions brought by software.
Just as I did when reviewing the Plantronics RIG 500 PRO, I am not going to dissect the sound signature as usual – it would be pointless enough. But I will delve into some detail for specific things.
The general sound signature, as I wrote previously, is tilted towards bass and offers therefore a boost in presence to all those things – explosions, gunshots, etc – that give spectacularity to the gaming experience. This emphasis is not excessive, however it is in fact noticeable. It makes the gaming experience fun without taking much away from it, as the bass is never so prominent as to cover the rest – if we look at things from this perspective, the signature is balanced as it leaves room for midrange and treble too.
When the USB connection is in use, however, everything is shifted to higher frequencies and this makes bass much less prominent – up to the point it is barely there at all. This forced me to adjust the tuning using the equaliser, boosting bass below 200 Hz and especially at the 50 Hz mark. In order to have some decent (and fun) presence, boosting bass by 6 dB is not as excessive as it may seem. This brings back the much-needed bass presence and immersivity.
There are flaws, too. The shift towards higher frequencies is not always positive and leads to confusion in some situations: as a practical example, the suit's voice in Crysis is often barely audible when changing suit modes in loud combat situations. Fiddling with equalisation does not yield much. What's odd is that other voices are perfectly clear, so it must be specific to the frequencies of the suit's high-pitched voice.
This frequency shift is also not good at all if you want to listen to music as it changes the way it sounds in a fundamental way. There is nothing one can do about this – it is a limitation one can't circumvent as it is essential to shape the sound's mimicked direction.
Microphone
The "boom" on the left earcup is in fact just an aesthetic addition; it does not have a microphone on it, as the real microphone is in the right earcup. This prevents communication from being always crystal clear, despite the ENC (Environment Noise Cancelling) technology that cancels a good amount of noise. Coupling this technology with a microphone installed on a boom, and hence nearer to the mouth, may have yielded better results. Overall the performance is not bad at all, but it could have been better – especially if you happen to play in noisy environments.
Final Thoughts
The 1More Spearhead VRX are indeed interesting and even surprising. Not only because of the Waves NX technology, which is impressive to say the least, but even because of the fact that the headphones are actually decent even from a music listening point of view – something that, alas, is seldom true for gaming headphones. The Spearhead VRX are pretty good however you look at them.
But what makes them different from most products on the market right now is the aforementioned Waves NX technology, which really changes the perspective on audio for entertainment purposes granting the user an immersivity that is completely unprecedented. The ability to feel like you are in the centre of the action is invaluable, and it gives any game or film a boost in enjoyability that I did not believe to be possible. This is unlike any other surround technology I've heard. And the 1More Spearhead VRX couple that with a very decent acoustic ability (both in terms of signature and technical ability), which leads to a very, very interesting device.