RØDE is certainly not a new name to whoever approached the world of audio recording, as the company has made a name for itself in the microphone space and is among the best-sellers worldwide. They started producing audio interfaces a while ago, too, and they debuted a digital mixer with the first RØDECaster Pro a few years ago. Last year they launched the new RØDECaster Pro II, a complete redesign of the product which is, in fact, a recording studio in one small, desktop-sized device. This quite impressive contraption can manage multiple inputs and outputs with competence and offers great flexibility for whatever audio project you need to work on.
Disclaimer: I got a free unit directly from RØDE. There is more information on their website. The RØDECaster Pro II retails for $699.

TL;DR: recap
Pros




Cons

+ An incredible amount of features at your fingertips

+ Superb build quality

+ Vast amount of input and output options

+ Great sound

– Quite expensive
Rating: 9.5/10
Packaging & Accessories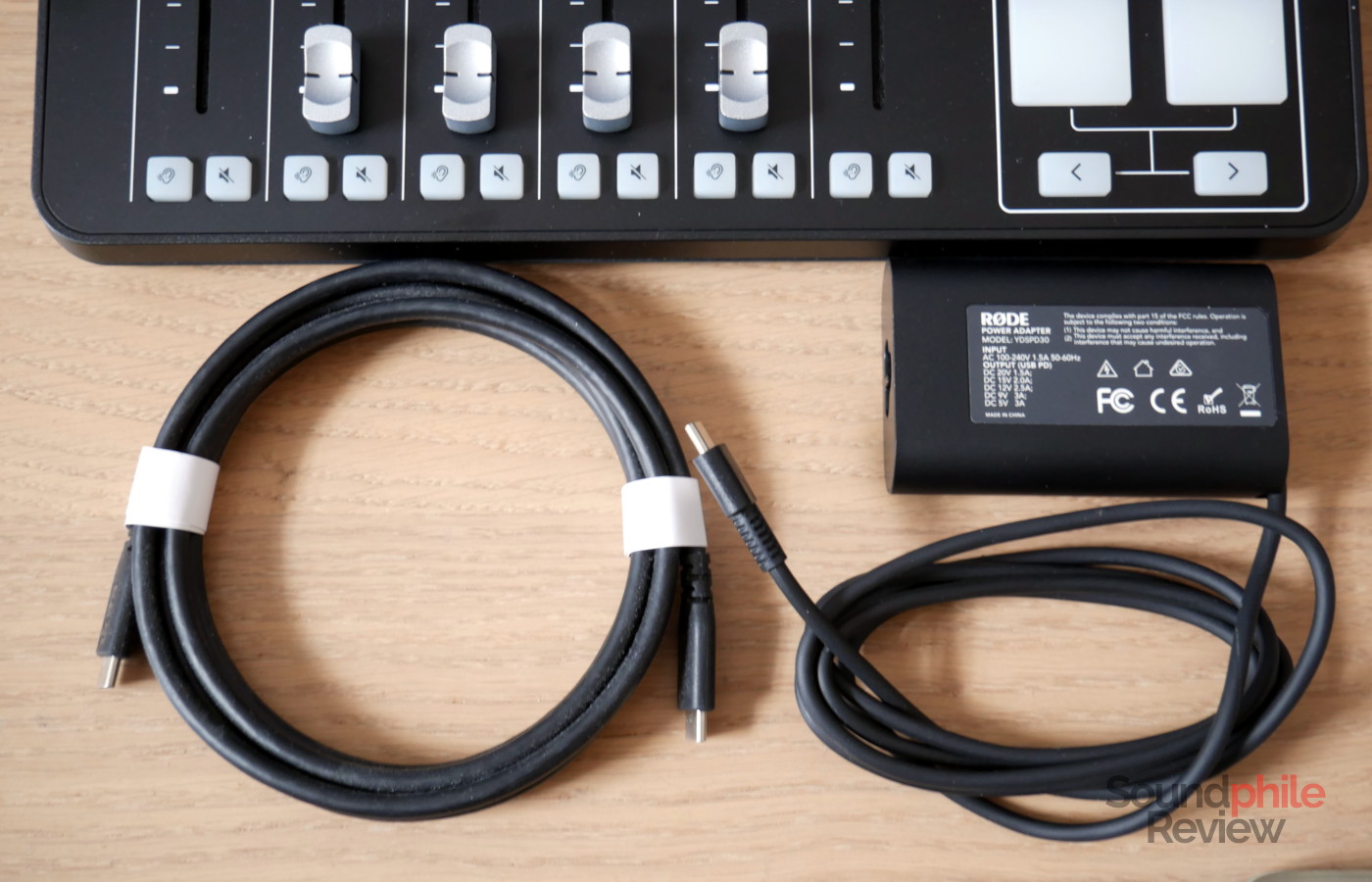 The box doesn't contain much: on top of the device itself we only find its USB-C power adapter (which is USB Power Delivery-compliant and outputs up to 30 W) and a USB-C to USB-C cable.
Design & Build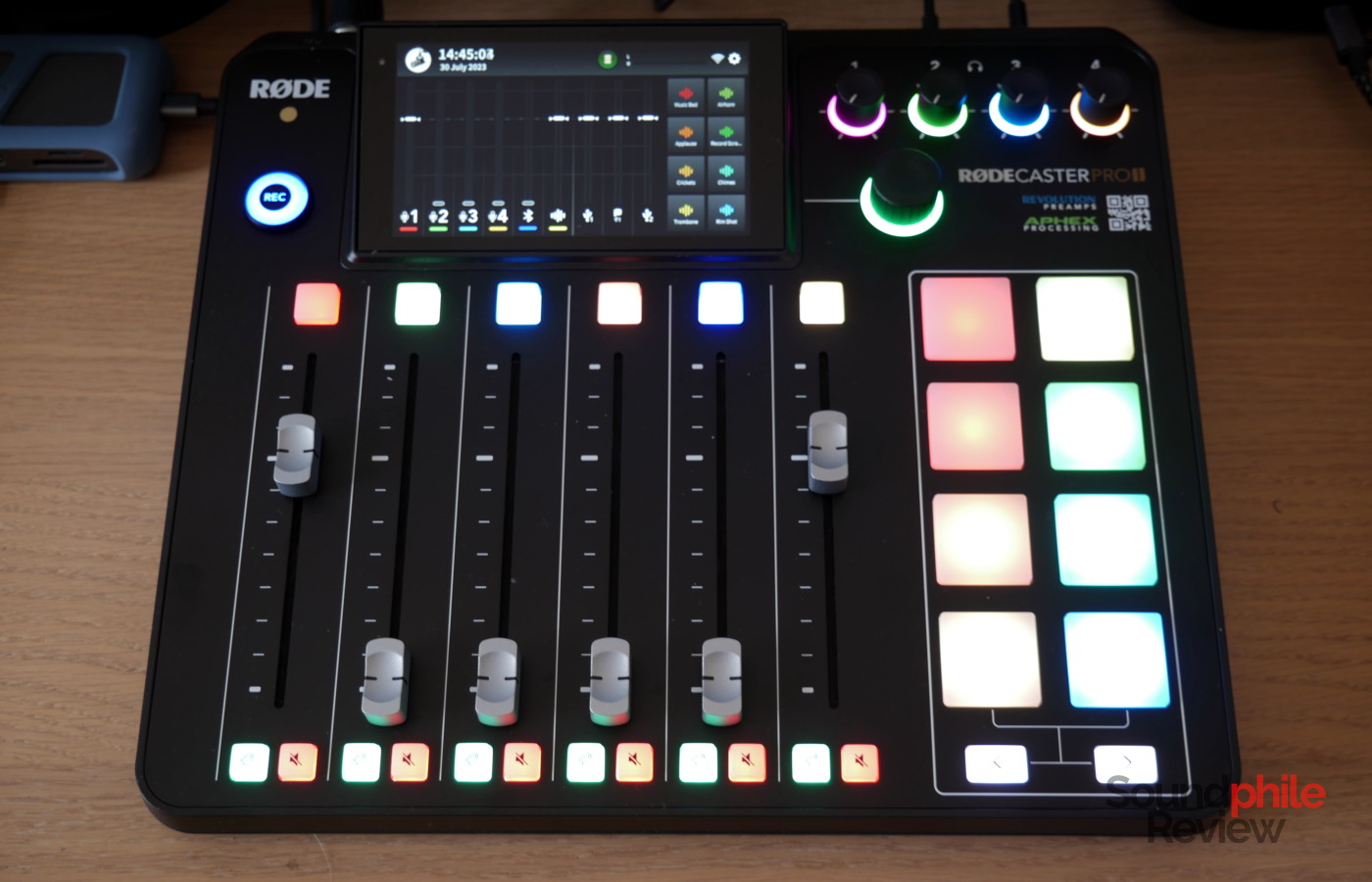 The RØDECaster Pro II would look a whole lot like a normal mixer – it has six faders and a bunch of knobs and buttons – were it not for the screen on the top left. This 5.5-inches display is what sets the device apart, as it allows you to access a whole lot of settings and effects. All of the buttons and knobs light up in different colours, most of which are customisable (and they're all supremely difficult to photograph: the colours you see are actually a lot less vivid than they look in real life, but taking good pictures of them is a bit of a nightmare!).
At 305 x 270 x 60 mm, the RØDECaster Pro II is quite large and requires a big desk to be used together with a normal desktop setup. It requires some careful consideration as you need to have enough space on your desk (or somewhere else) to fit it into.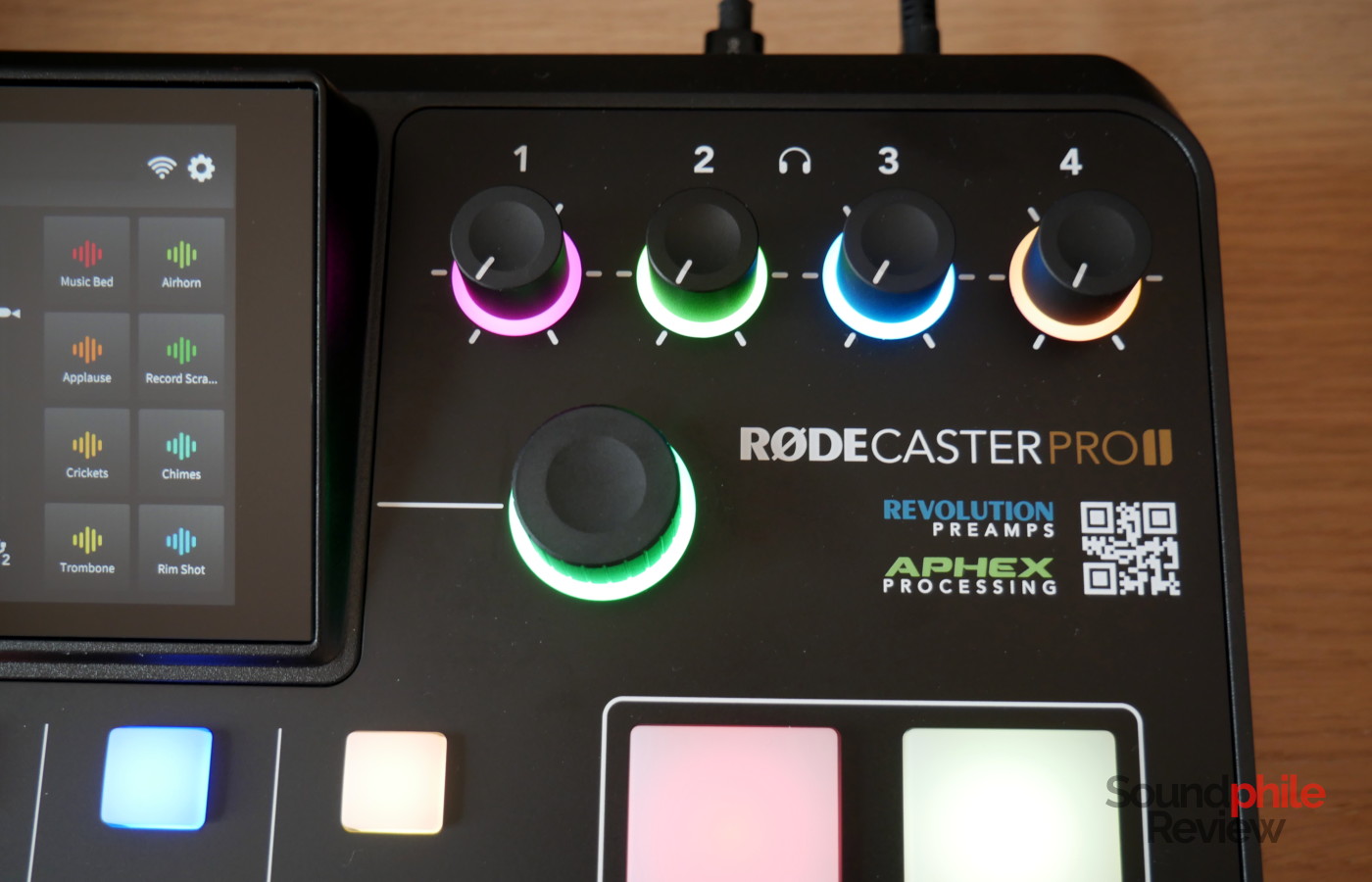 Starting from the top left, we find a recording button, four knobs to adjust headphone volume, a digital knob (meaning it spins infinitely and only controls stuff on the screen), six faders each with a button on top as well as a feedback on/off and a mute button on the bottom, eight programmable buttons divided in three different sets, which can be selected using two further buttons on the bottom. It sounds much more complicated than it actually is!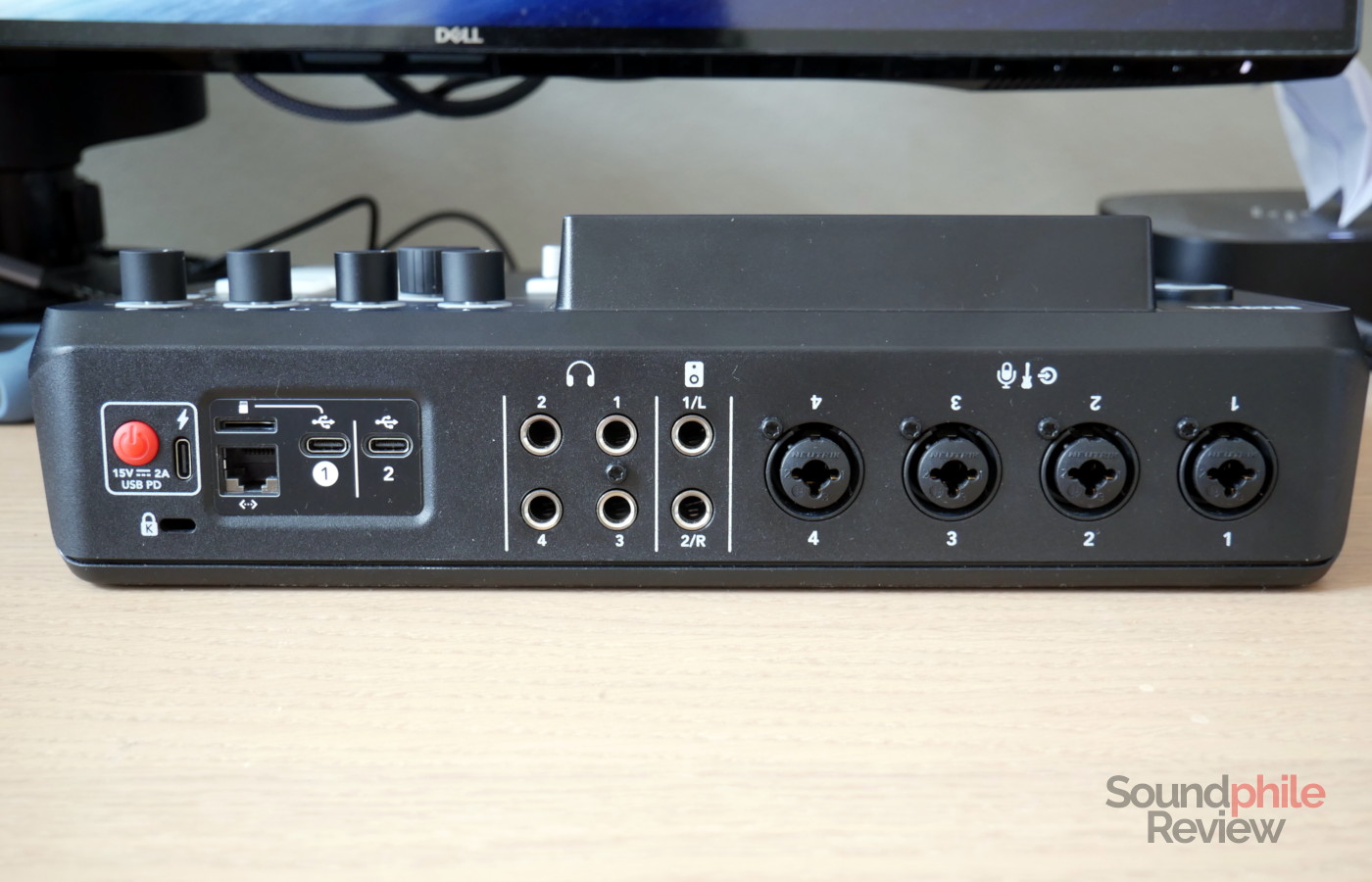 On the back of the device we find the power button (so you can power on the device without lifting the cover), the USB-C port to provide power, a microSD slot, a Gigabit Ethernet connector, two USB-C input ports, four 6.3 mm headphone output jacks, two 6.3 mm speaker output jacks, as well as four XLR/jack combo ports. The RØDECaster Pro II also offers the ability to use audio coming from the two USB-C ports as well as from Bluetooth.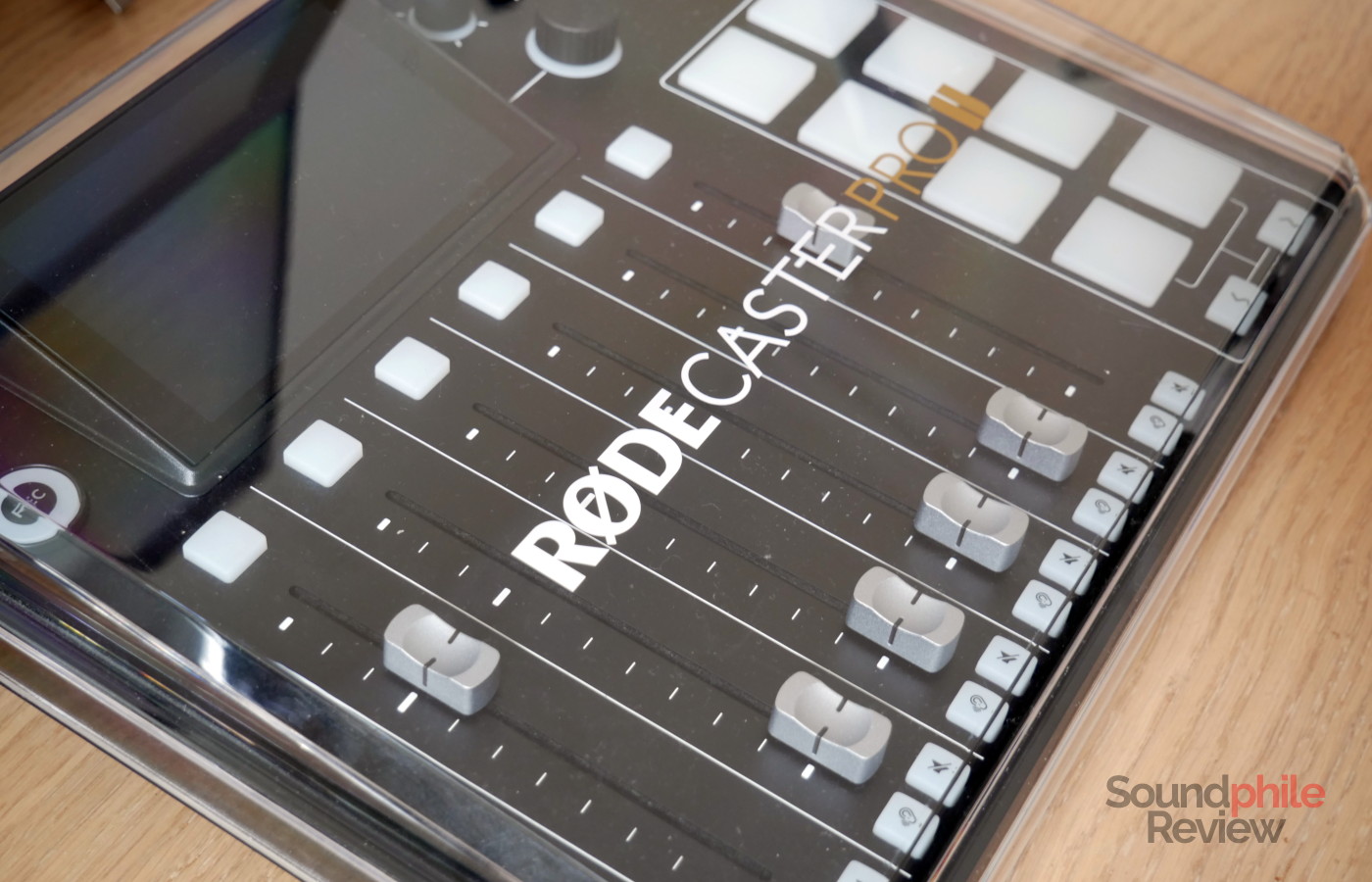 There is a transparent plastic cover which you can buy separately. It does a remarkable job at keeping the unit clean when not in use, which is essential given how you really don't want it covered in dust. The only complaint I can voice about it is that you cannot turn the unit off without removing the cover and touching the screen, though this is really more of an issue with the software than with the cover itself.
Build quality is very high and the device appears to be incredibly well built, with quality plastic that looks and feels solid. The knobs all have some weight to them, a fact which also helps making them feel more solid.
Features & Specs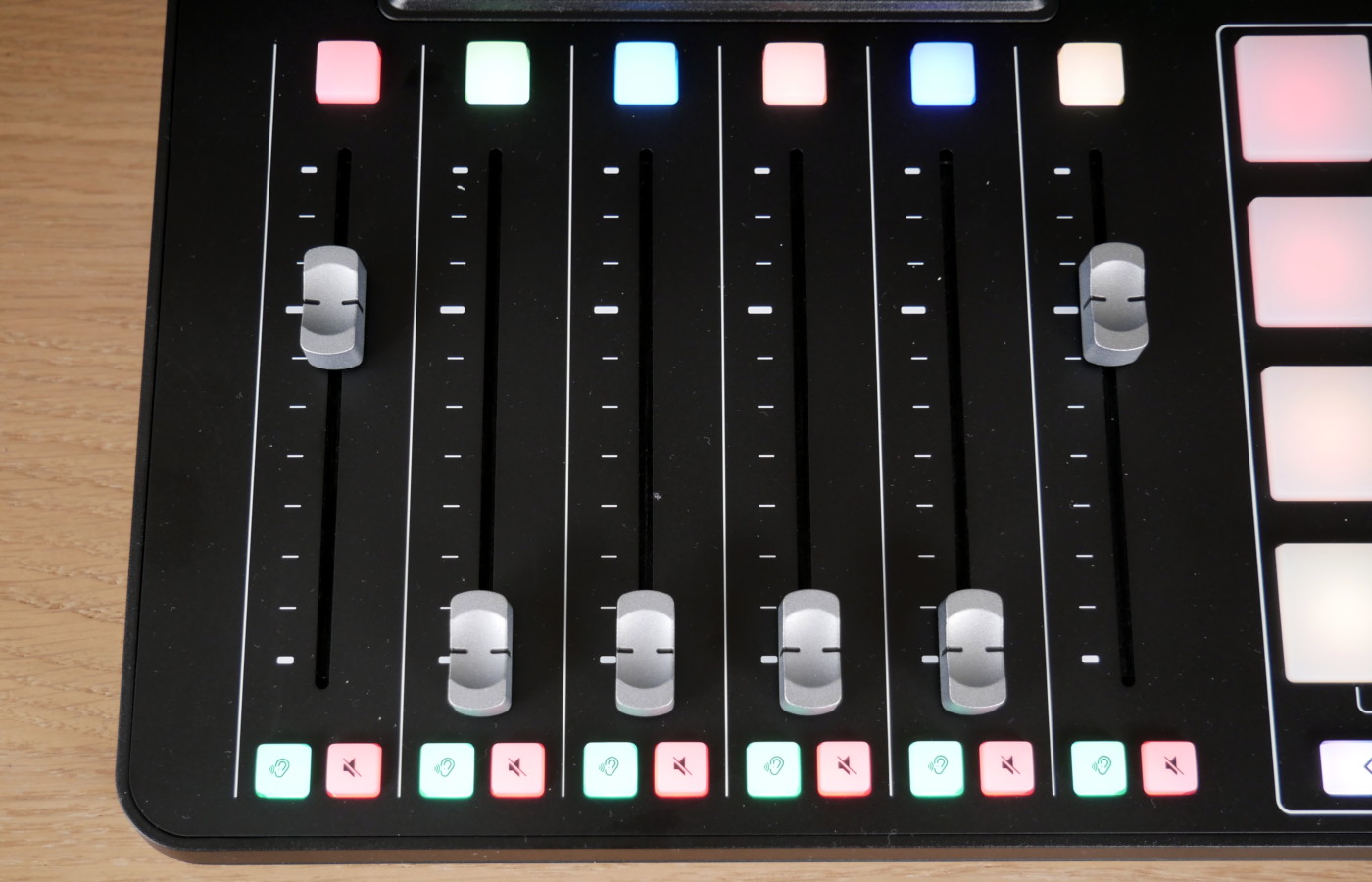 The RØDECaster Pro II offers an incredibly wide variety of features. You can connect up to three devices at the same time: two through USB-C (e.g. computers) and one through Bluetooth. This makes it possible to also use phone calls, as an example, in your mix. You can also use the secondary USB-C port to connect a storage unit (e.g. a USB key). The unit comes with 4 GB of onboard memory that you can use to store recordings or sound effects; this can be expanded with a USB-C storage device or through a microSD card.
RØDE specifically developed new preamplifiers, which they call Revolution Preamps, for the RØDECaster Pro II. These chips are specifically designed to limit noise to a minimum and the company claims they reached an impressive -131.5 dBV EIN while also providing 76 dB of gain. There is support for both dynamic and condenser microphones, as the device offers 48 V phantom power. The company doesn't specify what ADC and DAC chips it uses, but the device can manage audio streams up to 24 bit and 48 kHz, in both recording and playback. RØDE claims the headphone output has a maximum power of 250 mW, though they do not specify the impedance (though I suspect it is 32 Ω).
The firmware is upgradable by connecting the device to a network through either the Gigabit Ethernet port or WiFi (it supports the IEEE 802.11b/g/n/ac standards, so up to WiFi 5, in both 2.4 GHz and 5 GHz). It is interesting to note that the RØDECaster Pro II is in fact a small computer, as its operating system is actually a full-blown Linux distribution, though tailored for the device. Probably due to the initialisation time of the audio components, the device is a bit slow during boot: it takes roughly 30 seconds from the moment you press the power button to the device being usable, which is quite a bit. This is the (admittedly small) price to pay for the incredible versatility you get.
Supported operating systems include Windows 10 (1803 and later), Windows 11 and macOS 10.15 and later, as well as recent Linux distributions. I have tested it on KDE Neon, derived from Ubuntu 22.04, and it works in a plug-and-play fashion; it also works flawlessly with a Steam Deck.
Software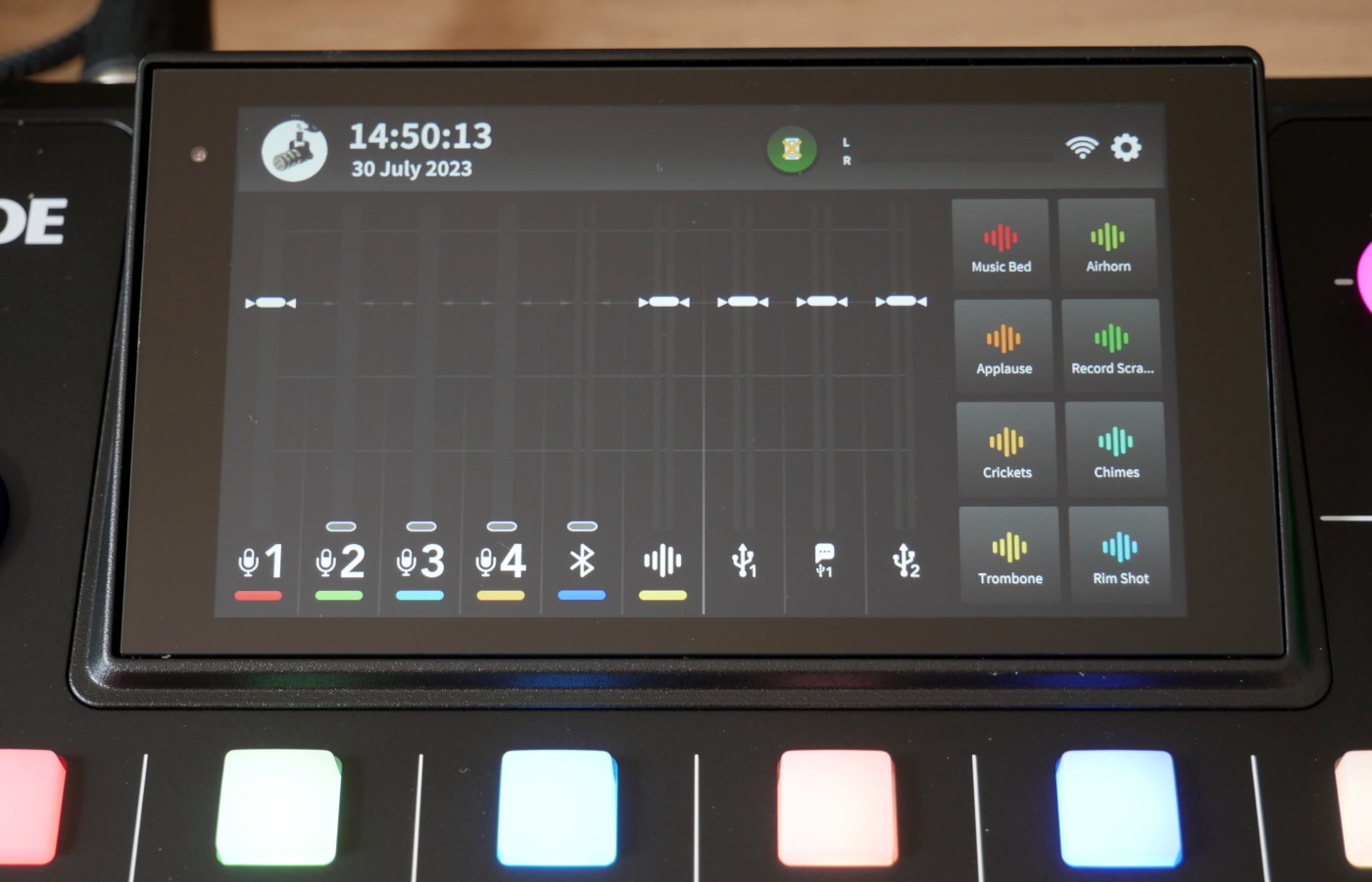 The RØDECaster Pro II's software is highly powerful yet really intuitive to use. The UI gives you access to a wide variety of settings without making the complexity overwhelming; all the options are easily accessible even to users who are not used to devices like this. You don't actually need to do anything to start recording immediately, as the default settings are calibrated to give you great results from the get-go. You can delve into the settings to use advanced effects or to adjust them to your liking.
The main screen (above) gives you a good overview of the status of inputs and outputs. It shows you the time and date, the volume of monitor speakers, the WiFi connection status, the volume of both physical and virtual faders (which include main USB, chat USB and secondary USB), as well as the effects available on the sound pads. The "chat" USB input is designed to allow you to adjust the volume of applications such as Discord, in order to manage those separately.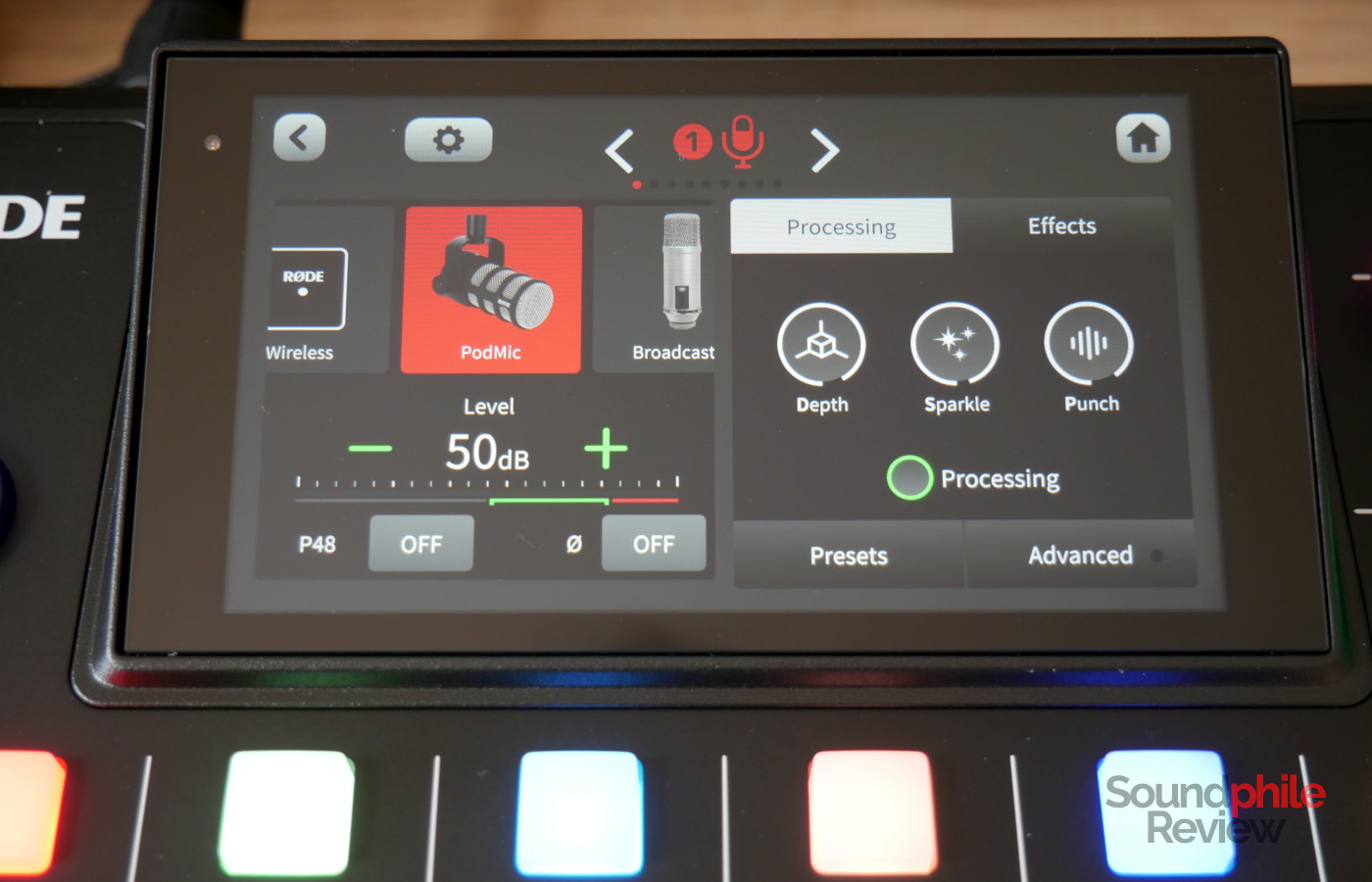 Pressing the buttons above each fader brings up the relative configuration screen, which allows you to apply new default settings for each channel; as an example, you can select the microphone from a list or create a new preset. You can also apply a wide variety of sound effects thanks to RØDE's own APHEX sound processing tech. As an example, you can adjust depth, sparkle and punch for a given microphone; there are three presets available (neutral, podcast studio, broadcast) but you can also create more. There are also advanced settings available which allow you to use a high-pass filter, a de-esser to reduce the impact of sibilants and plosives, a noise gate filter, a compressor, an equaliser, an exciter and a panning filter. All these settings give you extreme freedom to tune your sound the way you like it.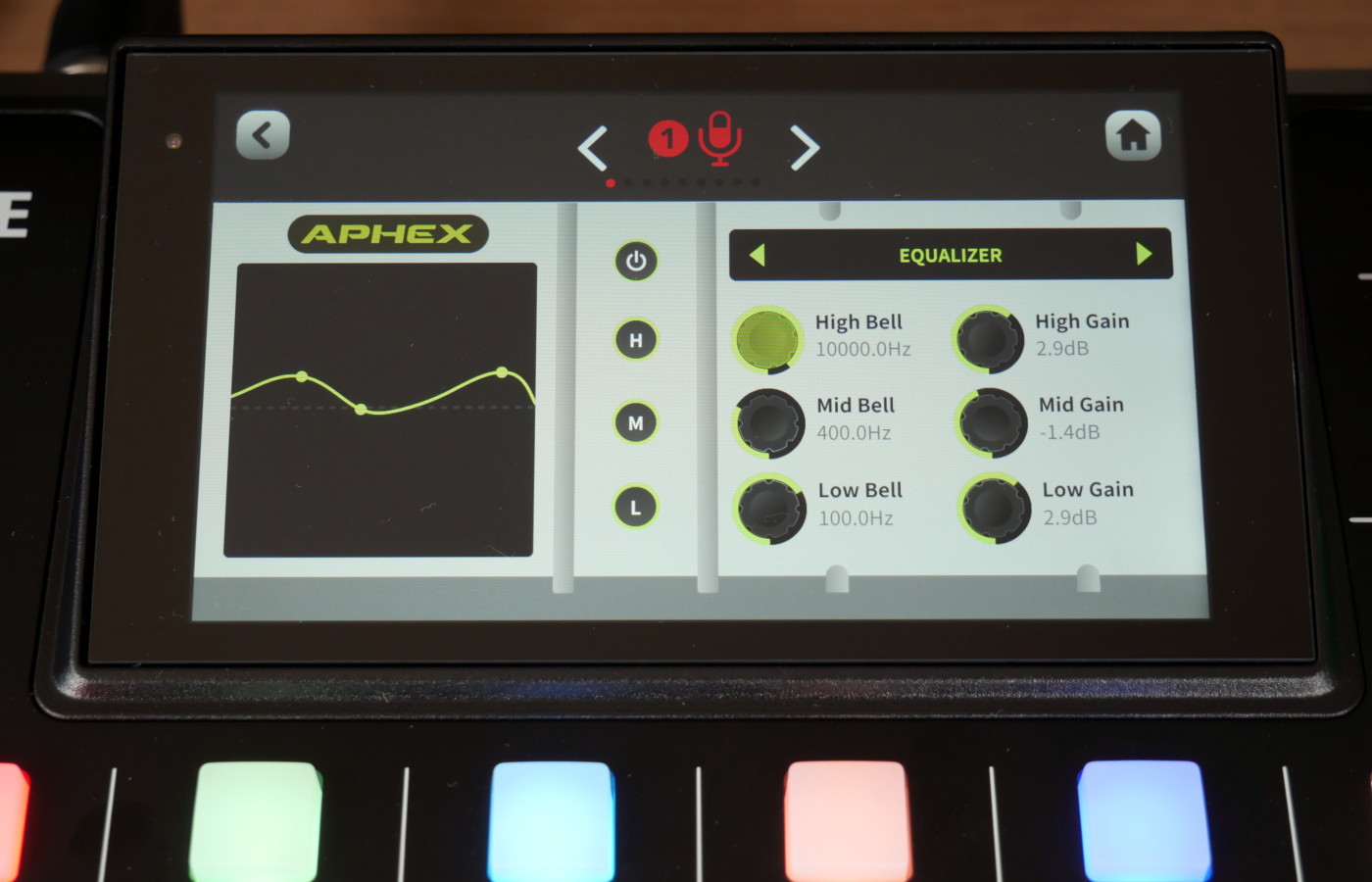 You can also access "shows" directly from here. Shows are sets of presets that you can save, which is especially useful if you need to create different types of content with different needs. As an example, you could have to record your voice as well as instruments, with differing settings between the two: you can do that easily by using different shows. This is quite convenient as it allows you to retain your settings without having to manually alter them every time.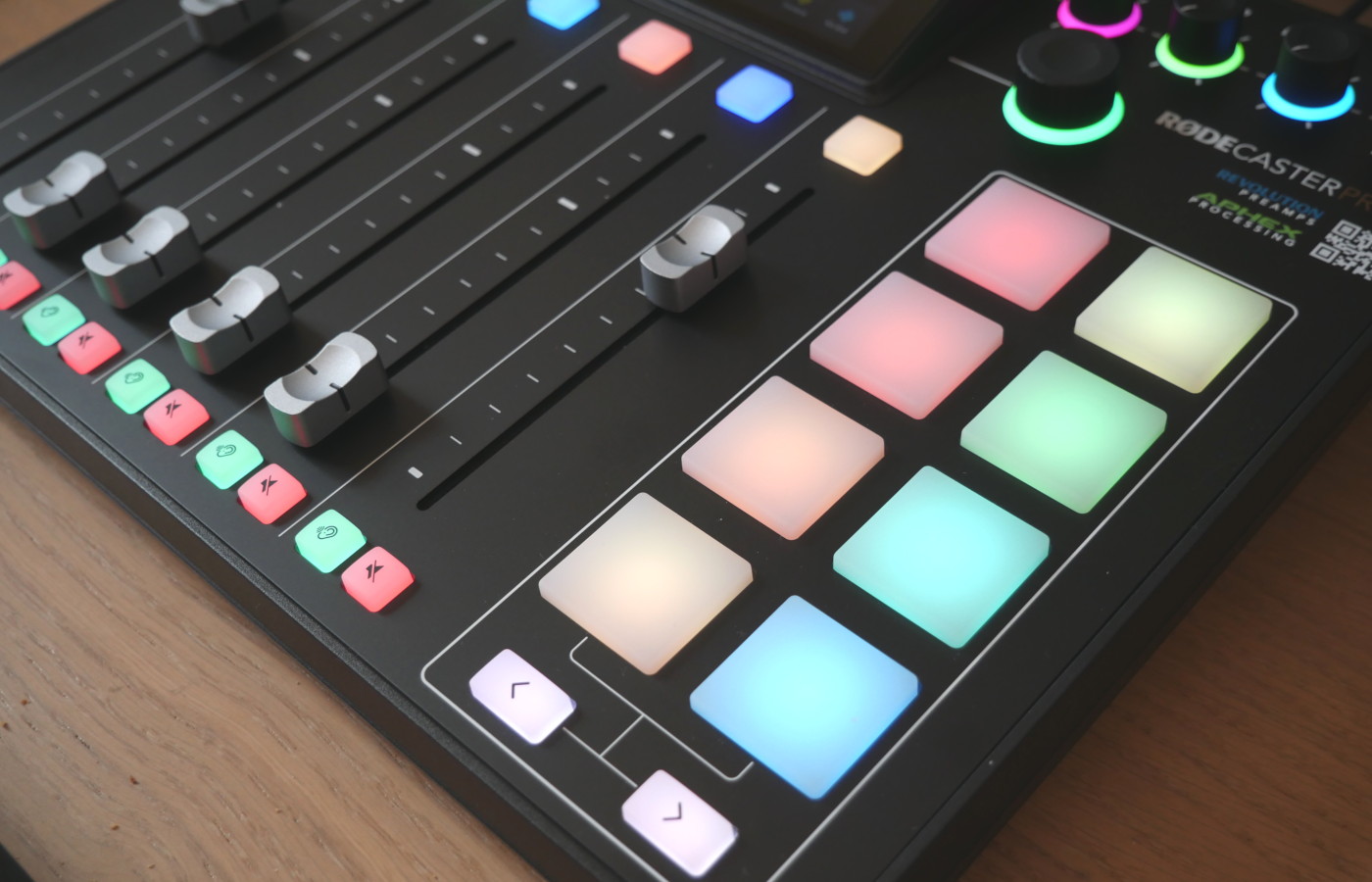 Among the settings included in shows are those for the sound pads, which RØDE calls "Smart Pads". They can be programmed in both colour and features, so you always have what you need. Default settings include four groups: one has sound effects like applause and airhorn; one is for voice effects (e.g. megaphone, monster, large robot),  the last two are empty and allow you to insert your own effects. Using the RØDE Central application, available for both Windows and macOS (not Linux, unfortunately), you can upload your own recordings and effects and use them with the Smart Pads.
While you can use the device on its own, it is also usable in conjunction with a DAW. You can make multitrack recordings which maintain each channel separated from the others, so you can do the mixing afterwards, and you can set the capture to happen before or after the faders (in order to record line-level signal); you can also set the RØDECaster Pro II to bypass signal processing entirely in order to record the signal "as is".
Sound
I find it somewhat hard to judge the sound of a device like the RØDECaster Pro II due to its nature. What I can say is that the recorded signal is extremely clean and appears to not be altered tonally.
It is possible to play with the sound effects which do have a clear impact on it. There's a large amount of them and they alter the sound in various ways, but the best way to let you understand what they do is to let you listen to them. Which is exactly what you can do with the test recording below!
Final Thoughts
The RØDE RØDECaster Pro II is a marvellous device which really keeps the manufacturer's promise of being "an integrated production studio". It has everything you might ever need, and possibly even more. While that might sound a bit excessive, the amount of settings and features available are nothing short of impressive. The flexibility afforded by the RØDECaster Pro II is phenomenal.
The only possible downside is the price. At 699 dollars/euros/pounds, the device is rather expensive and puts it in a weird position. It is significantly more expensive than common consumer devices, putting it out of reach for many non-professionals, but it is also firmly in pro audio territory where there are other options available. The RØDECaster Pro II is a perfect example of a "prosumer" device which sits at the intersection between the two worlds. Whether that's a good thing or not, it's hard to say, but what stays true is the fact that it is a great options for a large variety of use cases, from voice recording to instrument recording. It is possibly the choice if you want to record your voice for podcasts, streaming, videos and more broadly content by those that fall under the rather vast umbrella of "creator".