When you are working on your desktop setup, you probably want your workspace and its surface to be as clean and usable as possible, and therefore as free as you can from clutter – including various devices. The RØDE PSA1+ is a very neat solution to this problem as it allows you to keep your microphone at hand while simultaneously keeping it out of the way when you don't need it.
Disclaimer: I received this unit free of charge directly from RØDE. It retails for $129. Additional information is available on RØDE's website.
Packaging & Accessories
There's not much in the way of accessories: you can find the arm itself, a 3/8″ to 5/8″ adaptor and two mounting options: a mount that clamps the desk and one that requires you to drill a hole into it.
Design & Build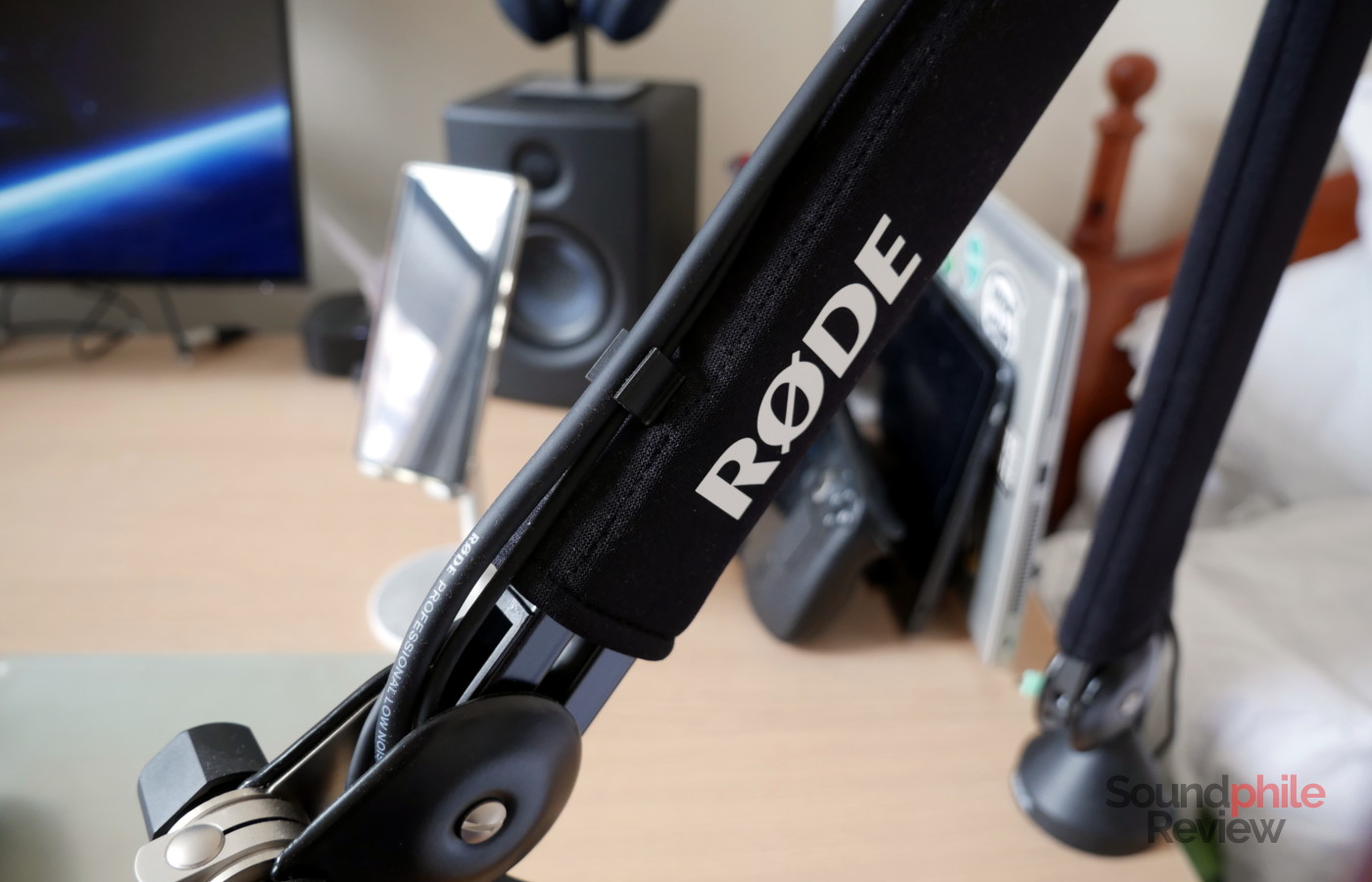 The RØDE PSA1+ is made of two sections, each of which can be independently moved and adjusted. The first section offers quite a bit of movement, as it can be made horizontal as well as around 30° beyond a right angle; the second section can completely fold over the first one as well as extend to about 45° beyond a right angle. This gives you a whole lot of flexibility in how you can place your arm.
Compared to the previous PSA, the new RØDE PSA1+ looks cleaner and tidier. While it looks like most boom arms, it sports a neoprene sleeve on both sections that give it a very sleek look, as well as cable clips to keep your cords under control. It looks professional, but not "cold" – it can very well fit any environment.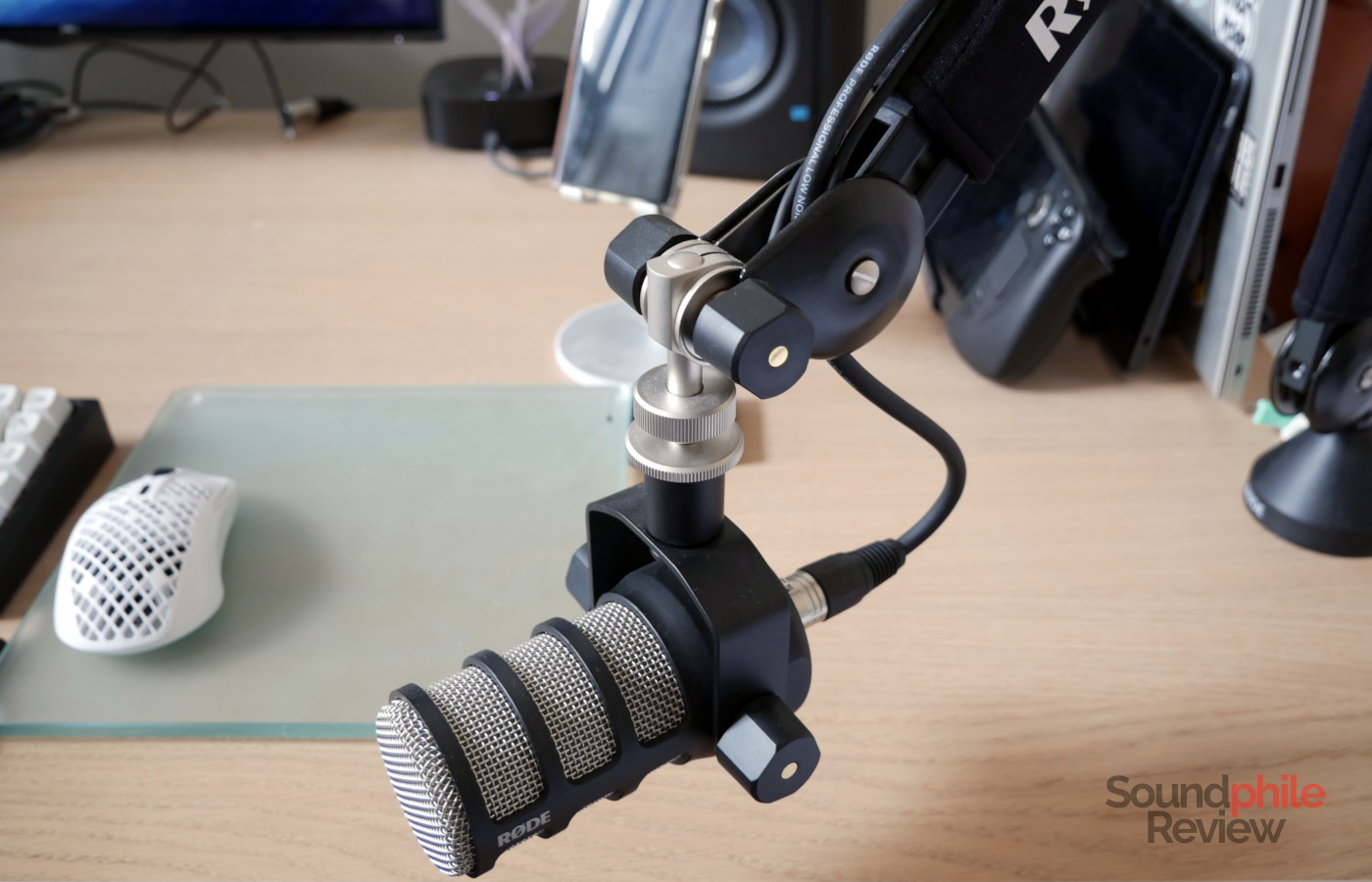 In the picture above you can see that the XLR cable goes in the hole where the mechanism is; this is not how the arm is designed to be and I managed to do this by taking it apart. By removing the actual microphone support (it's as easy as removing the two black knobs), you can fit the cable in the space there and then put the support back. It requires a couple of minutes, but I find the result much tidier and cleaner than having the cable outside of it; plus, it's an entirely and easily reversible "modification".
Another thing you can notice from the pictures is that there are actually two cables in the clips. This is because I also put a USB cable in there, just below the XLR one. The clips have enough space to support both, as the USB cable is meant to be stuck in a space below the one reserved for the XLR cable. This allows me to use both USB and XLR microphones without having to replace the cables, which as a reviewer comes in quite handy – though it probably is less useful for a normal user.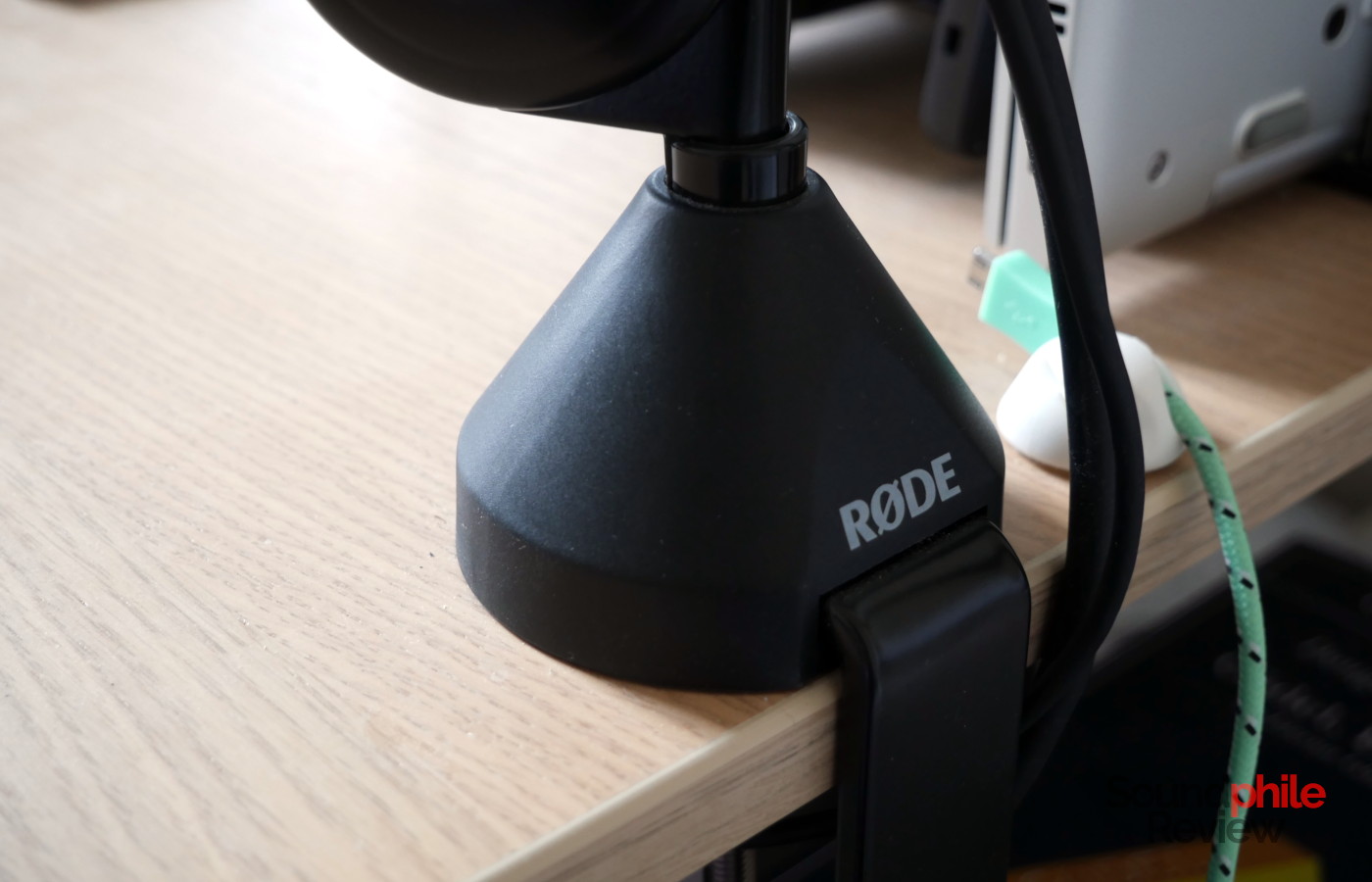 The RØDE PSA1+ offers completely silent and smooth operations, which is quite important as you don't want to record noises if you need to move the arm while you're recording or streaming. This attention to reduce noise is also apparent in the clamping desk mount, which has rubber on it to both avoid scratching the surface and keep vibrations (and therefore noise) to a minimum.
There is no locking mechanism, but the arm stays in place even with relatively heavy microphones like the RØDE PodMic. The PSA1+ moves into position and then doesn't leave it, as there's no recoil nor rebound. You adjust it to the position you want and it simply stays there.
The arm itself weighs around 1,500 g, and it supports microphones between 94 and 1,200 g – you should have no issues whatever microphone you decide to use.
Final Thoughts
The only downside to the RØDE PSA1+ is really its price. At $129, it is not cheap – in fact, it costs more than the PodMic itself. This high price is justified by the quality and convenience it offers, though. Its mix of looks and functionality makes it difficult to beat it: not only does it look clean and professional, it also offers neat features that make it easier to manage cables and have silent, smooth operations when you're recording. These things alone probably make it worth buying, and are the reason why I recommend it.