"Dorado" is Spanish for "golden" or "gilded" (in my native language, Italian, it's "dorato") and I think that sets the frame for what Campfire Audio was trying to achieve. The company debuted the first Dorado in 2016, and then last year it came back to that design and renovated it using new materials and technologies. The Campfire Audio Dorado 2020 keeps the same philosophical approach of "letting the drivers speak for themselves" by avoiding complicated crossover networks and leaving the signal as intact as possible from the moment it leaves your amplifier or source device to that when it arrives to the driver to be transformed into air vibrations and, ultimately, music. Spoiler: the Dorado 2020 is quite good at making air vibrations that give me a great deal of joy.
Disclaimer: my sincere thanks to John at KS Distribution for providing the sample for this review. The Dorado 2020 sell for £/$ 1,100.
TL;DR: recap
Pros




Cons

+ Superbly built and designed

+ Extremely comfortable

+ Excellent detail retrieval and clarity

+ Fun and engaging sound signature

– Can be a bit too much at times

– Weird peaks and dips
Rating: 8/10
Packaging & Accessories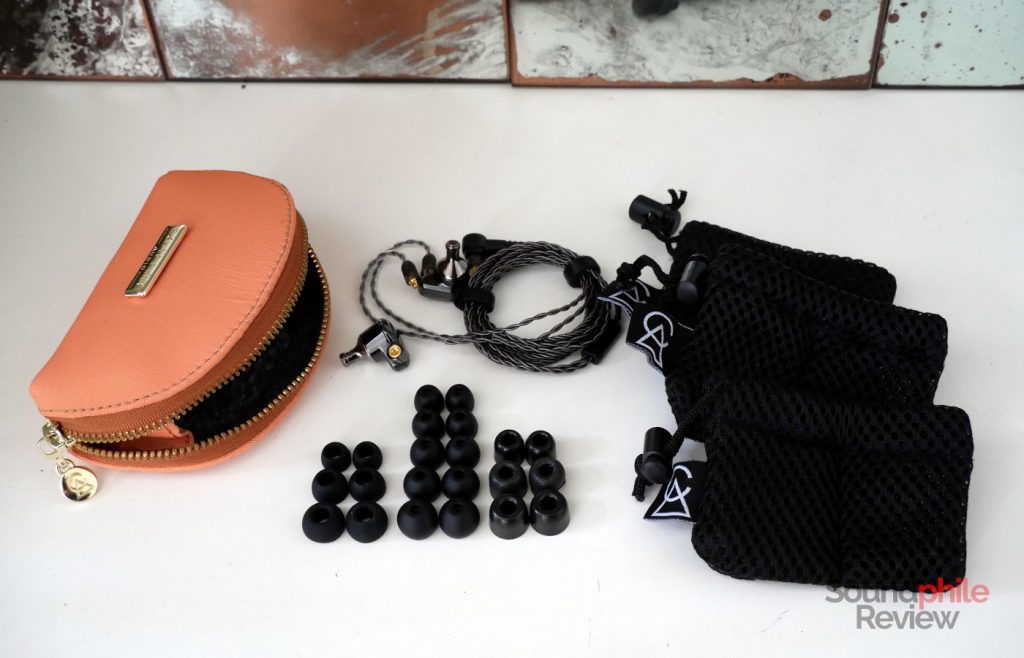 I love the packaging of the Campfire Dorado 2020 as it is quite simple, yet very effective. There's a heavy paper sheet wrapped around the main box, which in turn holds a small orange fabric bag. Inside that are the earphones with their removable cable, a small brush and a really wide range of eartips which includes two foam eartips, three sizes of single-flange silicone eartips and three sizes of single-flange silicone tips made by Final. The earpieces are stored inside a small bag made of net with two compartments, one pear earpiece, and the cable is held together with two Velcro straps. There's another bag made of net to hold the various eartips.
The orange bag is small enough to fit in the pockets of most trousers, yet it is large enough to hold the earphones and all of their accessories (though you have to cram them into it a bit). The inside is lined with a fluffy wool-like synthetic material that feels soft. It appears durable and really well-made, with a golden zip and a small plaque with the Campfire Audio logo on the front. If you really want me to complain about something, it's that it's not easy to make it stand upright.
Design & Comfort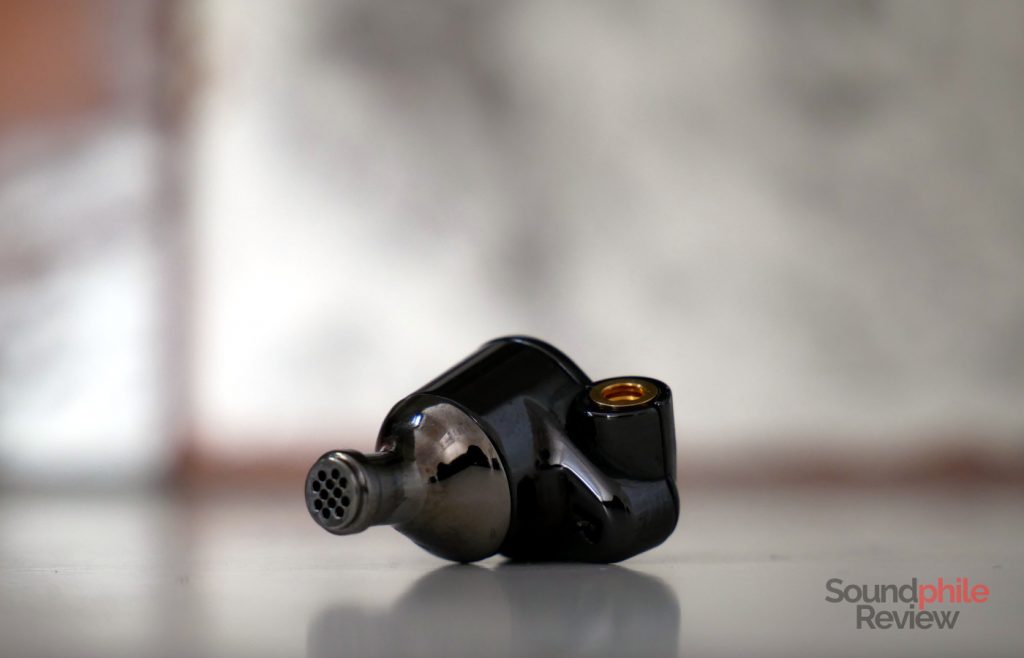 The Campfire Audio Dorado 2020 has a small, almost inconspicuous shell shaped like a rounded wedge. It's glossy gunmetal in colour and looks like metal, but it actually isn't. The shell of the Dorado 2020 is made of ceramic, which undergoes a lengthy production process – to quote the company themselves, "two days are spent at 600 degrees, followed by three days at 1200 degrees. This extended exposure to high heat dramatically reduces the parts' size and increases their density as a result. The shells then spend up to 3 days in a tumbler along with small alumina stones and water. This polishing process gives them their attractive high gloss surface finish." The nozzle is then made of brass with a gunmetal finish.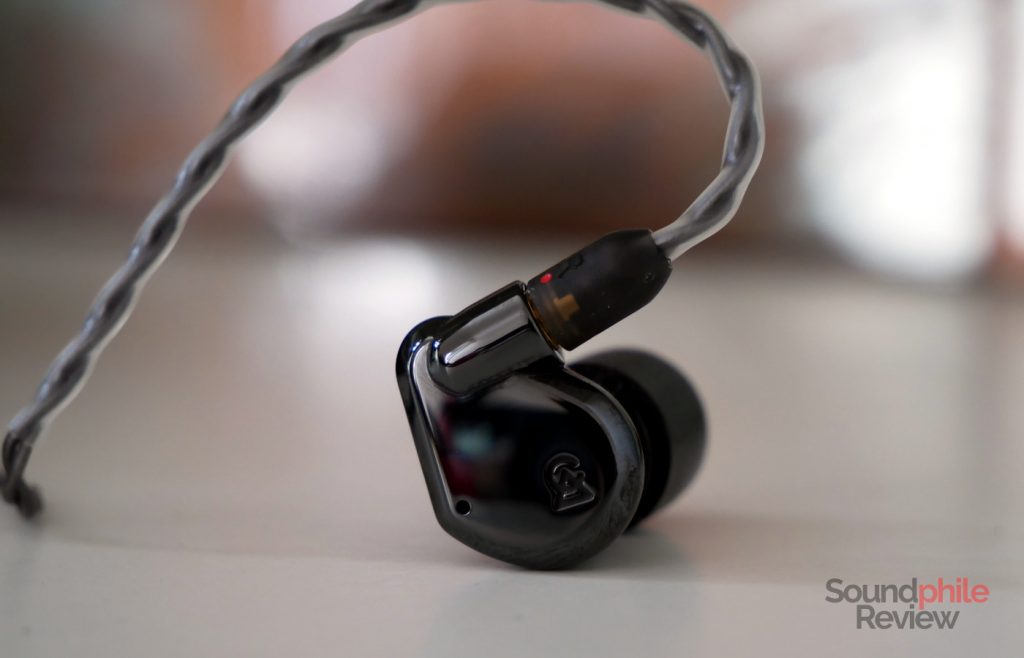 The design is quite simple, yet quite attractive – possibly because of that. It's understated and modern, which I quite appreciate, but it's also practical with the nozzle being slightly angled to better fit inside your ears. The only issue I found with the shells is that the glossy finish is basically a fingerprint magnet… which is hardly an issue, considering you want to keep the earphones in your ear where you don't see them.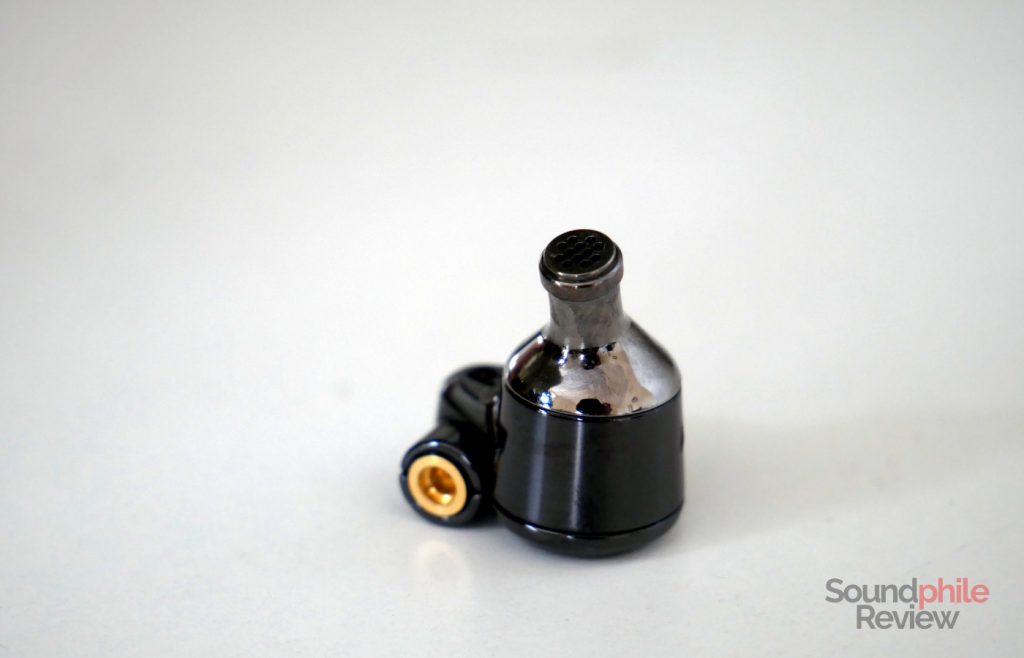 Build quality is exceptional and the Dorado 2020 are built masterfully, with an attention to detail that is almost maniacal. They put a lot of effort into that and it shows, as the earphones look and feel well-built and durable.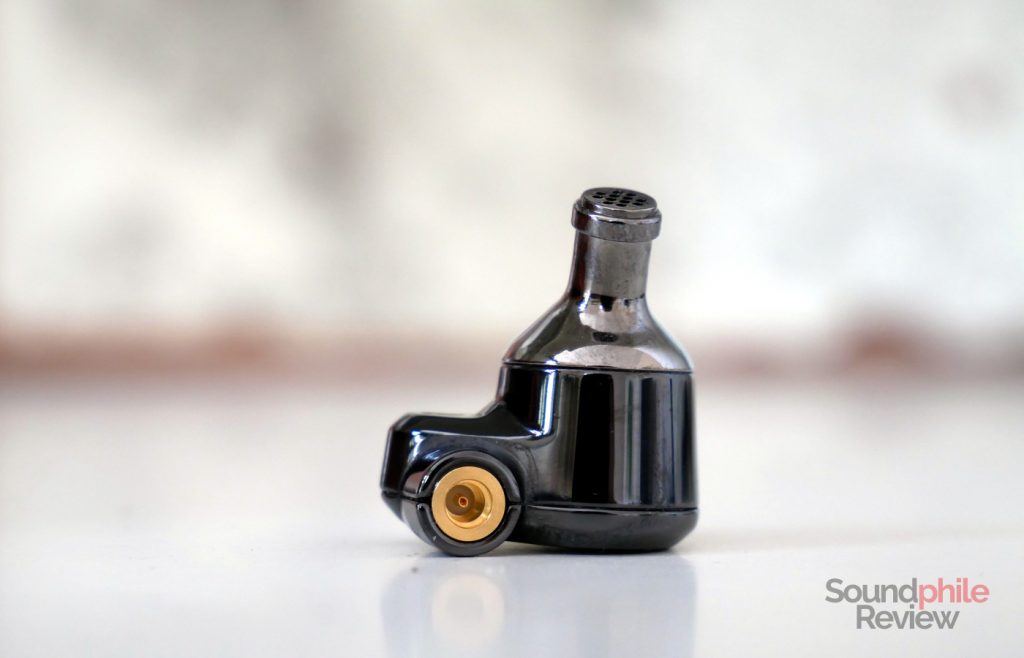 I'm usually quite picky about earphones – well, my sensitive skin is. With the Dorado 2020, though, I have no complaints whatsoever: I can wear them for hours on end without feeling any fatigue thanks to their small size and wedge-like shape. They don't have any hard edges either, so they don't have any points which could cause discomfort – much unlike other models like the Andromeda. Due to their small size, the Dorado 2020 will probably fit even if your ears are quite small and you usually struggle with in-ear headphones.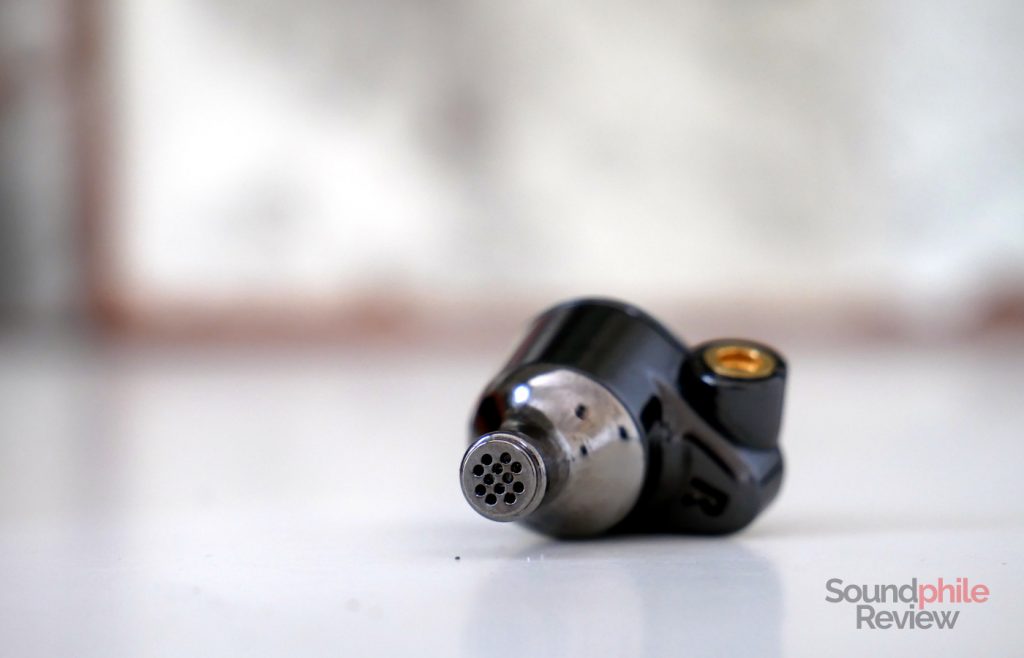 Isolation is quite good: I've been able to listen to music at a sane volume level (which most of you would probably consider low!) even with my girlfriend listening to music on speakers a few metres away from me. On the street, cars passing by on a crowded road were almost inaudible. There's also no leak, so the Dorado 2020 are quite safe to wear even in a library (when they'll open again).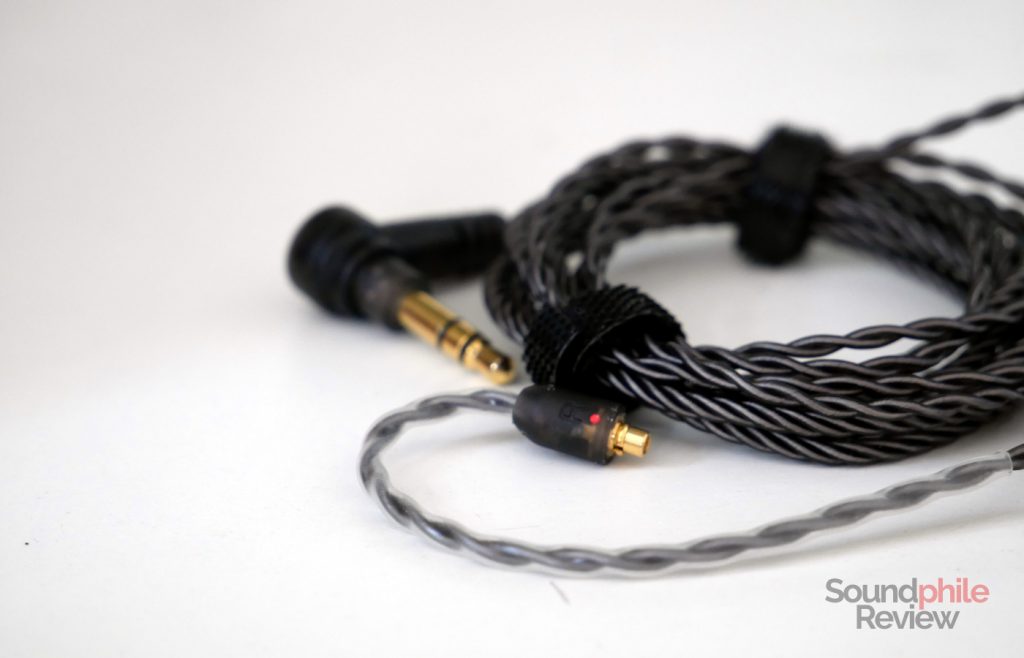 The Dorado 2020 comes with the standard Campfire Audio copper litz cable: four cores, twisted all together between the jack and the Y-split, then twisted in couples. Each core has a dark grey plastic sleeve. The cable as a whole is very soft and malleable, with very little microphonics that make it possible to use it also while being out and about. One thing I'm not especially fond of with Campfire Audio earphones is the thickness, though. Although I suspect there are technical reasons for it, I still find it underwhelming from a "look and feel" perspective – not because of a cosmetic preference, but because if it was a tad thicker it would inspire more confidence in its ability to resist wear & tear. Still, it works quite well and is very comfortable even to people who wear glasses like me, so there's not too much room for complaint here.
I'm usually not really a fan of MMCX connectors because they're harder to insert and remove than 2-pin connectors, plus they are a lot less durable. Campfire Audio tried to remedy that by using beryllium-coated copper MMCX connectors, which should provide much better durability compared to the usual ones made of brass.
Sound
I tested the Campfire Audio Dorado 2020 using mostly a Topping DX7 as DAC and a Drop THX AAA 789 as amplifier. Most music files were FLACs ripped from CDs.
Campfire Audio Dorado 2020
| | |
| --- | --- |
| Frequency response | 5 – 22,000 Hz |
| Impedance | 10 Ω |
| Sensitivity | 94 dB |
The Dorado 2020 uses two drivers in a hybrid configuration: a dynamic driver and a balanced armature. The dynamic driver has Campfire Audio's ADLC coating, which stands for "amorphous diamond-like carbon": it's carbon that has extremely high rigidity, like a diamond. It coats the diaphragm to make it more rigid, so that there is less driver flex and consequently less distortion and more detail. The approach in itself is not new and is found in other products as well, as an example those using beryllium drivers, but Campfire Audio developed their own unique take on the concept which is laudable. The balanced armature was developed according to Campfire's specifications.
At 10 Ω impedance and 94 dB sensitivity, the Campfire Audio Dorado 2020 are incredibly easy to drive. In theory you don't need any specialised device to drive them: any phone, laptop or tablet is more than capable of providing power for them. The issue is, however, that low impedance requires an equally low output impedance. Many non-specialised devices have relatively high output impedance that can influence the sound of the Dorado 2020 – not an issue per se and in some cases you might actively want that, but usually you don't want to alter the sound of your earphones and that is why it is recommended that you use a dedicated audio device (amplifier, DAP or other) with output impedance below 1 Ω.
Soundstage is average in both width and depth for a closed-back earphone: it has good lateral extension and limited depth, managing to overcome the sensation of the sound being produced inside your ears but still sounding close by. Imaging is quite good, with well-defined positions for every instrument and a very good ability of showing where they are. Instrument separation is great and this makes the sound as a whole very clear and clean, even with complicated tracks where there's a lot going on.
Campfire Audio states clearly that their aim is to provide a "true north of neutral" tuning and I think they managed to achieve that quite masterfully. The Dorado 2020 are U-shaped with an emphasis on the lower section especially, giving them a warmth that's cosy and nice, never stepping out of the boundaries to become loose and invasive. On the contrary, it's always well-controlled and precise, so that it shines bright without outshining the rest – if you prefer an analogy with a (camp)fire, it gives you warmth without burning you. Bass has remarkable speed that gives transients a nice feel of suddenness and impact, as its decay is short enough and the physical element is high enough to deliver that nice sensation of slam that makes percussions especially pleasant. Bass is concentrated in the lowest area, where it has the largest presence, and then it gradually reduces in volume going up with frequency with a mild slope that reaches it lowest point around 1 kHz – well into midrange territory. This makes bass and lower midrange very coherent and pleasant. It can sometimes become too much, making the sound darker than I'd like. Still, detail and layering are top notch and this makes bass as a whole quite interesting.
Midrange is where things get weird. The slope from bass keeps on going down until the 1 kHz mark, where there's an inflection point followed by quite an abrupt rise and then by a peak in the upper midrange area. This makes midrange quite uneven when considered in its entirety: the inflection point makes some instruments and voices sound distant, whereas the peak in the upper region makes some instruments more present than in an ideally neutral setting, introducing some sibilance as well. For a good example, Cuncti Simus by Faun has a few string instruments playing that sound a bit strident, while Hörst du die Trommeln has flutes that are a bit intense. The Dorado 2020 are meant to be fun and they surely manage to achieve that, but not all tracks sound equally well. Detail is as good as I expect it to be from a high-end earphone, presenting you with minor details and nuances that are often lost in the mix with lower-end products.
Treble is a bit of a problematic area: there are a couple of peaks, one in the lower and one in the middle area, and after the second one there's a huge dip that takes away most of the upmost section. This takes some air and openness out of the treble and, conversely, out of the signature as a whole, causing the soundstage not to be as open as it could. This is the other end of the aforementioned "U", so there's quite a lot of energy that may be unwelcome to those who are most sensitive to treble; in fact I sometimes found it to be a bit harsh, though it never reached the point of being unbearable. The thing I really like about treble is that it's thoroughly detailed, with micro-details emerging clearly from the mix and even in crowded tracks.
Campfire Audio Dorado 2020 Comparisons
The Campfire Audio Dorado 2020 are quite close to the Vega 2020: they actually use the same dynamic driver, with the main difference being the balanced armature – which is not present in the Vega 2020. The main differences between the two are in the middle and upper areas, where the Dorado 2020 has a lot more energy to offer. The Dorado is certainly more exciting and fun, but that might not be to everyone's taste and the Vega is basically a Dorado with midrange being a bit more laid back and treble being less in your face. I would say that everything is else is basically the same or anyway really, really close, so the only reason why you would want to choose one instead of the other is how hot you like your treble.
Final Thoughts
When I listen to earphones like the Campfire Audio Dorado 2020 I always go back with my memory to the time when I played the electric guitar. Back then, as a teenager, I had no access to high-quality audio of my own and I was limited to my father's hi-fi system – and as you can imagine, our tastes in music were quite different so I didn't get that many chances to listen to my stuff with the necessary time and attention. This made it really difficult to hear all the small details and nuances in my favourite tracks, which meant that I couldn't reliably hear what was going on and so I couldn't faithfully reproduce it when trying to play those tracks. One such example is Jeff Buckley's Last Goodbye, which has an introduction that back then sounded completely different to me than it actually is, so I found it rather hard to replicate it. I even had an argument with my teacher on that, only to then listen to the song on his high-quality speakers and realise he was actually right about how it was played. That was quite a watershed moment in my audiophile journey.
Just like my guitar teacher's speakers, the Dorado 2020 are the kind of earphones that can make you realise how different the tracks you love can sound. The Dorado 2020 don't aim for a properly neutral reproduction, instead opting for something more fun and entertaining. Their U-shaped frequency response is easy to like, as it is complemented with superb resolution and great clarity that makes it really easy to focus on your music. It is not devoid of criticism, though, as it has a few ups and downs that manage to make some instruments either recessed or emphasised when they shouldn't, and it can be a bit too much at times.
All in all I think the Campfire Audio Dorado 2020 are great earphones for those who look for more fun and entertainment from their music and who aren't afraid of a splash of colour here and there. One thing's for sure: they are not boring at all.