I find that there is a tendency lately to have very large portable speakers that output a lot of power. They're getting larger and larger, with more and more power and with lights and other accessory features that make them ideal for parties and other similar situations. The BlitzWolf BW-WA3 Pro is exactly one of those speakers. It's massive, powerful and surely colourful.
Disclaimer: I received a free unit from BangGood. The BW-WA Pro retails for $119. Until the 13th of September there's a special promotion on BangGood to celebrate their 16th anniversary.

TL;DR: recap
Pros




Cons

+ Very sturdy build

+ Extremely large battery

+ Quite powerful

+ Lots of features

+ Great as a party speaker

– Heavy

– Strong background hiss

– Weird frequency response
Rating: 7/10
Packaging & Accessories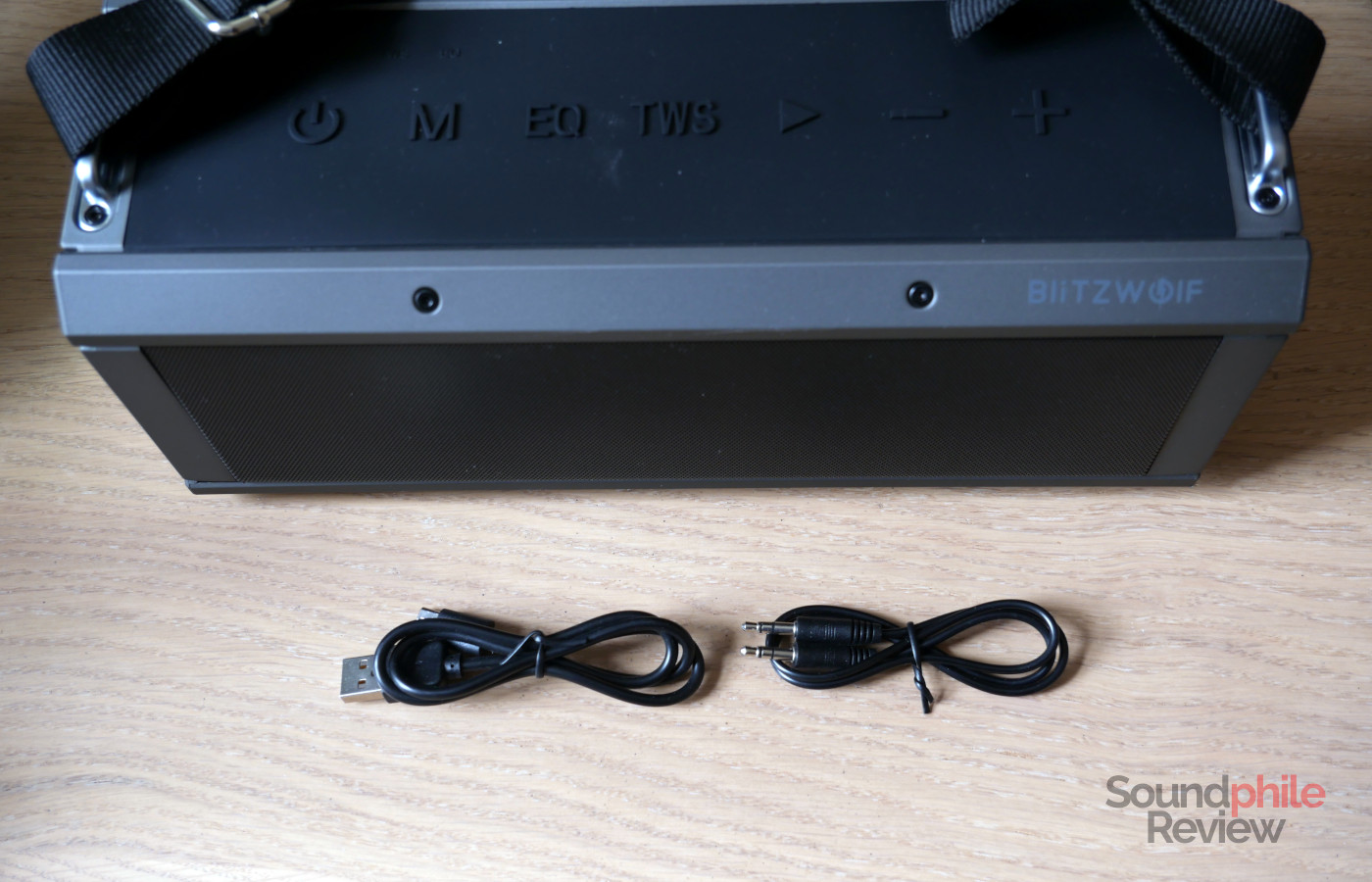 There's not much to say about the packaging as the BW-WA3 Pro comes in a simply cardboard box with foam inserts to protect the speaker. Despite evidently taking a bit of a beating on the way from China to Scotland, the box made the speaker arrive here intact. In terms of accessories, there are just a USB to USB-C cable and a 3.5 mm to 3.5 mm jack cable. There's no protective case, but there is a shoulder strap to carry the speaker around.
Design & Build
The design of the BlitzWolf BW-WA3 Pro is certainly quite bold. It's very squared and aggressive, almost military, but it is well executed as it is consistent. The frame is a metallic dark grey (I would call it "gunmetal"), with black grilles on the front and back and a black rubber panel on the top and bottom sides. The sides host the circular passive bass radiators. There are also two loops on the top side where you can fix the provided shoulder strap. The design is certainly modern and I bet that young people will like it, but I would add that it is quite peculiar and that it may not appeal to everyone.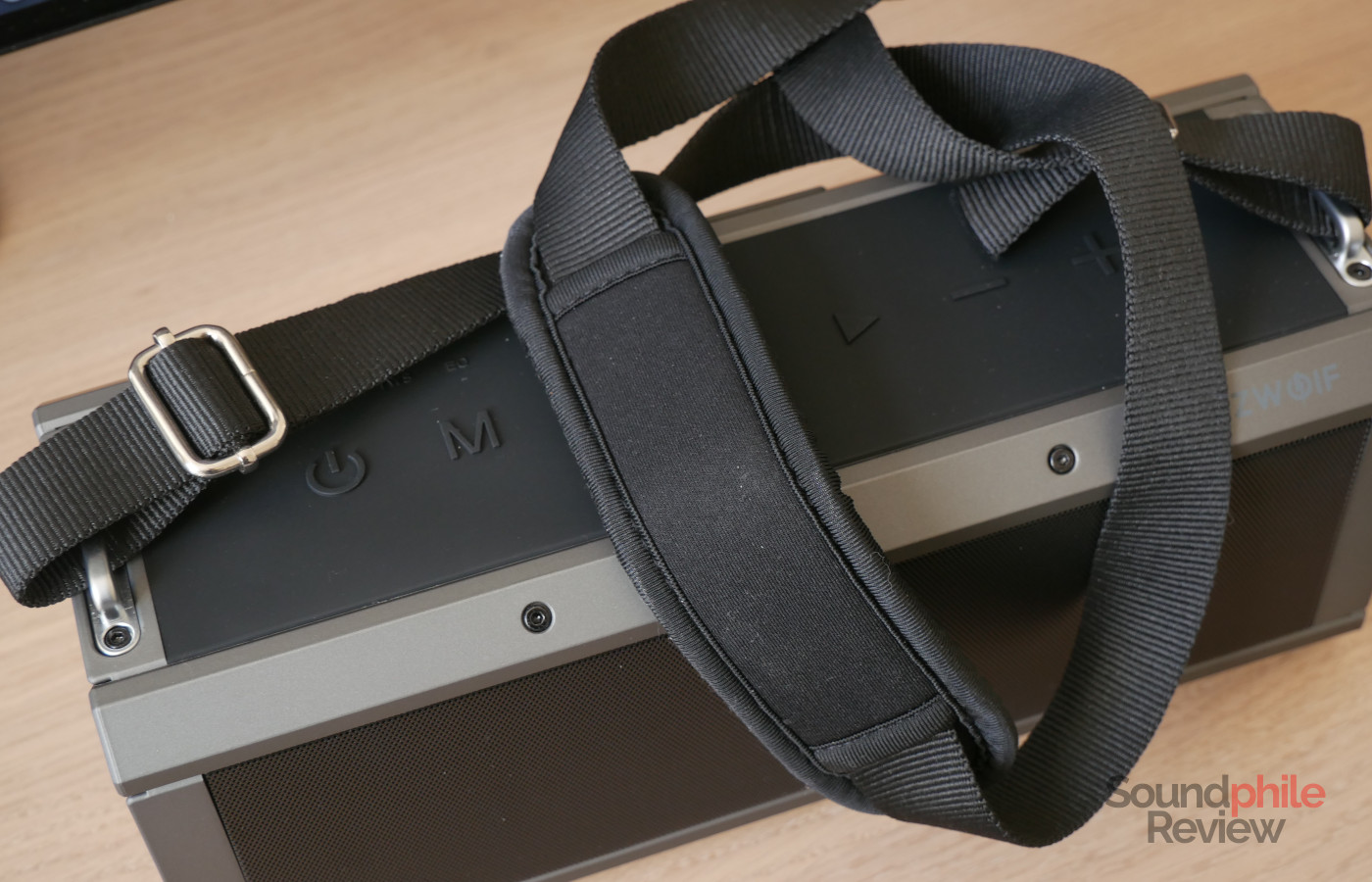 It is entirely made of plastic, except for the loops and possibly the frame inside. Build quality is decent, though you can clearly see the fusion line of the moulds in some places (in the image above, on the corner on the lower left). Overall, though, I find it to be sturdy and well assembled, enough so that it can probably resist quite a bit of wear and tear.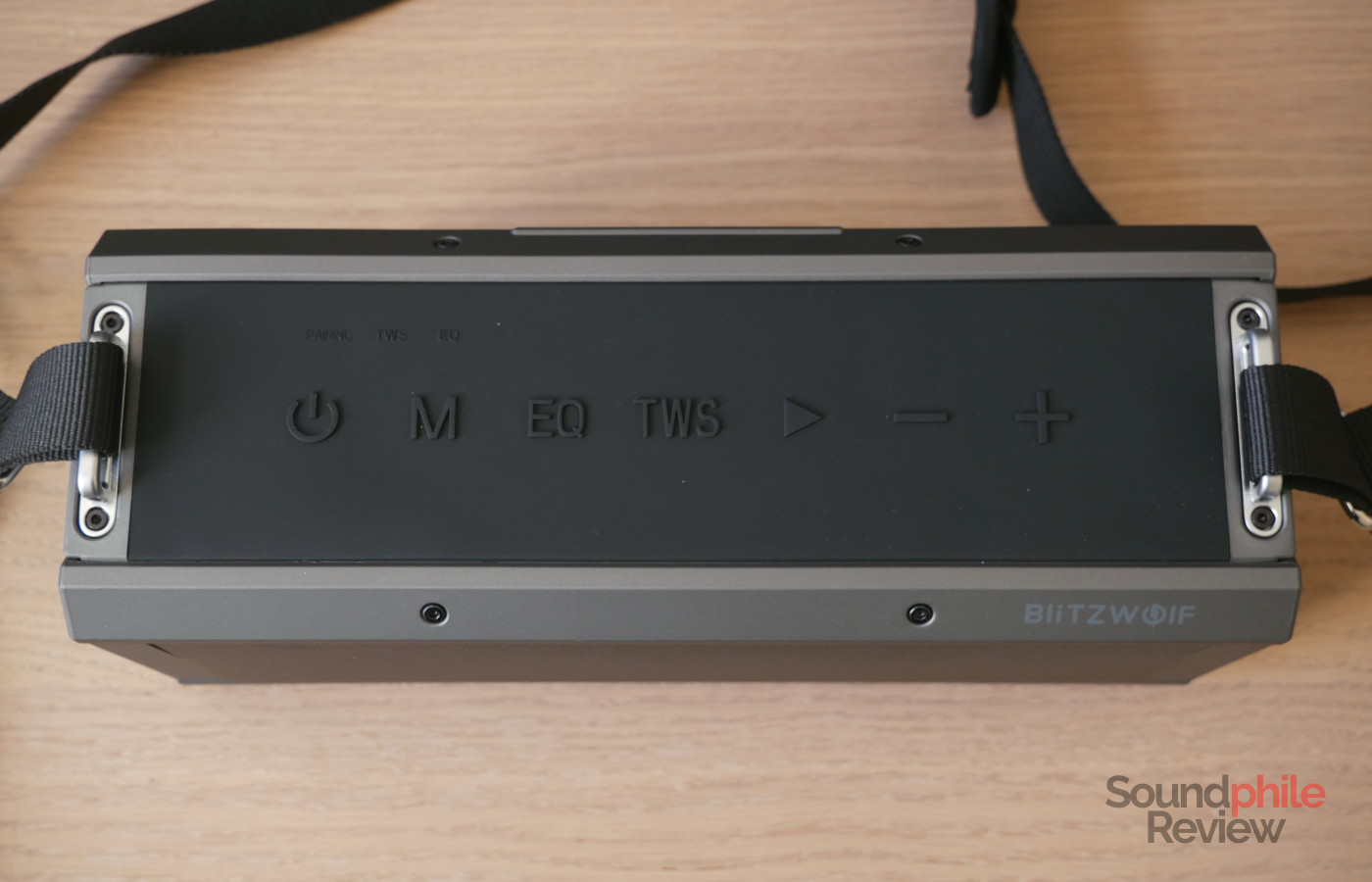 The BW-WA3 Pro is quite large at 27.7 x 10.9 x 9.6 cm, and it weighs quite a bit at 2.65 kg. The shoulder strap is basically essential if you want to lug it around, unless you have a large backpack. The speaker is IPX5 certified, which means that you can take it with you to a swimming pool or to the beach without worries of it getting damaged by the water (though marine water may have negative effects, so I recommend against exposing it to salty water).
The controls are all on the top side: you can find three status LEDs (pairing, TWS mode, EQ), plus buttons for power on/off, pairing, equalisation, TWS mode, play/pause, lower and increase volume. The back side hosts a USB-A port, a USB-C port, a microSD slot and a 3.5 mm jack port, all hidden behind a rubber lid that shields them from water.
Features & Specs
The BlitzWolf BW-WA3 Pro offers compatibility with the Bluetooth 5.0 standard and the SBC codec, with no other, higher-quality codecs available.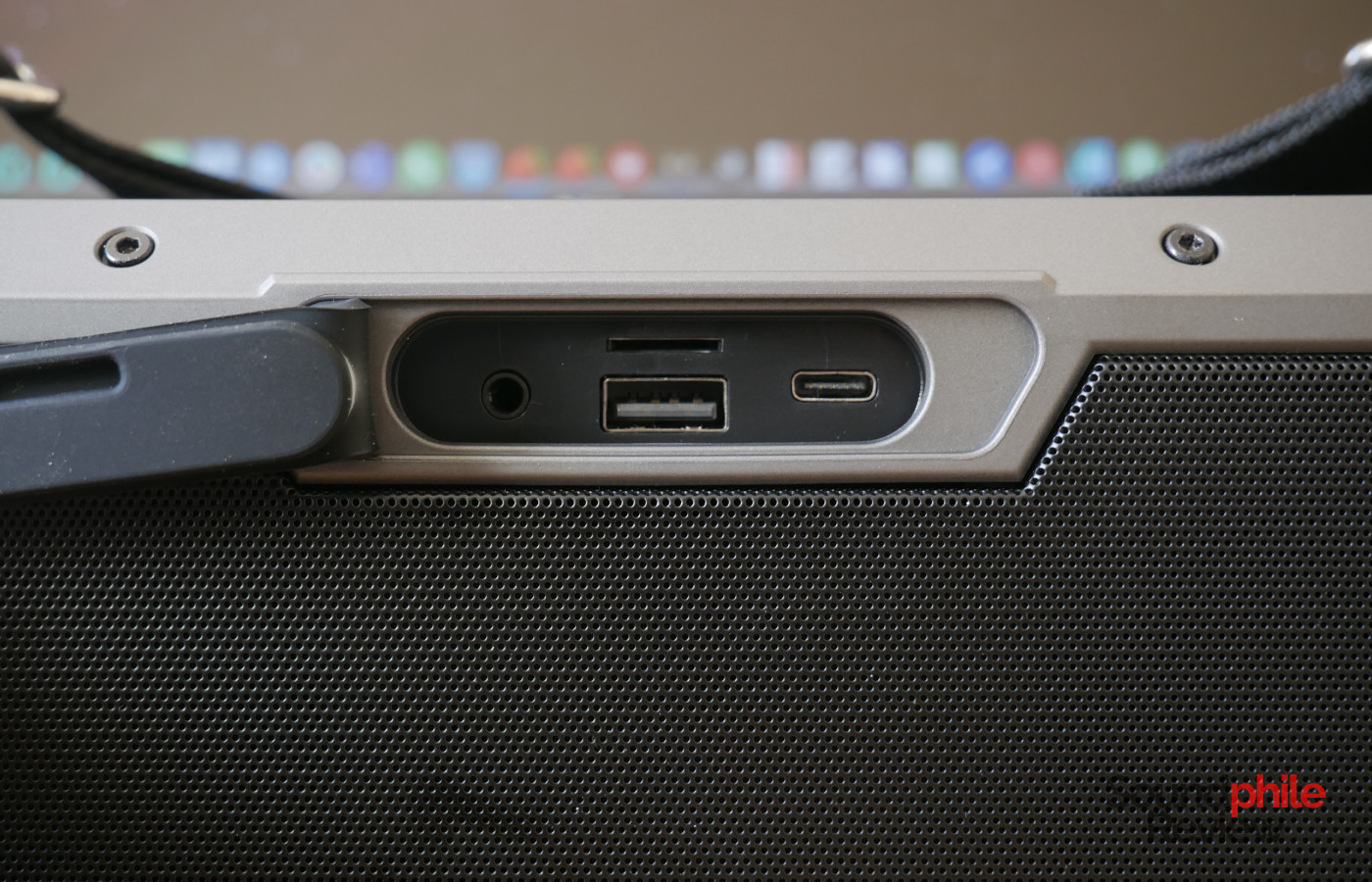 It is possible to pair two BW-WA3 Pro in TWS mode, in case you want to use them e.g. with a projector or to really liven up a party. Pairing two units is fairly easy, thanks to the dedicated button on top, and works very well. The delay is minimal and not really noticeable, so the stereo effect is rendered quite well.
Although they're more powerful (as in, more visible) than those on smaller speakers such as the SoundCore Flare+, the LEDs are only bright enough to give you some light in a completely dark room, which is quite nice but limited. The LEDs can be turned off or on by pressing the power button once when the unit is powered on.
| | |
| --- | --- |
| Frequency response | 20 – 16,000 Hz |
| Power output | 120 W |
| Maximum SPL | N/A |
| Connections | Bluetooth 5.0, aux in, USB, microSD |
| Codecs | SBC |
| Driver type | 2 woofers, 2 tweeters, 2 passive radiator |
You can play music from a Bluetooth source as well as from an aux cable, a USB key (up to 128 GB) or a microSD card (again, up to 128 GB). This makes the BW-WA3 Pro quite flexible in terms of what you can use to play music.
Battery Life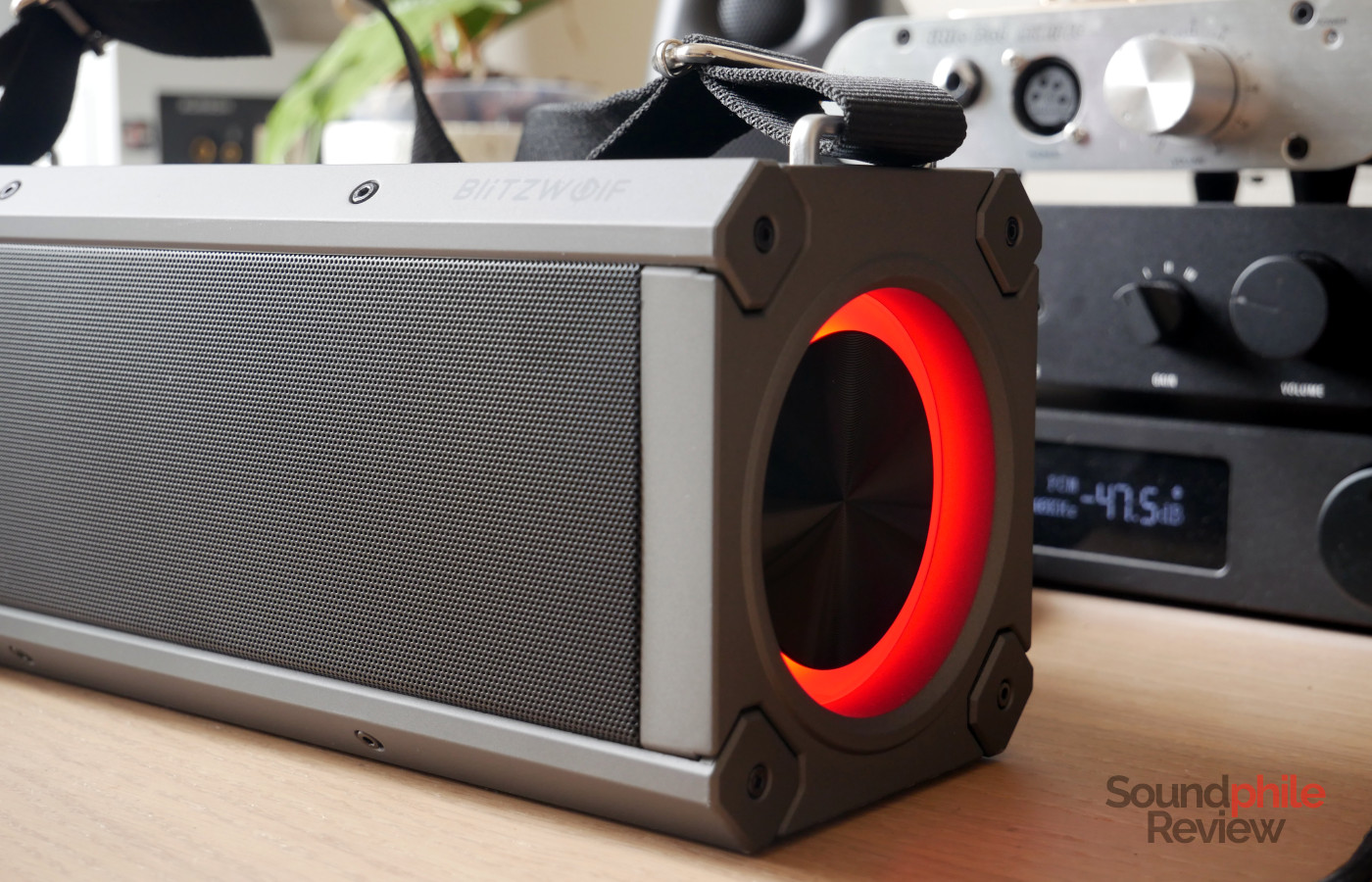 The massive size and weight of the BlitzWolf BW-WA3 Pro allow it to have quite a large battery: in fact, inside the speaker we find a 16,000 mAh battery, which the company conveniently allows you to use as a power bank to charge your other devices. It only offers slow charging, but it's a very convenient addition – especially if you plan to use the BW-WA3 Pro when you're outside.
The estimate of around 15 hours of playtime provided by the manufacturer is spot on, as I was able to get really close to that. The LEDs eat up quite a bit of power, as the estimated battery life goes down to 12 hours if you turn them on.
Sound
I mostly tested the BlitzWolf BW-WA3 Pro by connecting it via Bluetooth to my desktop and laptop computers.
There is an audible background hiss coming from the speaker whenever it reproduces any audio. It varies in tone and volume with what is being reproduced and it stops completely once there's no sound, so it probably stems from the amplification stage not being perfectly implemented – something that's to be expected with devices in this price range and with these specs.
While I seriously doubt that the BlitzWolf BW-WA3 Pro really outputs 120 W, even just at peak power, it surely does get plenty loud. This relatively small unit can get to very high volume and is a credible party speaker, rivalling larger units. Still, you shouldn't expect the BW-WA3 Pro to blow your socks off nor to offer great physicality, it's a portable speaker with small drivers after all!
Sometimes you can judge a book by its cover and that's the case with this speaker. I expected it to have a very coloured frequency response and that's in fact the case, with very strong bass and emphasised upper mids and treble.
Bass is quite prominent and emphasised, with the largest concentration in the mid-bass area. As you can expect, it's not super-fast and the decay is long as well, so transients are a bit "wet". This doesn't inficiate the enjoyment of music, but makes some details harder to hear. Speaking of details, they're quite basic, so you get enough to distinguish the various bits but not much more than that.
Midrange is heavily tilted towards the upper area, so much so that the lower section is actually not really there. Male voices sound a bit hollow and lacking body, while female ones are over-present. Speed, as with bass, is limited. Detail, again, is quite basic, so you only get a general idea of what's going on without too much in terms of small details.
Surprisingly, given that usually these speakers are very bass-heavy, the most prominent area is treble. It is by far the most audible bit in the mix and it sounds quite aggressive, to the point of becoming fatiguing when there's a lot of cymbals or other high-pitched instruments in the mix. There's a few spikes in the lower and middle regions, while the upper one is much less present. Detail is – you guessed it – limited.
The two equalisation modes are useless. One boosts the mids so much that the rest disappears, the second boosts bass in the same manner. They're best left alone.
Final Thoughts
The BlitzWolf BW-WA3 Pro is an imposing portable speaker that tries to stand out with volume – in both the physical and acoustic senses. Its design surely appeals more to the youth, but it does go beyond just the looks with a lot of functionality: the ability to play from USB keys and microSD cards, as well as that to pair with another speaker, make it quite flexible. The LED lights add even more flair to the mix. Battery life is also quite impressive, given the power output.
In terms of acoustic performance, the BW-WA3 Pro do not really stand out for anything but volume. Sound quality is average, meaning that it's passable but nothing to write home about. BlitzWolf managed to create a speaker that punches way above its class when it comes to sheer loudness. Let's not get too much around this: the BW-WA3 Pro is a party speaker, so it's something that you just want to pump out music at loud volume without too much regard for the quality of said music. It is plenty fine for that purpose and this is why I am giving it a 7/10 – in the context which it was designed for, it works perfectly well. If you're looking for something more audiophile-like, though, then I suggest you look elsewhere.