The soundbar market tends to be polarised and to offer lots of products below $200 and premium devices above $400. The Anker SoundCore Infini is part of the former category, having a price that is just $99/€99. It really sits at the bottom of the market, but it has a few interesting features that do not make it seem like an entry-level device.
Disclaimer: I would like to thank Jonny at Anker for kindly sending me a unit I won't have to return. SoundCore's website holds additional information on the device.
TL;DR: recap
Pros




Cons

Good build quality

Good entry-level device

Too much bass

Peak in upper midrange
Rating: 6.5/10
Packaging & Accessories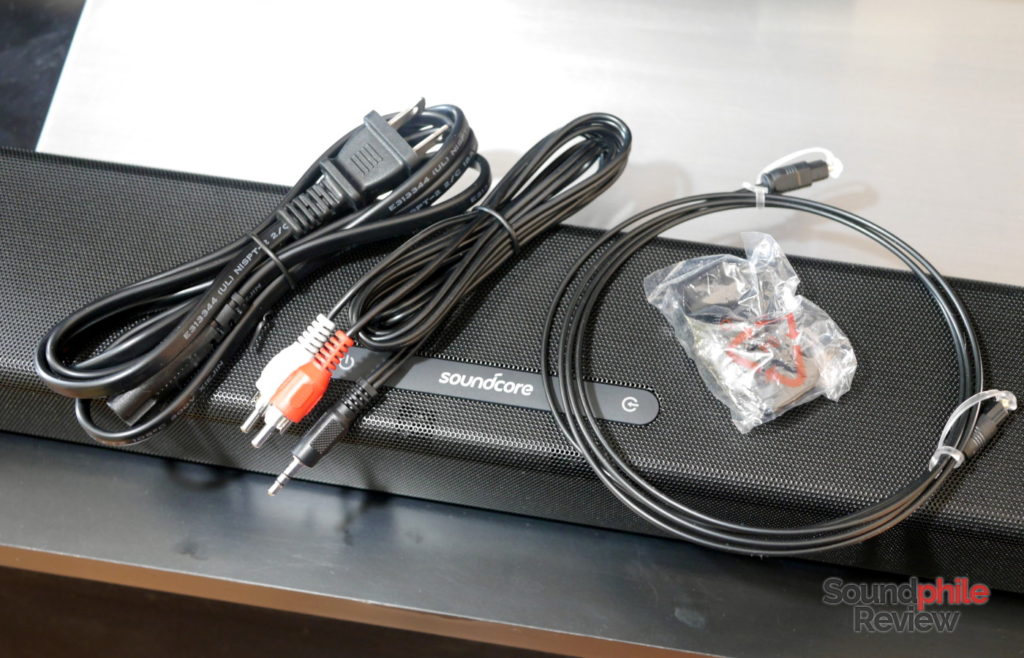 If there ever was a proof the package for the Anker SoundCore Infini holds it safely, it is that the device arrived intact to Italy from the USA despite a good bit of beatings, judging by the marks on the box. Inside the package are the soundbar, an optical cable, a 3.5 mm jack RCA cable, a power cable, a set of screws and supports to hang the soundbar to the wall and various manuals and leaflets including a guide to drill the holes on the wall at the right distance.
All in all there's everything you need to set up the soundbar.
Design & Build
Let's start by saying I paired the Anker SoundCore Infini with a Panasonic Viera plasma TV (specific model number is TX-P42GT60E). A few of my considerations will come from this fact and I admit I do not have vast knowledge of the TV world, so I will write when I refer to my specific TV so you will be able to adjust to your case. I tried a couple cheap TVs, but nothing more than that – again, my experience is limited in the TV space. This is as plain and honest about it as I can be, I guess!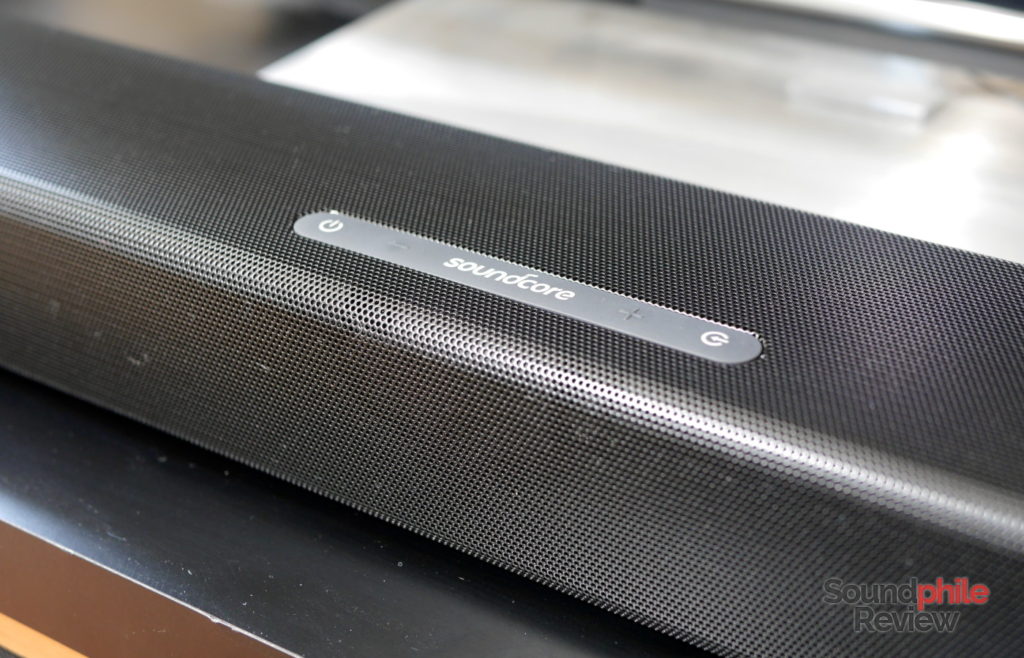 Anker designed the SoundCore Infini as a large parallelepipedon covered in metallic mesh on three of the six sides: front, top and back. The sides hosts the bass reflex ports and the bottom has a recess where all the connectors are placed. All in all it's rather elegant and simple and I can see it fitting into many homes easily from a styling perspective.
The Anker SoundCore Infini measures 88 x 9 x 5.6 cm, which is average size for a soundbar. One possible issue, though, is height. The Anker SoundCore Infini is tall enough to block the signal coming from the remote from reaching the sensor on the TV, so I had to raise my arm all the way (and all the time) for the remote to work. This is a bit ironical given this text on the product page of the manufacturer's website: "At just 2.2 inches [5.6 cm] tall, the soundbar fits comfortably under the TV without obstructing the view." I guess that's not always true!
Controls reside on the top: power button, volume, input selection. Every other control is on the remote: power, mute, playback controls, volume, Bluetooth, input mode and equalisation.
Specs & Features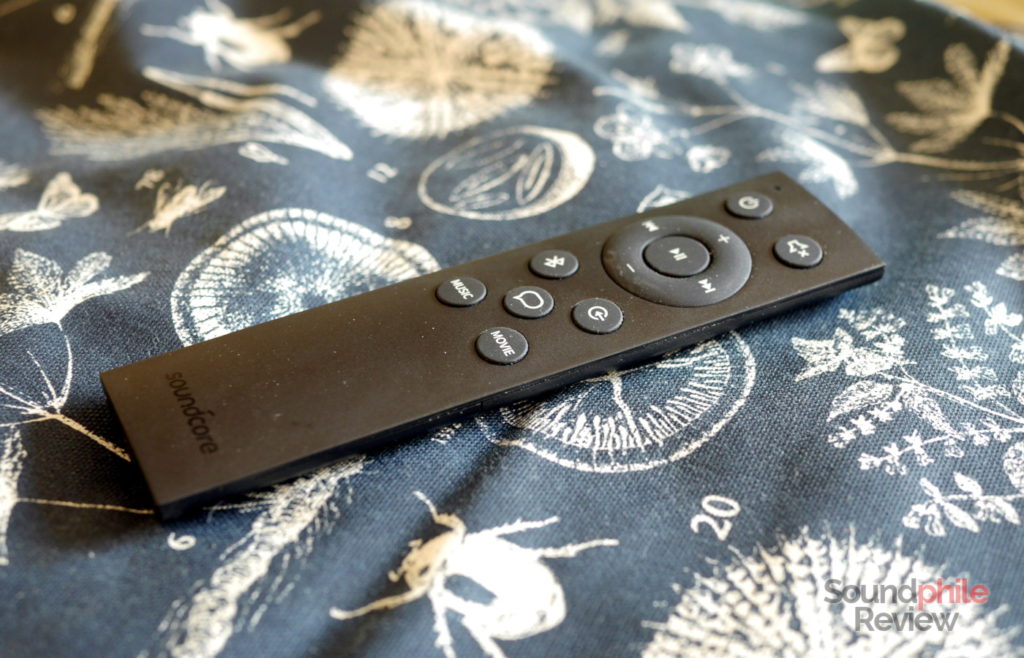 As it is not meant to be used just as a soundbar, but rather as an audio hub, the Anker SoundCore Infini features a variety of different connection options. These include a 3.5 mm jack port, an optical port, a coaxial connector, a USB port and Bluetooth. While the first two are optimal to connect the soundbar to a TV (or PC), the latter two are best used if you want to turn the soundbar into a speaker to listen to music. The USB port is for servicing the soundbar, so it's not usable. The remote is an easy and rapid way of controlling the soundbar when connecting it to a Bluetooth source.
The Anker SoundCore Infini has three different equalisation options: dialogues, music and movies. They differ in a few aspects, but the main difference is how they treat bass. The dialogue setting shuns bass almost completely to privilege midrange, especially in the upper part; the movie preset boosts bass all the way up and keeps a relatively balanced approach to midrange; the music preset is the most balanced out of the three, but it has a generous amount of bass anyway.
| | |
| --- | --- |
| Frequency response | N.D. |
| Bluetooth version | 4.2 with SBC codec |
| Power output | 100 W (peak?) |
Anker keeps the available specs information to a minimum, and what's provided is not entirely satisfying. The 100 W power output figure is backed by an impressive maximum volume, enough to fill very large rooms without a hitch. Alas there is no support for high-quality codecs such as aptX or AAC when using Bluetooth, so quality will be less impressive than the volume.
Sound
As I wrote previously, I paired the Anker SoundCore Infini with a Panasonic Viera. It was a mid-high end TV back when it launched (it was sold around the €1500 mark, if I am not mistaken) . This means that although it is no match for dedicated speakers, audio should be better than that found on lower-end TVs.
Anker launched the Infini touting its ability to boost bass beyond what a TV is capable of producing. That would be a laudable thing, given that many TVs (especially in the lower tiers) completely lack bass and therefore do not offer good sound quality that could allow one to truly immerse in the movies and shows. The thing is, maybe Anker overdid the bass boost and the result is that bass is predominant.
The Anker SoundCore Infini goes from one extreme to the opposite: it has a massive presence in the midbass region that overpowers almost everything else. Sub-bass extension is obviously limited, given the small size of the drivers, so the sound is almost Beats-like – bloated and dark.
This emphasis affects the midrange, too, as it sounds dark and heavily shifted towards the bass region. Male voices are almost cavernous, while female voices are deeper than they should be. It's almost like people had an integrated subwoofer – not really the best thing. There's also a peak in the upper mids and lower treble that makes them sound crisp, but also not entirely natural.
Now, the main reason why one would want a soundbar is to enhance the audio coming from the TV – which means, to not only get better sound effects, but mainly better voice reproduction. In order to test the Anker SoundCore Infini I watched a few films on Netflix in English language: as I am not entirely used to listen to dialogues in English, being a native Italian speaker, clarity and correct representation of sound become fundamental to understand what is being said. While the experience has been positive overall, in scenes where there was a lot going on or more background noise than average, dialogue was not always clear and I had to resort to subtitles to understand the words. Ironically, this was not the case with my TV's integrated speakers, which offered enough clarity not to resort to subtitles. _Watching movies in Italian never proved to be an issue, though.
These considerations apply for the SoundCore Infini with the "music" equalisation present. The situation gets much worse when using the "movie" preset, as it boosts bass even more; while action films full of special effects take advantage of this fact, with explosions being more powerful and all that, dialogues are even less clear. The "dialogue" option, on the other hand, removes any bass and significantly worsens sound quality in the process, as it makes everything difficult to understand – it seems like sound is coming from an extremely low-quality radio without any bass.
Now, it has to be realistically expected that a $100 device can't be truly great on the sound front, but the Anker SoundCore Infini has its positives too. In fact, it sounds darn well for a product in its price range and if you are looking for bass and slam, boy does the SoundCore Infini have them. In fact it works well as a speaker for music if you're not too picky, with the only limit being the depth of bass – constrained by the laws of physics. Despite its small size, it can fill a large room with ease. Using the "music" preset is fundamental in order to get good results.
Ironically, given the bass boost, the main limit when using the SoundCore Infini as a music speaker is the excessive presence in the upper mids region, that makes the sound fatiguing in the long run (after a couple hours of listening). This effect is far less present when watching movies as there are less sounds in that range. There are limits in the bass section, too, as bass is not great at low volumes and appears pretty dull and almost muted, as if there was something squishy impacting a surface instead of a rapid blow, but it gets a lot better when turning the volume up. Again, the laws of physics play against having great bass at low volume, so this means you will have to annoy your neighbourhood if you want some thump.
Final Thoughts
The Anker SoundCore Infini is an entry-level soundbar and it does nothing to hide that. But despite this, it tries to offer a wide array of features that can differentiate it from other devices in the same category. Among these are the equalisation presets and the various connectivity options (including Bluetooth). It's still a bit limited, but it has all that's strictly needed.
If you're into lots of bass that give explosions and effects some welcome punch, the Anker SoundCore Infini can be a valid option. All in all it's not half bad, though of course there are many compromises to be made at this price point. But I feel pretty confident in saying that it can be an upgrade over the integrated speakers of low-cost TVs. It doesn't have the same "wow" effect as the Sonos Beam or other similar products, but it's a fraction of the price. It is not audio enthusiasts material, as its tuning makes it a bit dark, but it's a good entry-level device.