Creative jumped on the sports headphones bandwagon with class and its great attention to details. We're talking about the Creative Outlier Sports, a Bluetooth headset with an around-the-neck cord design to please all kind of sports and fitness enthusiasts.
Disclaimer: I got the Creative Outlier Sports for free from the manufacturer and I won't need to return the sample. You can checkout Creative's website for additional information and purchase.

TL;DR: recap
Pros




Cons

Fantastic comfort

Many useful accessories, including eartips and earhooks

Modern, colourful design with good build

Superlative battery life

Punchy sound

Sound is not very detailed

Not the most forgiving tuning
Rating: 7/10
Note: the rating was adjusted on October 28th, 2017 to better align it to the current offerings on the market.
Packaging & Accessories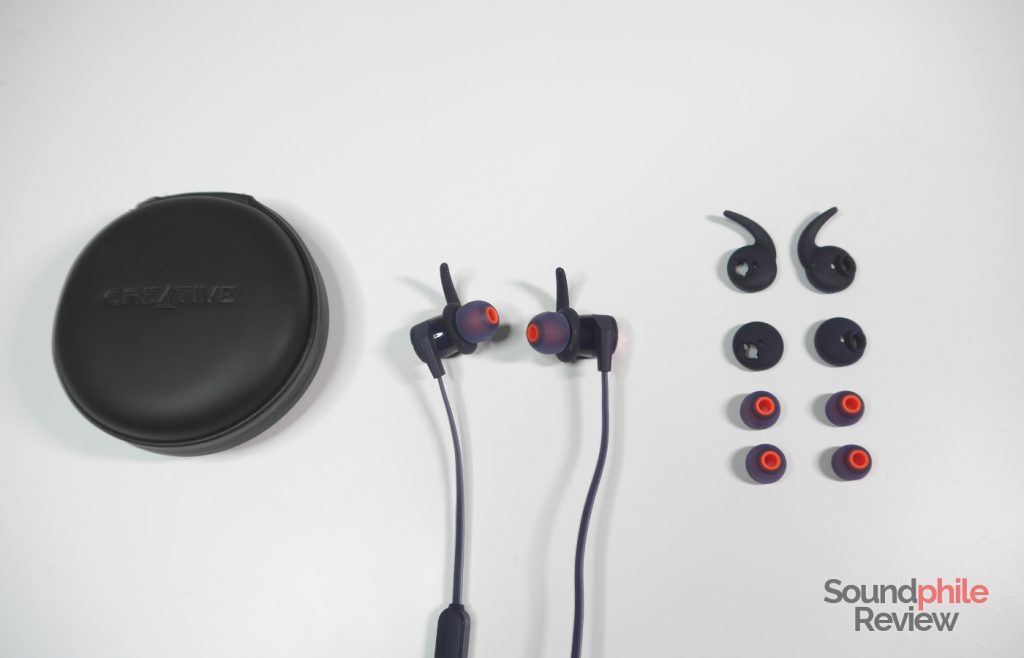 Although the Creative Outlier Sports are affordable earphones, they come in a nice box with a few accessories. There are three different types of earhooks, three sizes of eartips, one clip to secure the cable to the shirt, one micro-USB cable and one water-resistant hard case which can hold all of the previous accessories (bar the micro-USB cable).
Design & Comfort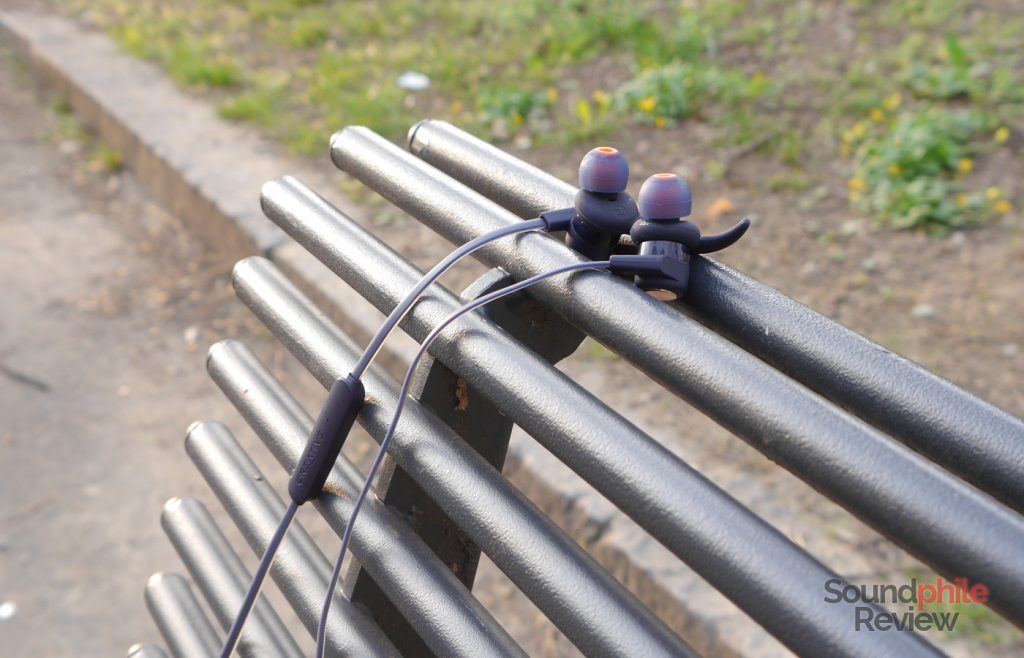 In terms of design, the Creative Outlier Sports are very similar to the vast majority of wireless fitness earphones: there are two relatively large earpieces, a cord connecting them and a remote. The wire and parts of the housing and the of the remote are made of rubberized plastic; the housings sport metallic discs and hard, glossy plastics near the nozzle. They're nowhere near the level of finish of in-ear headphones such as the Meze 11 Neo or the 1More EO323, but they're sturdy and resistant – and that's more important.
It seems like Creative did not aim at creating a completely original design with these earphones, but they managed to make the Outlier Sports stand out thanks to their choice of colours. They are in fact available in blue/orange, green/black and orange/black. This can also be a drawback as the colours are flashy and may not suit everyone's tastes.
Creative added water resistance (IPX4 certification) on top of good build quality: sweat or light rain won't pose any threats to the Outlier Sports. Too bad they aren't IPX6, else they could have been great under the shower, too!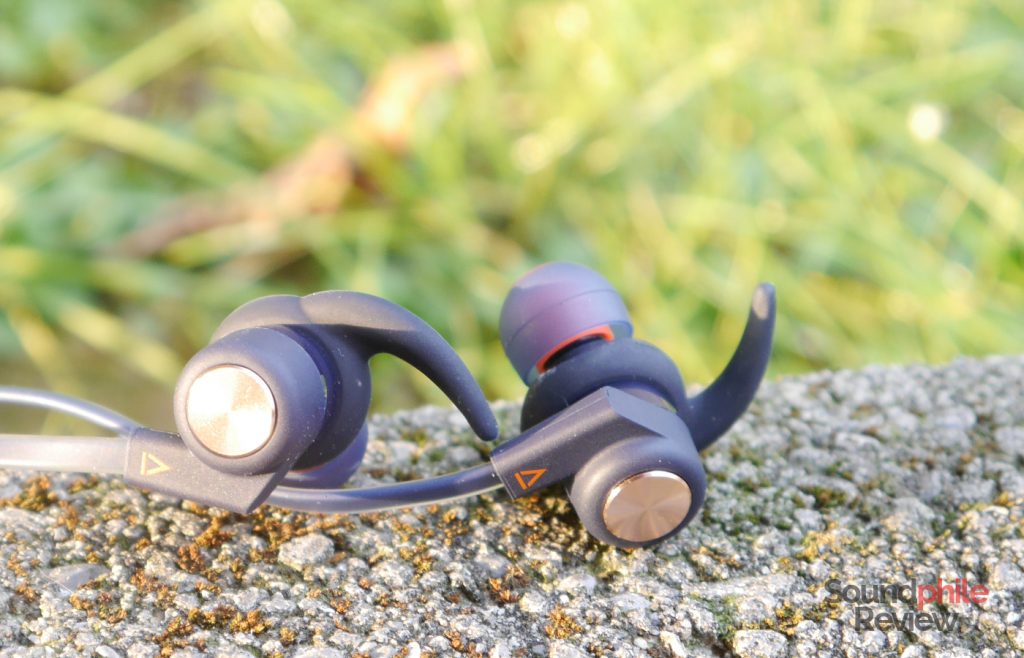 As for comfort, it is fantastic: I could wear the Outlier Sports for hours on end without feeling any fatigue. The optional earhooks make them fit securely and it felt almost impossible for the earbuds to pop off. Alas I could not try them when running due to problems with my knees (as I wrote in one of my earlier blog posts), but I could walk and climb the stairs without issues. As always, please remember that comfort is a very personal matter!
These earphones are made with people who work out in mind. Since many run in cities and environments where hearing what happens around you may be vital, the Creative Outlier Sports are not totally isolating and allow you to retain awareness of the surroundings. This also has an impact on how they sound, as we'll see later on. As a matter of fact, I could not get a tight seal with any of the included eartips and I could not even try other tips (i.e. Comply foams) because of the size of the nozzle, which is way larger than that of most earphones.
Extra Features & Battery Life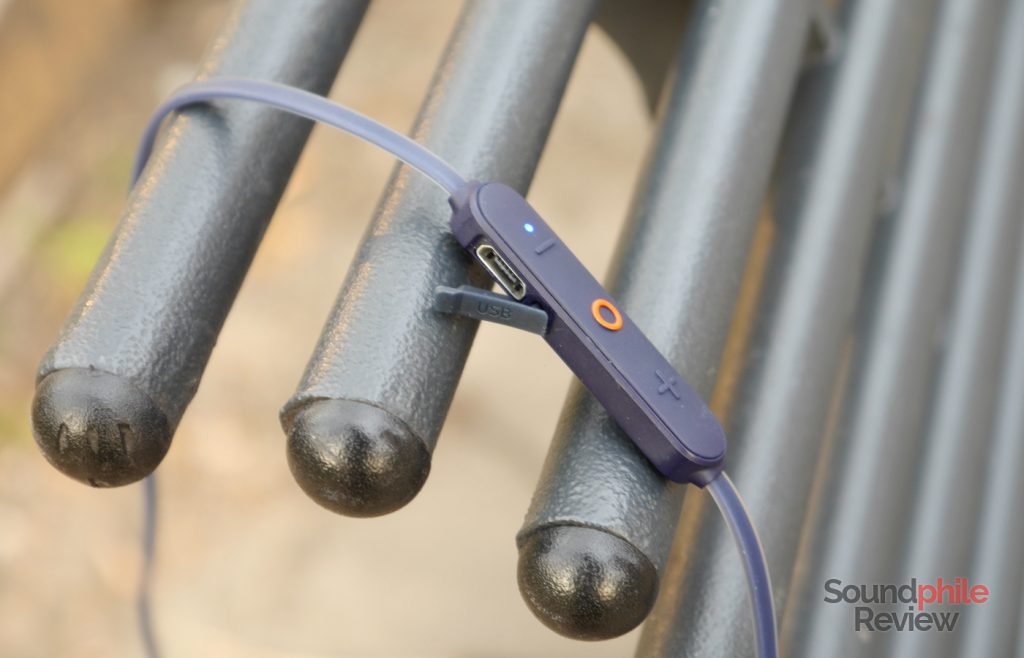 Bluetooth connection shows ample room for improvement, given the fact that sound often stops for a few moments. As I did not encounter this issue with other Bluetooth headphones such as the Sony MDR-1000X, I suspect the fault lies within the Outlier Sports.
Creative included support for the aptX codec, so that Android and Windows users can enjoy better sound quality. As a matter of curiosity, there is no indication of aptX compatibility on the box.
The 150 mAh built-in li-ion battery is outstanding in its ability to make the earphones last for 11 hours and even more. I often used my pair at half volume, so the figure could be lower if you listen at higher volumes, but it's remarkable nonetheless given the size of the earphones.
There's a microphone on the remote which only really works when used in a relatively quiet environment; it can't correctly pick up one's voice if there's too much noise (i.e. on public transport).
Sound & Specs
Given the completely wireless nature of these in-ear headphones, I was not able to run the usual 100-hours burn-in. I estimate the unit I got played music for ~50-60 hours. I used them in conjunction with my Lenovo Vibe Shot smartphone.
| | |
| --- | --- |
| Frequency response | 20 – 20,000 Hz |
| Impedance | 16 Ω |
| Sensitivity | N.D. |
Before delving in the details of how these sound, I have to reinstate the fact that I could not get a proper sealing fit with any of the included eartips and, as a consequence, this may have caused the bass to not sound properly. What I hear may therefore not be what you can hear. Take my analysis with a pinch of salt!
Soundstage is narrow and focused, and stereo imaging is passable; on the other hand, instrument separation is above acceptable for headphones in this price range and category.
Being headphones made for people who work out, the Creative Outlier Sports have strong bass – which is exactly what many people want to keep the rhythm up. It surely makes for a fun and entertaining signature! If you are into neutral bass, though, the Creative Outlier Sports definitely are not recommended. Their bass is emphasised, especially in the ~100-300 Hz range, but it also lacks depth. There's also a bump in the lower mids, so you sometimes get the impression it is a bit bloated. What is not negative per se becomes a problem when bass covers mids and takes the front of the stage leaving the other instruments behind. That's good if you listen to heavy electronic music, but pop and other genres where voice is the main instrument may suffer a bit. Quantity aside, bass is otherwise good and the Outlier Sports are able to render details with good ability.
While mids are a little bit recessed, they also keep a decent level of detail and presence. The emphasis on lower mids does not play nice with female vocals, but male vocals and acoustic guitars get a pleasant boost in their tonality and appearance. Mids are a bit dark in general, so they lack that sparkling vivacity and airy tone they often need to sound best.
The treble surprised me, as it is not overwhelmed by bass – quite the contrary, in fact. Highs remain perfectly audible and keep a central role despite the invasiveness and pervasiveness of bass. They are not piercing, but there's a tendency towards sibilance which may be fatiguing. Details are just like in one of Seurat's paintings: you get the sense of it, but you can't really point it out.
When compared to the (wired!) 1More EO323, the Creative Outlier Sports sound more congested and with a darker tone, thanks to the strong bass; detail is inferior and soundstage is much narrower. The Xiaomi In-Ear Headphones Pro (or Piston Pro) are an even greater challenge for Creative's earphones, as they offer an overall much better sound quality – be it in terms of detail, resolution, balance, soundstage or anything else. Of course these are wired units, with all inherent benefits in terms of sound quality, and I also would not recommend them for sports. That's where the Outlier Sports' advantage lies!
The Xiaomi Mi Bluetooth Sports Headphones also fare relatively better, at least in terms of sound quality: thanks to a more balanced, better detailed sound they may be a better alternative. They also have an awful fit and I find them completely uncomfortable, though, so the Outlier Sports may have an edge in the end.
Final Thoughts
Can all the boxes be checked at a price which is well below $100? Creative tried to answer this question with these headphones. Although I think they do not check all boxes, I found the Creative Outlier Sports to be a rather interesting pair of Bluetooth in-ear headphones. They are a very comfortable, nicely built, decent sounding pair of in-ear fitness headphones at a reasonable price.
The strong low end may not appeal to everyone's tastes, but that's actually great if you're looking for a bit of punch while working out or trying to distance yourself from the surrounding urban chaos (although you may prefer the Bose QuietComfort 35 or Sony MDR-1000X for that). The Creative Outlier Sports are not perfect, of course, but they're great value for the price and a sure shot.