Here we are with a new Headphones in Pictures article – this time with three products. Three in-ear headphones that differ in materials, design, sound and price, among other things. The IMR Acoustics R1, the KZ ZS10 and the RevoNext QT2 are all interesting in their own right, each with peculiar features.
This time it's an all-headphones article, with in-ears I've been trying for a bit now and which I have to say I was impressed by. The reasons vary for each unit, but so far I found them to be pleasing and often competent, with the two budget items surprising me the most (the performance/price ratio is insanely high!) but the IMR R1 winning my heart.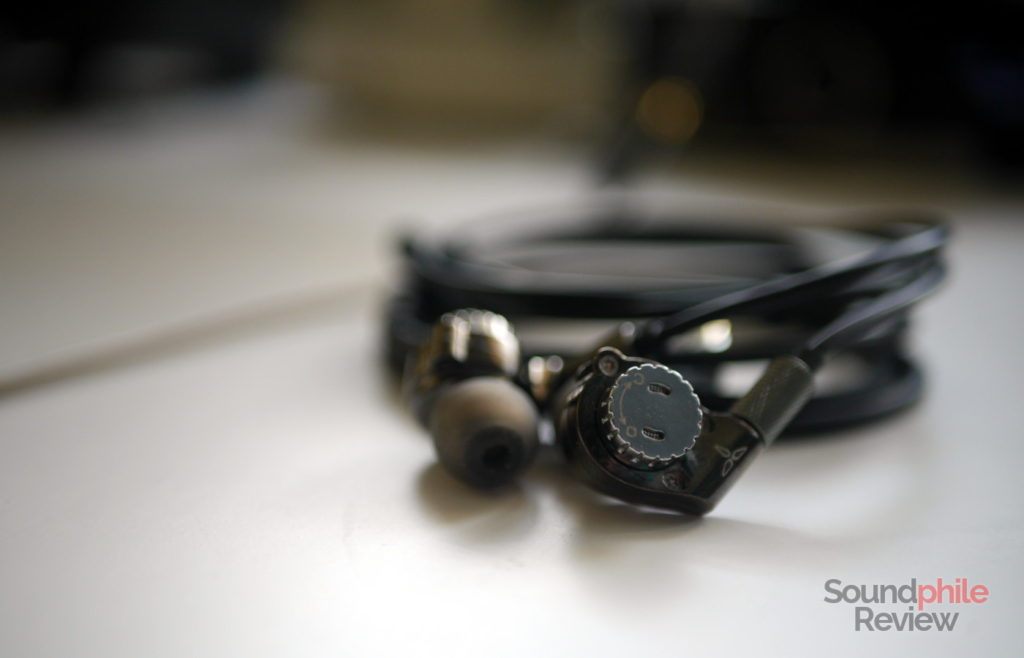 The IMR Acoustics R1 is a fine IEM with an impressive customisability: not only is the cable replaceable, there is also a set of filters to adjust the frequency response and a switch on the housings makes it possible to alternate between closed and open back. They are a little marvel and I have to say I'm thoroughly impressed by both their build quality and acoustic performance. I won't say too much on them as the review is almost ready – keep an eye out for it!
As a small fun fact, the review is very late because the package was routed to Greece before the post realised they sent it to the wrong country and it finally shipped it to me – it took almost a month! The people at IMR Acoustics were incredibly helpful and helped me get the earphones. All is well what ends well, isn't it?
The IMR Acoustics R1 review is now out!
The KZ ZS10 bring the ZSx line a much-needed break from KZ's recent attempts at mimicking Campfire Audio with the ZS5 and the ZS6. This time the design is original and even a bit peculiar, with the PCB exposed and used as a design element. The shape is rounded and the housings appear way bigger than those of the ZS6; they're made of transparent plastic. KZ revolutionised their accessories, too, as the cable is now completely different from that of the previous IEMs: it is now a braided 4-core cable; it is similar to the silver-plated cable they sell, but it's thicker and it has a bronze colour.
Update: the KZ ZS10 review is now online!
The RevoNext QT2 is to me what the KZ ZS6 should have been, be it in terms of comfort or sound. In fact they look almost identical, save for a few details! They are similarly made of metal and they have many things in common about design, but their shape seems to better fit into my ears. I have had them just for a couple days, so it's a bit early to make any claims about sound; it just seems to me like they're more balanced and easy on the ears than the KZ ZS6.
The cable was all tangled and even the ear hooks were bent, so that they're now completely out of shape and make comfort worse instead of better. This is a small criticism as everything else is quite good; there is not a lot of accessories included (just the cable and a set of three pairs of eartips), but they're generally good.
The RevoNext QT2 review is now out, too!
I plan to publish reviews for all three headphones in the coming days, so stay tuned! Also feel free to ask any questions about them.
(On second thought: here's a bonus picture!) …and, as an update, you can also read the iFi micro iDSD Black Label review!